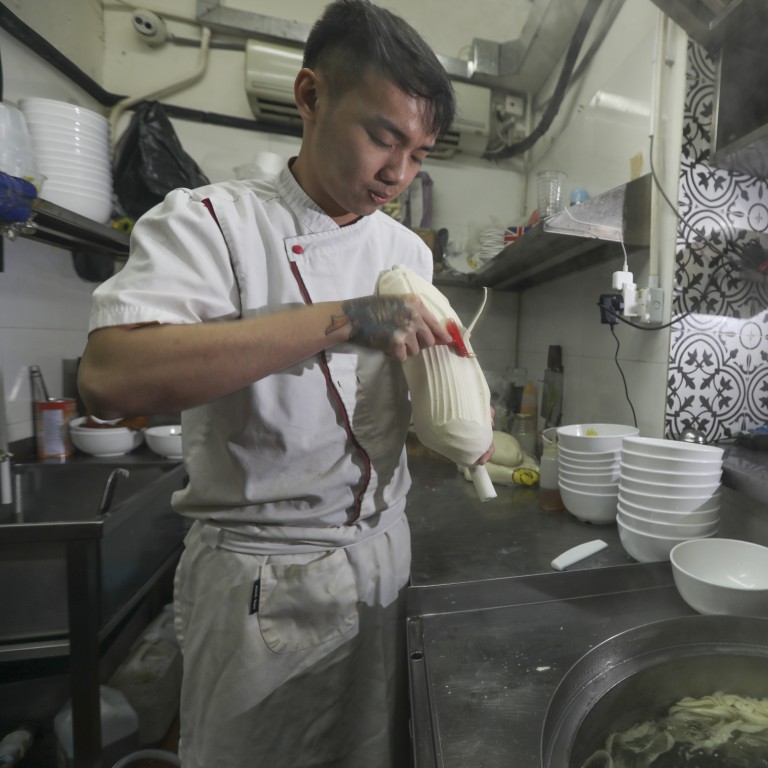 Chinese regional cuisine: Shanxi knife-cut noodles and where to eat them in Hong Kong
Hand sliced from a slab of dough and served with braised meat, Shanxi noodles are gaining popularity in Hong Kong
Noodle makers train for months to get their cutting skills up to scratch
Chefs from China's Shanxi province have magic hands that can turn a humble lump of dough into noodles of varied shapes, lengths, widths, thicknesses and even colours. Their noodle-making skills especially for dao xiao mian (knife-shaved noodles) – are attracting attention from chefs and food lovers in Hong Kong.
Wong Shui-yin, a young noodle maker at Shi Wei in Wan Chai, is shaving a fat slab of dough into strands of noodles – a routine job for him but it invariably attracts a lot of camera clicks from diners. Balancing the slab of dough on his left shoulder, Wong slashes it with a parer-like tool, moving repetitively up and down, too fast to see.
Long strands fly off the sharp utensil, the noodles falling into boiling water.
There's a certain standard for perfectly shaved noodles, Wong says. "Every strand of noodle should be approximately uniform. The strand cannot be too thin or too thick. Too thin, it will lose texture and chewiness, too thick, it'll be too hard to chew. The noodle should be wide and thick in the middle and slim towards the ends."  
In search of perfection, Wong spent a year in Beijing at the age of 16 learning the craft with a Shanxi master. "You have to make sure the paring knife is placed at the right angle on the dough," explains Wong. "The technique is sometimes beyond description. It can't be orally taught. Through practice over time, you get a 'feel'. It's instinct that tells you how to do it."
Wong, now 25, runs the kitchen with the restaurant's owner Ian Fong Hok-ngai. Fong is also an experienced noodle shaver, who picked up the skill after 10 months apprenticing in a local restaurant kitchen.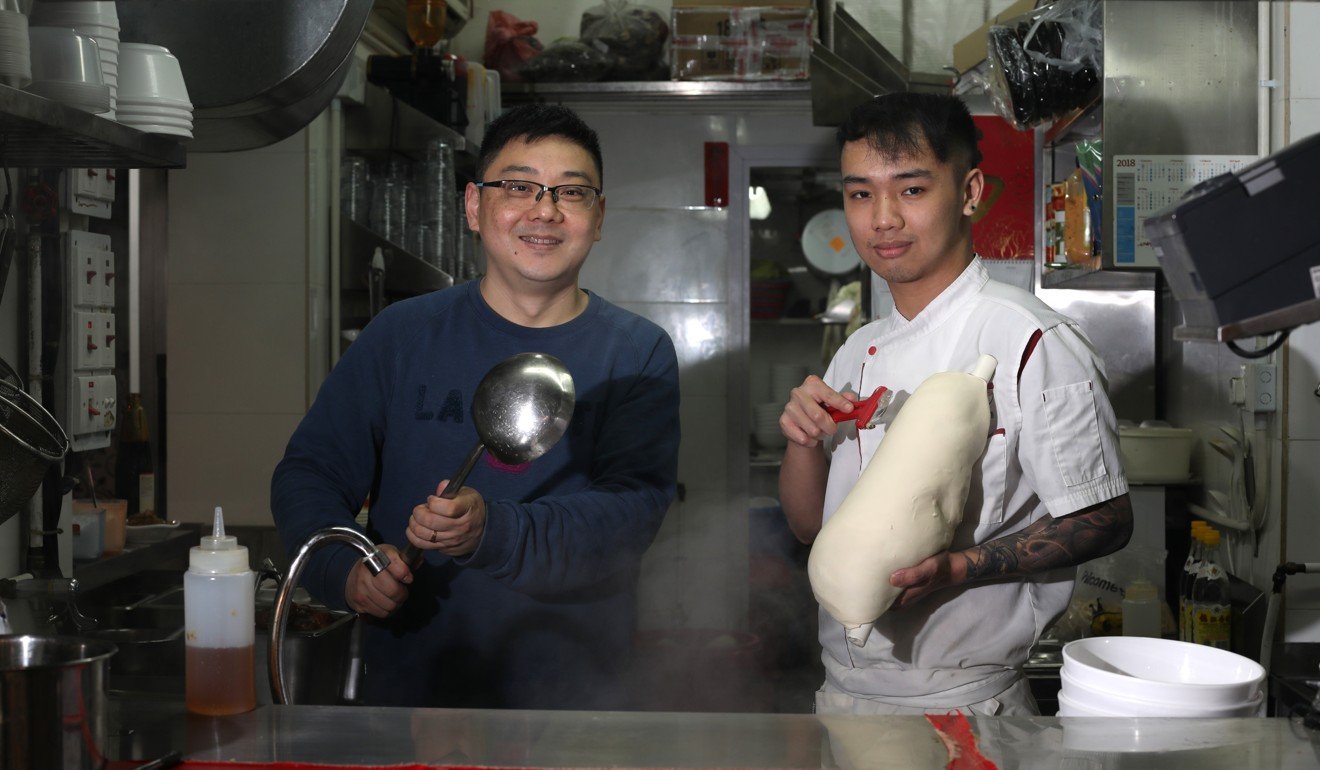 "It demands good body coordination and dedication," says Fong, showing a scar on his thumb. "See, this is testament to my hard work," he says. "It happened when I was still a green hand. My flesh and the noodle came off together."
The chunk of dough will become smaller and smaller as you shave it, he says, which makes shaving trickier, and it is easy to get injured. His curved blade has been adapted from the traditional version which was a mere flat utensil with a straight edge.
"It improvesefficiency. This is crucial, particularly in this fast-paced city where we have to churn out hundreds of bowls of noodles each day."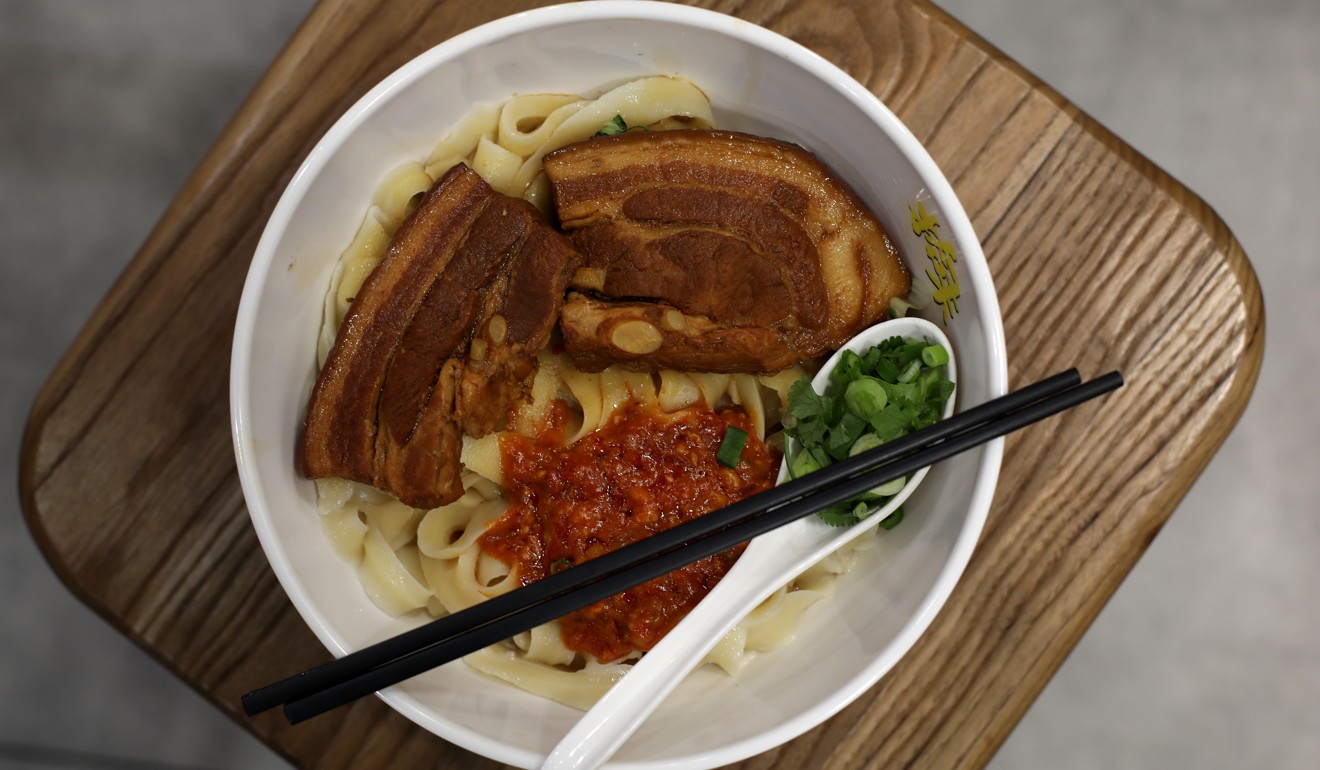 In Shanxi, dao xiao mian is typically served with a sauce made of minced fatty pork, broad bean paste, stir-fried eggs, star anise and other spices, with chilli sauce sometimes added. It's dark with a sheen of oil., 
"It might be too heavy for Hong Kong diners. I was concerned when I designed the menu," says Fong. He started making "lo mei" or braised meat, as a substitute.
Choices include braised pork belly, pork collar cuts, rib cartilage, beef shank and drunken chicken.
"We combine plain Shanxi noodles with the dressing and side dishes that Hongkongers are acquainted with," says Fong.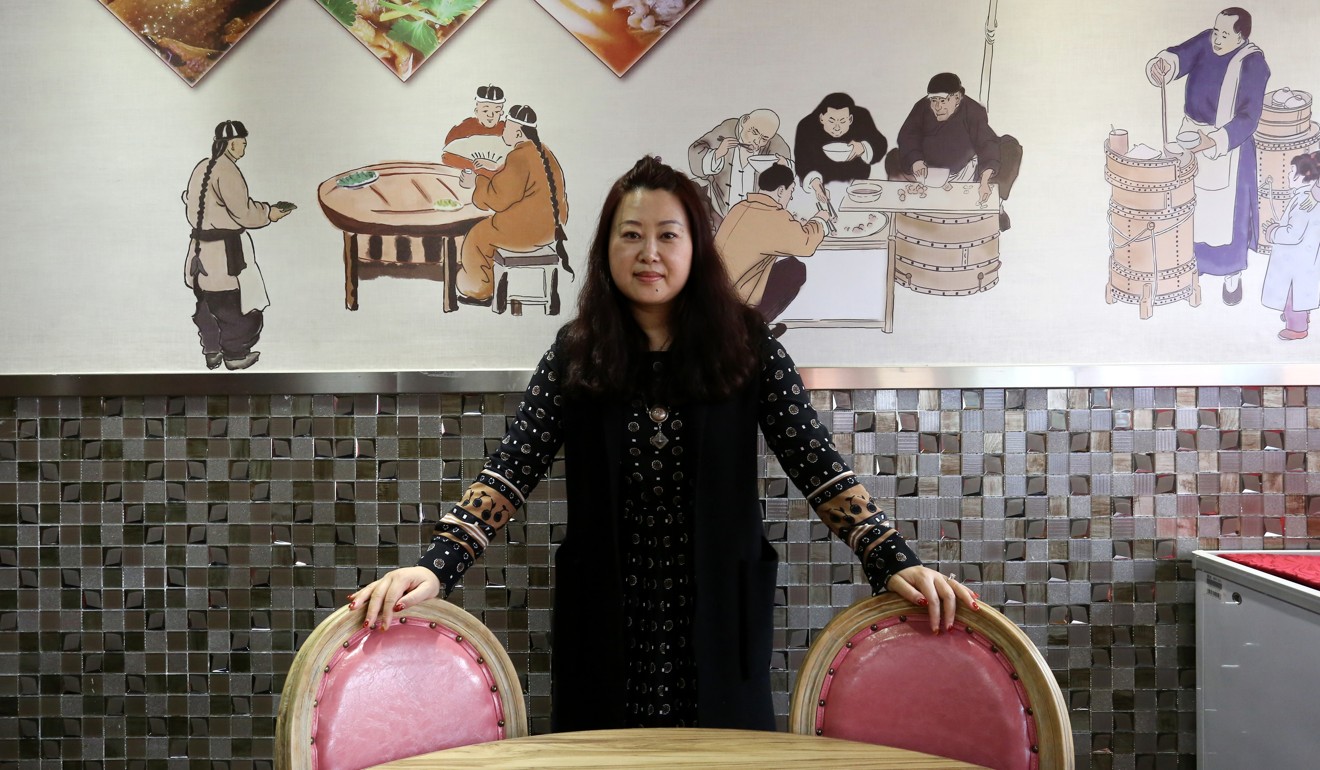 The secret to good knife-cut noodles is "freshness and hand crafting", says Gao Baoqing, who runs two Shanxi restaurants: Ji Xiang Shanxi Knife-cut Noodles in Yuen Long, and Ji Xiang Shanxi Private Kitchen in Tuen Mun, which also offers other Shanxi signature dishes.
"Every bowl of noodles is cooked to order," Gao says.   To keep up with demand, she uses machine-made dao xiao mian in her Yuen Long noodle shop. The machine makes the noodles quickly, and is adjustable so it can cater to diners' varied demands, but Gao insists that they can't compare with noodles shaved by human hands.
"While the noodles from the machine are uniform and cosmetically appealing and hand-shaved stands can be inconsistent in shape, size and thickness, it is the inconsistency that gives the finished bowl of noodles more texture and makes it more tasty."  
"In the heart of Shanxi people, mian has life. We treat mian seriously and devotedly. By massaging the dough by hand repeatedly, we bring it to life. Machine-cut noodles are lifeless."
The knife-cut noodles served in both of Gao's restaurantsare doused in broth boiled overnight with pork and beef bones and assorted spices. It is served piping hot topped with beef or mutton slices.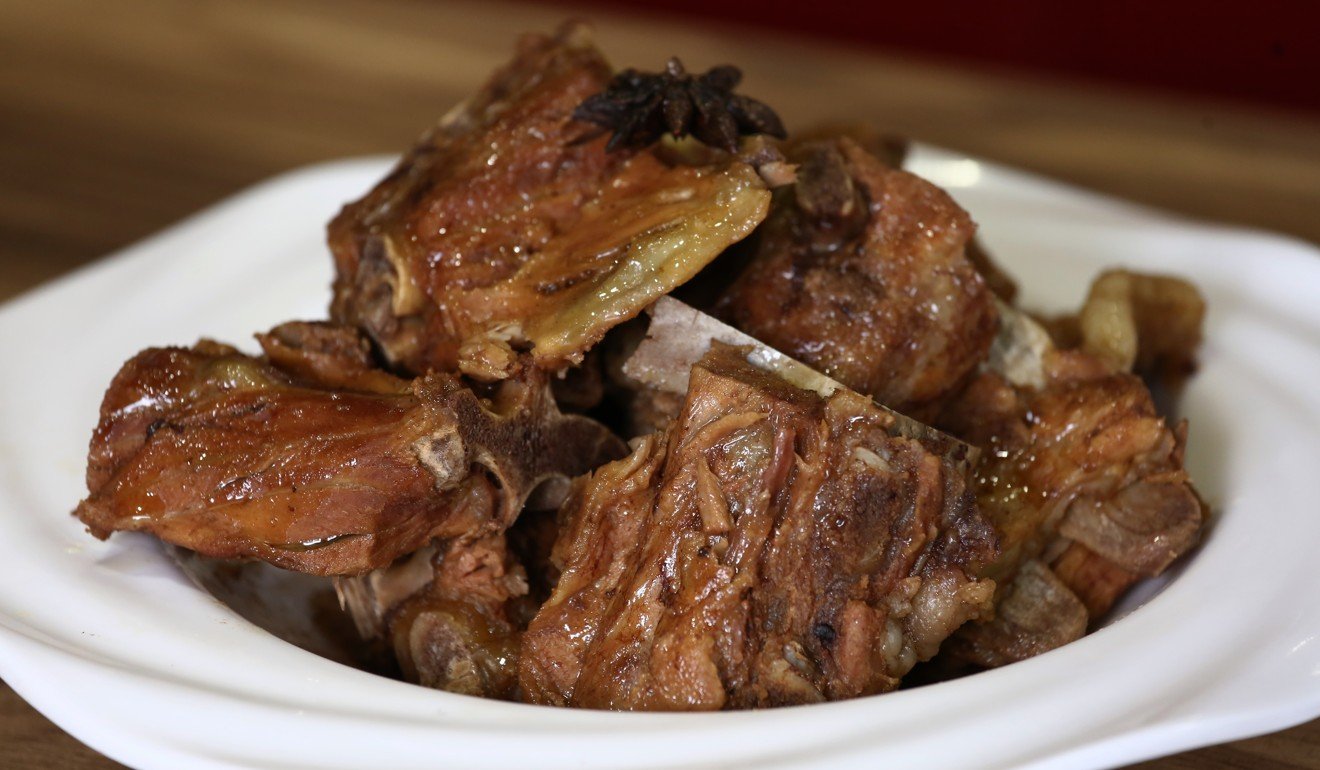 Noodles are not the only speciality in the province. Guo you rou (literally "sauté pork going through oil") is one of the classics. It is easy to prepare "so long as you pick the right cuts of meat", says Yan Changtao, co-founder of the Tuen Mun restaurant.
Another hearty item on the menu is Jiang gu jia – braised pork spare ribs in brown sauce. The cooking procedure is labour intensive, time consuming, and needs to start with the best ingredients, says Yan. "We select the freshest ribs. The frozen type is a no-no."
First the fresh ribs are rinsed with running water to get rid of the blood and unpleasant smell. Then they are cut into pieces and fried in oil scented with spring onions, garlic, broad bean sauce, sweet brown sauce and a mix of spices. When the ribs are browned, they are cooked in the stock for up to 2½ hours until the meat falls off the bone.
Shanxi is the leading producer of fen jiu, a popular Chinese spirit.  Zhu ye qing is among the most popular choices and is based on fen jiu.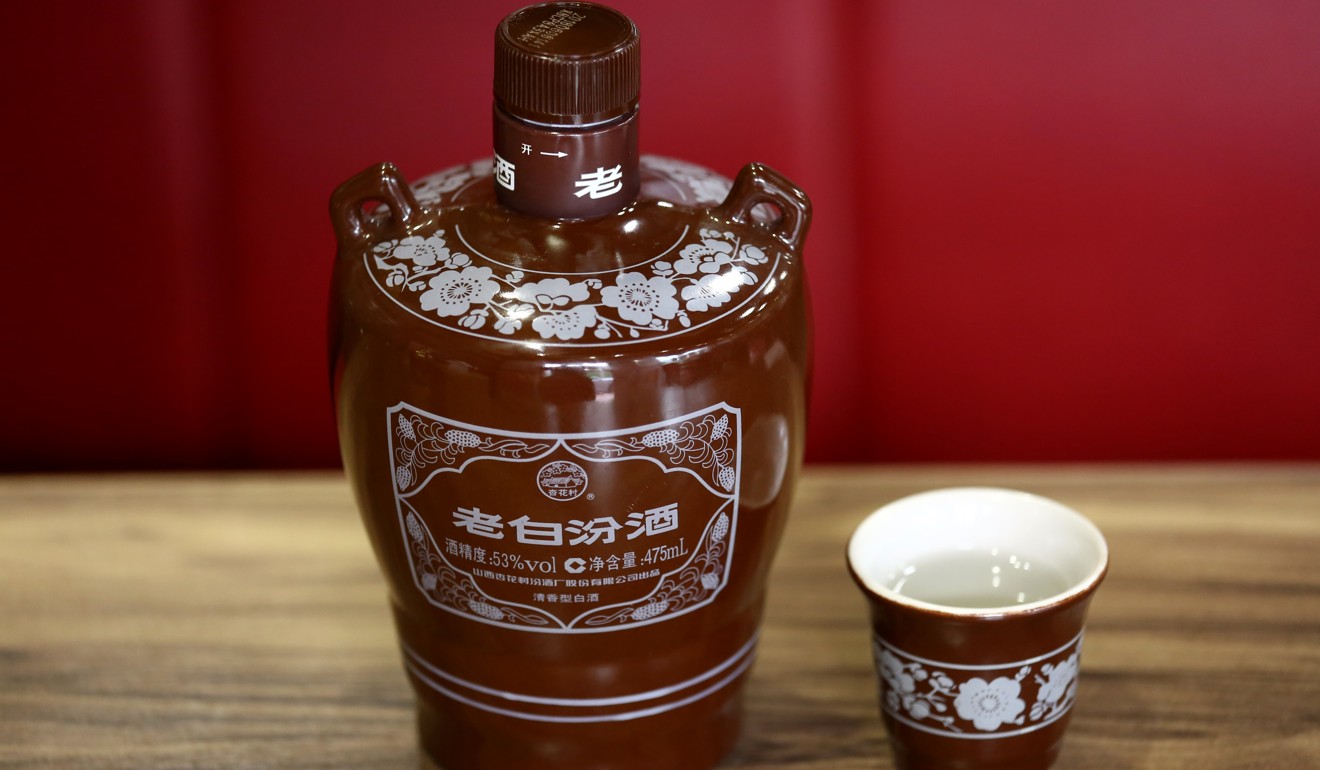 It is also famous for lao chen cu – aged vinegar. "No meal is complete without vinegar," says Gao. "We drizzle vinegar in almost every dish."
She encourages diners to add a dash of Ning Hua Fu vinegar to the knife-cut noodle soup to get the authentic taste of Shanxi. "Lao chen cu is pure and richly perfumed."
While Shanxi food and culture is a niche market in Hong Kong, Shanxi culture is getting more of a presence in the city.
One of the contributors is the Hong Kong Shanxi Chamber of Commerce. A frequent visitor to Shanxi, chairman Hu Xiaoming, who was also a Hong Kong deputy to China's National People's Congress, raves about Shanxi people's hospitality and generosity. "Every time I went to Shanxi, my local friends would prepare ample foods and local specialities."
And every time before boarding the plane back to Hong Kong, he would buy vinegar for his Hong Kong friends. 
Shi Wei
Yee Hong Building, 212-214 Wan Chai Road, Wan Chai, tel: 2819 6635
Ji Xiang Shanxi Private Kitchen
Florence Mansion, 6 Tsing Ling Path, Tuen Mun, tel: 2729 8886
Ji Xiang Shanxi Knife-cut Noodle
One Sky Mall, 8 Tin Sau Road, Tin Shui Wai, Yuen Long, tel: 2870 1000
This article appeared in the South China Morning Post print edition as: A culinary t r adi t i on well w o r th s h a ving