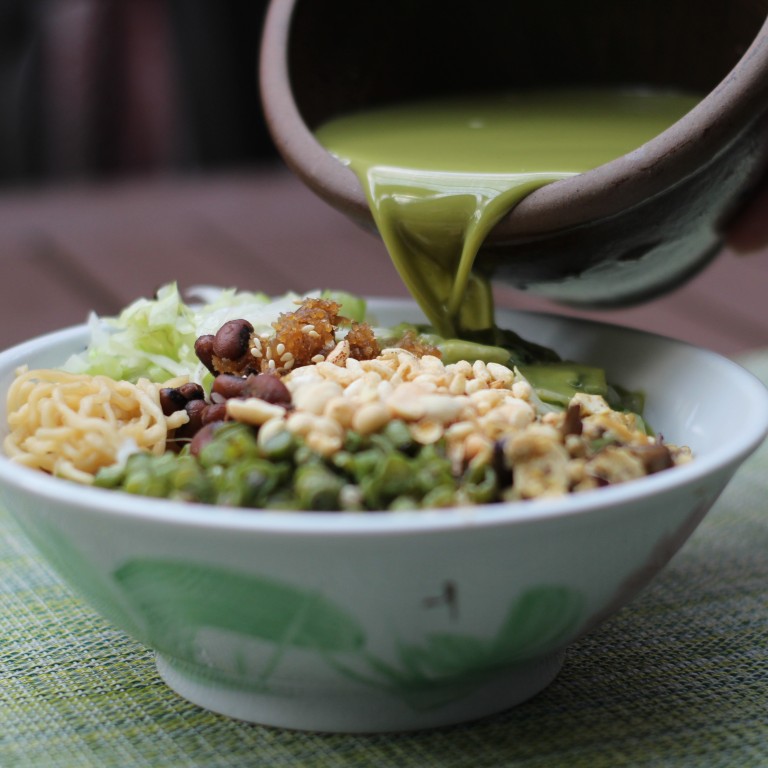 Hakka cuisine in Singapore: where to find leicha thunder tea rice and other traditional dishes
Leicha is a classic Hakka dish in which ingredients are ground with mortar and pestle to make a thick green soup which is served with rice and vegetables
Other Hakka dishes including abacus seeds, salt-baked chicken and mui choy pork belly can be found in Singapore's Hakka restaurants
Roughly 5 per cent of Chinese people in Singapore report Hakka ancestry. The Hakka, known as ke jia ren, or guest people, in Mandarin, are of Northern Chinese descent and were constantly on the move until they settled across southern China, Malaysia and Singapore.
Many Hakka from China's Dapu County in eastern Guangdong province settled in Singapore and Malaysia and adapted and evolved their cuisine. Hakka cuisine is less well known than Cantonese and Chiu Chow cuisines, both also from Guangdong, due partly to the size of their tightly knit community and the long time it takes to prepare Hakka dishes.
In China, the Hakka lived on inland hills and seafood was almost unheard of in their diet. Their livelihoods were labour-intensive and they cooked whatever could be foraged or grown on the land, developing a cuisine that was simple and versatile. Their diet is heavy on carbohydrates, providing the energy for physical labour.
As a migratory group they often travelled long distances, so staples such as starchy flour cakes are a large part of the cuisine. They preserved ingredients through drying, pickling and fermenting, so they could be carried with them. Historically, meat was scarce and eaten only on festive occasions.
One of the classic Hakka dishes is leicha, or thunder tea rice. It is made of seven types of vegetable and five condiments including mugwort, sweet leaf and three-leaved acanthopanax. Ingredients are ground with mortar and pestle and boiling water is added to create a thick green soup, which is served with rice and the finely julienned vegetables.
Not to be mistaken for Cantonese lai cha, or milk tea, leicha literally means ground tea but is a homonym for thunder tea, from which it gets its name. It was created to feed troops during the warring Three Kingdoms period in China. It was nutritious and vegetarian, keeping the soldiers in good shape and resistant to disease.
Leicha is eaten throughout the year in Singapore, but is especially popular as a Chinese New Year tradition. On the seventh day of the new year, Hakka people believe that they should eat seven types of vegetables. Because making the dish is time-consuming, with the need to grind the herbs and tea and julienne the different types of vegetables, families increasingly go out to eat it. Freshness is the key to the dish, which needs to be prepared à la minute.
Thunder Tree is a vegan restaurant in Singapore that specialises in traditional leicha. Variations to this dish sometimes add dried shrimp and minced meat, and every Hakka family has their own recipe, but Thunder Tree keeps it fully plant-based – as close to the original as possible. A generous bowl of vegan leicha served with brown rice will set you back S$7.80 (US$5.70) – a little pricier than other outlets, but with their organic farm-to-table approach you're paying for quality.
"Every ingredient we serve here comes from our organic farm," says restaurant manager Cai Xiaoxi, whose father owns Singapore's Fire Flies Health Farm. "There is little to no wastage as we serve several vegan dishes and update the menu regularly. What doesn't get sold is made into compost and sent back to nourish the land on our farm at Lim Chu Kang. We also pickle and ferment our bountiful harvests so nothing goes to waste."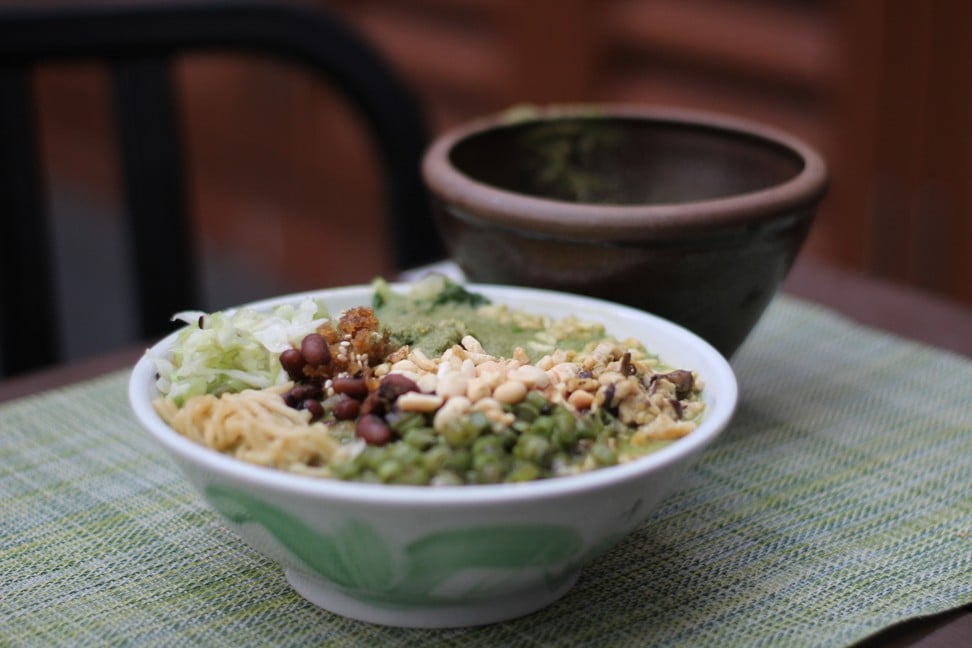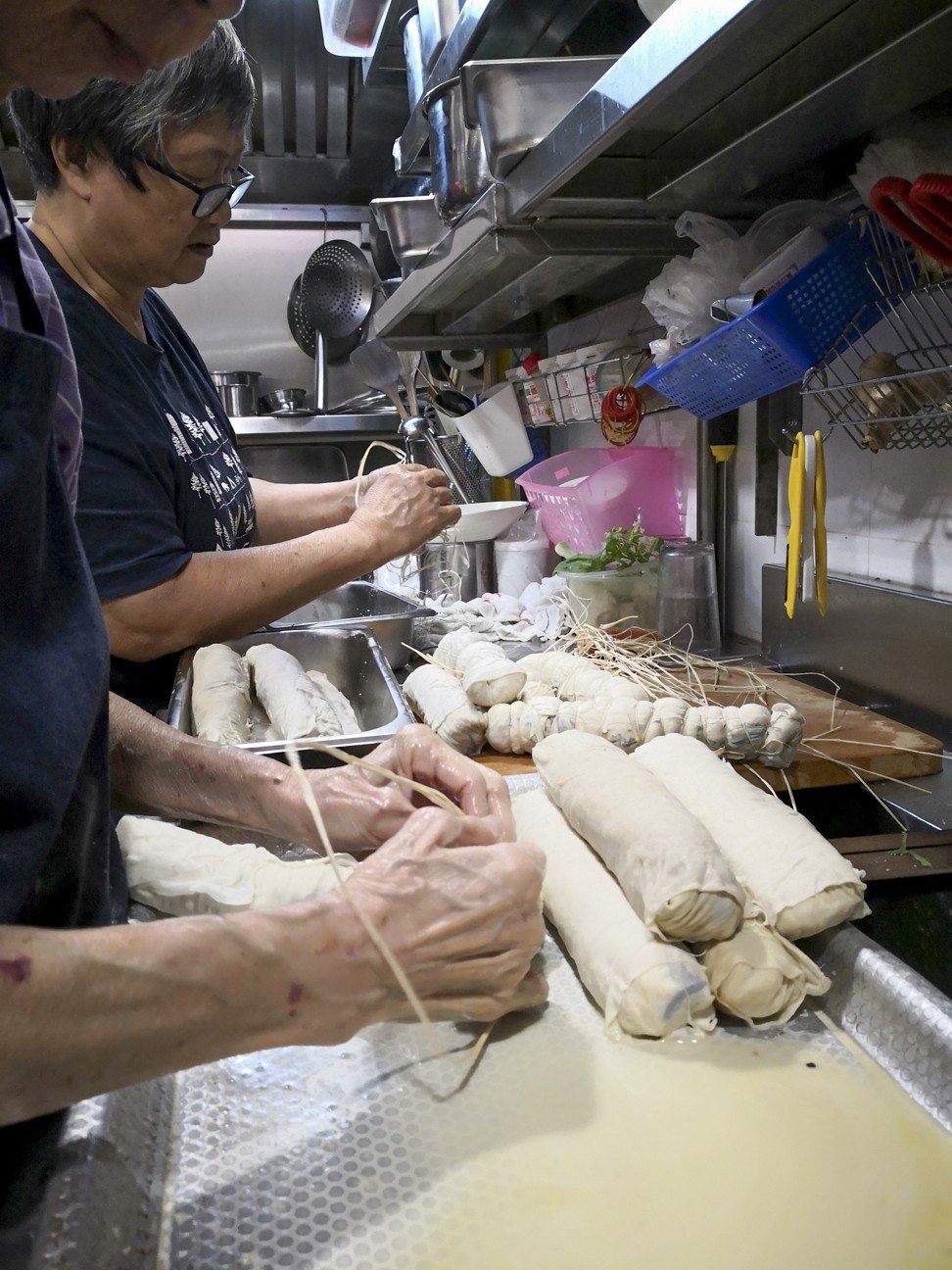 Traditional Hakka Rice, a rice stall at Tanjong Pagar Plaza, serves a bowl of leicha (S$3.50) with finely diced tofu, mustard greens, kai lan, long beans, peanuts, dried shrimps and pickled radish. The dish comes with a side of steamed white rice; add 50 cents to change it to brown rice.
Hakka Thunder Tea Rice at Commonwealth serves a tasty and hearty leicha over brown rice (S$4.00). You can add on something from their yong taufu offerings, an assortment of vegetables and tofu topped with fish paste or minced meat. I recommend the steamed tofu topped with minced pork.
If you're interested in trying other Hakka dishes, there are a few Hakka chefs in Singapore preserving the culinary culture. One of the few authentic Hakka restaurants in Singapore is Plum Village, which opened in 1983 and is run by chef Lai Fak Nian. His homestyle Hakka dishes includes salt-baked chicken, mui choy pork belly and Hakka abacus seeds – a traditional home-cooked speciality that is usually eaten during Chinese New Year because it symbolises wealth and prosperity.
"What's special about Hakka cuisine is that every Hakka [person] has a representative dish from their regional county," says chef Lai. "It's more special because of its theme and cultural context. We don't refer to Hakka food as Hakka cuisine, but we call it the ancient cuisine of the Central Plains that has more than 1,900 years of history. The provenance of these dishes and flavours comes from the north of China to the south. The pickled vegetable mui choy is one example that is a northern preparation method that found its way down south into our dishes."
Pang Kok Keong is one of the younger generation of chefs who is going back to his roots with his Hakka dishes. Pang trained in French kitchens and was chef at Singapore's Antoinette restaurant before opening Pang's Hakka Delicacies.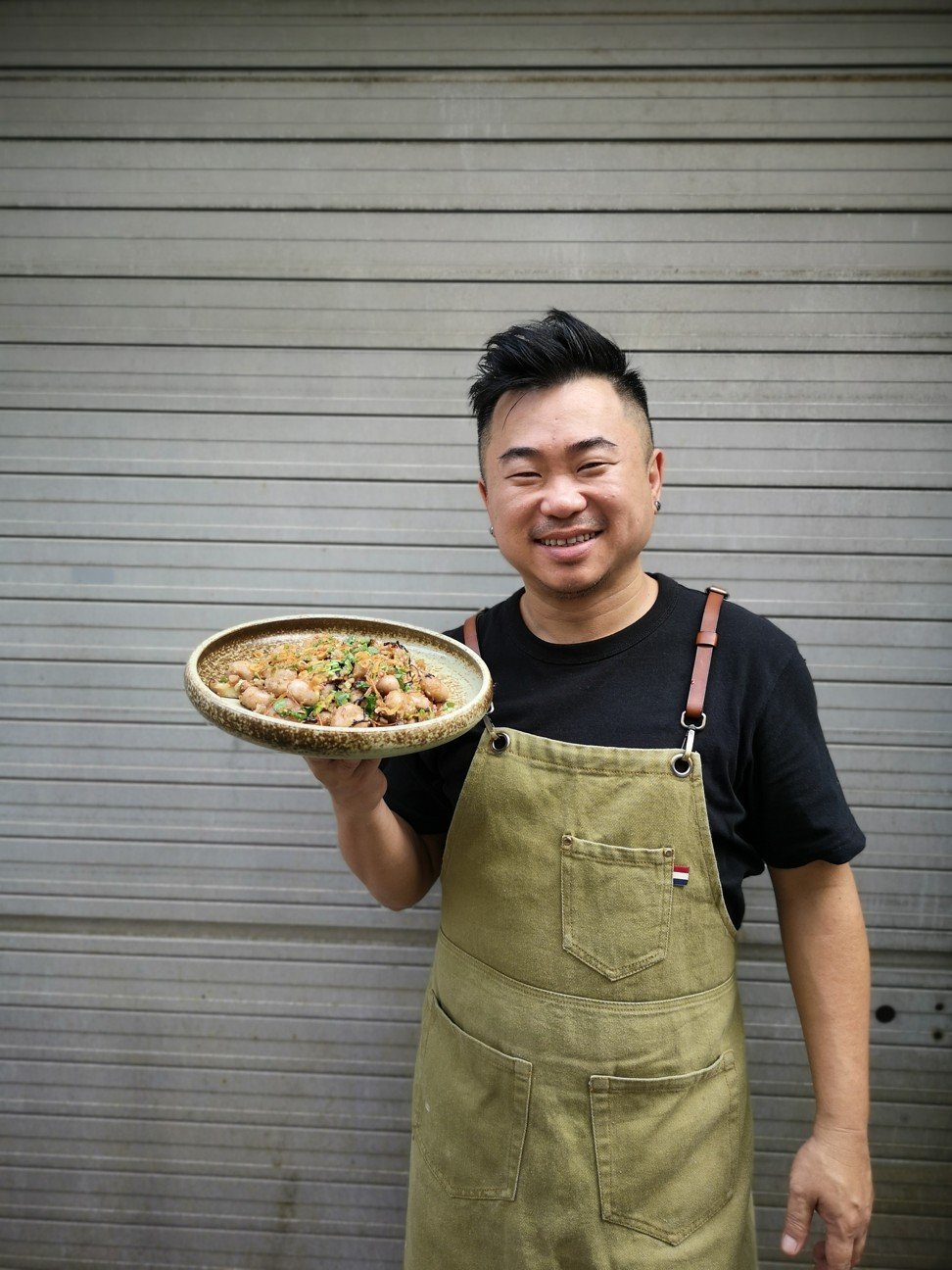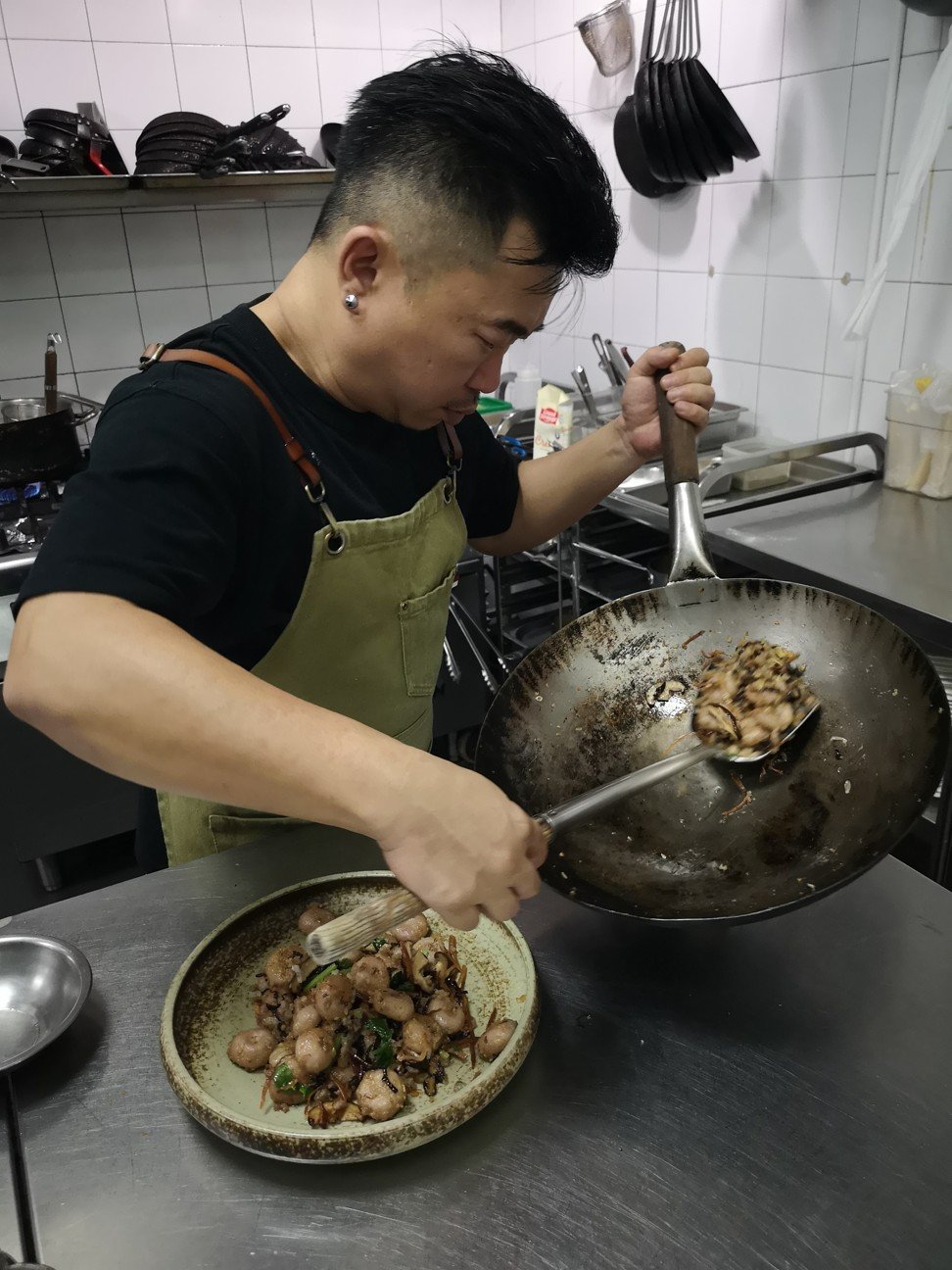 His menu features the abacus seeds dish, a labour-intensive dish of handmade chewy sautéed dough. Yam paste is shaped by hand to resemble abacus beads, then sautéed with ingredients including leeks, mushrooms, garlic, black fungus, minced pork and dried shrimps. It is then garnished with a generous serving of fresh coriander and spring onions.
"I've always been very passionate to bring back the nostalgic taste of Hakka delicacies, a cuisine which I've enjoyed since I was young," Pang says. "For the past [few] years, I've been researching to recreate the taste of yesteryear in the hope that my little effort can be shared by more people who are in search of that authentic taste."
Thunder Tree, B/1-06, 101 Upper Cross St, People's Park Centre, Singapore, tel: +65 9839 6008
Traditional Hakka Rice, 6 Tanjong Pagar Plaza, #02-21 Tanjong Pagar Plaza Market & Food Centre, Singapore
Hakka Thunder Tea Rice, #01-31 Tanglin Halt Food Centre, 3A Commonwealth Drive, Singapore
Plum Village, 16 Jalan Leban, Singapore, tel: +65 6458 9005
Pang's Hakka Delicacies, 30 Penhas Road, Singapore, tel: +65 9021 7507
This article appeared in the South China Morning Post print edition as: A welcome repast: nomadic soul food