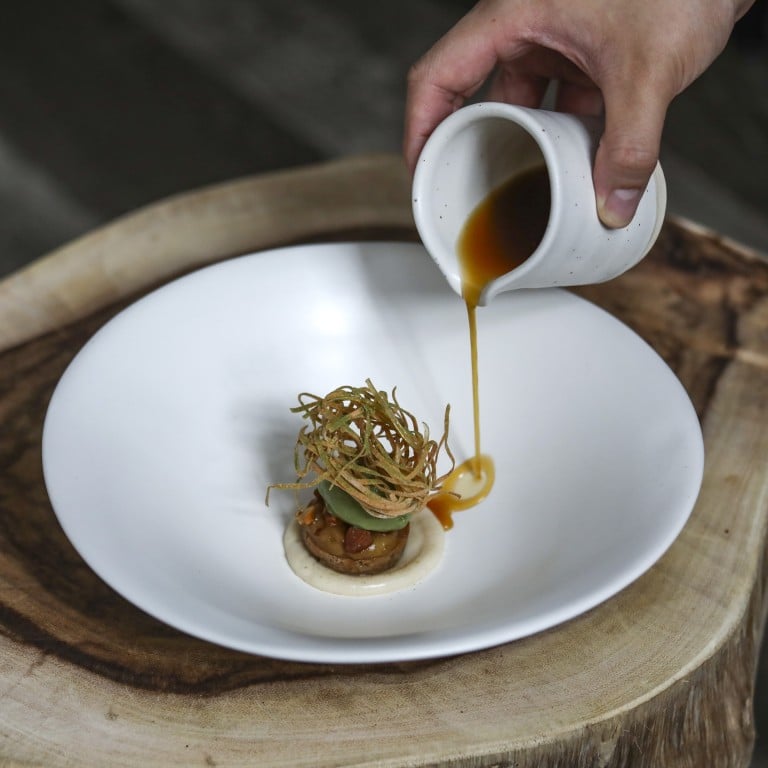 Kataifi at Nectar in Hong Kong, a new high-end restaurant focusing on plant-based dishes. Photo: Jonathan Wong
How Grassroots Pantry 'blossomed' into Nectar fine-dining vegan restaurant in Hong Kong
Nectar, in Sheung Wan, is the next step in Peggy Chan's plant-based culinary evolution after closing casual vegan eatery Grassroots Pantry in July
In the space formerly occupied by Grassroots Pantry, the new concept is the first high-end vegan restaurant in Hong Kong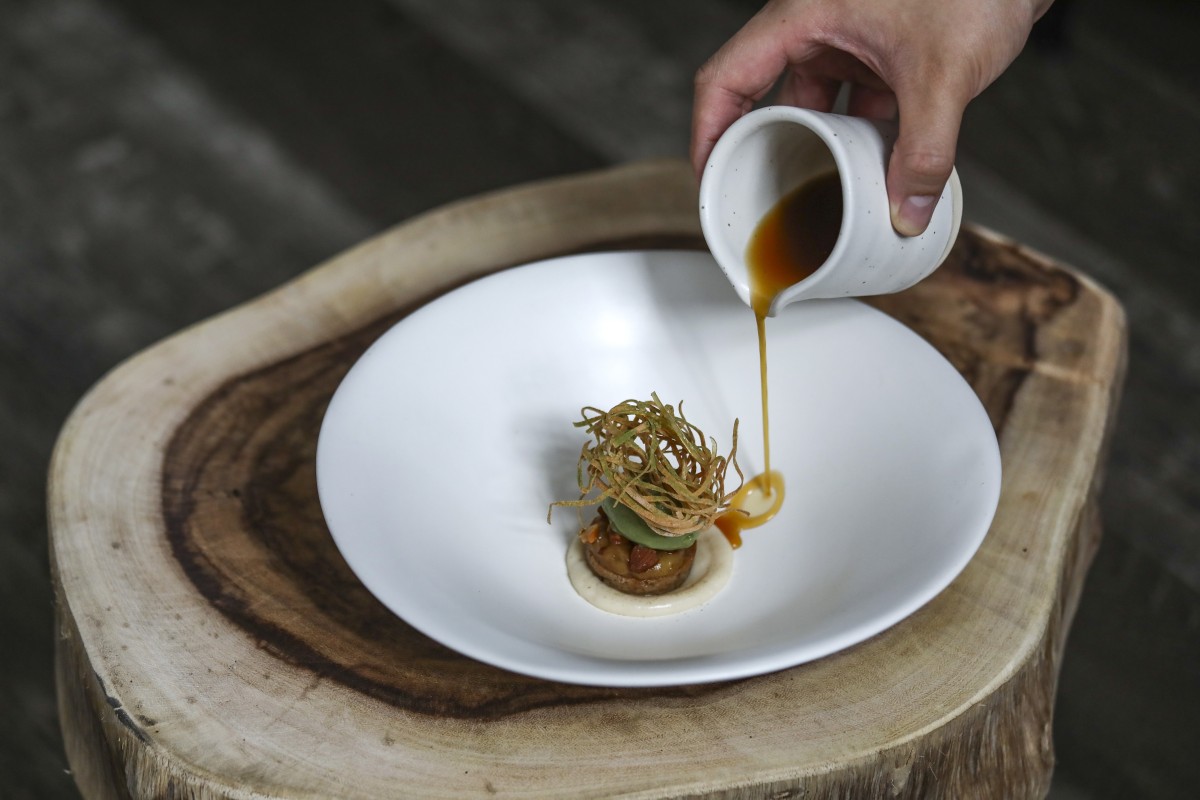 Kataifi at Nectar in Hong Kong, a new high-end restaurant focusing on plant-based dishes. Photo: Jonathan Wong
Seven years after opening her pioneering vegan restaurant
Even on a busy day, revenue was down 30 to 35 per cent compared with similar days in 2018. "And then you have manpower and labour costs that have increased 30 per cent to 40 per cent," she says. "With a business that runs on 2 per cent to 5 per cent maximum profit margin, we [didn't] have much room to move."
It was, Chan says, "a live-or-die situation".
Chan decided she was done with casual dining – it was time to close the restaurant and replace it with a new concept, Nectar.
For Chan, the next step in her evolution was organic: in 2012 she planted a seed with Grassroots Pantry; opening the restaurant in a small space in Sai Ying Pun, in Western district on Hong Kong Island. As it grew in popularity, Grassroots Pantry moved toa bigger space on Hollywood Road in 2015.
"Here at 108 [Hollywood Road] is really when the concept blossomed, and when a flower blooms, it creates nectar," Chan says, referring to how she came up with the name for her next endeavour.
As she speaks to the Post inside the restaurant, staff are busy moving boxes of new chairs covered in ethically sourced fabric into the venue to replace the eclectic mix of wooden chairs that graced Grassroots Pantry.
It's not just the old chairs that have gone; so too have the kitchen implements hanging from the walls, and plants in nooks. Now the dining room looks minimalist, though with a nod to nature in its natural linens, plants on each table, and stools made from local wood.
The menu has changed too, from à la carte to various set menus: HK$680 for a five-course meal, HK$950 for eight courses, HK$1,380 for 12 courses, plus a 3 per cent carbon tax. There is also a weekend brunch menu starting at HK$550.
A few months before Grassroots Pantry closed in July, Chan published its 2018 sustainability report, a manifesto outlining how environmentally friendly the restaurant was. Grassroots Pantry reduced its carbon footprint by sourcing ingredients as locally as possible, by buying ugly-looking fruit and vegetables and using food scraps to make soup stocks and sauces, by refusing to accept supplies wrapped in plastic, and by recycling and composting.
The report got the attention of the United Nations' Sustainable Development Goals portal, which, just over a month ago, named Grassroots Pantry as a case study in running a sustainable restaurant. This thrilled Chan, because it showed Grassroots Pantry could be a model for other restaurateurs keen to follow the same holistic path.
Nectar continues this philosophy in the kitchen.
To keep our standards, every single dish has to be of high quality, super surprising and unconventional. That's the word I love to use the most.
Chan and her team have overhauled more than 90 per cent of the menu. Favourites have been updated: the mixed mushroom linguine is made with six kinds of mushrooms instead of just three and uses handmade tagliatelle; the popcorn "chicken" made with hedgehog mushrooms now has a barbecue flavour.
These dishes form part of set menus that encourage diners to be more aware of the environmental issues around food. The eight-course menu is called "Integrated" and the 12-course menu is named "Edible solutions". Each dish highlights one way in which diners can learn how to mitigate greenhouse gas emissions.
Chan prepared three dishes for us to try from the different menus.
Tuna temaki is a spicy "tuna" roll that takes 16 hours to make. The "tuna" is made from raw tomatoes that are cooked sous vide, then dehydrated and mixed with sriracha mayonnaise that has been fermented for eight days, and chia seeds. It is served on a sheet of nori with avocado, lettuce and "rice" of dehydrated jicama and finely chopped cauliflower. The dish tastes meaty and has a spicy finish.
Next is bak kut teh, a vegetarian version of the medicinal tonic made with Chinese herbs (Chan says the restaurant regularly uses traditional Chinese medicine in its dishes and beverages). Here the broth is made fragrant with truffle paste. Wontons are stuffed with carrot pulp – left over from making freshly pressed carrot juice – seasonal vegetables, shiitake and hedgehog mushrooms (the wrappers are made from tofu flavoured with turmeric).
"[With this dish] we want to highlight the traditional aspects of what is passed down from our mothers and grandmothers, the smell of tonic soups being boiled at home, that is essentially super healing for us," Chan says.
Among the dishes on the 12-course "Edible solutions" menu is a large ravioli stuffed with vegetarian pepperoni, tree nuts, coconut, cashew, asparagus, white bamboo, and Manchego cheese.  
A dessert that has already become popular is kataifi, a banana cake made using flour made from bananas dried with their skins on, then ground. Chan says it makes a very fragrant and moist banana cake, and she's right. It tastes creamy, though there are no dairy products involved, and has just the right amount of sweetness.
Chan is excited about Nectar, and brimming with ideas for new dishes, which she and her team will bring out weekly.
"There are so many ideas, it's going to take forever to get through them," she says. "To keep our standards, every single dish has to be of high quality, super surprising and unconventional. That's the word I love to use the most."
Nectar, 108 Hollywood Road, Sheung Wan, tel: 2873 3353
This article appeared in the South China Morning Post print edition as: Fine-dining restaurant the next step in plant-based culinary evolution