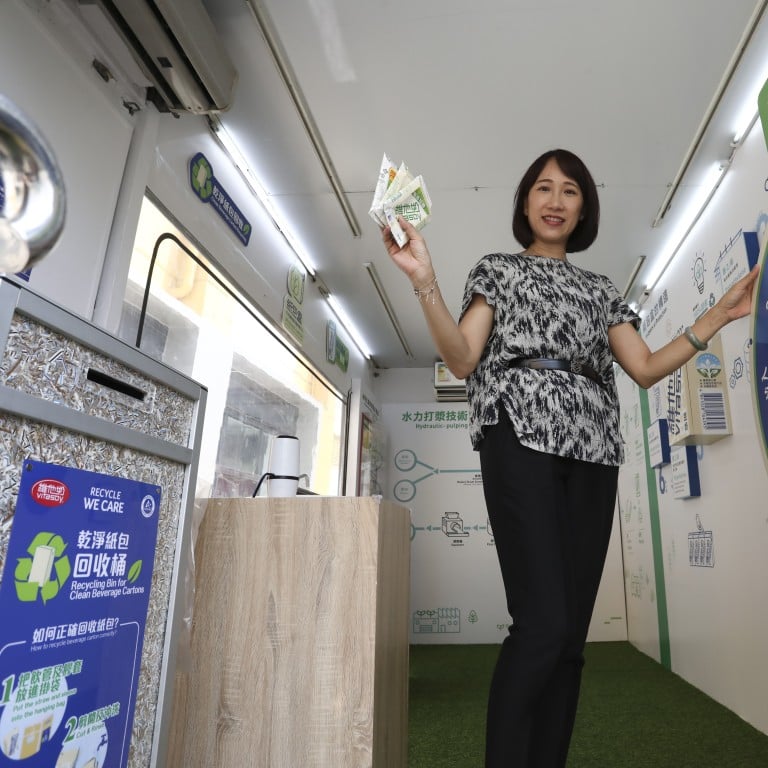 Vitasoy Hong Kong CEO Dorcas Lau at the Vitasoy factory in Tuen Mun. Photo: Jonathan Wong
Hong Kong drinks giant Vitasoy launches recycling of Tetra Pak cartons, starting with schools
A pilot scheme will include recycling bins, workshops and a mobile education centre. The company plans to extend the programme to include the general public
Tetra Pak cartons need specialist recycling due to their aluminium, polythene and paper layers. Some 74 per cent of drink cartons in landfills are from Vitasoy
Topic |  
Sustainable Living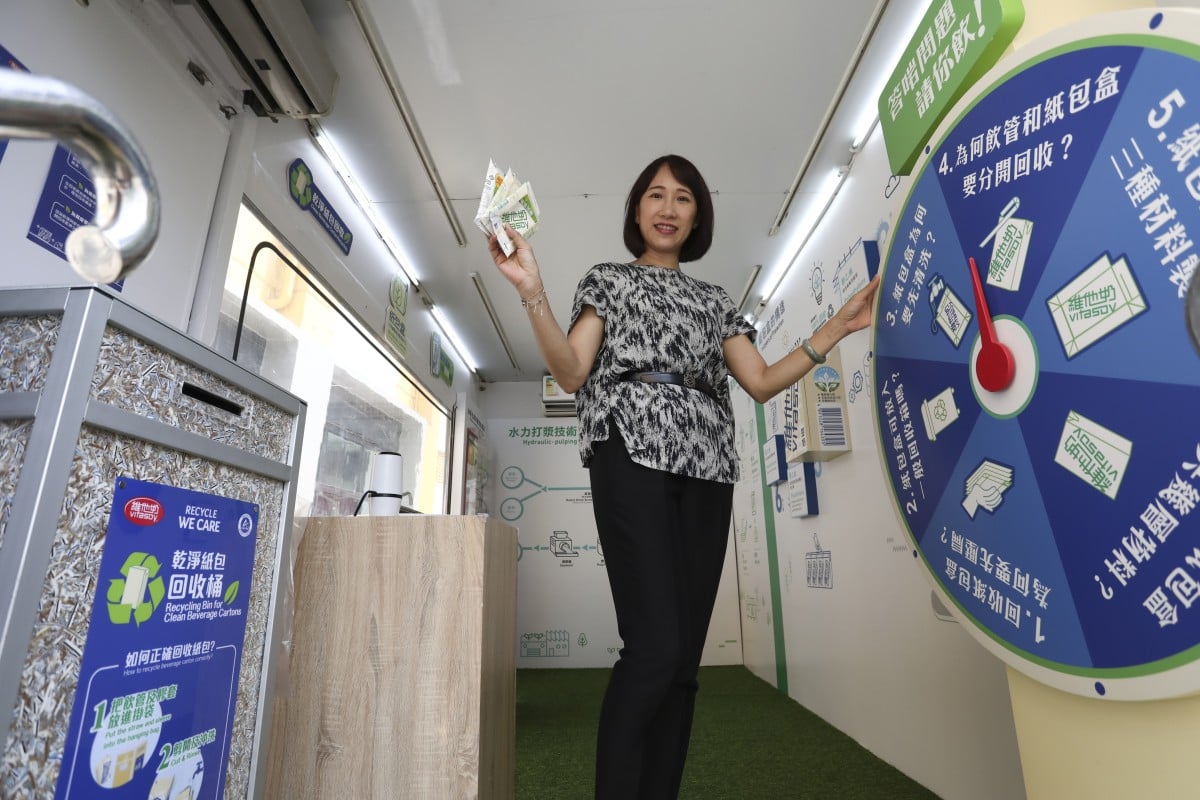 Vitasoy Hong Kong CEO Dorcas Lau at the Vitasoy factory in Tuen Mun. Photo: Jonathan Wong
Hong Kong drinks manufacturer Vitasoy has begun a pilot scheme to recycle Tetra Pak cartons, which it and many other drink manufacturers use for packaging.
Dorcas Lau Shing-suet, Vitasoy's CEO, says the scheme will enable the company to create an education, collection and recycling programme in partnership with Secure Information Disposal Services (SSID), which operates a waste management plant in the city's Yuen Long district.
The company will roll out the scheme citywide, but Lau cannot say yet when that will happen. "I think we always wanted to do something to tackle used paper carton waste in Hong Kong. But because there wasn't a facility able to do the recycling, we didn't take any serious moves until now," Lau says.
As part of the programme, Vitasoy will collaborate with Hong Kong Polytechnic University to organise environmental workshops and work with students in its School of Design to make objects from the paper pulp extracted from recycled cartons. Lau says the company is putting Vitasoy recycling bins in schools first to instil the recycling habit in young people.
"It is really important to start from educating people when they're young, because this is how they establish the habit," she says. "I do a lot of that kind of education at home as well, to educate my boy to do it. Now, when he has a drink at home, he will naturally clean it and leave it aside to let me bring it back to the office to recycle."
The company was dealt a blow last year by
"Other than continue to make money, they haven't really done much on recycling," Yu told the Post at the time. "Why should residents have to continue shouldering the environmental costs for them?"
The group said it was pleased by the latest developments, and urged Vitasoy to quickly widen the recycling scheme. "We are delighted to see the escalating demand for drink carton recycling in Hong Kong eventually catalysed the groundbreaking establishment of a local Tetra Pak recycler," a spokesman said. "Nonetheless, we would like to further urge Vitasoy, one of the main beverage and catering giants in the city, to push their recycling job forward and not limit it to primary and secondary schools only."
Recycling drink cartons is difficult because various materials are used in their manufacture. Although Tetra Pak claims its packaging is "100 per cent recyclable", in reality few specialised facilities exist to reclaim the paper, polythene and aluminium layers that form the sturdy but lightweight containers. In East Asia, Japan has the highest recycling rate for cartons, at 45 per cent, whereas in Hong Kong that number is close to zero.
Reclaimed materials from the boxes can be used for a range of purposes, for example, to make pens, paper shopping bags, playing cards, and even apparatus used in sewage treatment works. To use Vitasoy's bins, consumers will need to remove the straw – which will not be recycled – before cutting the box open, washing it out, then flattening it.
Until now, environmental groups run by volunteers have organised the city's only Tetra Pak recycling services. Green Power began its own scheme to recycle cartons in 2016, setting up 17 collections stations throughout the city and sending the collected waste to be processed by a specialist facility in Thailand.
The move to recycle cartons comes as part of a raft of sustainability initiatives the company is touting, including the installation of solar panels on the roof of its Tuen Mun headquarters, using paper packaging, piloting the use of recycled PET plastic in its bottles and cutting down on the water, fuel and energy used to make its products.
Vitasoy's carton recycling programme follows the launch of a plastic bottle "reverse vending machine" scheme by Watsons Water, Swire Coca-Cola and Dairy Farm, under which people can post bottles into a machine in exchange for Octopus Card credits. The manufacturers pledged in December to tackle the 1.7 billion drinks containers dumped in Hong Kong landfills in 2017 by raising the recovery rate of single-use bottles from single digits to 70 per cent within six years.
I think we always wanted to do something to tackle used paper carton waste in Hong Kong. But because there wasn't a facility able to do the recycling, we didn't take any serious moves until now
Founded in 1940 by Lo Kwee-seong, a Hong Kong entrepreneur and philanthropist, Vitasoy began as a door-to-door delivery company before establishing a factory in 1950. In the early years of the business, the life of the soy milk drinks was extended through the use of sterilisation. That lasted until 1975, when the company adopted Tetra Pak packaging, allowing drinks to be kept for months without refrigeration.
This article appeared in the South China Morning Post print edition as: Vitasoy leads way with Tetra Pak recycling pilot