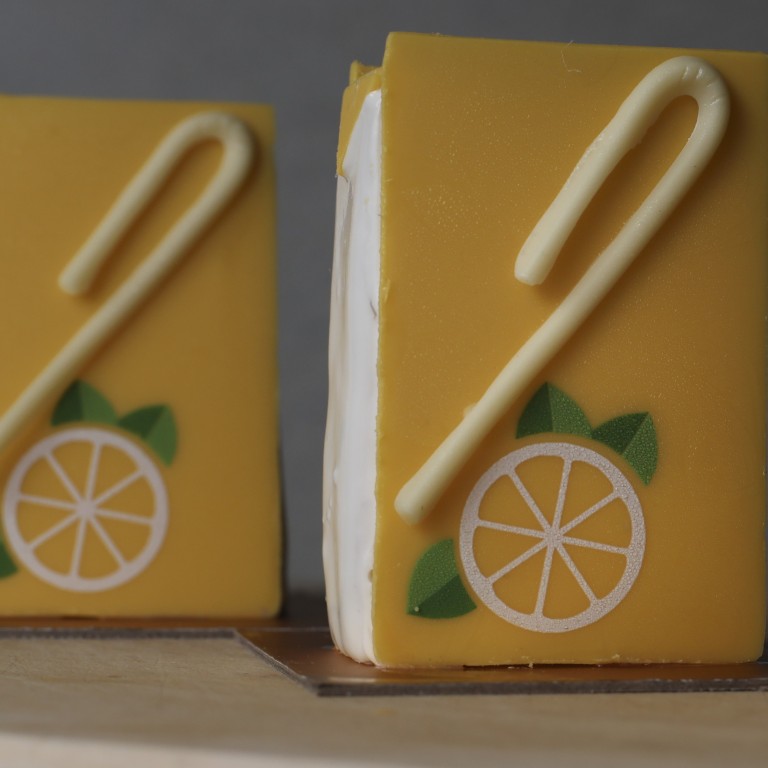 French pastry chef Dominique Ansel on new Hong Kong bakery – and why he's leaving the Cronut behind
Ansel says Hong Kong is a city with history and heart and deserves its own pastry creations, not just copies from elsewhere
New bakery, Dang Wen Li by Dominique Ansel, is expected to open in Hong Kong in December in Tsim Sha Tsui
When French pastry chef Dominique Ansel – best known as the inventor of the Cronut, the croissant-doughnut hybrid that is so famous the name is trademarked – offers to come to your home to cook dinner, what would you say?
The smart thing to say is, "Yes, please, what time, and what wine would go well with the food?" What is not wise to say to a man who was awarded World's Best Pastry Chef 2017 by The World's 50 Best Restaurants list is, "Yes, please, and should I make dessert?"
Guess which category this writer is in.
Fortunately, Ansel, and his fiancée and business partner, Amy Ma, came to my flat bearing not just groceries for the meal he was making (beef soup noodles and three cup chicken, dishes he learned how to make from Ma's mother in Taiwan), but also so many of his own desserts that my own (all three of them) were superfluous.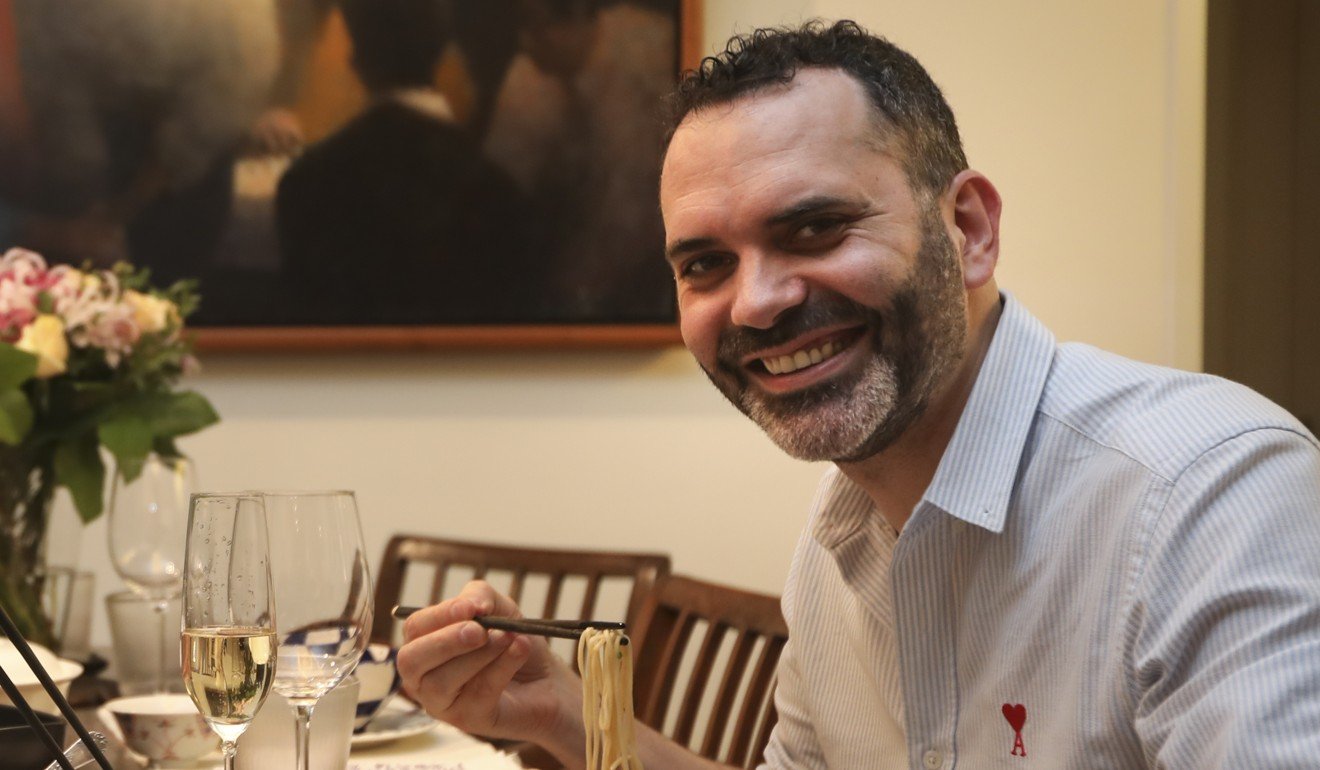 Ansel, who was born in Beauvais, France, has four bakeries around the world: the original, Dominique Ansel Bakery, opened in New York City in 2011, followed in 2015 by Dominique Ansel Kitchen, in the same city.
He also has Dominique Ansel Bakery London, and bakery/restaurant Dominique Ansel LA, in California. (He had an outlet in Tokyo, but closed it last year.)
Ansel is in Hong Kong because he's opening his newest establishment, Dang Wen Li by Dominique Ansel (Dang Wen Li is the Chinese version of his first name), in Harbour City, Tsim Sha Tsui. The signage for the around 1,200 square foot (110 square metre) space, with seats for about 40, is being revealed today, and it should open in December, Ansel says.
The first inkling that Hong Kong would be getting its own Dominique Ansel bakery was when the pastry chef put up an Instagram post in March, stating, "Something New, Coming Soon". "Not the Cronut" the post announced, leading to speculation about what would be served instead.
"The new concept is pastries for locals – pastries that are inspired by the culture and traditions of Hong Kong," Ansel says. "We've been working with Upper East Holdings [the company behind Lady M crepe cakes] – we've known them for maybe two years now. We were always really cautious about opening in Hong Kong because it's not an easy market. It's a market that people underestimate – they think that they can come in and stamp their brand on it.
The more you know Hong Kong
, the more you realise that won't work.
"We finally decided that we can't replicate anything – we weren't just going to do a Dominique Ansel Bakery. We knew what we wanted to do. For two years we kept saying 'no' to all the things we didn't think were going to work, then started throwing out ideas on different concepts and things that were more relevant to the people of Hong Kong."
We eat several of the new items after dinner, as well as one of the chef's classics, the DKA – Dominique's kouign amann – the Breton pastry for which Ansel's version was named best in Paris, while he was working at Fauchon patisserie in the early 2000s.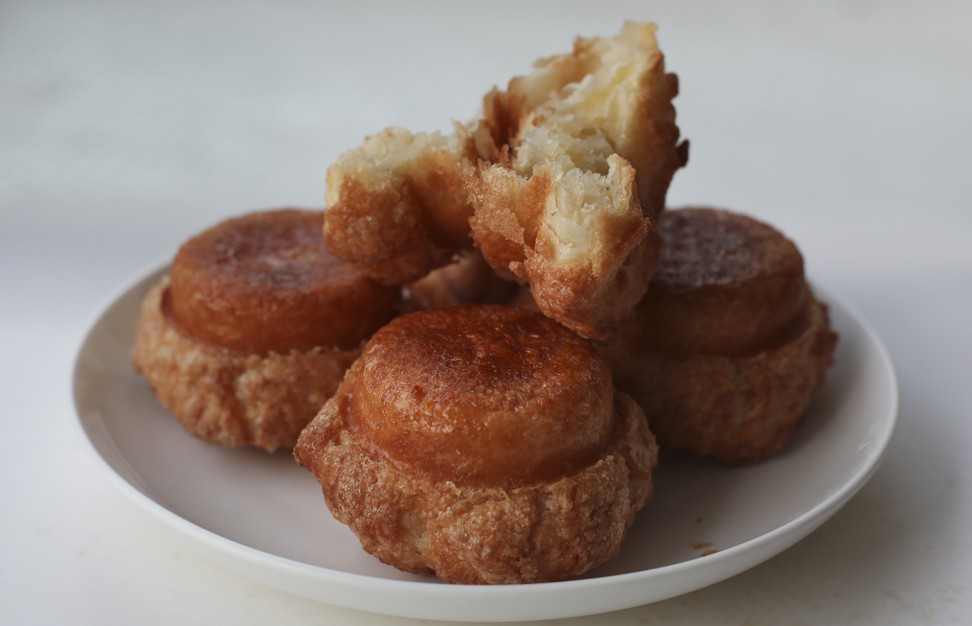 There's the whimsical "juice box" dessert, which looks like the small lemon tea juice box that comes with a plastic straw, but which Ansel reimagined as a cake with lemon mousse and bergamot cream.
A pastry homage to the local snack of boiled mochi balls with crushed peanuts takes the form of a peanut chausson – puff pastry wrapped around a piece of mochi and peanut frangipane. And the popular snack of fishballs on a stick is instead made into a sweet dessert of fried glutinous flour balls filled with peanut ice cream, dusted with icing sugar and torched to caramelise the sugar.
"Not having the Cronut was a pivotal decision," Ansel says. "Everybody expected us to just bring the Cronut but that's like setting your own expiration date because how long will people like it? We also decided we weren't bringing the frozen s'mores [and] we weren't bringing the cookie shots, our signatures. We wanted to find a translation for them for the Hong Kong market. Frozen s'mores is something for American kids who grew up eating this. They know what it is, they recognise it, they have an emotional connection to this.
"I wanted to have a similar signature for Hong Kong – something that's on a stick – so the fishballs. Instead of the cookie shot [a small cup made of chocolate chip cookie, filled with milk] we're changing it to a
Yakult
bottle made out of a snickerdoodle cookie, with a chocolate lid. It's going to be filled with
milk tea
. We wanted people to have the same connection that [people in the US] have of childhood cookies and milk, and for people in Asia it's Yakult."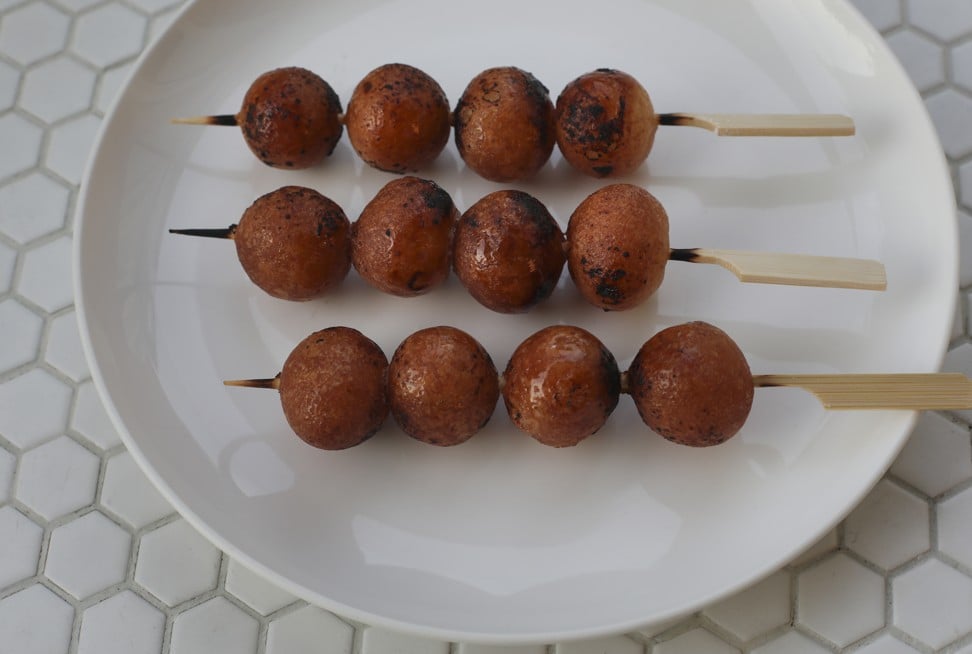 Ansel has Ma, who was born in Taiwan, to thank for his understanding of Hong Kong; she went to high school at Hong Kong Island School, and also lived here for several years as an adult.
"People expect me to do twists on desserts – they don't expect me to look at the food scene in general," Ansel says. "Nobody would expect me to do a century egg [another new dessert, which will be made with hazelnut, coffee and black sesame] or a juice box. I didn't come up with all the ideas. Amy grew up here, she knows the culture so much more than I do.
"We're looking for things that aren't clichés. Hong Kong has idiosyncrasies, small things that people here would relate to. Like if you show the juice box [dessert] to someone in New York they won't have the same reaction as when you show it to someone here. And if we served the frozen s'mores here, people would come to eat it once, but if it doesn't connect to them, they're not going to come back. I asked, 'what item on a stick do HK people eat' – fishballs. It's a genuine take on Hong Kong."
Ansel says Hong Kong has "heart" and that's exactly what he looks for in cities.
"It's a sophisticated place and you can't play around with things. It's one of those cities where there's real romance and a real identity. There's so much history, so much culture from all over the world. I think for someone to come in and not have respect for that, and not try to do something authentic, is the worst idea, but you see brands do it over and over again.
"They don't understand the city, they just copy and paste what they've done that works in different parts of the world. They take the clichés – the dragons, the boats with red sails – and it works for a few months because it's new, but then it disappears because it's not special.
"It's challenging, it's hard to think of new ideas, work with new products, learn the local culture and adapt the menu, and take the essence of what you do and translate it into something new, for a local market. It's so important for us to have emotional connections to people."
The executive chef of Deng Wen Li by Dominique Ansel is Camille Moenne-Loccoz, who, with his wife, owns the excellent Plumcot patisserie in Tai Hang.
"I reached out to [pastry chef] Pierre Hermé to see if he knew of someone in Hong Kong," Ansel says. "He suggested I contact Camille, and I asked him if he could recommend someone. He said, 'I'm interested.' He's so excited – he keeps sending us photos of the kitchen as it's being built."
Ansel and Ma plan to visit Hong Kong four or five times a year, as often as they do for their other bakeries outside New York. They had arrived in Hong Kong on the morning of our dinner, so were looking tired – their usual state, he says.
"Amy wakes up two or three times a night to check emails. I don't get much sleep, either. I go to bed at midnight or 1am, and wake up around 5am. It's a lot of work, a lot of sacrifice. Even when I go on holiday, we're working. You can't stop checking emails, you can't not talk to the team.
"When we started in 2011 we had four people on the team, two in the kitchen, two in front – no managers, no dishwashers. Now we have 80 people in New York, about 70 in LA, London about 60, Hong Kong will be another 40. So many people rely on us, we have so many standards that need to be maintained.
"Five hours of sleep – it's not healthy but what can you do. It's our business, it's what we do."