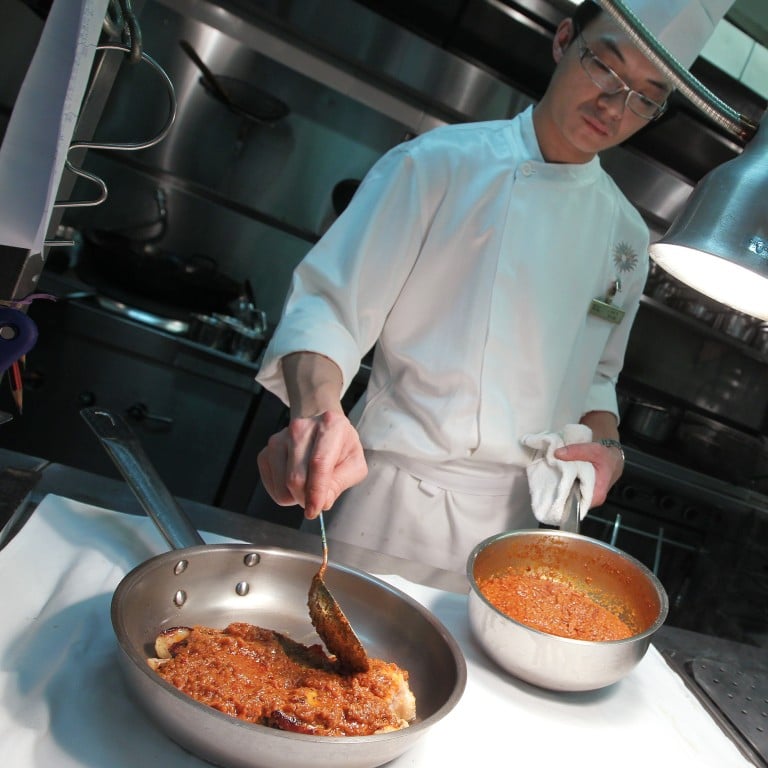 A history of Macau in 10 traditional fusion dishes, from African chicken to devil's curry
Macanese cuisine in the former Portuguese colony has influences of Africa, India and Southeast Asia to thank for its variety of flavours and recipes
Here are 10 memorable dishes to shed light on its history and culture
One of the best ways to connect with a city is through its native food. Macau has a wide range of comforting and delicious snacks and meals to offer, from the hot and tart devil's curry to a crab salad made with papaya flowers.
The cuisine of the former Portuguese colony, on China's southern coast, has been recognised as one of the world's first genuine fusion foods. Macanese dishes have been influenced by both traditional Portuguese delicacies and savoury Chinese dishes for centuries.
Returned to China in 1999, Macau was a Portuguese colony for more than 400 years and the foundation of Macanese cuisine is Portuguese, writes António M. Jorge da Silva, author of Macaenses: the Portuguese in China.
With the Portuguese having already colonised parts of Africa, India and Malaysia for many generations, "the food the [Portuguese] foreigners ate had taken on a different character, employing local ingredients and methods of cooking," the author points out. "However, the base food parameters were always Portuguese."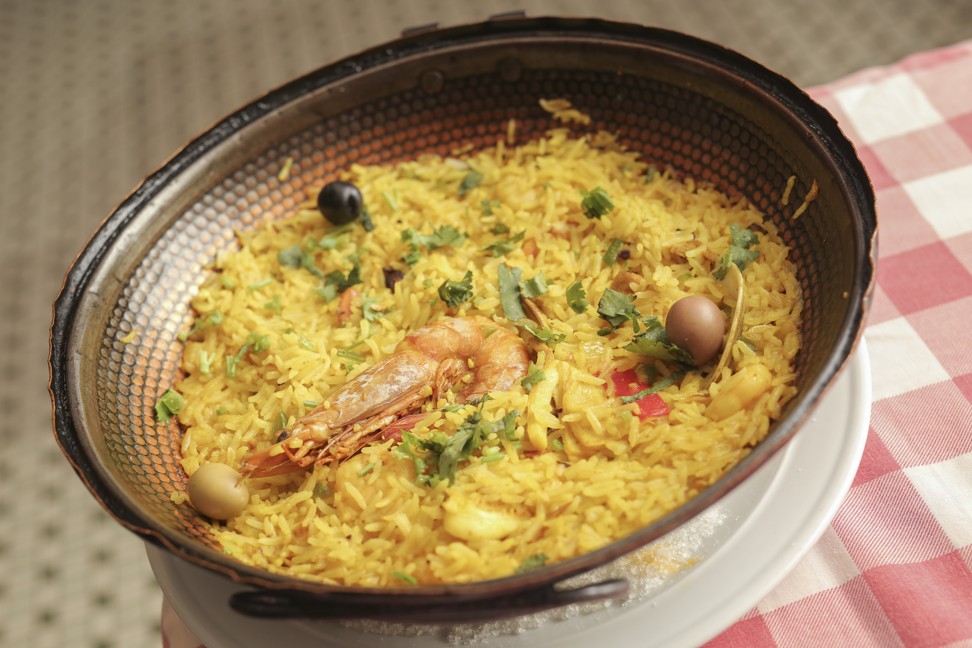 The cuisine of Macau is also influenced by the dishes enjoyed in the tiny territory's neighbouring nations. "Macanese food has had a strong Southeast Asian link over the centuries," says historian Jason Wordie, the author of Macao, Past and Present, noting that the Philippine capital Manila and Macau have many similarities.
Although the Philippines had been a colony of Spain, for a number of years Portugal united with the Spanish crown under the Iberian Union. "Both [cities] are largely Catholic and were trading ports, about 700 miles [1,130km] apart," Wordie says.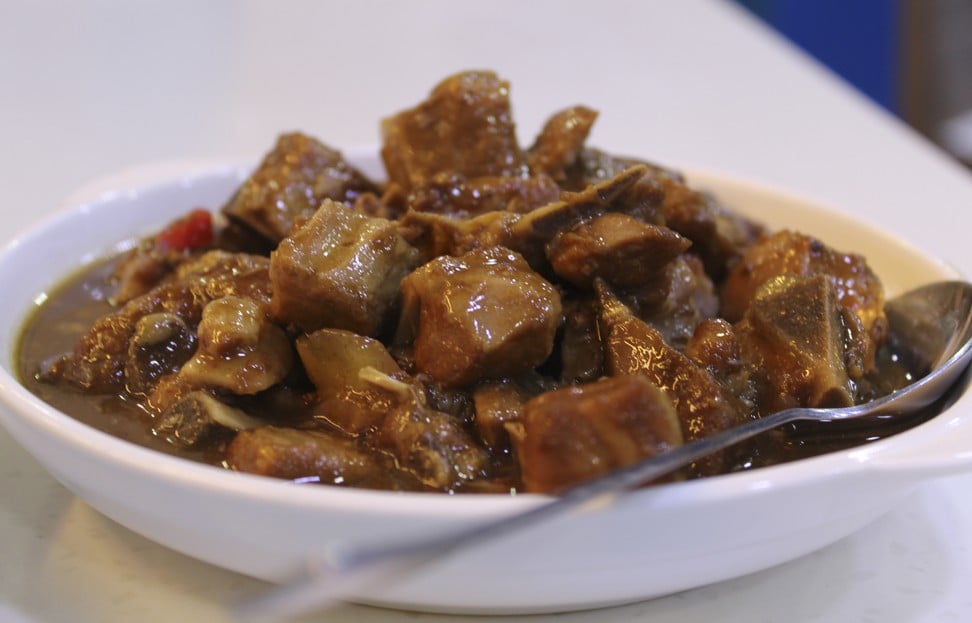 From a culinary perspective, Wordie adds, the cuisines of Manila and Macau both use shrimp paste to flavour dishes.
"The krill shrimp paste known as balichao in Macau and bagoong in the Filipino language of Tagalog is wet and sloppy, unlike the hard blocks of the Malay belacan," Wordie says. "There's rice wine added to the paste in the Philippines and Macau, in addition to the other ingredients like lemon peel and bay leaf."
These 10 Macanese dishes shed light on the former colony's history and culture, with food that combines Portuguese flavours and influences with local ingredients.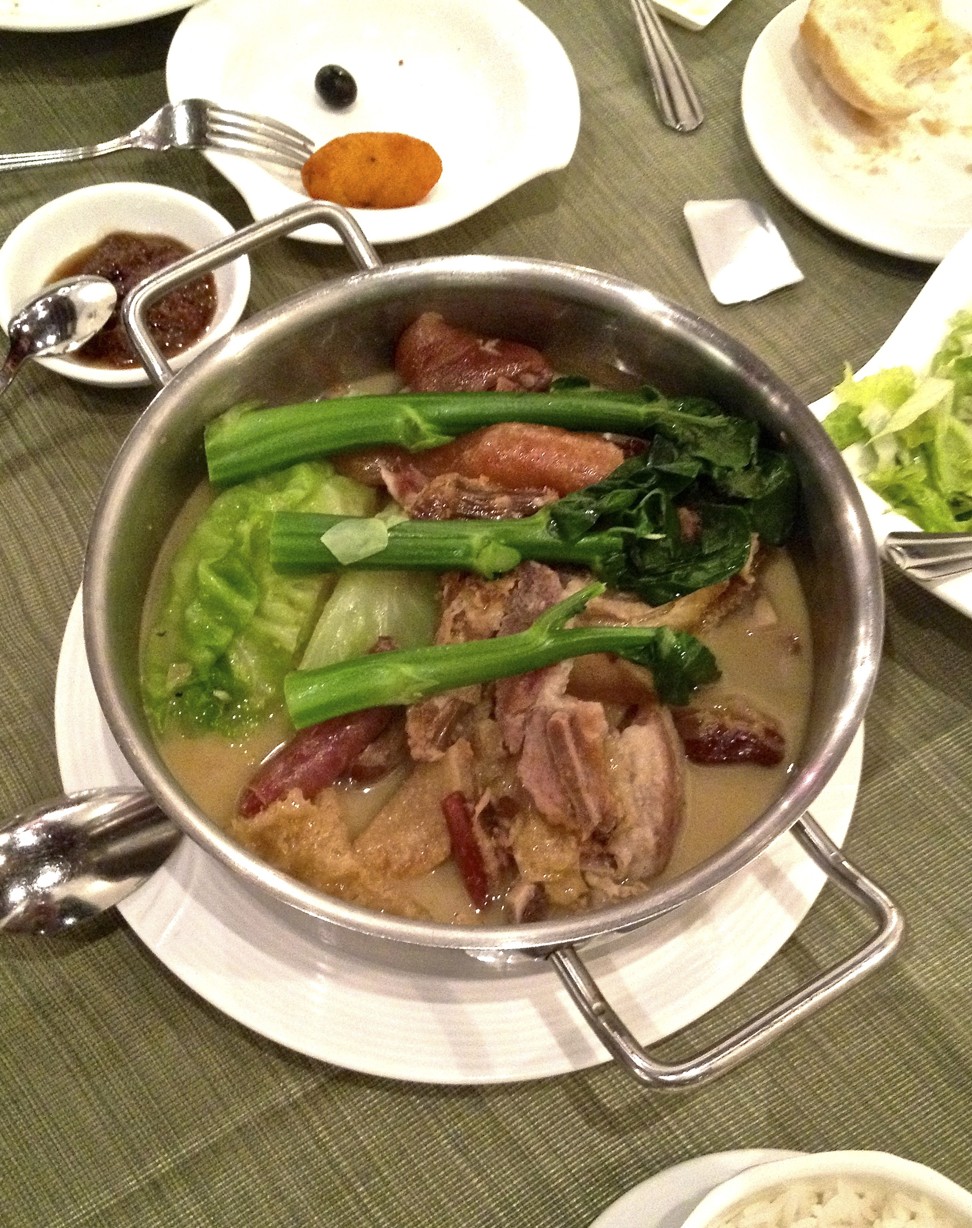 1. Tacho
Every family has its own recipe for this rich winter stew of vegetables and meat made with leftovers.
Abe Conlon, chef at Fat Rice, a Macanese restaurant in Chicago, the US, calls tacho "a Macanese boiled dinner". Tacho, he says, combines the northern Portuguese cozido (boiled meat) and enchido (sausage) dinner with southern China's cured meats, as well as cabbage, root vegetables and balichao shrimp paste.
2. Diablo (or devil's curry)
Before refrigerators arrived in Macau, leftovers were cooked with spices and vinegar to help preserve the food. Diablo is a Boxing Day tradition, made with whatever is left of the Christmas feast. "Debal" means leftovers in Kristang, the creole dialect of Malacca, in Malaysia, where the Portuguese also settled.
Cheryl Noronha, author of The Eurasian Table cookbook, writes that the name of the dish "morphed into devil's curry (or diablo in Macanese dialect Patuá) as the Eurasians eat it devilishly hot, but it is the tartness from the vinegar that creates the distinctive zing".
The curry includes European-style roast meats from turkey to leg of lamb, but also Chinese barbecue pork char siu and cured sausage lap cheong. Variations of the recipe exist across the Eurasian communities in India, Malaysia and Singapore, but the diablo is more generally a complex curry with chillies, vinegar, Worcestershire sauce and pickled vegetables.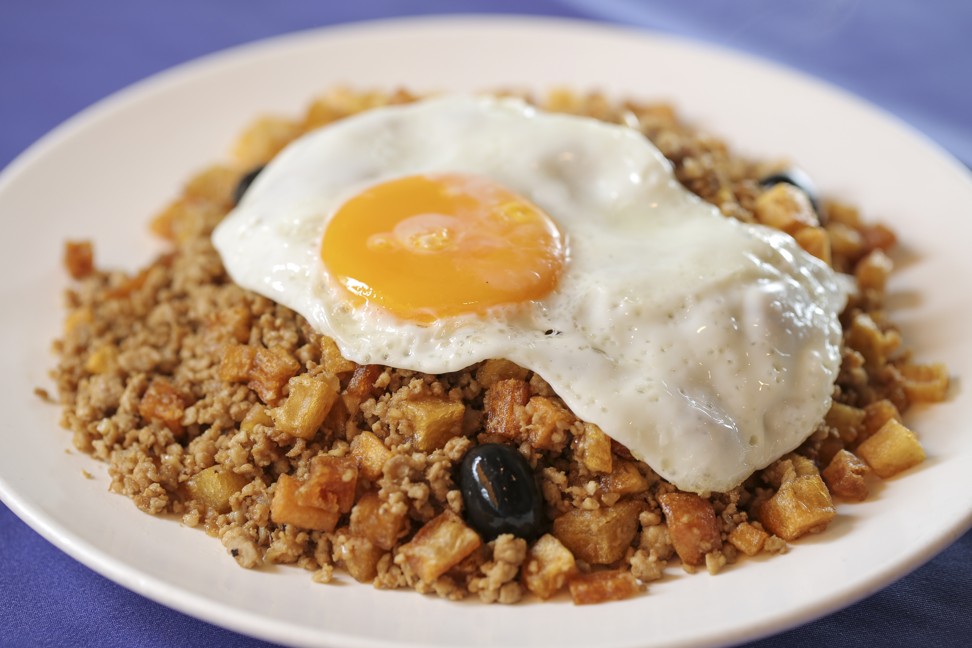 3. Minchi
This classic dish can be ordered in most Macanese restaurants. A stir-fry of cheap cuts of beef and pork chopped into rough mince in the old-fashioned "two cleavers" way, minchi is cooked with dark and light soy sauce, onions, garlic, pepper, and diced potatoes, and goes well with rice.
"Minchi is one of the most iconic Macanese dishes," says cook Marina de Senna Fernandes, daughter of the late Macanese playwright, Henrique de Senna Fernandes. "It is so cherished that it is quoted in poems and proses, or taken as a topic for theatre."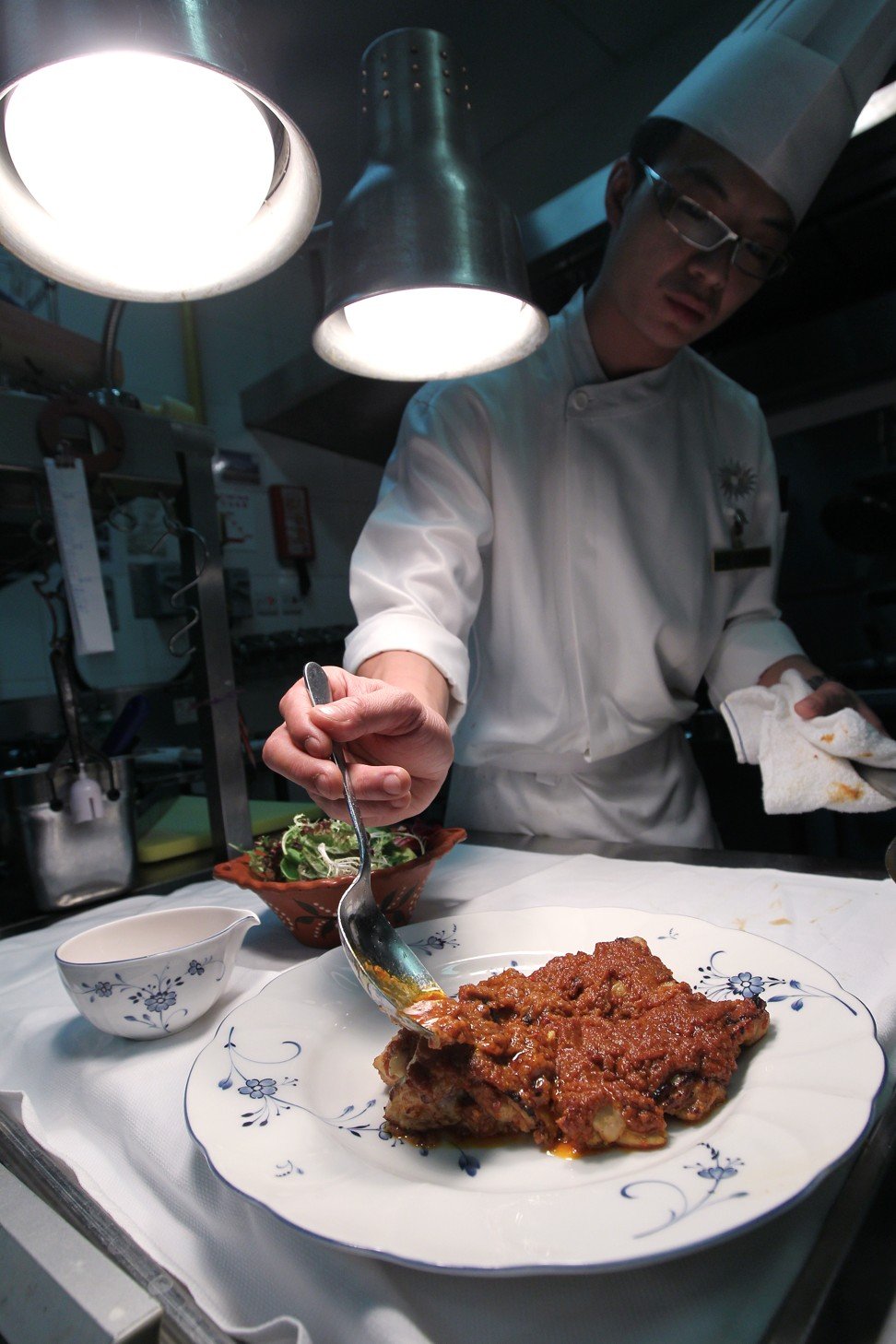 4. African chicken (or galina à Africana)
It is widely believed this dish was created by the late chef Americo Angelo at the hotel Pousada de Macau, and inspired by his trip to Mozambique in the 1940s. The bird is marinated in chilis, onions, garlic and paprika then doused in a lemony, buttery coconut sauce which includes crushed peanuts, and then grilled to crunchy perfection.
Nobody knows the exact original recipe for this dish because the creator kept it a secret. It is one of those recipes that exist only in Macau and not other former Portuguese colonies, possibly because it was created in a professional kitchen. The dish is like a deluxe version of the African piri piri chicken – with the addition of a rich combination of Southeast Asian ingredients.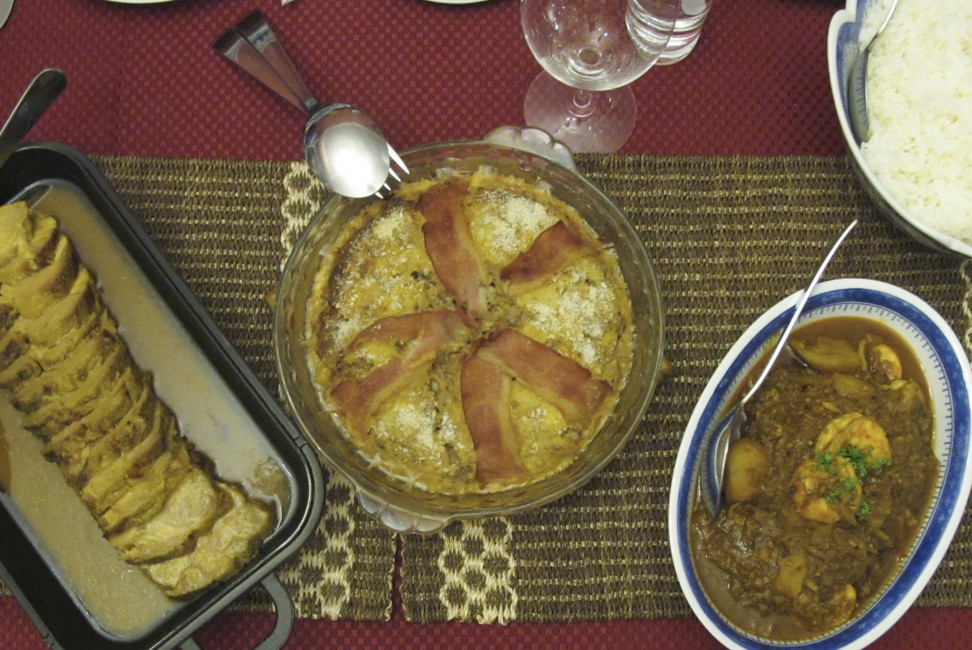 5. Capela
Although you can no longer find this Macanese meat loaf in Portugal, an old recipe once in use in the Portuguese city of Coimbra was found to have similar ingredients. The dish includes ingredients foreign to Macau: olives, cheese, egg yolk, breadcrumbs and slices of bacon.
"Some say that the name has to do with the shape of the meat loaf, which is round with a hole in the middle, resembling a chapel," says cook Der Senna Fernandes. "Others say it may have to do with the crust resulting from the melted cheese on top of the meat loaf, which resembles a cloak [capa, in Portuguese], and from capa came capela."
6. Arroz gordo
A translation of the Portuguese phrase "fat rice", this rich and generous dish is similar to the Spanish paella. With rice and a variety of meats and other ingredients, arroz gordo usually begins with the important Portuguese aromatic base of refogado: a caramelised, smoky combination of onions and garlic. A variety of other ingredients are then added. A chef might include duck, eggs, raisins, chicken stock, sausage, egg, black beans or peppers.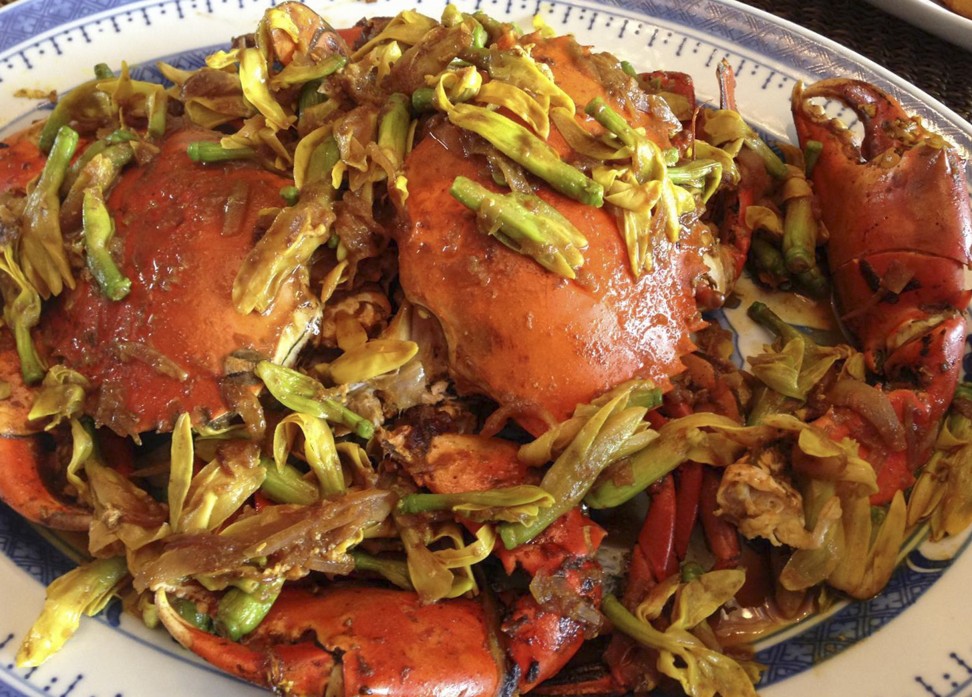 7. Caranguejo fula papaia
A typical homestyle dish, this crab salad is made with the male flowers of the papaya tree. Rarely seen in restaurants these days, it was mostly popular as a home-cooked dish and used male papaya flowers that would otherwise go to waste – because only the female flowers produce fruit.
8. Bebinca
This sweet and milky coconut-based dessert is popular in Macanese restaurants. Of Malay origin and known as bingka in the Malay language, bebinca is a pudding of coconut and rice flour. Bebingka, or bebincam – small cakes made of rice flour, sugar, eggs and coconut, cooked over a charcoal fire – are sold in the streets of Manila.
"In Goa [a former Portuguese colony in India], Malaysia, Singapore, Thailand and Indonesia, bebinca is a cake [also known as kuih lapis] that is baked in layers," writes chef Cecilia Jorge in her Macanese cookbook.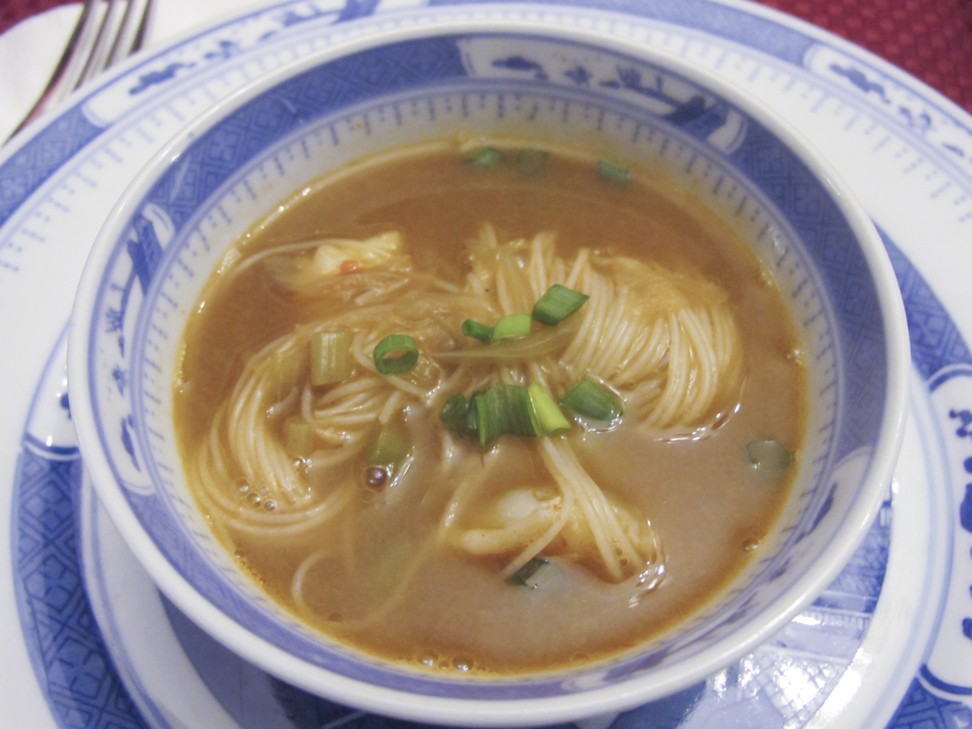 9. Lacassa
The word lacasa refers to a dish of rice noodles, a little like Singaporean and Malaysian laksa. Macanese lacassa comes in two versions – soup and stir-fry, both using rice vermicelli noodles.
Sopa de lacassa is usually only found in Macanese homes and not sold in restaurants, while the stir-fried version is similar to a Singaporean bee hoon (fried rice vermicelli). Macanese lacassa's soup base is a broth made with balichao, which gives it a bisque-like flavour. Portuguese aged brandy and dry white wine are also included – giving an authentic East-West fusion of flavours.
10. Porco balichao tamarindo
A favourite in Macau, this braised tamarind pork dish is both sweet and tart, reflecting the blend of people and cultures at the various ports where the Portuguese refuelled while heading East. A similar dish, babi assam, is popular in Singapore and the Philippines.
The base of this dish is Portuguese carne de vinha d'alhos – meat with wine and garlic.
"For me, the dish porco balichao tamarindo is one of the most representative Macanese dishes with traces of Portuguese roots," says chef Florita Alves.
"Based on the origin of the main ingredients – pork, garlic, wine, bay leaf, tamarind, balichao, cane sugar – and the method of preparation, we can conclude its roots and relationship with Indian vindaloo," she says, referring to the Indian vinegared meat curry originating in Goa.
This article appeared in the South China Morning Post print edition as: The best of blends