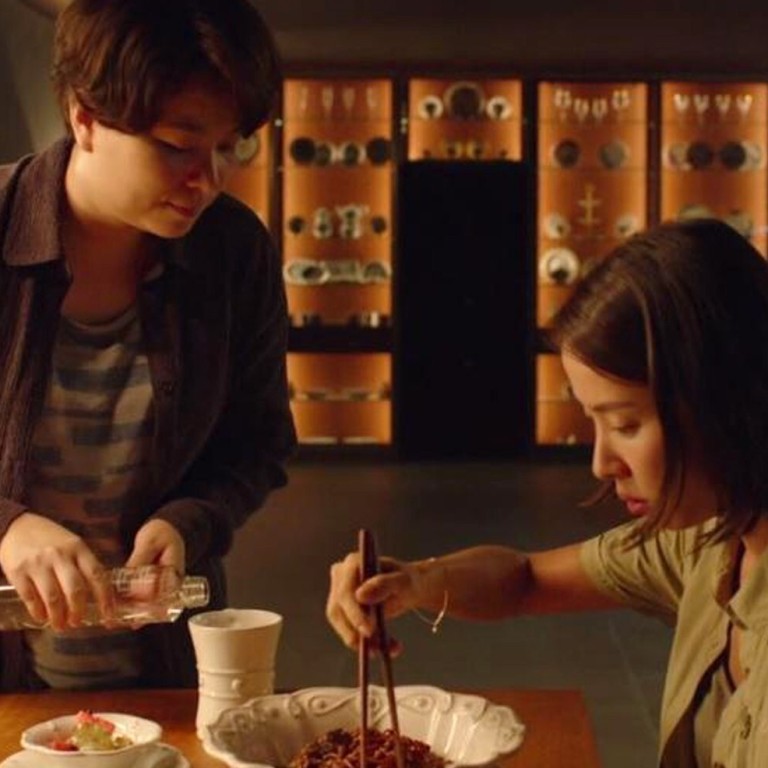 Those ram-don noodles from Parasite: a cheap noodle treat popular with students and not usually found on restaurant menus
The World Instant Noodles Association says the average South Korean eats 74 packets of instant noodles a year, making them world's largest consumers per capita
High-end US restaurants added ram-don, or jjapaguri, to their menus, but in Korea you eat it 'because you either don't have a lot of time or a lot of money'
A scene in last year's Academy Award-winning film Parasite, in which the housekeeper whips up instant noodles with finely marbled Korean Hanwoo beef, had viewers around the world drooling.
It wasn't just the film that took off, either – its noodle dish, ram-don, became famous too. YouTube was flooded with "how-to" videos and some US supermarket aisles displayed Parasite posters that pointed out the two types of instant noodles needed to make it. A number of high-end Korean restaurants in New York and Los Angeles even added it to their menus.
The dish isn't called ram-don in South Korea. There it is known as jjapaguri – a portmanteau of two instant noodle brands, Chapagetti and Neoguri. The name ram-don, created for Parasite's English subtitles, is simply a hybrid of "ramen" and "udon".
"This is a dish that's really meant to be sort of snack food or student grub, something you're eating because you either don't have a lot of time or a lot of money," says Jennifer Flinn, an assistant professor at Seoul's Kyung Hee University who also studies food.
The meal cooked in
Parasite,
topped with premium sirloin,
is a far cry from the jjapaguri that Koreans would make at home. Its extravagant interpretation represents
director Bong Joon-ho's
critique of the class and wealth divide – a theme that runs throughout the film.
Korean jaws dropped at the sight of the well-heeled Mrs Park telling the housekeeper, Mrs Kim, to add marbled beef to noodles that cost less than US$2.
It would be, says Flinn, akin to adding lobster to a box of Kraft macaroni and cheese.
"It's not something you'd ever put beef on, especially really, really expensive beef like they do in this movie. This is meant to be a sign of how outlandishly rich these people are and how out of touch they are from what normal people eat," says the American, who has lived on and off in the South Korean capital for 15 years.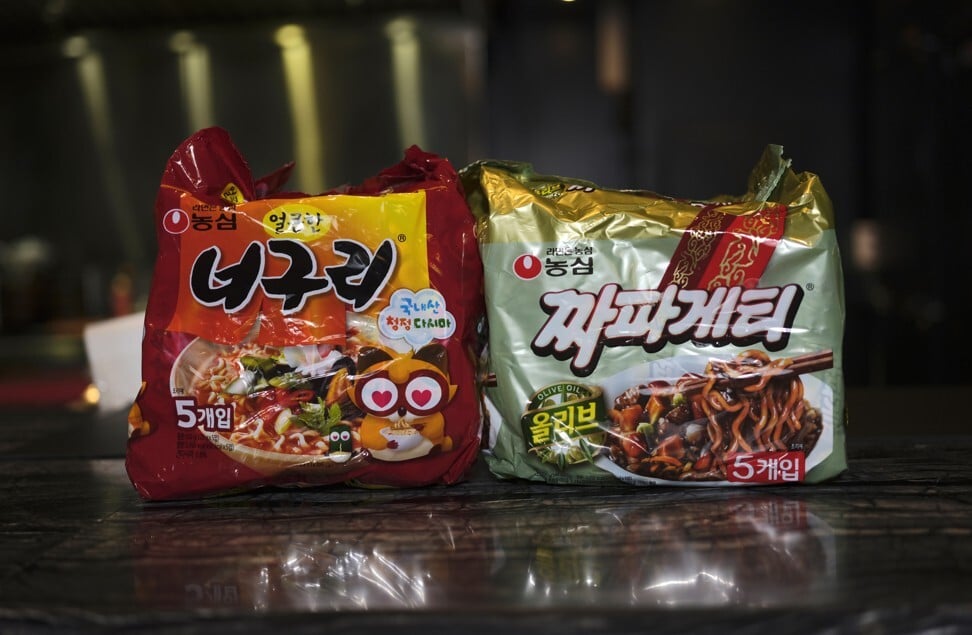 Chapagetti is a Korean variation on
zhajiangmian
, a
dry Chinese noodle dish which uses black bean sauce
, and Neoguri is a soup-based spicy seafood noodle dish. Mixed together, the noodles – coated with sweet black bean sauce with a spicy umami kick at the end – are very addictive.
Jjapaguri is usually topped with a fried egg or leftovers found in the fridge, and Flinn stresses that it is not something usually found on restaurant menus in South Korea.
While instant noodles have become synonymous with Japan, Koreans are the world's largest consumers of the quick meal per capita – according to the World Instant Noodles Association, the average South Korean eats 74 packets of instant noodles a year.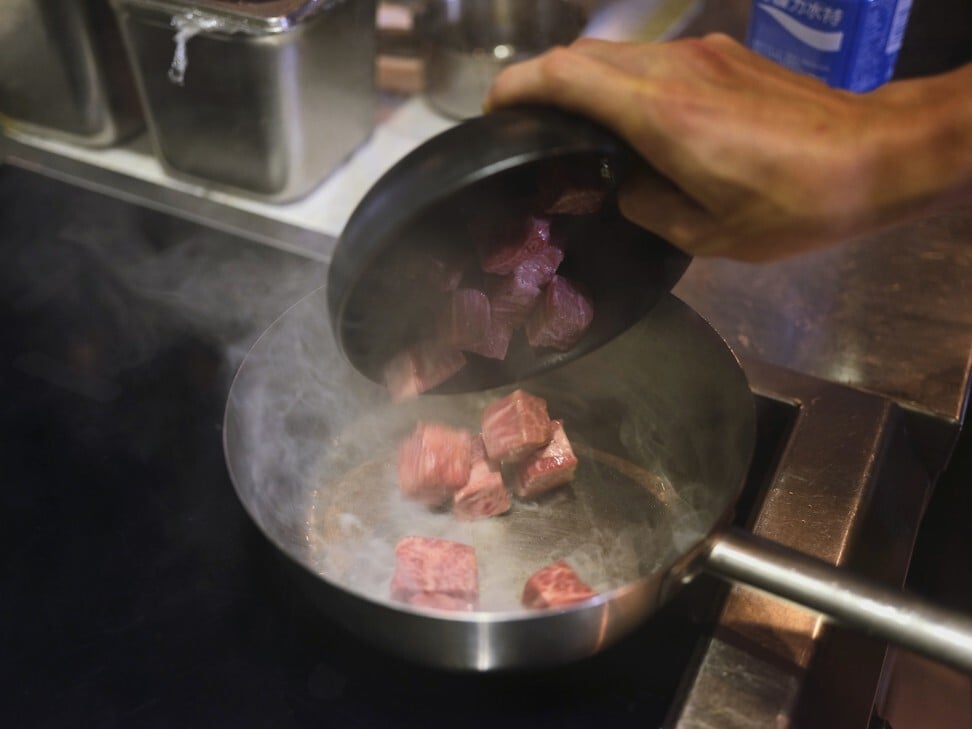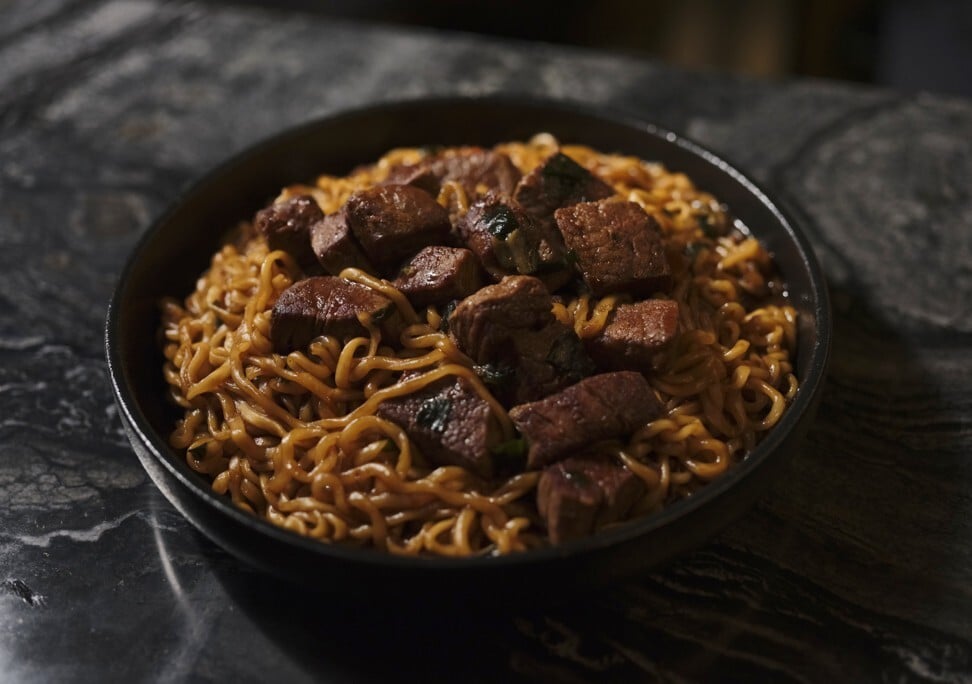 "Growing up, I thought ramen was a Korean dish, not a Japanese one – that's how much we ate it at home. It was just around us every day," says Korean-Canadian Do Yong-soo, executive chef of
Silencio
in Hong Kong, as he sears cubes of beef to recreate the meal from
Parasite
.
"For many years after the Korean war [1950-1953], people were very poor and noodles were really cheap. Every household had ramen in their pantry. If you went to a friend's house, you would be offered instant noodles. It was just convenient.
"But if you eat noodles all the time, of the same variety, you get sick of it. You start looking for new flavours and recipes." That's where jjapaguri comes in, he adds, dropping the instant noodles into a pot of boiling water.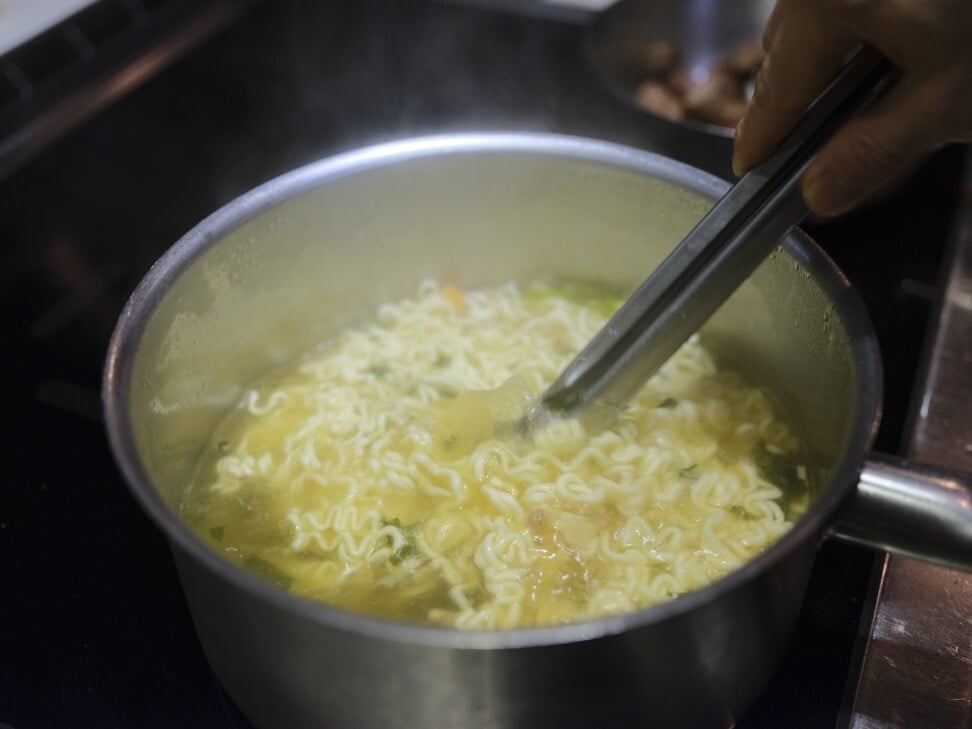 Instant noodles were invented in Japan in 1958 and made their way to South Korea in 1963 when Samyang Foods, a South Korean grocery company, launched Samyang ramen.
Many more brands were introduced, including Ottogi, Paldo and Nongshim, but it wasn't until the 1980s that Koreans began mixing different types together, a move which Flinn says can be traced to the country's military.
"For a long time, instant noodles got incorporated into all kinds of other dishes – like in budaejjigae, a very popular dish which literally translates to 'army base stew', for example. The dish is made from a combination of Korean ingredients and sort of surplus foods, mostly from the US Army.
"It contains things like instant noodles, Spam, canned beans, kimchi – and it all gets stirred together into this sort of thick, very spicy and rich soup," she says.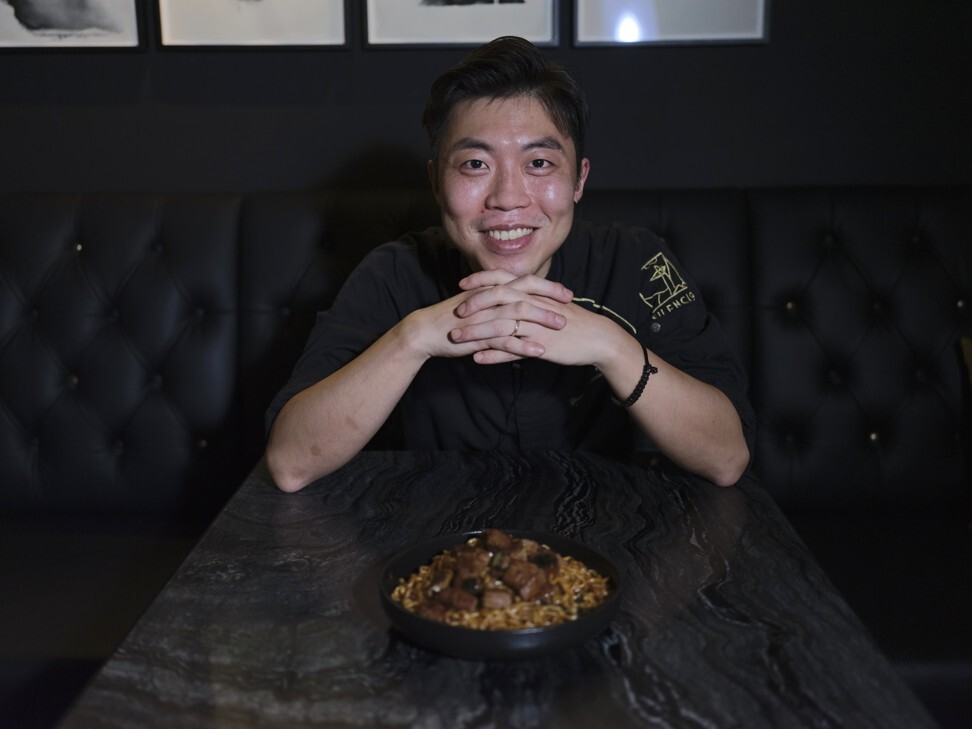 Although it is not clear who invented jjapaguri, Do says it "caught on fire in the military" because of the troops' limited access to tasty food.
"Around the late '90s, early 2000s, jjapaguri became available on the 'secret menu' at the post exchange [commissary] in the military," he says. "Back then, the food served in the military was not great. They didn't have 'oomph' or flavour, as it was all cooked in massive batches. So the only way they could have MSG [monosodium glutamate, a flavour enhancer], this magic powder, was in ramen. They would go to the post exchange and order this secret [mixed] instant noodles."
Once the conscripts finished their two years of compulsory military service, they took their craving for jjapaguri home with them.
Although "every Korean household would know this recipe", translator Darcy Paquet wrestled with what to call the dish in English when it came to introducing it to a global audience in Parasite.
"He made a very deliberate choice. They were worried that if they just translated it as 'jjapaguri', then audiences outside Korea wouldn't know what they were talking about," Flinn says.
"They wanted to communicate that it was a combination of different noodles. So they went with some other Asian noodles that they thought international audiences might be more familiar with … the amount of screen real estate that you have to take up to explain jjapaguri – the whole screen would be [subtitles] trying to explain what it is."
As a result of the success of Parasite, Flinn says, many people have tried to make ram-don and have recorded themselves cooking and eating it, before uploading it online. This is not, however, something Koreans would eat on a daily basis.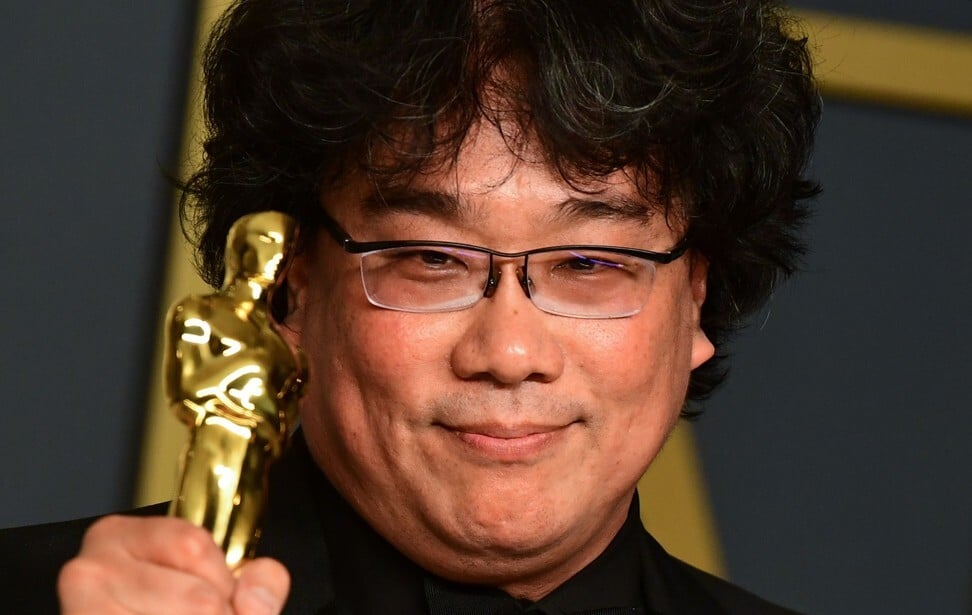 Parasite uses plenty of other food references to highlight economic disparity. In one scene, the Kims, who live in a sub-basement flat, construct cardboard pizza boxes. A storyline that runs in the background of the film that non-Korean viewers may not pick up on is that the Kims were once middle class, but have since fallen on hard times.
Flinn says it is mentioned a few times in the movie how the Kims lost their money on a franchise.
"When South Koreans are forced into retirement, they don't necessarily have enough money to live on for the rest of their lives. They move from being in a company to opening their own restaurants or businesses – and these are really commonly [seen] things, like fried chicken franchises. If they don't do well, people often lose their retirement savings."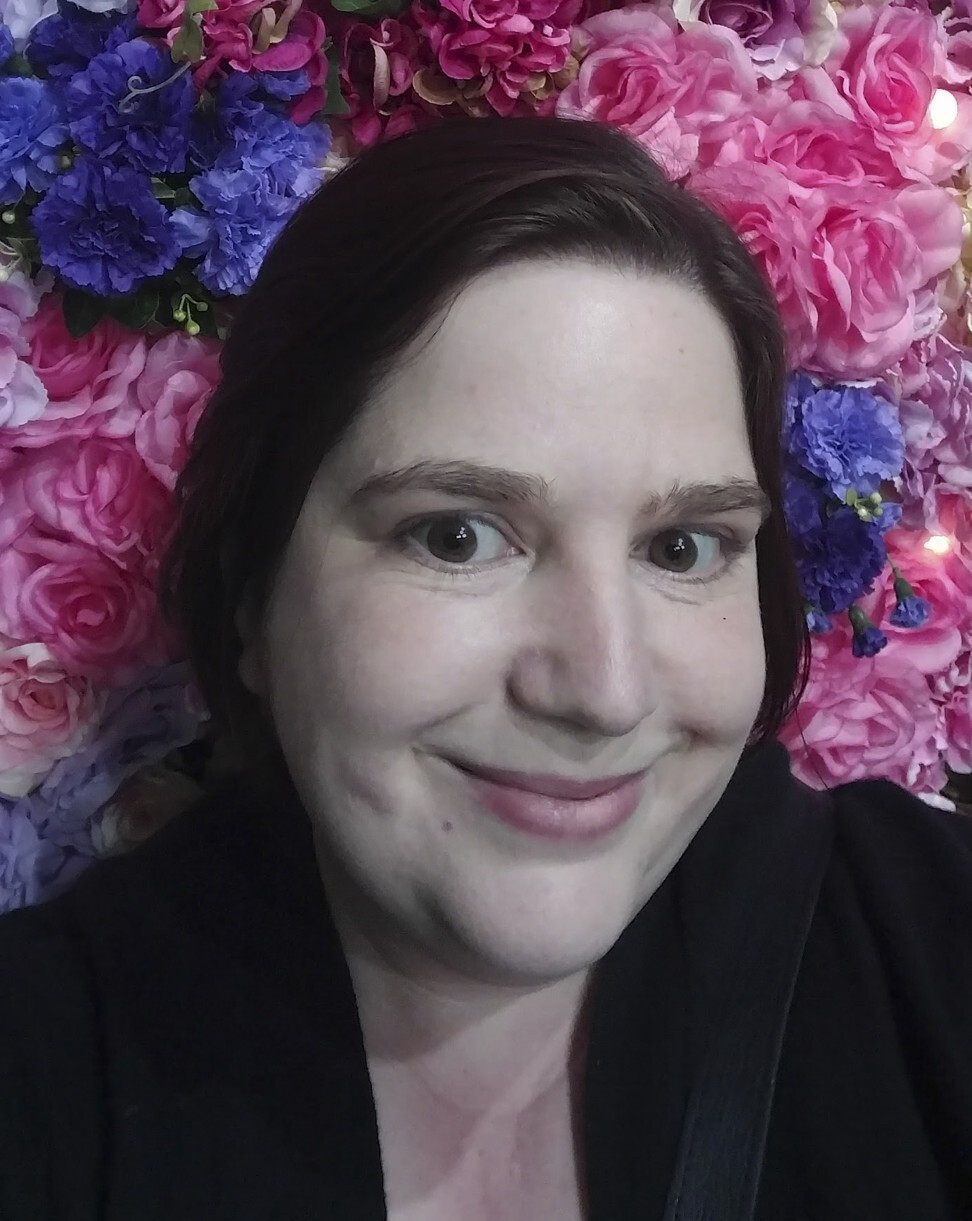 Back in Hong Kong, Do is thrilled at the huge success of Parasite, saying the film has helped to strengthen the Korean identity outside the country. Do immigrated to Canada when he was 10, so he was not very familiar with jjapaguri until his girlfriend made it for him several years ago. He's been hooked ever since.
"I left Korea when I was really young and, in my experience, I've never felt like people know Korea. It's just this small country in Asia. But now, everything's changed. Now, people know [the cities of] Busan, Gwangju, not just Seoul," he says.
"Like wine, [the global recognition of Korean identity and culture] was fermenting for a very long time, with things like K-pop, K-dramas and food. Now Parasite has popped it – the bottle has opened."
Slurping down his bowl of jjapaguri topped with Hanwoo beef, he says he's "proud of Parasite and ram-don". Why?
"Because jjapaguri is my favourite."
Additional reporting by Yang Yang