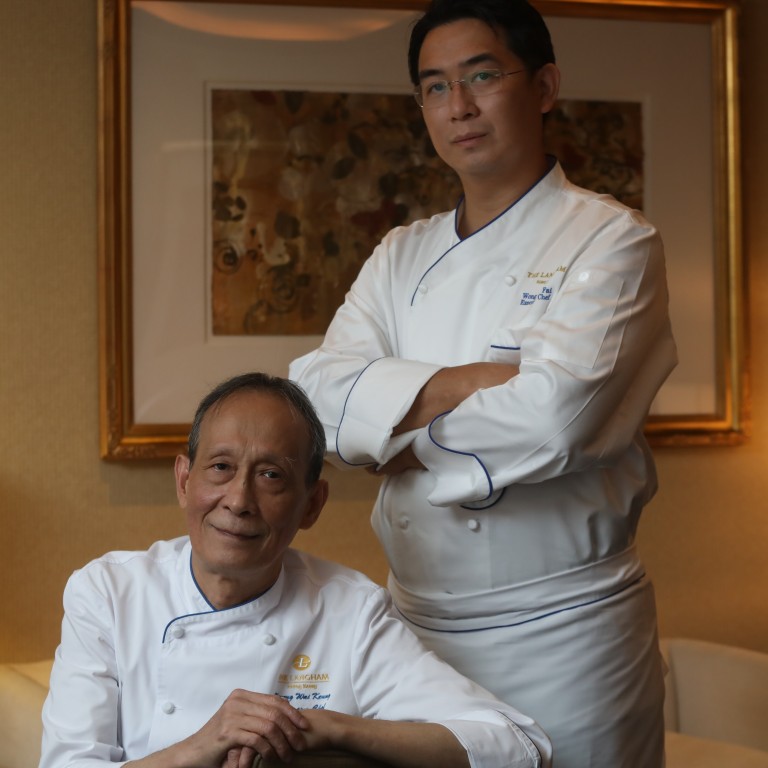 Can fine-dining Cantonese cuisine survive as old chefs retire, when young ones don't want to put in the hours?
When Kwong Wai-keung of T'ang Court at The Langham hotel retires, his apprentice will replace him – but not all Cantonese fine-dining chefs will be so lucky
Fewer young chefs want to put in the time to learn, and to cook, the complex dishes that elevate southern Chinese traditional cuisine
Eight treasure duck is a labour-intensive dish served in traditional Cantonese restaurants that's ordered days in advance.
First, the duck is marinated overnight in dark soy sauce, spices and Shaoxing wine. The following day, hot oil is ladled over the duck to tighten the skin. Once the bird has cooled, it is stuffed with eight stir-fried ingredients, which can include glutinous rice, diced mushrooms and water chestnuts, lotus seeds, Chinese sausage, chestnuts, dried shrimps, bamboo shoots and dates. Then, the cavity is sealed with a metal skewer.
Finally, the duck is cooked in soy-flavoured chicken stock for more than an hour. When sliced open, the aroma of the stuffing mixes with that of the succulent, tender duck.
In Hong Kong, it's becoming increasingly hard to find such labour-intensive Cantonese dishes – others include pork tripe stuffed with chicken and
bird's nest
, deep-fried
taro
cake with smoked duck, and deep-fried whole boneless chicken stuffed with glutinous rice – on restaurant menus. This is partly because of higher labour costs, but also because fewer youngsters are showing an interest in the trade.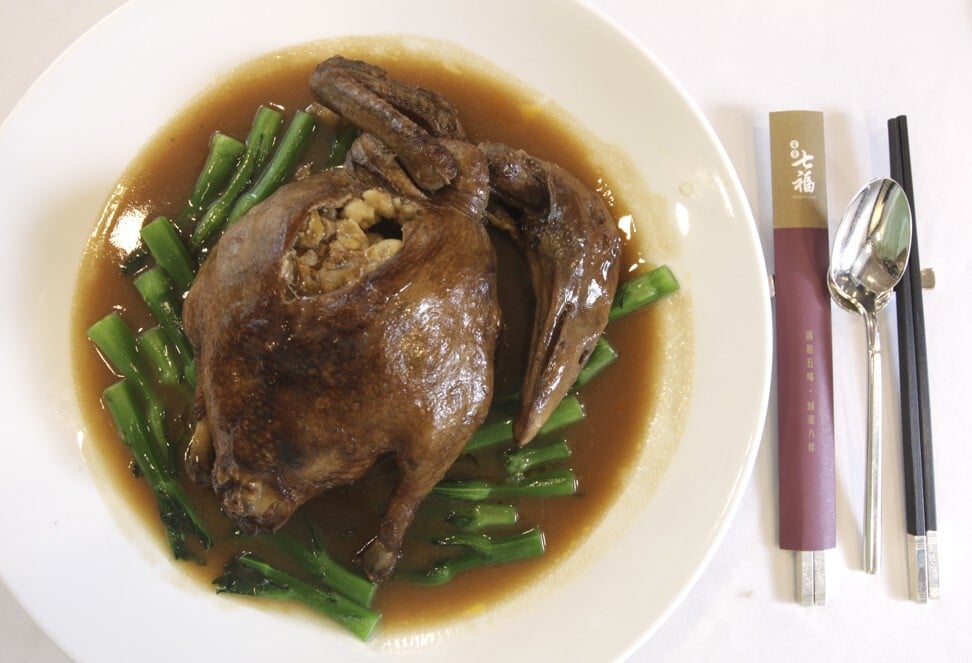 Veteran chefs well into their sixties are starting to retire or have already hung up their aprons, and with them goes decades of knowledge and experience of cooking traditional dishes that were once hugely popular.
Master chef Kwong Wai-keung will turn 65 this year and, although he has thought about retirement, he believes he still has the energy to carry on. When he finally does put down his cleaver for good, though, Kwong will be able to look back on a distinguished career.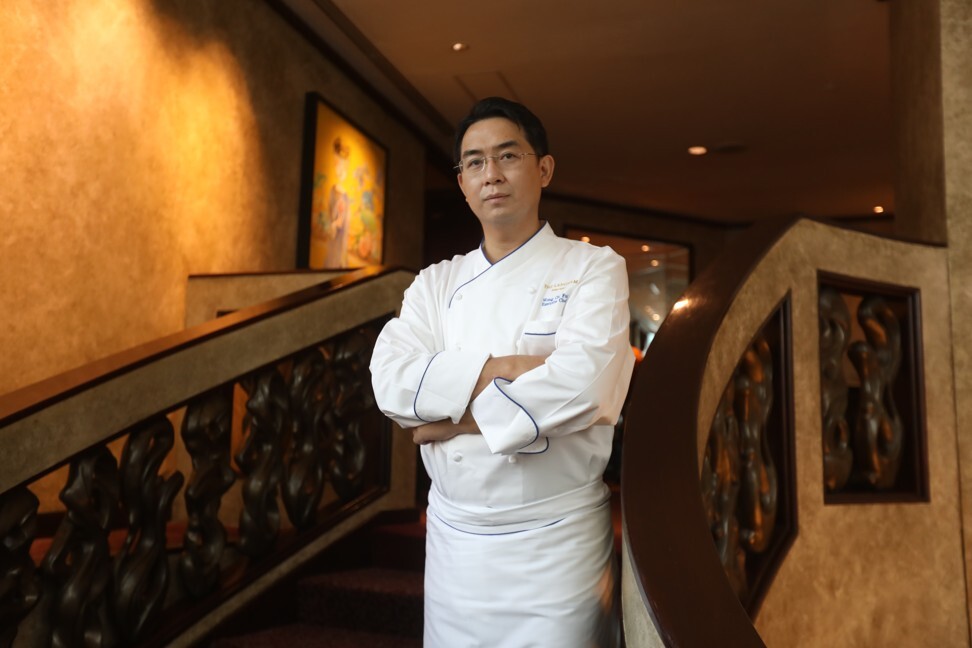 T'ang Court at The Langham, Hong Kong hotel
, where he has long reigned supreme, has held three Michelin stars for five consecutive years, which Kwong attributes to a strong team and his determination to pass on as much as possible.
"I like to cook seafood," he says. "But these past 20 years I have let the others cook nice ingredients like lobster, conch, shark's fin,
fish maw
. If I cook them all the time, they don't get the experience … so how can they practise?
Instead, I stir-fry rice and noodles, but I watch the other chefs.
"If they don't do it well, I tell them how to do it better or redo it. They need to actually cook [a dish] a few times to know when it's cooked just right."
Kwong's apprentice, executive chef Wong Chi-fai, 43, has followed him on and off for 16 years, and has noticed fewer young people showing an interest in working in Chinese kitchens.
"They think this is arduous work. The hours in restaurants are long," Wong says. Before the Covid-19 pandemic, he and the team started work at 10am and often finished after 10.30pm, with a break after lunch. Wong says only about half the young chefs who join the T'ang Court kitchen team stay on.
"Others leave after a year or two, because they may think our standards are too high," he explains. "The ones who stay are dedicated. They can meet our standards and we don't need to supervise them as much, and in turn they are happier at their jobs."
The Chinese Culinary Institute (CCI), run by Hong Kong's Vocational Training Council, has done its best to turn the tide, Wong says. "My friends who are in restaurants say there is new blood in the industry, which is a good start."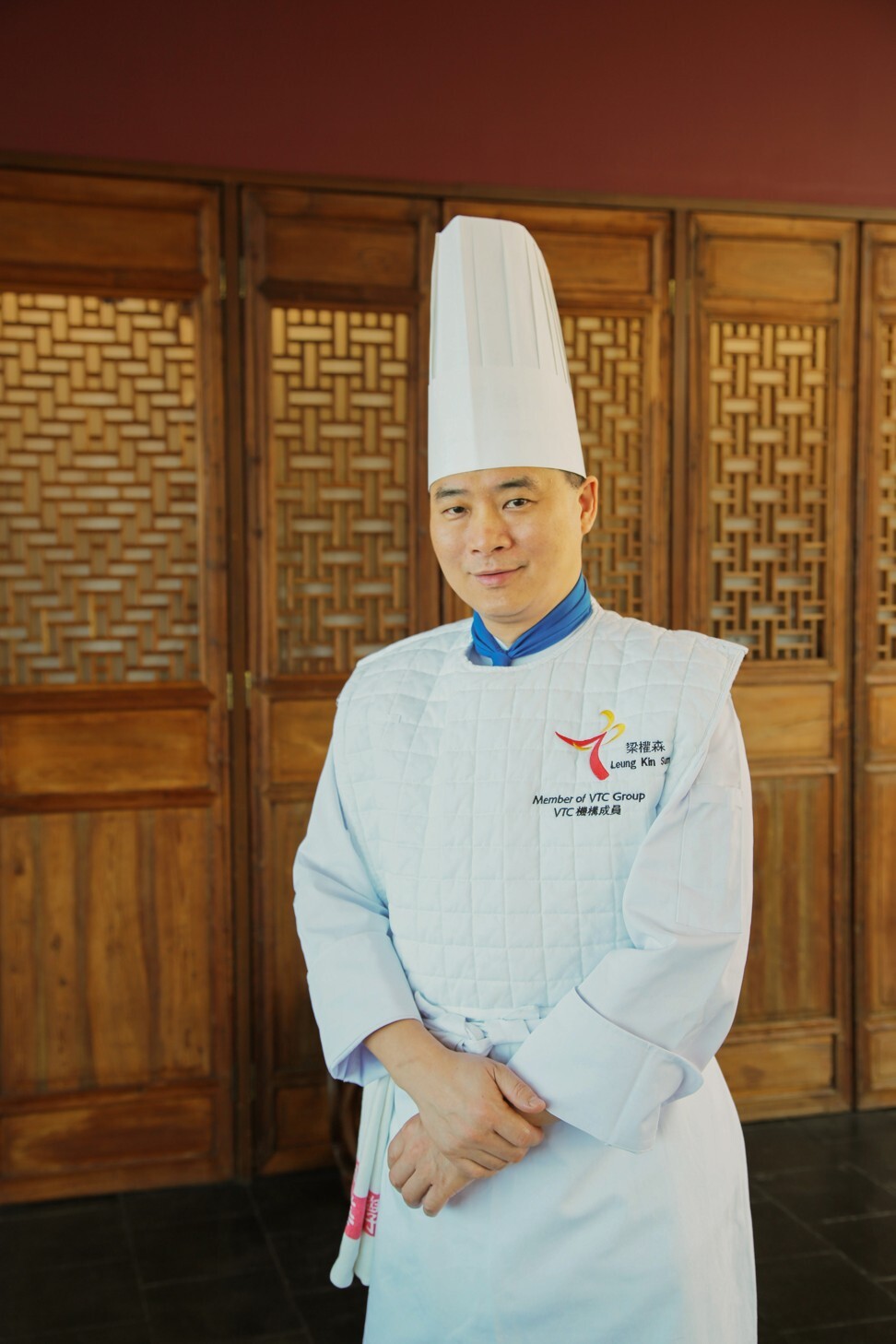 Sam Leung Kin-sum, 57, the chief instructor for preparation of southern Chinese cuisine at CCI, teaches about 250 students each year. He has over 40 years' cooking experience, and began in the industry at a time when the economy was booming and Hongkongers were more willing to splash out in restaurants.
He remembers the days when his team constantly prepared expensive classic dishes such as snake soup, shark's fin soup and abalone.
"We had to cook over 100 abalone at a time, when you had 10 tables, 12 seats per table, and six to seven catties [3.6kg to 4.2kg, or eight to nine pounds] of shark's fin," he recalls. "It's a pity the tradition of making these kinds of dishes will disappear. When no one puts these dishes on the menu, no one can learn from us after we retire. That knowledge is lost."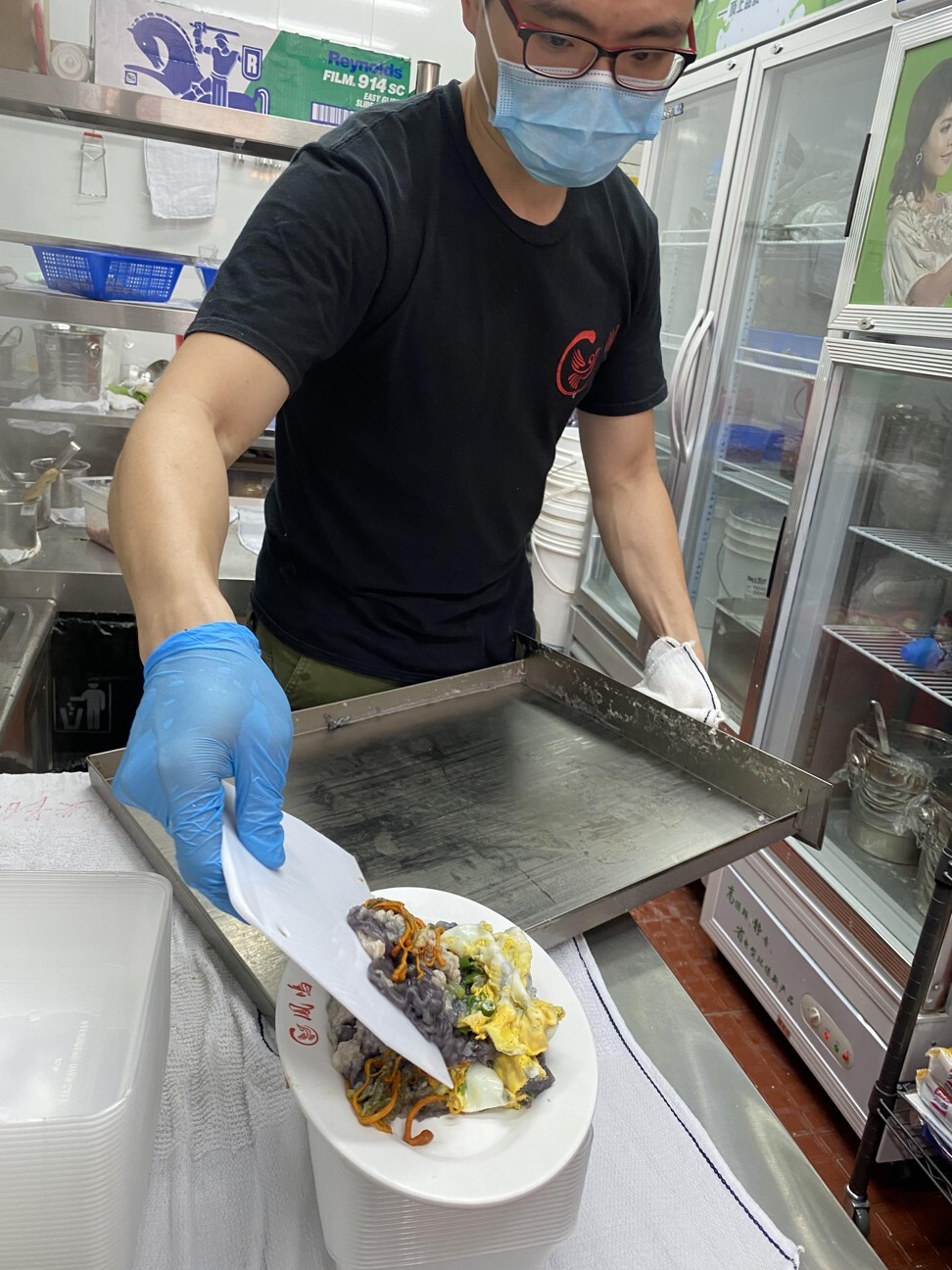 Leung says the institute's instructors explain the process of preparing and cooking dried seafoods, including shark's fin, abalone and sea cucumber, by showing students videos, so they will have at least the basic knowledge.
"Many hotels don't serve shark's fin any more because it's not good for the environment, but some customers will request it for special events like weddings, or ask to serve 'vegetarian' shark's fin by using fish cartilage or vermicelli instead," Leung says.
Rising labour costs have resulted in fewer people working in the kitchen, he adds. "Before, we would have a dedicated person to wash all the vegetables, over 100 catties a day. But now, chefs have to wash their own vegetables and that would only be around 30 to 40 catties each."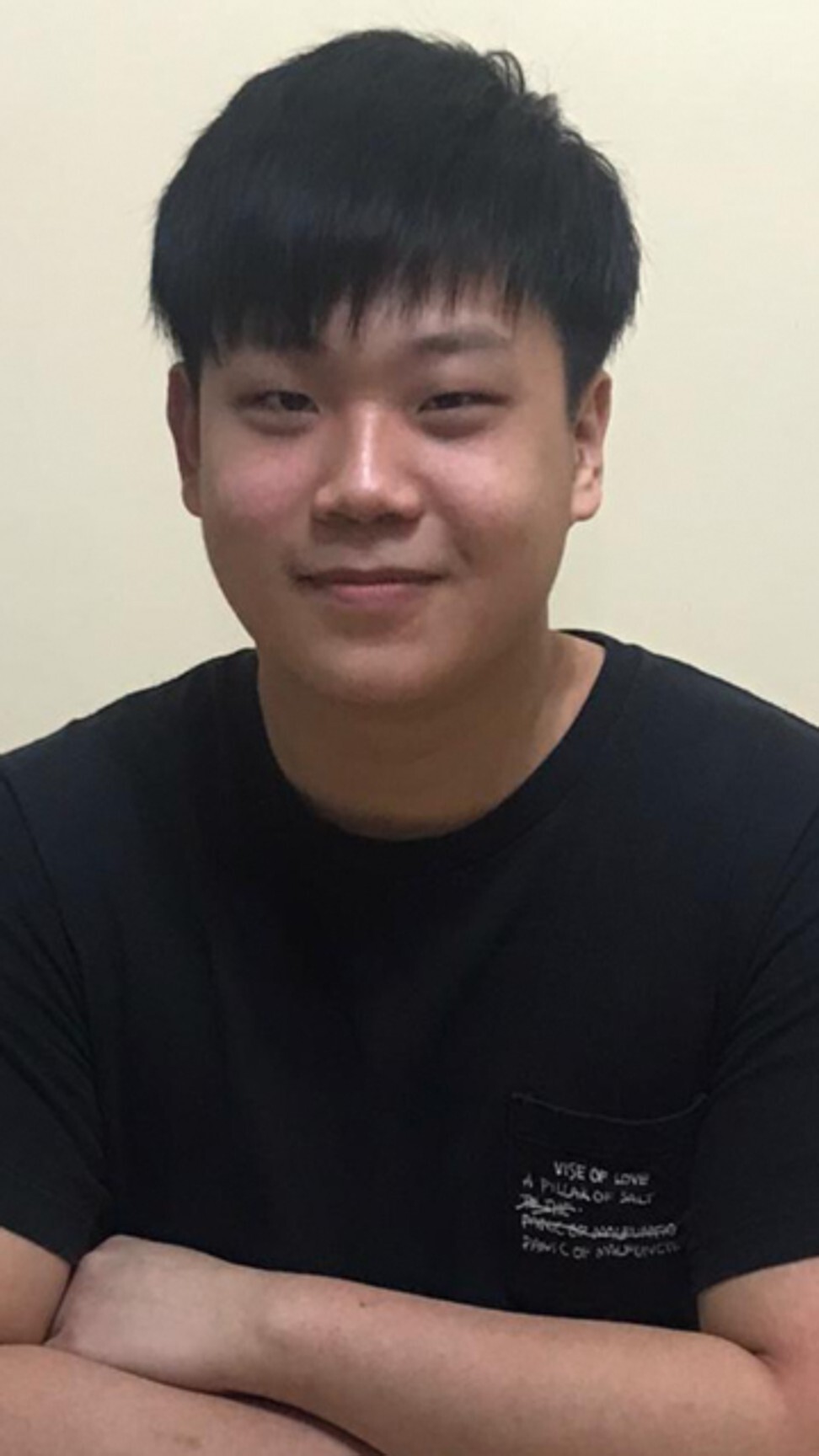 Instead of serving complex dishes that take time, many restaurants today prefer to dish up food that can be made as quickly as possible to boost customer turnover. The bottom line makes it hard to justify dishes such as pork lung in almond soup, which needs lungs that have been thoroughly cleaned, and stone-ground almonds.
"If I said there were enough young people to replace retiring Chinese chefs, I would be lying," Leung says. "Traditional Cantonese cuisine is laborious and makes it hard for restaurants to pay the rent. If you want to do these time-consuming dishes, you can't make money out of it, so is it worth the time and effort to make it at that price?
"Many bosses think it's too complicated and would rather focus on dishes that don't require as much effort."
A recent CCI graduate is Tom Yuen Man-tok, 20, who works at the West Villa Restaurant chain in Hong Kong. He admits that the transition from culinary school to a real kitchen was a steep learning curve, and he has endured numerous complaints from his master chefs for his mistakes. But he is enjoying his job, and now knows how to make classic dishes including deboned and stuffed chicken wings and steamed flower crab in Shaoxing wine.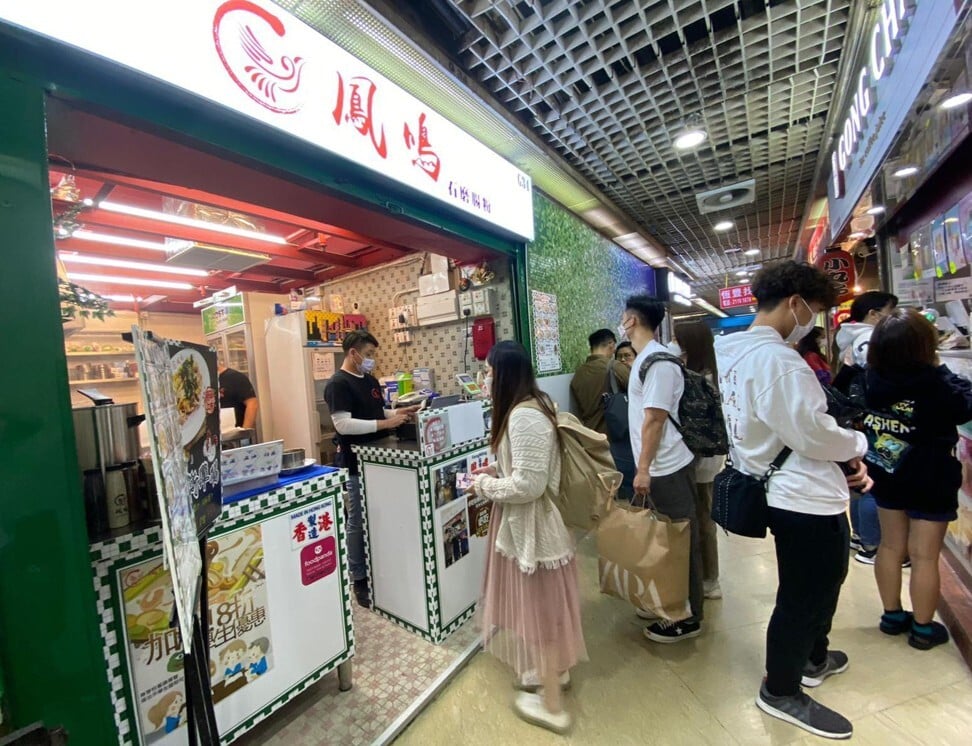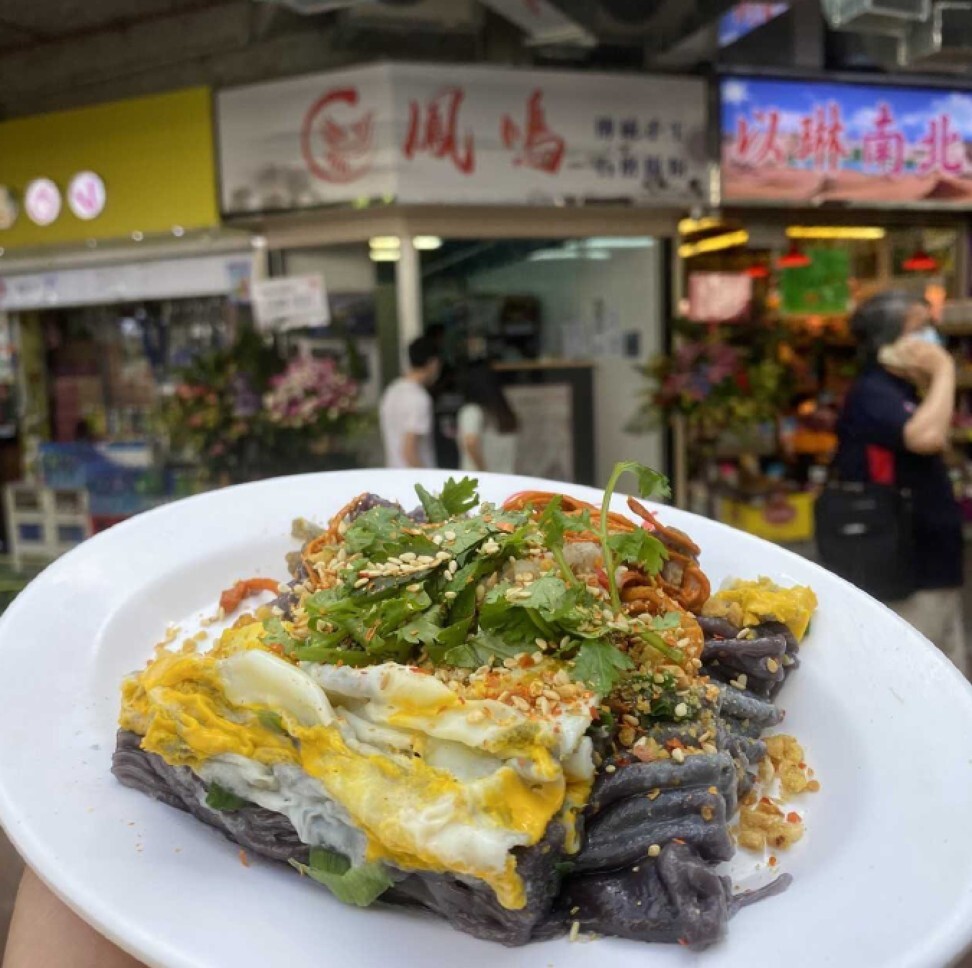 "I am very interested in Chinese culinary culture," Yuen says. "When chefs cook a dish, they use very few ingredients, and add maybe chicken stock or vinegar, whereas in Western cuisine they use lots of herbs and spices to achieve flavour."
At first he thought of joining a hotel kitchen with a higher salary and better benefits, but he feels he has learned much more in a restaurant setting. "If I have time I can practise chopping, or during breaks I watch the other chefs prepare fish, and they don't mind us watching. As long as you are interested, they will teach you," he says. "There is so much to learn."
Jason Lam Ying-ki, another CCI alumnus, graduated in 2011. The 32-year-old originally studied architecture before switching to cooking, and even went to Guangzhou, over the border in southern China, to learn vegetable and fruit carving – an art form lost in Hong Kong.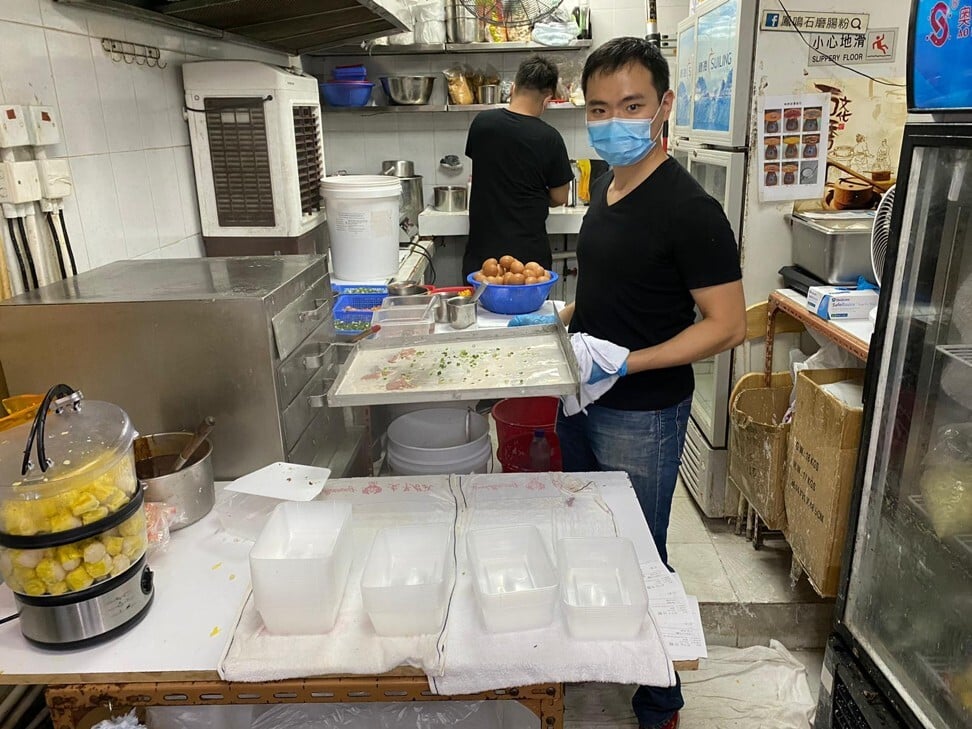 These days, he has five dim sum shops called Feng Ming, specialising in steamed rice rolls, made from different kinds of ground rice, including Thai red rice and black rice from China's northern Heilongjiang province.
Lam says that although fewer people are joining the industry, he believes those who are truly interested will stay in the field. Some dishes, he says, including gold coin chicken, have been taken off menus in recent years not because they are time-consuming, but because they are unhealthy.
The dish is made using char siu, pork belly fat and chicken liver oil. It has made a nostalgic reappearance in some restaurants, however.
"We can learn from master chefs and apply our skills to modern dishes," he says. "Maybe in the future, we will stir-fry beef and rice noodles differently. You can't worry so much about traditional cooking techniques and dishes disappearing. We can just do our part."