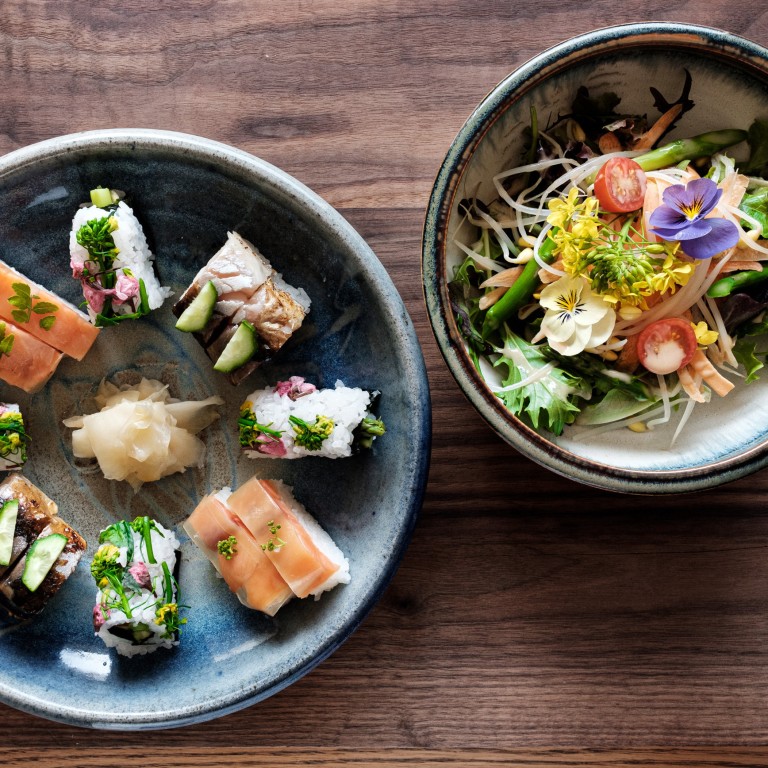 Sushi around the world, from California rolls and Philadelphia rolls to Italian su-sci with burrata, mortadella, olives and other Mediterranean ingredients
Chefs across the world freely play around with sushi, adding non-traditional ingredients and inventing twists and concoctions that make would purists recoil
The Japanese inventor of the California roll created the recipe in Canada, while Italians can find ingredients such as burrata, capers and olives in their sushi
In Japan, the road to becoming a sushi chef is long and slow. Apprentices spend years doing small tasks for their master before they're allowed to start making the shari (vinegared rice).
Creativity behind the sushi counter is subtle, and aficionados will speak with reverence about a specific chef's lineage – under which master he worked for and how long it took before he was allowed, with the master's blessing,
to set up his own sushi restaurant
.
Outside Japan and a few other countries, though, almost anything goes.
Chefs across the world freely play around with sushi, adding non-traditional ingredients and inventing twists and wacky concoctions that make would purists recoil.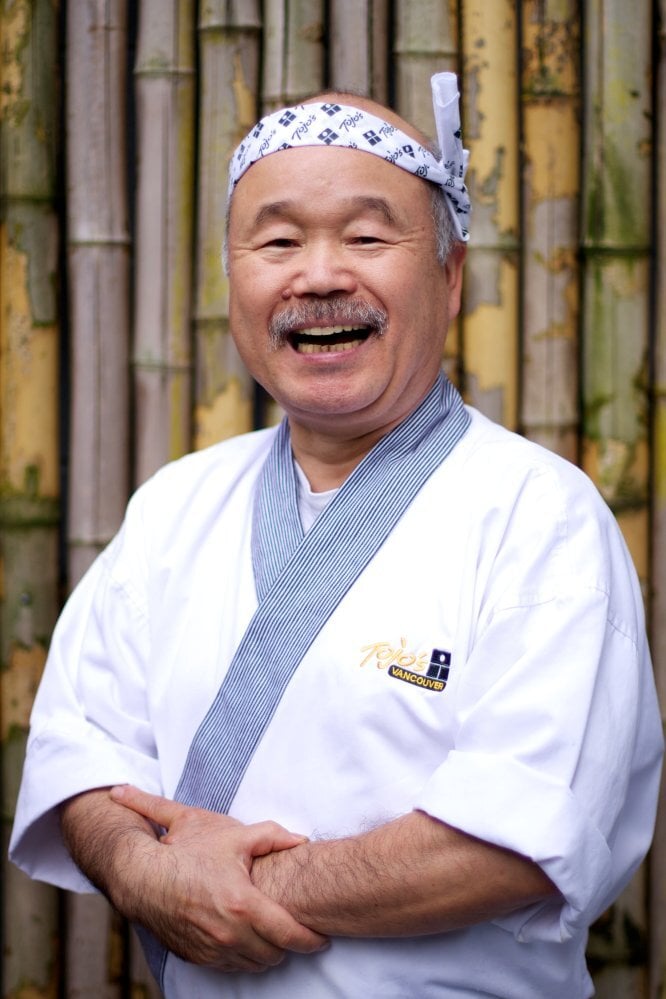 Cherry tomatoes,
black truffles
, Philadelphia cream cheese and Italian mozzarella are just a few of the ingredients used that show the infinite ways in which sushi is reinterpreted.
Sushi master chef Hidekazu Tojo, head of Tojo's Restaurant in Vancouver, is the pioneer of "Western-style" sushi. Soon after moving to Canada in 1971, he came up with the Tojo maki, commonly known as the California roll.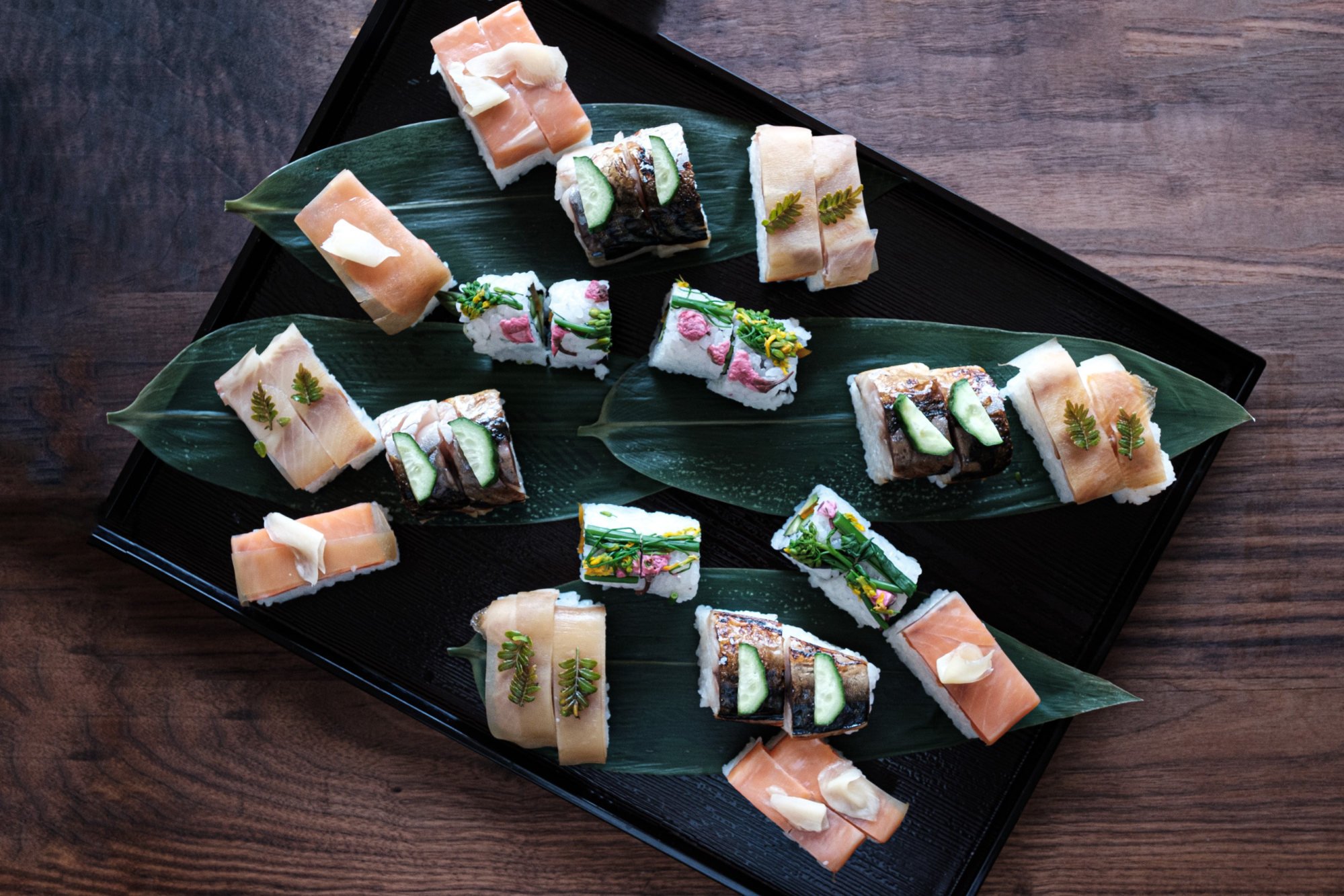 Nowadays, it's usually made with surimi (imitation crabmeat) but Tojo says that it was initially an "inside-out roll made with fresh Dungeness crab, avocado and spinach specifically [created] for my customers who were hesitant to eat raw fish".
"The fresh crabmeat is cooked, and does not have a fishy taste or smell. It pairs well with the creamy texture and subtle flavour of
avocado
, and the spinach adds colour and a tender-crisp texture," he said.
"I had the idea to turn the rice inside out to hide the seaweed, which was perceived by some of my customers as unappetising. This also allows for more space for ingredients inside the roll, which makes this dish even tastier."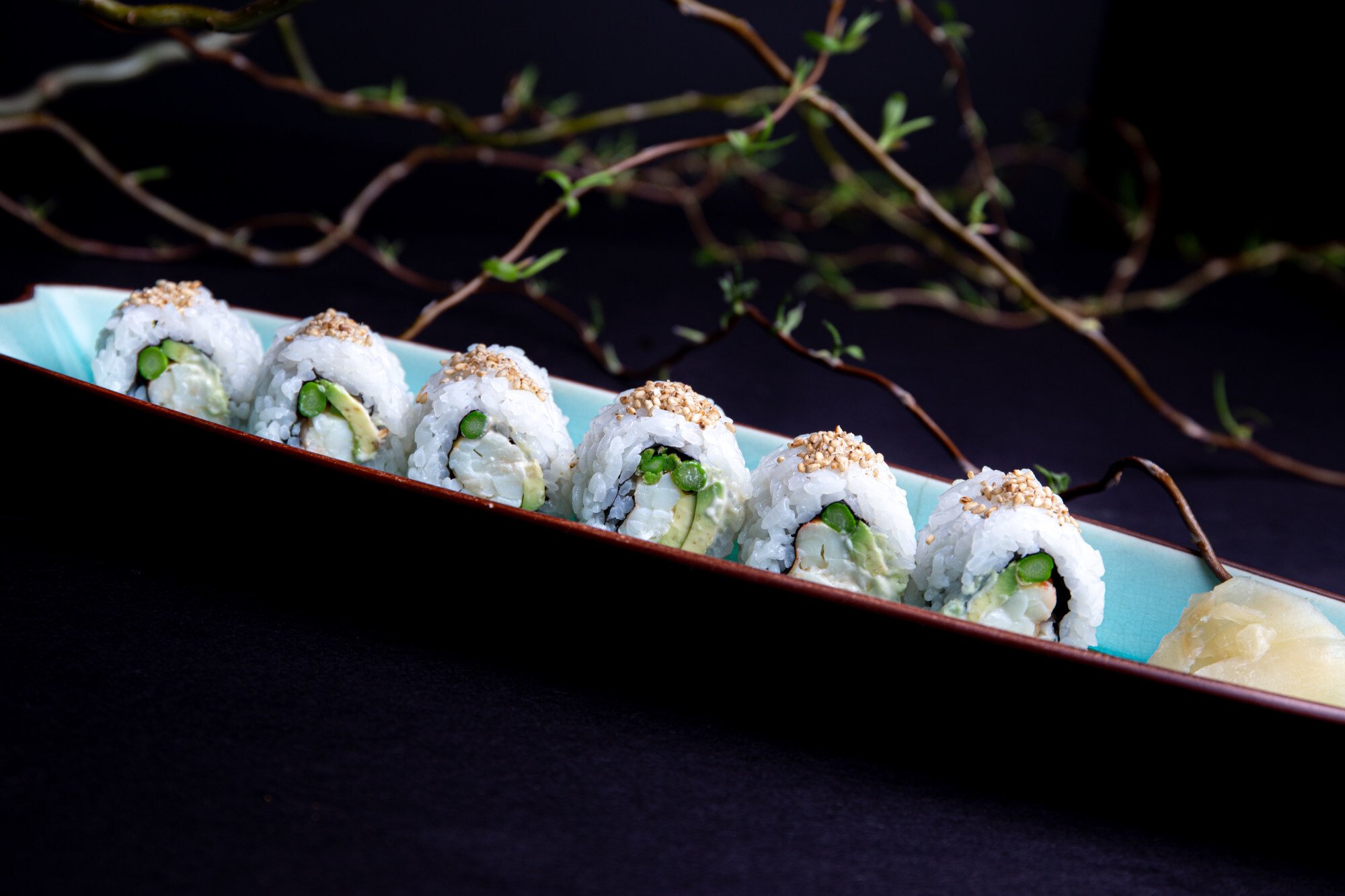 So how has the Tojo maki come to be known as the California roll? According to Tojo, it was incorrectly named this by Japanese media.
Back in the 1970s, they often referred to any west coast region in North America as California, and they saw his roll as a foreign invention from there – hence the name.
Tojo has demonstrated that sushi can successfully blend tradition and innovation. His dishes are inspired by Japan but are rooted in the Pacific northwest.
"For me, there are endless interpretations and possibilities for sushi, depending on your creativitys," he says.
"The most important aspects are to source the freshest seasonal ingredients – local wherever possible – and to prepare these ingredients with care, to preserve and elevate their essential flavours and texture."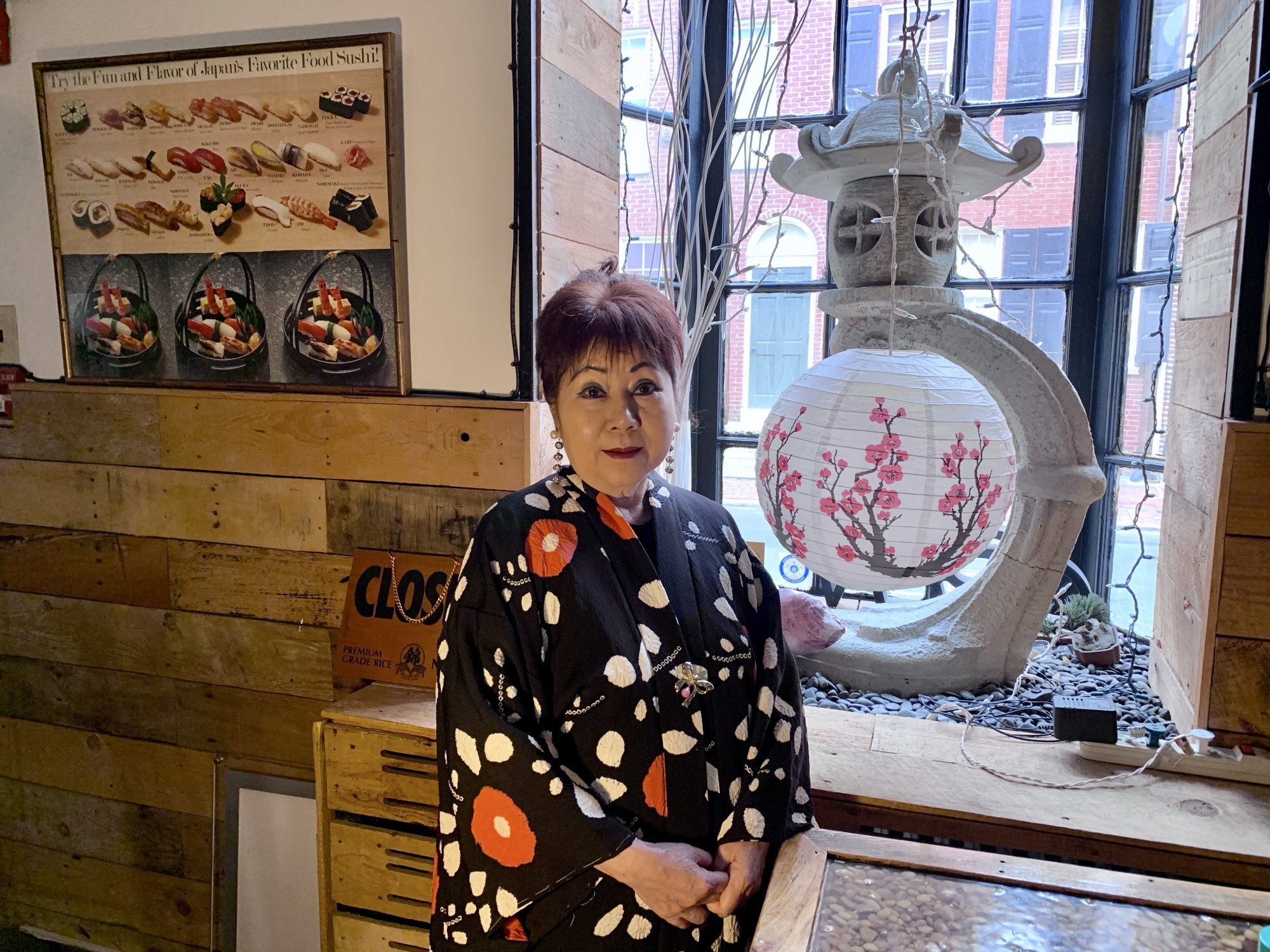 Tojo recently created a roll with fresh organic vegetables and pickled cherry blossom, and a signature pressed sushi with house-smoked Pacific
salmon
, Canadian mackerel and Canadian sablefish.
Other creations include the BC roll (barbecued salmon skin, cucumber, sesame and spring onions) and the golden roll (wrapped in egg crêpe). Tojo says he was the first to use smoked salmon in Japanese cuisine.
The Tojo maki's fame may have spread beyond Canada's borders, but the crown for sparking the sushi revolution in the United States belongs to Japan native Ai Saito.
Widely known as Madame Saito (a name she picked up after living in France), the "queen of sushi" moved to Philadelphia in the US state of Pennsylvania 40 years ago and invented the Philadelphia, or "Philly", roll in 1984, helping to popularise sushi in a nation unfamiliar with it.
Her special roll is made with smoked salmon and Philadelphia cream cheese.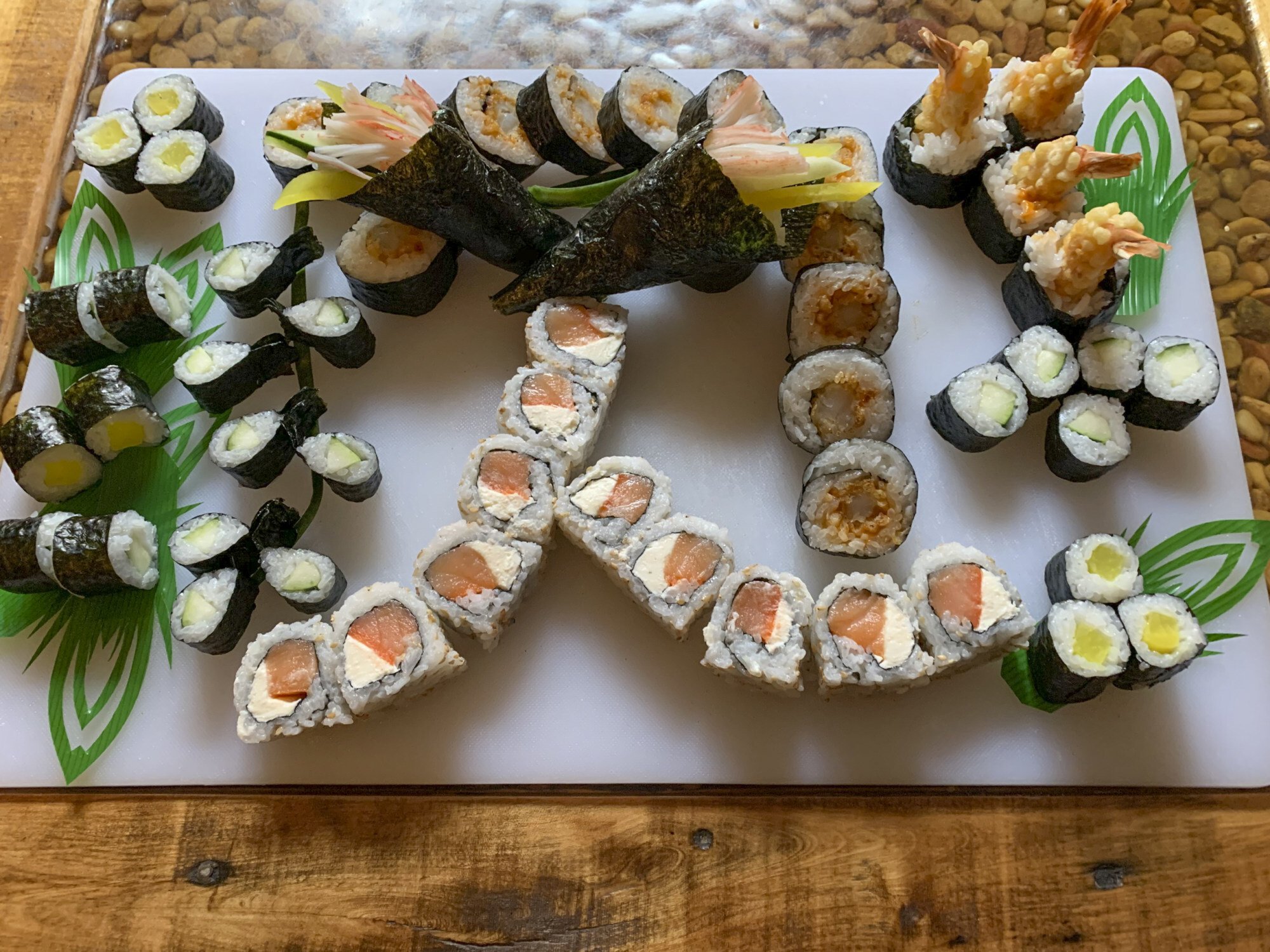 At her Tokio HeadHouse restaurant, Saito serves French, Thai and Japanese dishes, and she holds sushi classes and competitions for amateur and professional cooks.
"I taught sushi classes at [Philadelphia's] Temple University for 21 years. Back in 1981, nobody knew what sushi was, so I wanted to think of a special creation specific for Americans who didn't eat raw fish at first.
"One day a student asked me, 'In California they have their roll, what about us?', then a Jewish customer invited me over for dinner and suggested that Philadelphia's iconic cream cheese would make for a key ingredient. That's how the Philly roll came be to," she says.
Saito believes sushi is an art that can be expressed in endless ways and enhanced by music.
She creates new sushi dishes all the time: her rainbow roll is a take on the California roll that's topped with seven types of colourful fish, while her dragon roll has eel and cucumber wrapped in rice and topped with avocado, tobiko and masago (capelin) roe.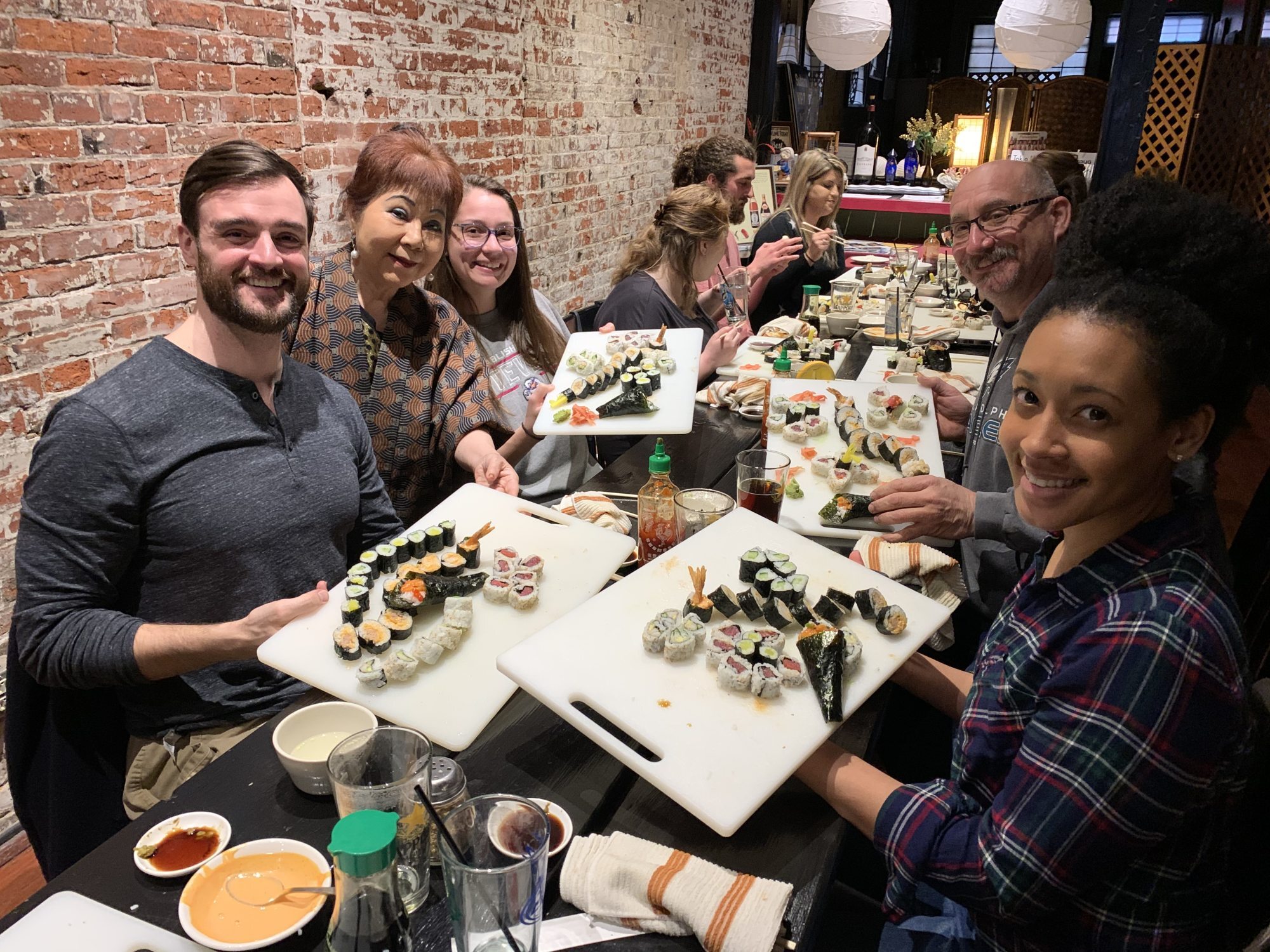 "Whenever I bring my new ideas back to Japan, local sushi chefs ask me about my creations – they're curious. The creativity behind sushi will be very important for Japan's food scene.
"Today, you find my Philly roll in Japan, [England and France]. I always strive to find typical ingredients that Americans are familiar with to create new innovative sushi for the future."
Non-traditional sushi is being made in Europe, too. In the Spanish city of Valencia, sushi is often adapted to local products and tastes. Valencia is dubbed Spain's "little China" for its production of indigenous rice varieties such as Bomba, which some chefs use as a substitute for Japanese sushi rice.
Chef Nuria Morell and her husband, Jose Miguel Herrera, run the high-end Nozomi Sushi Bar, one of the city's top sushi establishments. Trained by a Spanish sushi chef, Morell sticks to a Japanese rice variety, but says she's added a personal touch to her creations.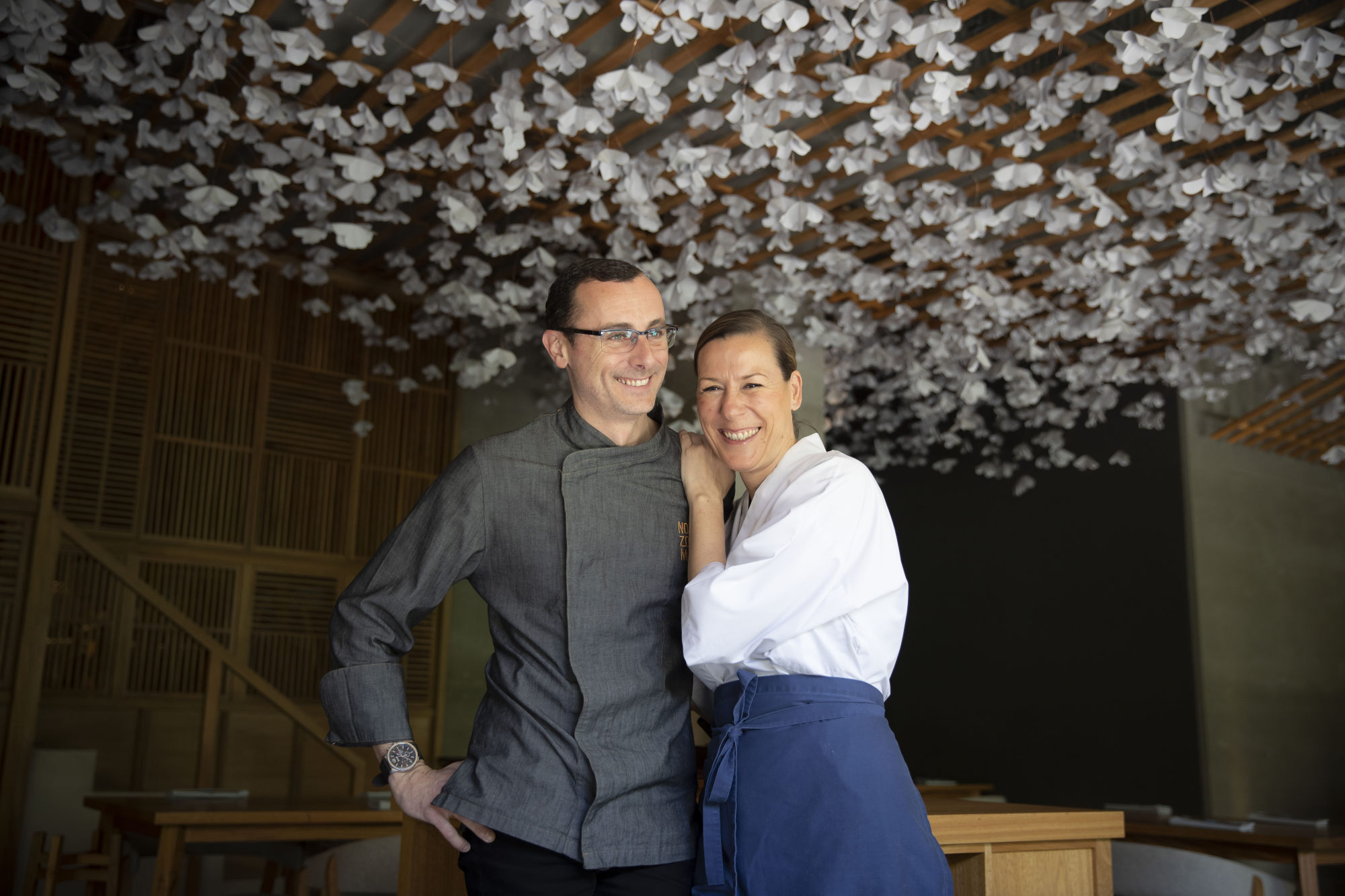 "Our sushi is classic, very Japanese-style, but of course we have to work with local fresh seafood coming from the Mediterranean – which is very similar to Japanese fish but not quite the same thing. So, we solely serve the catch of the day such as sardine, scallops, shrimps, sea bass and eel, adding a bit of innovation," says Morell.
Tasty twists include nigiri sushi of white fish with a topping of black truffle cream, and red shrimp with sobrasada, a Spanish spicy raw sausage made with ground pork and paprika. Morell also makes a nigiri sushi with crayfish and caviar.
Italian sushi lovers are more extravagant: they have
su-sci all'Italiana
, meaning "sushi made Italian style", with the word sushi Italianised to
su-sci
.
The rice is made with indigenous varieties
grown in northern Italy, such as Carnaroli and Arborio.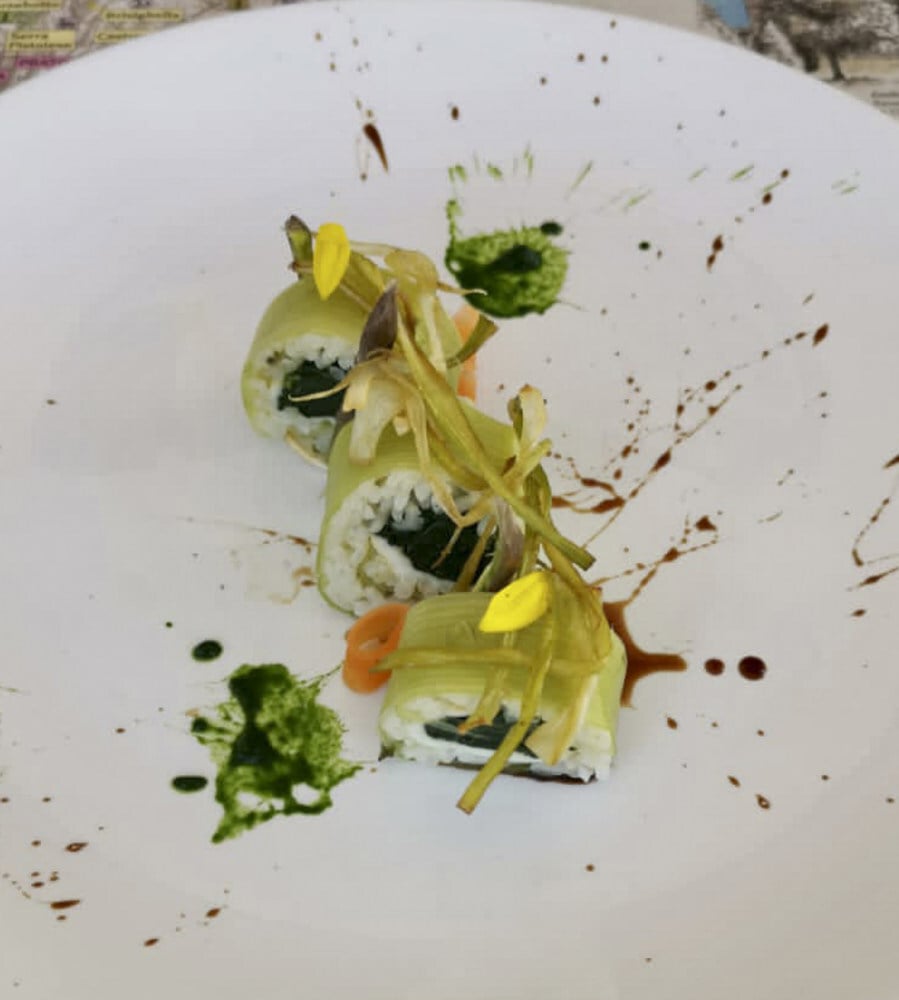 Italian su-sci can be made with mozzarella, Gorgonzola or burrata cheeses, cherry tomatoes, chicken, potatoes, olive oil, capers, olives, vinegar and vegetables, and seasoned with squid ink, sugar and/or white wine.
Eggs, mortadella ham, milk, basil, pistachio and parsley are also added to the rolls, which end up looking like edible art.
"The concept is innovative; we respect the traditional sushi technique but substitute the raw materials of the dish with top made-in-Italy products in perfect harmony. There are no food miles here, everything is sourced locally," says Anna Maria Pellegrino, a food historian and a member of the Italian Academy of Cuisine.
"We use our rice instead of the Asian one; instead of
nori
, we select premium cabbage leaves; soy sauce is replaced by different top-notch vinegars to marinate the ingredients; and we solely pick fresh Mediterranean fish swimming in our waters, like tuna, oysters and cod."
Most Japanese people who have tried this Italian non-traditional sushi welcome the creativity, but believe it should not be called sushi because it is so far removed from the traditional version.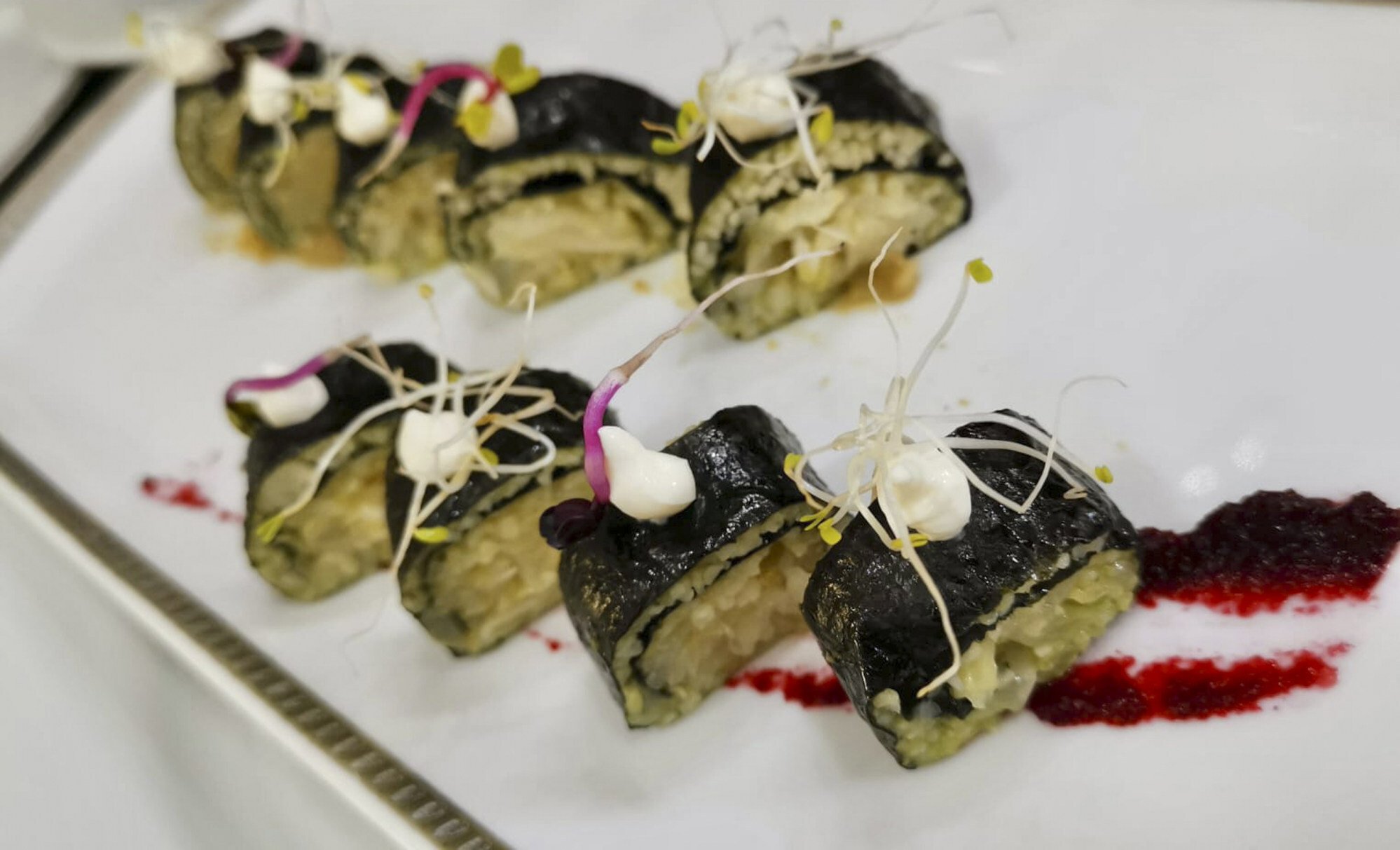 Japanese chef Taro Shimosaka, of Milan's Antidoto Bistrot wine and sake fusion restaurant, says sushi can be adapted in many ways but suggests it might be more appropriate if Italians came up with an original name for it, rather than su-sci. After all, if it's alright for them to play around with sushi, why are Italian chefs so serious when it comes to variations on their own iconic dishes?
Any twist, particularly to staple pasta recipes, has them up in arms. A tomato carbonara recipe in The New York Times recently made the evening news in Italy, where shocked gourmand scholars and politicians proclaimed it heresy.
Pellegrino says there was a reason behind the outrage, which doesn't apply to reinterpreting sushi.
"We're not destroying the concept of sushi, and we use only high quality Italian products that underline our culinary culture, while that recipe literally killed the food culture behind carbonara, even adding a creamy sauce."