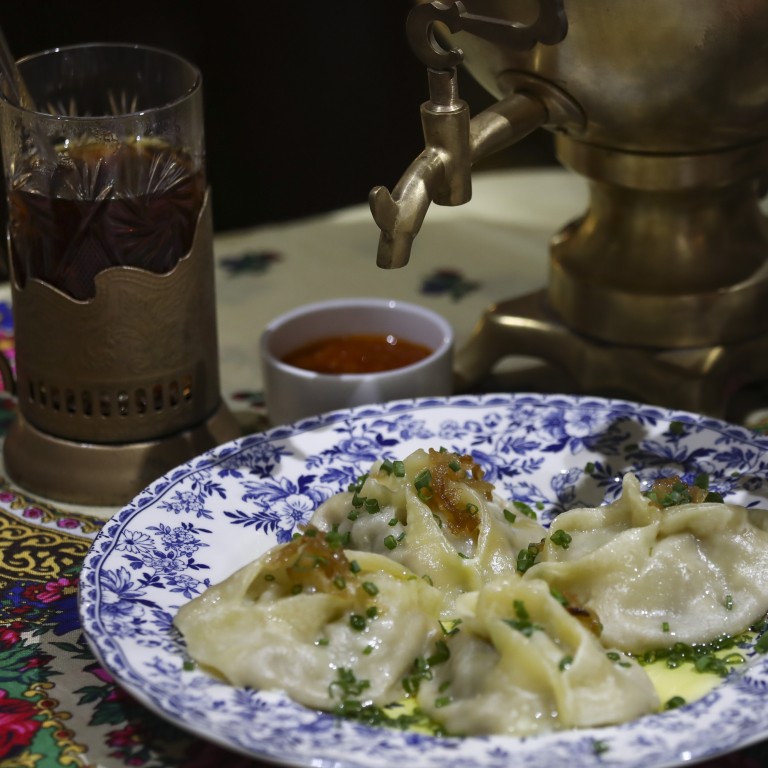 Where to eat food from Ukraine, Ghana and Myanmar in Hong Kong
Dacha offers the sort of comfort food that you'd find in a Ukrainian family home, while Club Rangoon serves the best mutton samosas we've ever eaten
At Ghana Locals, the chef-owner serves dishes from her home country and across West Africa – topped with fiery house-made chilli sauce
If you were to ask the average Hong Kong diner to name a dish from Ukraine, Ghana or Myanmar, chances are they'd be stumped. Yet you can try all three cuisines in Hong Kong – evidence of the global diversity of its restaurants.
First, we head to Ukraine by way of Hollywood Road in Central. In a small spot tucked away among far busier bars and restaurants is
Dacha,
where sisters Olena Smith and Oksana Shevchuk work alongside their parents to deliver tastes of their homeland. Dacha, which means house, is a warm, welcoming place serving comfort food that you'd find in a Ukrainian family home.
Dacha can seat up to 50 diners over two floors, and its hidden back terrace is a perfect alfresco spot for a drink. The family started off as food importers, then developed a catering business, before positive feedback from the city's eastern European community gave them the confidence to open the restaurant in 2015.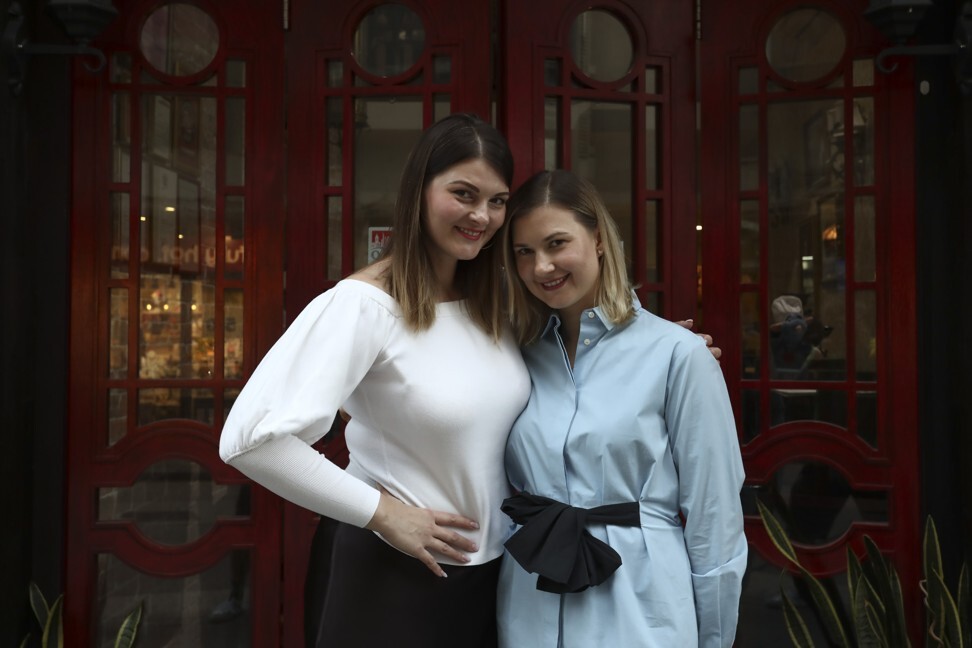 The evocatively named "herring under fur coat" is a large, deep glass filled with layers of Baltic herring, potato, carrot, beetroot and salmon roe topped by grated hard-boiled egg. When paired with the sharp, sweet snap of their house-cured mushrooms, tomatoes, cabbage and dill pickles, as well as rye bread (served with whipped lard, instead of butter), we were well on the road to Ukraine.
Dumplings are a firm favourite too, with Siberian pelmeni stuffed with pork and dill, as well as succulent manti filled to their hand-crimped edges with spiced lamb. Both are served with soured cream, called smetana, a staple that Smith says is as ubiquitous as soy sauce in Chinese cuisine.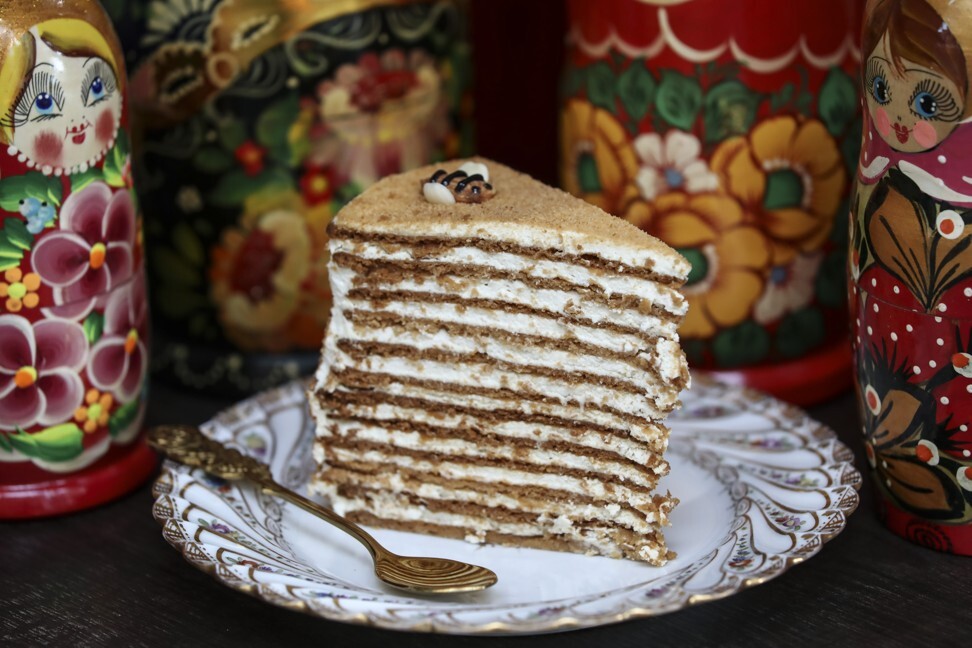 The ultimate show-stopper on the table was a Georgian speciality called khachapuri, a rich and decadent "cheese boat" bread covered in suluguni and brynza cheeses, then topped with butter and an egg.
After an excellent house-made kielbasa sausage followed by pork-stuffed cabbage rolls, it's time for dessert: medovik, a 12-layer cake made using local honey and smetana cream, and a special of sour cherry tower cake.
Smith admits that the restaurant business can be tough, especially for small independent places, and Dacha is open every day of the week. "
Covid-19
brought the family closer and we do whatever we have to do to stay open. Hospitality is in our blood and every time we have a celebration, the table is so full. Dad is also in charge of home-batch vodkas that he filters through coal – it's so pure you'll never have a headache!"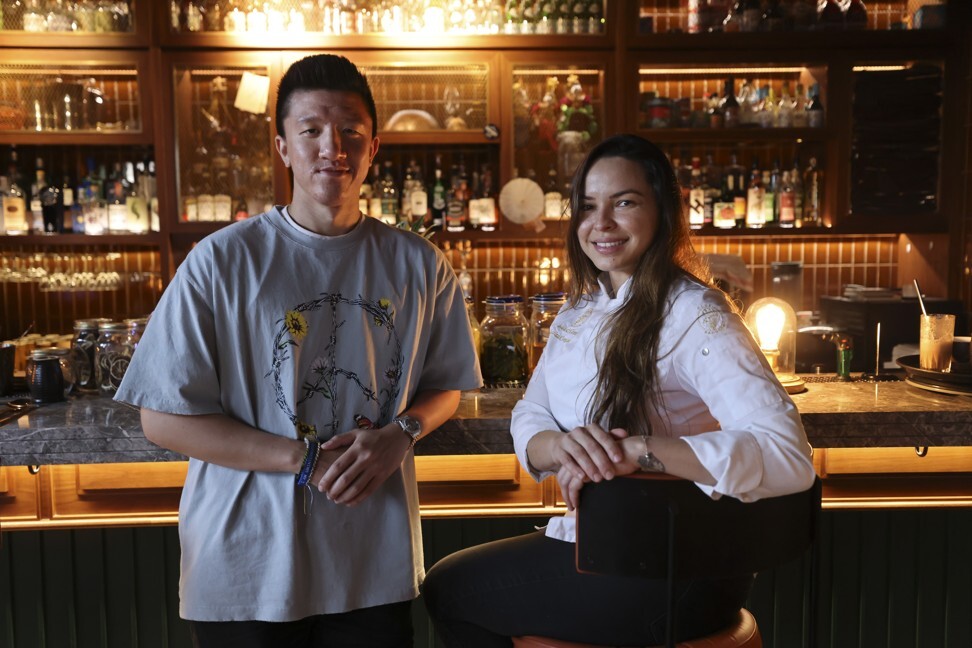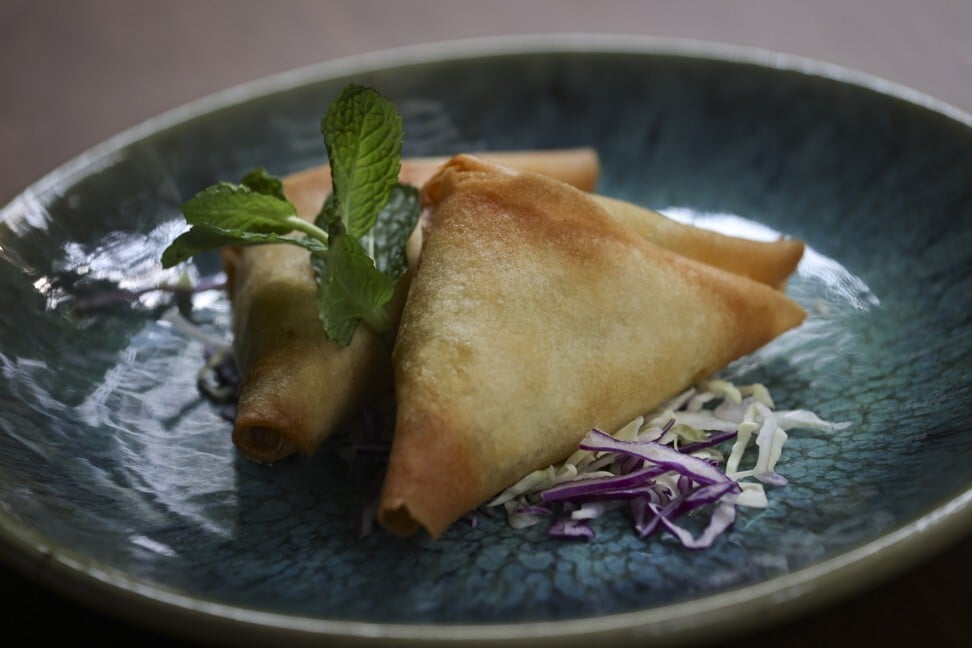 Myanmar may only be a three-hour flight from Hong Kong, but its cuisine barely registers on the regional and global food landscape. There are multiple reasons, not least, of course, the decades of brutal military dictatorship which all but closed the country's borders.
Fortunately, people like restaurateur Nelson Htoo are trying to make the cuisine better known, in his case at
Club Rangoon
in Central, where chef Karisa Cheque shows the diversity of the country's food. Born and raised in Yangon, Htoo says: "Burmese food is full of character, incredibly diverse in its flavours with influences from neighbouring countries such as Thailand, India and China. Spicy, tangy, sweet, bitter … it's all there. Savoury tends to dominate the cuisine; even dessert dishes tend to have some sort of savoury element to them.
"More than just its flavours, Burmese cuisine at its core celebrates the custom of eating communally, as it is unapologetically hearty and comforting."
Dishes on the excellent-value lunchtime set menu proved his point, as did a subsequent delivery which showed Cheque's impressive repertoire. From the former, we started with laphet thoke, or tea leaf salad, traditionally served to guests in Burmese homes as a gesture of hospitality. It was a textural triumph, with different sensations popping up to accompany all the flavour points that Htoo had promised. Shredded cabbage, tomatoes, garlic, fried grains and toasted sesame seeds joined fermented tea leaves, and a fish sauce dressing brought all the ingredients together.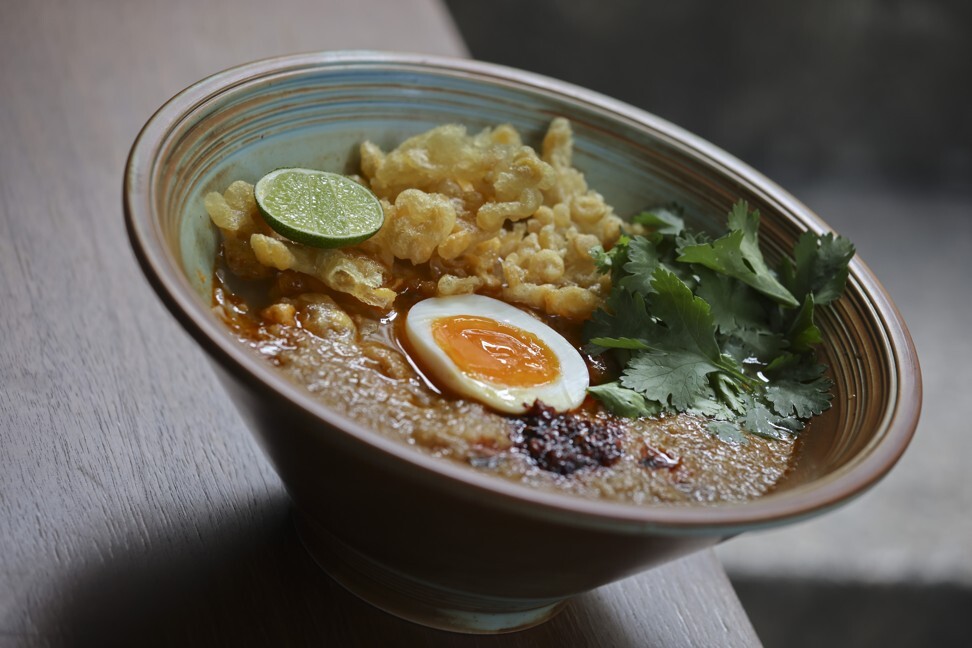 Another well-known dish is mohinga. Htoo explains: "If you're wanting to try singular dishes that sums up Burmese cuisine, I would suggest mohinga. It's a warm bowl of rice noodles in a lemongrass and catfish soup, best eaten with deep fried split peas, fish cakes, a boiled egg, topped off with some coriander."
Two other stand-outs again showed the country's culinary influences, the first being the best mutton samosas we've ever eaten, the next a delicious slow-cooked pork stew called wat thani.
Htoo says that the aim of Club Rangoon is to let people travel through their palates. "
Burmese food
is one of those cuisines that people really enjoy having while they are physically in the country, but don't have the opportunity of eating it again as soon as they leave to go home. So for me, it puts a smile on my face to bring back these memories for our diners and to put Burmese cuisine on the radar here."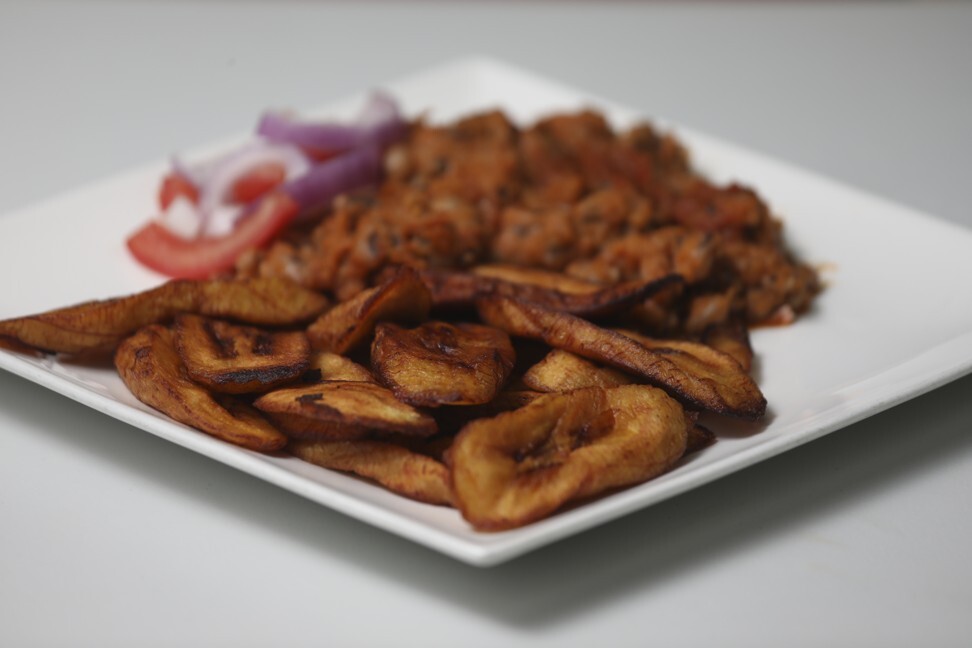 Chungking Mansions in Tsim Sha Tsui has restaurants that serve cuisines
rarely seen elsewhere in the city. One of the more interesting is Ghana Locals, where owner Tess Karl Buah serves up the flavours of her home country and West Africa more broadly. From Takoradi in Western Ghana, Buah has been in Hong Kong for two decades, working at the Ghanaian consulate and also in a Nigerian restaurant where the owner became her mentor.
"She was so nice to me, like a mother. We'd go to the market together and she encouraged me to cook. I love cooking and had a passion for it, then when I worked in different restaurants, people said my food was good. They were always smiling and laughing."
Another vote of confidence came when she cooked for exchange students in the Africa Centre. "I cooked jollof rice, fried plantain, spicy soup – they finished it and wanted more! My food has attracted a lot of foreigners since we opened – I'm impressed how they like the chillies!"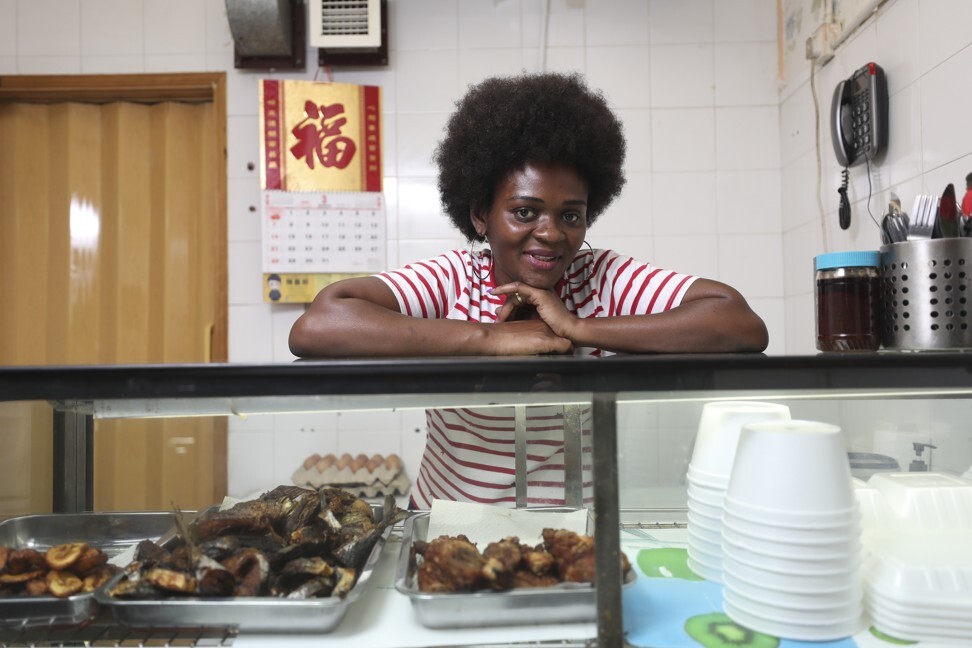 We can see why, tasting her fiery but delicious house-made chilli sauces, notably the Ghanaian staple called shito. It means "pepper" in the Ghanaian language Ga, and combines shrimp and other dried shellfish with ginger, tomatoes, garlic, peppers and spices, all blended together and cooked in oil. Buah laughs when she says that every house has their own version – but that she's not sharing her recipe.
It adds a great kick to her dishes, and can be put on pretty much anything savoury. Plates come generously piled with a variety of favourites, including crispy and sweet fried plantains, fried tilapia, black eyed beans, creamy coleslaw and jollof rice – a fragrant dish of tomato, onions, garlic, ginger and other spices, fried to a thick paste and added to long grain rice.
"Cooking it is very complicated as you need time and patience to make it fresh. We go to the market every morning and don't like artificial ingredients or flavours. It's traditional home cooking. We use less salt, fresh ginger and garlic – instead of Maggi!"
The small and spotless space features a fridge of drinks including Ghana Guinness and Malta, a non-alcoholic drink brewed by Guinness that is beloved across West Africa. Other popular dishes include fufu, made from boiled cassava and often served with peanut and goat stew, okra soup and egusi, a soup thickened with ground seeds.
Dacha, 38-40 Hollywood Road, Central, tel: 2420 3555
Club Rangoon, 33 Aberdeen Street, Central, tel: 2503 3077
Ghana Locals, Shop 105, Chungking Mansions, 36-44 Nathan Road, Tsim Sha Tsui, tel: 5624 8809