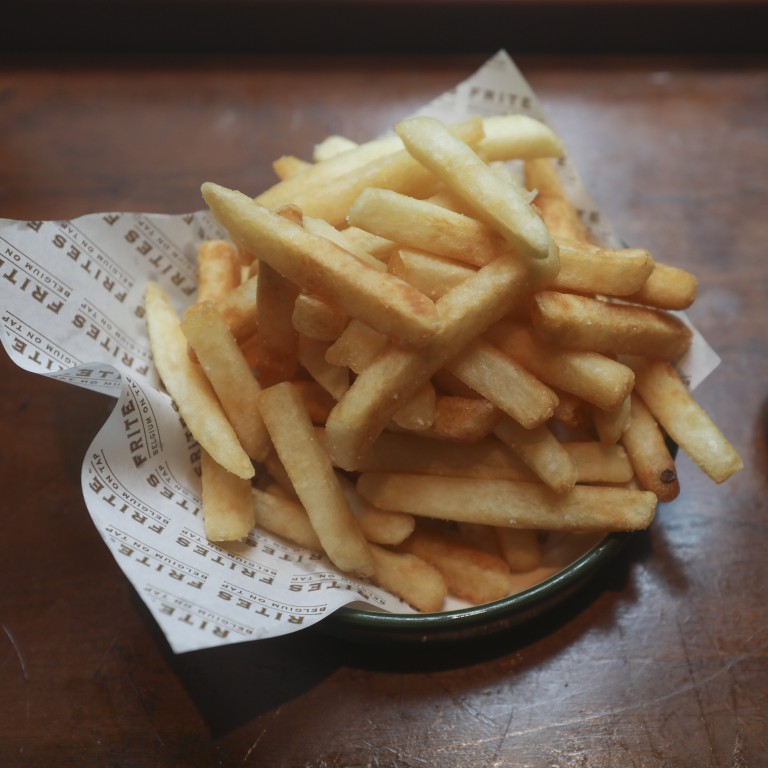 Best French fries in Hong Kong, from McDonald's and Shake Shack to Frites and The Butchers Club – who will be crowned champion?
Ahead of International French Fry Day on July 13, we visited some of Hong Kong's most popular food outlets in search of the best the city had to offer
Among our criteria were that they should be crispy on the outside but fluffy inside, not too oily, and not too dry without sauce
Most people might consider French fries as just a side dish to a burger and would not visit a restaurant simply to eat them on their own. But when we told our friends that we were going in search of Hong Kong's best, many excitedly told us what kinds they liked – some said they loved crispy fries, some preferred fluffier ones, while a range of other details factored into their opinions.
We were surprised to learn that good French fries can actually keep customers visiting a restaurant.
Whether you call them "French fries", "chips" or even "finger chips", this popular deep-fried potato treat is a staple companion to cheeseburgers and other grease-based meals around the world.
With International French Fry Day (yes, you read that right) on July 13, we celebrated this unique holiday by heading to some of Hong Kong's most popular food outlets in search of the tastiest fries.
Before our tasting, we set out criteria for good French fries. We both thought they should be crispy on the outside but fluffy inside. Even though they are deep-fried, they shouldn't be too oily. Finally, they shouldn't be too dry without sauce.
We tasted French fries from five restaurants, ranging from fast-food chains to home-grown, independent burger brands. Below are our verdicts, ranked from worst to best.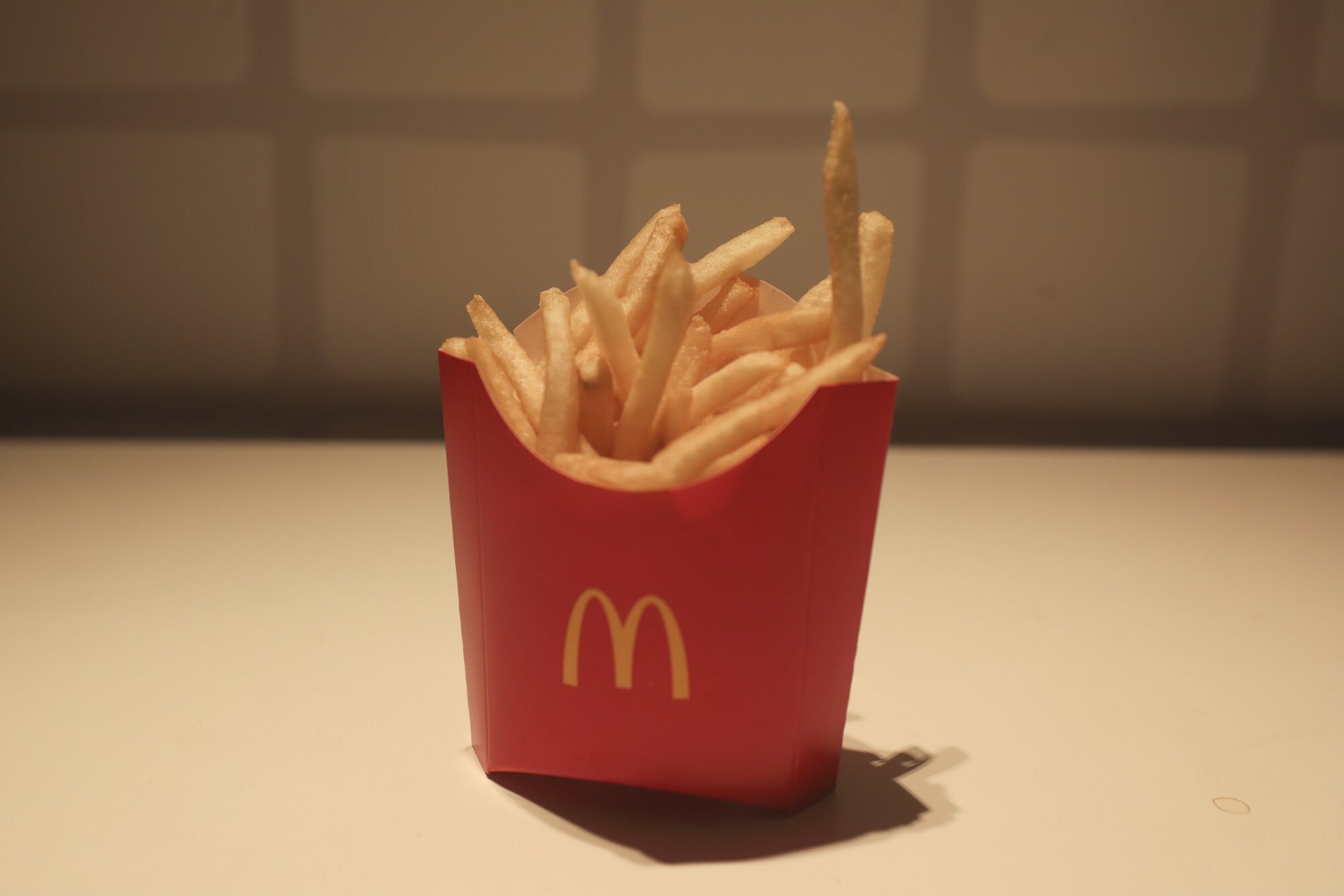 McDonald's
Small fries HK$7 (US$0.90), medium fries HK$15
Despite McDonald's standing as a cheap, bog standard fast-food chain, many might argue that its fries should be placed higher. For us, however, this was the most disappointing of the places we visited.
We ordered one small and one medium-sized fries, each coming with a packet of ketchup. The fries were soft, rather soggy, and not nearly as hot or crunchy compared with other fries we tasted.
Shop B02, Basement, Leighton Centre, 77 Leighton Road, Causeway Bay, Hong Kong, tel: 3126 4113, plus over 240 other branches in Hong Kong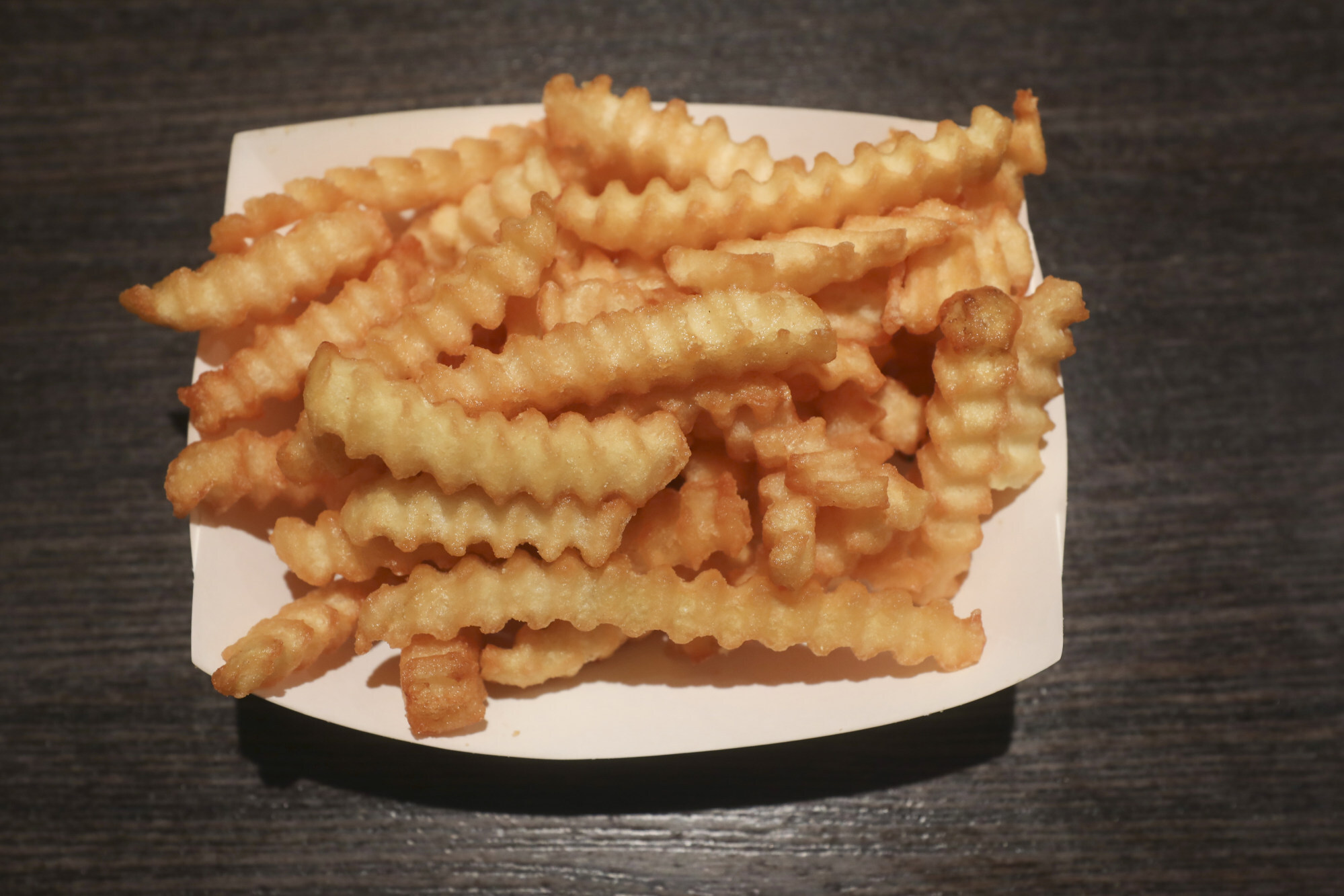 Shake Shack
Original fries, HK$28
Many people's go-to burger place in Hong Kong, Shake Shack was the only outlet not serving straight-cut fries, instead opting for crinkle cut.
We ordered the original fries; the other option was cheese fries, fries topped with cheese sauce. Arriving nice and hot, the fries were more crunchy instead of being fluffy, which we enjoyed, but we thought they were too salty and dry without any sauce. Though we shared the plate and it was not a large portion, we felt quite thirsty afterwards.
Shop B217-B219, Basement 2, Times Square, Causeway Bay, tel: 2571 6368, plus five other branches in Hong Kong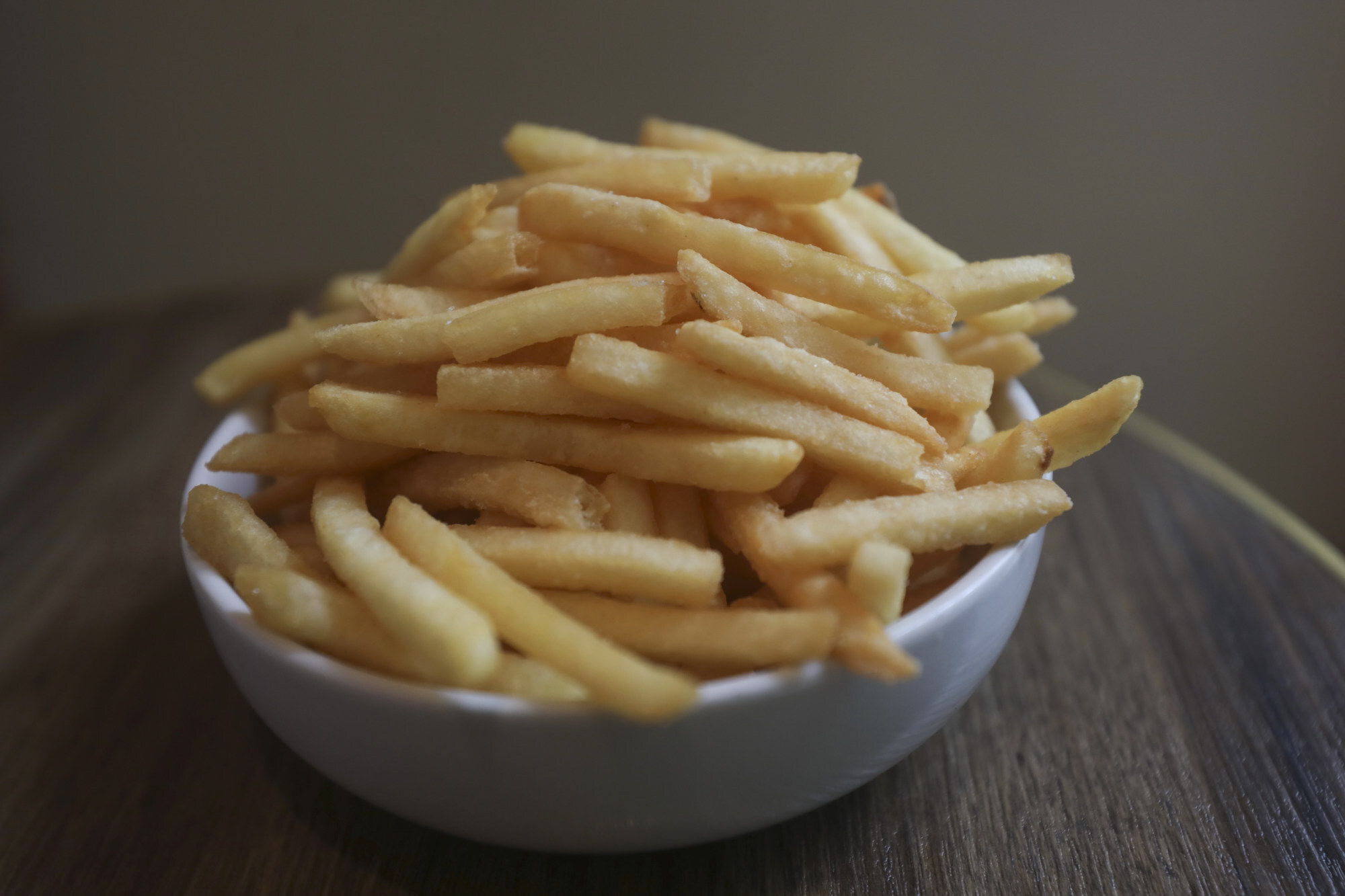 Honbo
Original fries, HK$38
This cosy, cafe-like restaurant on Sun Street in Wan Chai opened in March 2017. A home-grown joint, it offers an array of signature American-style burgers and side dishes, from double cheeseburgers to tater tots and fries.
Much to our waitress' surprise, we ordered the side dish of original fries on its own. They weren't the hottest on arrival, but were definitely the crispiest of all the fries we tried. Rather thin, they had a nice golden colour to them, but tasted a bit salty. The portion was large, but that didn't stop us from craving more.
6-7 Sun St, G/F Shop B, Wan Chai, tel: 2567 8970, plus two other branches in Hong Kong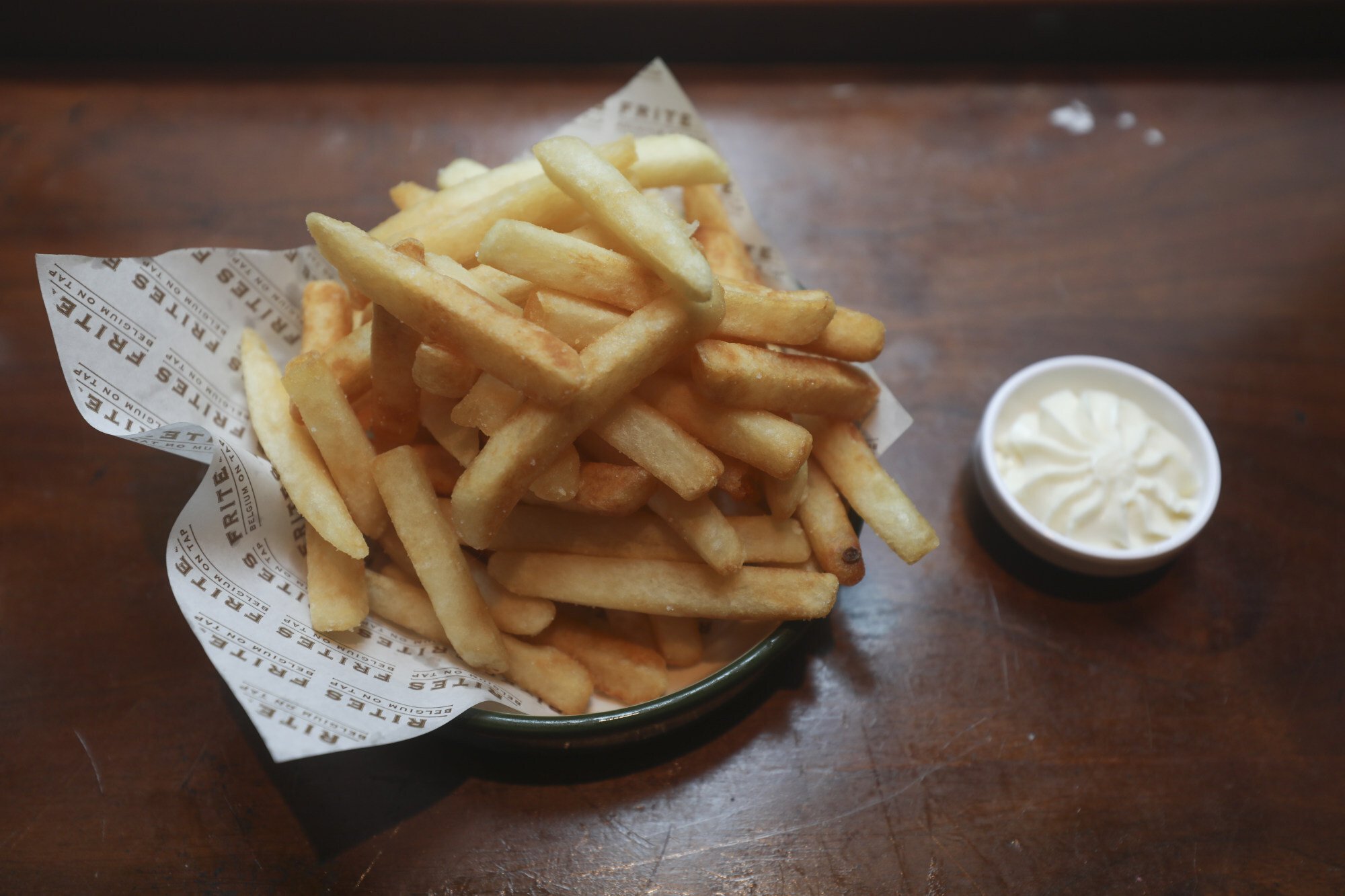 Frites
"Frites" fries, HK$60 plus HK$6 service charge
For those looking for a filling (albeit rather pricey) plate of fries, add Frites to your list. Frites was established in the city in 2007 and with its traditional 1920s European-style bistro-beer hall, high ceilings, rustic tables and stained-glass windows, this was by far the most upscale location on our French fry tour.
Frites offers an impressive range of appetising, family-sized meals, from seafood to Black Angus rib-eye steak to burgers. We opted for the "Frites" fries served with mayo; other options such as sweet potato fries (with lime and chilli mayo) are also available.
The portion size was just right for two people, while the piping hot fries managed to retain their heat until almost the last bite. While not the crispiest, the fries were thick, fluffy and not too dry. However, they were quite salty compared with the other places we visited.
Though we are not the biggest fans of mayo, we agreed it added a nice extra layer of flavour.
Shop 1, 38 Haven St, Causeway Bay, tel: 3950 9000, plus 7 other branches in Hong Kong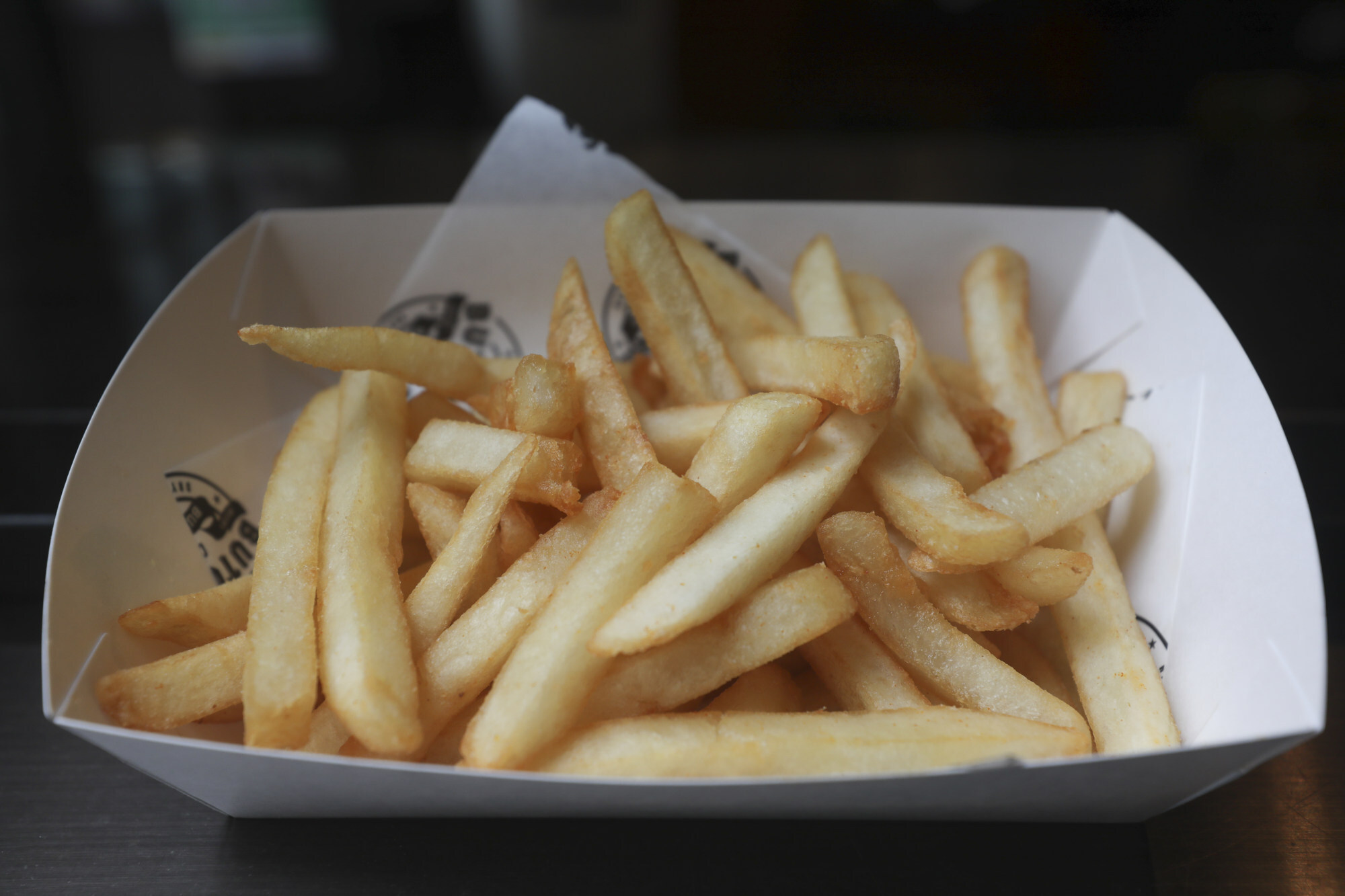 The Butchers Club
"Butchers" fries, HK$20
This Hong Kong-based burger restaurant also has branches in Beijing, Shanghai and Shenzhen, and a steakhouse in Bali, Indonesia. It is best known for its burgers, and it has received several recommendations in the Michelin Guide.
We hoped to try the duck fat fries, but were told they were unavailable as the Covid-19 pandemic was preventing them from getting the duck fat from the US. We were disappointed, but decided to try their original "Butchers" fries instead.
They ended up being our favourite out of all five restaurants. Served hot and not salty, they were crispy on the outside, but nice and fluffy inside. They met all the criteria we set for good French fries and, almost as important, they only cost HK$20, a particularly good price considering their high quality.
G/F Rialto Building, 2 Landale Street, Wan Chai, tel: 2528 2083, plus one more branch in Hong Kong