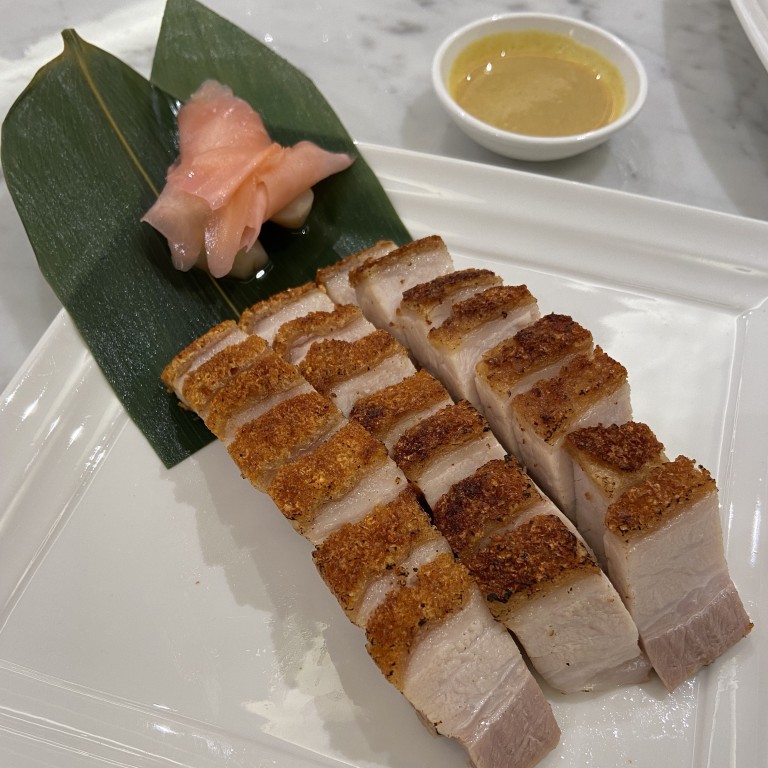 Review

|
Hong Kong new restaurant review: Four Seasons Chinese Restaurant – Cantonese roast meat from a UK chain? Here? Whatever, it works
A Hong Kong branch of a UK chain serving Cantonese roast meats didn't seem like a recipe for success
We couldn't have been more wrong; the duck was succulent, and the roasted pork belly was tender and crisp
I'll admit we were sceptical when we visited the new Four Seasons Chinese Restaurant in Central. It has nothing to do with Four Seasons hotels; rather, this is a branch of a chain in the UK that is famous for its roast duck. How good could it be compared to Hong Kong born-and-bred roast duck restaurants, we thought rather sniffily.
On this occasion, eating our words was a pleasure.
The menu proclaims "From Hong Kong to the UK and it's time to serve the birthplace". We asked our smiling waiter about the history of Four Seasons, and he said that it originated in London before they opened a branch in Tai Po last year, and last month in Central.
The place was hard to find because the street address says 160-164 Wellington Street. What we found there was Lin Heung Lau, as well as the locked iron door of a tong lau (tenement building) with Four Seasons signage above it. We went around the corner, walked up Aberdeen Street, past the Lin Heung Lau side door, took a left and found the large, bright entrance to Four Seasons. There were only two other tables occupied on the night of our visit.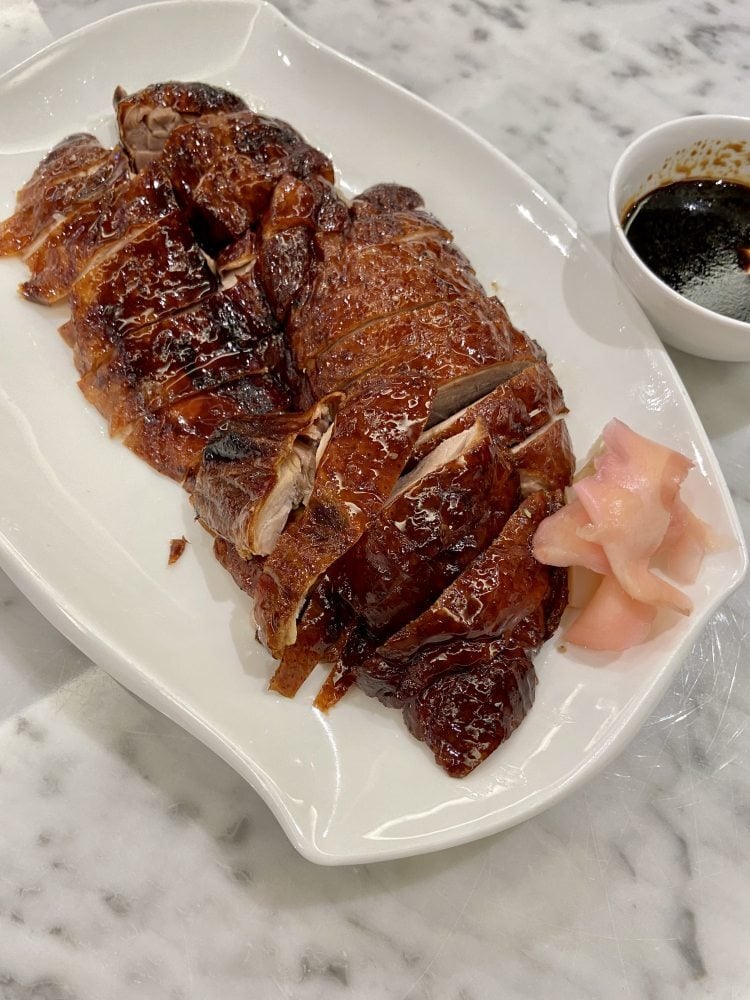 Four Seasons specialises in siu mei – Cantonese roast meats. The barbecued duck uses birds sourced from Cherry Valley farms in Thailand, and is available in whole, half and quarter portions, as well as over noodles or rice.
We opted for the half duck (HK$168), and it was the first dish placed on our table. It came with a thick sauce that we ignored after one taste, because the duck didn't need it. There was no visible fat on the partially deboned pieces of meat, but it wasn't at all dry. The marinade had permeated throughout the meat, which was succulent – even the breast portions.
Equally good was the roasted pork belly (HK$148), which was well layered, with tender meat and delicately crunchy skin.
Green lettuce with dried shrimp and shrimp paste in hotpot (HK$98) was fantastic. It came sizzling in its pot, and when the waiter lifted the lid, the appetising scent of the shrimp paste and garlic wafted across the table. The dried shrimps were large and meaty, and the lettuce, coated with the rich, pungent sauce, was crisp-tender.
Braised chicken feet with abalone sauce (HK$88) had good flavour, but the feet should have been cooked a little longer – they were a bit tough.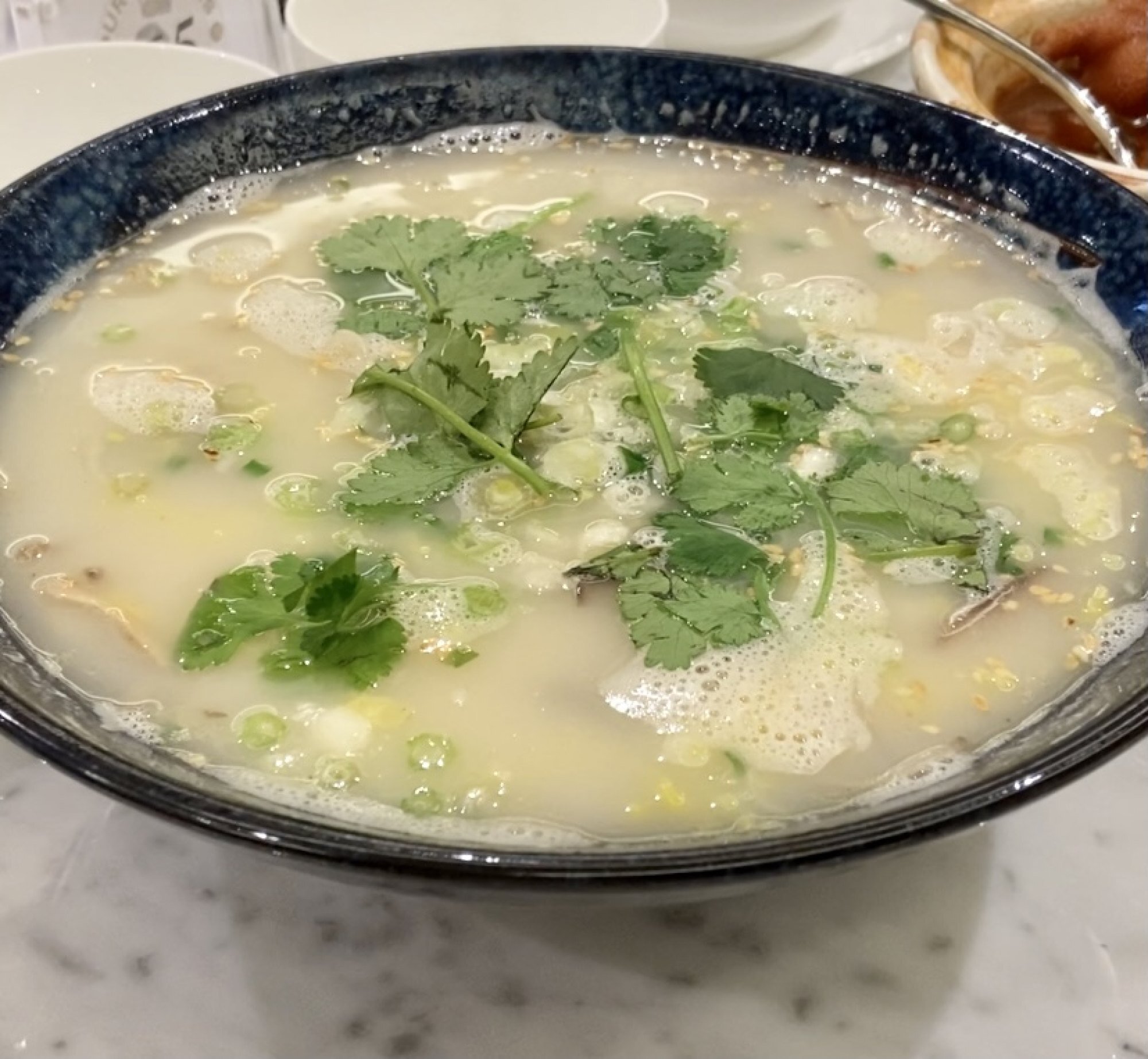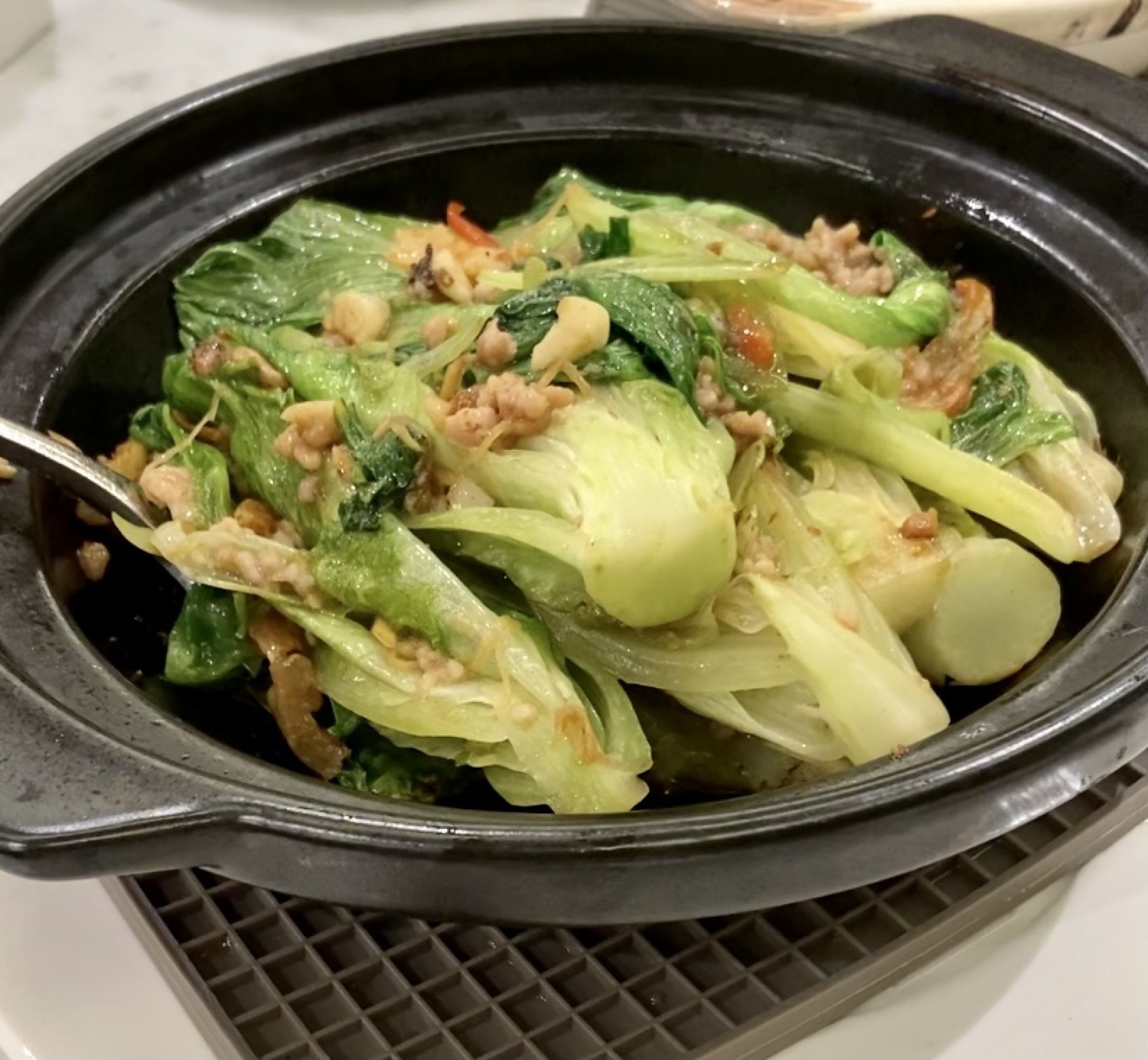 Our last savoury course was poached rice with fish maw and seafood in chicken stock (HK$148). It was a large bowl of soothing, mild broth and, like Chiu Chow congee, had rice grains that were still intact.
For dessert, our waiter gave us bowls of black sesame sweet soup, which was thin and not too sweet.
Four Seasons Chinese Restaurant, 2/F Tsang Chiu Ho Building, 160-164 Wellington Street, Central, tel: 2889 9883. About HK$215 per person without drinks or the service charge.