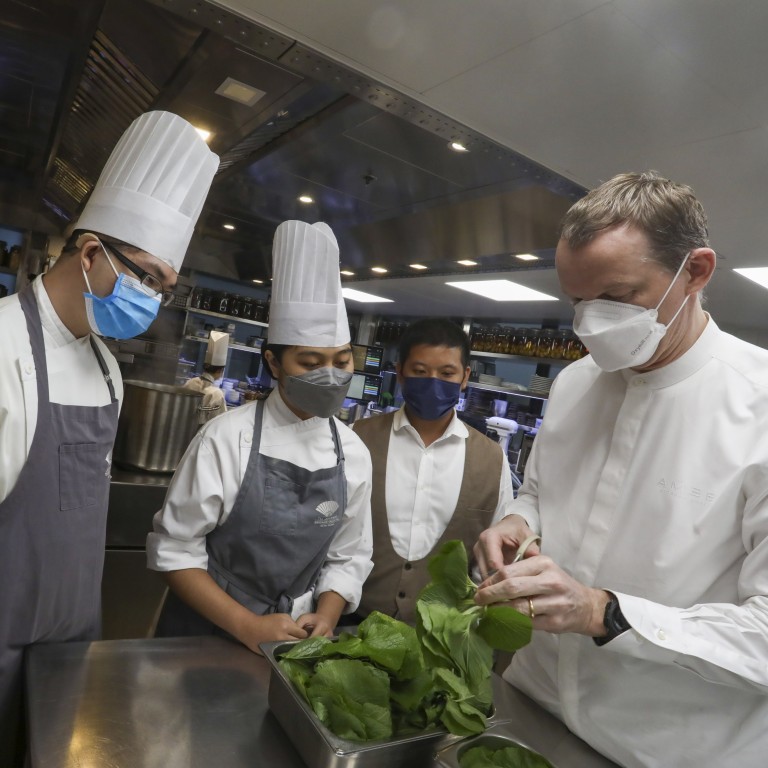 People with disabilities gain from internships in kitchen, restaurants at five-star hotel in Hong Kong
Gu Shi-yi, one of four interns at the Landmark Mandarin Oriental under a training programme for people with disabilities, now knows he wants a kitchen job
He and fellow trainees in the hotel's pastry kitchen and restaurants are praised for their hard work, focus and concentration by its culinary director
When Daphne Jerelyn Esteban's parents found out that she'd be working at The Landmark Mandarin Oriental in its pastry department, they were overwhelmed with joy.
To hear that their teenage daughter had got a summer internship at one of Hong Kong's most prestigious hotels would be a proud moment for any parent, but this piece of news was especially sweet for the family.
That's because Esteban, who is 17 years old, grew up with autism, speech impairment and mild intellectual disability. As a result, she has struggled with communication throughout her life, she says.
"Some people won't understand me because it's too hard to speak properly."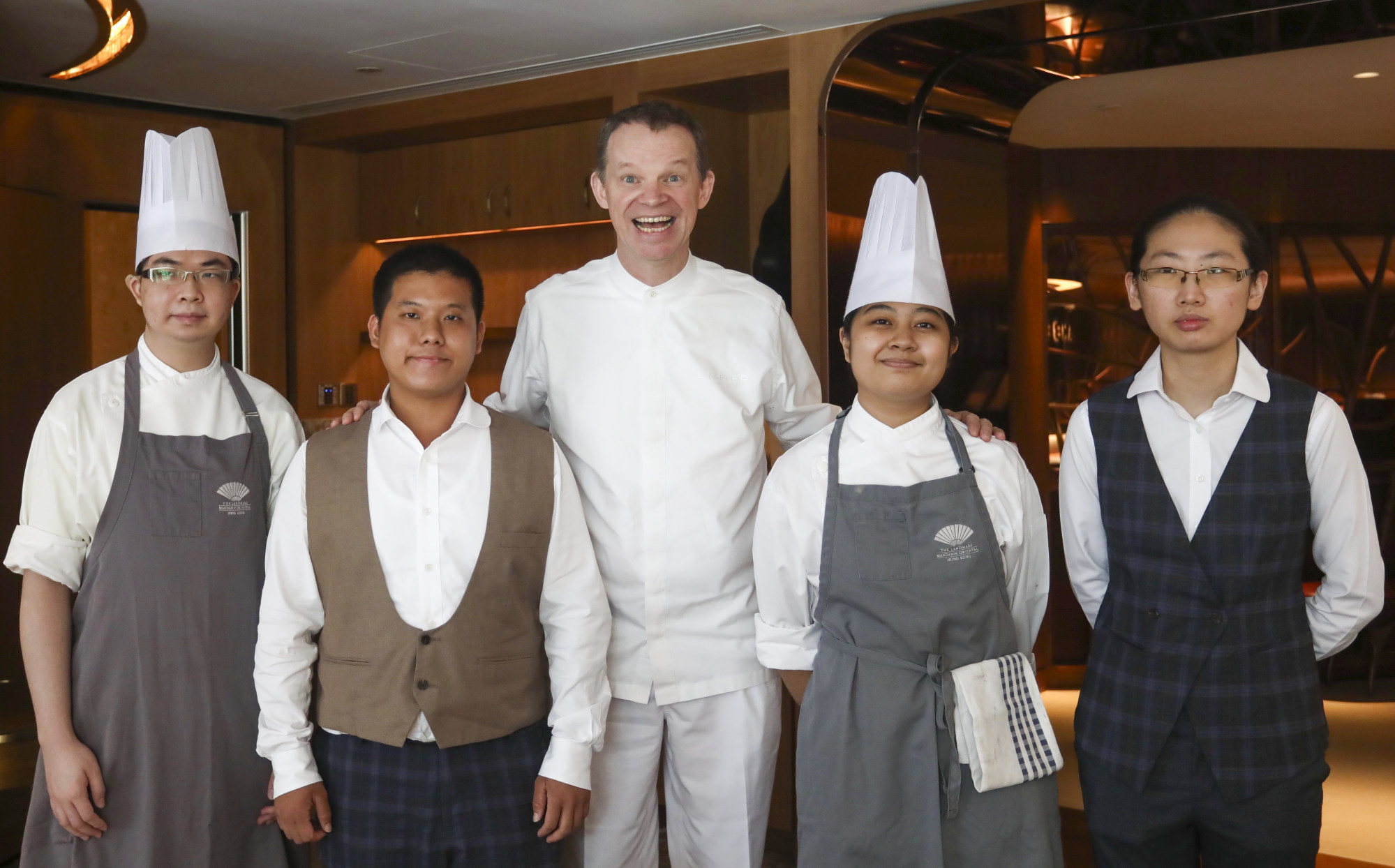 Despite these challenges, the budding pastry chef is now interning at The Landmark Mandarin Oriental in Central, through a programme jointly run by the social enterprise Cookie Smiles and the Shine Skills Centre (SSC), a member of the Vocational Training Council that offers training programmes for people with disabilities.
Through this trial work-placement scheme, called the "Shining Star Programme", graduates of SSC courses such as bakery and cafe service, catering service, and fast food operation have the opportunity to work at a five-star hotel or an established food and beverage outlet.
Cookie Smiles acts as an intermediary, helping to bring Shine students into real-world kitchens so that they can be prepared for future employment.
Esteban, along with three other students from SSC, began work in June as "shining stars" at The Landmark Mandarin Oriental, where they'll work until August as part of the programme's first intake.
Esteban and Gu Shi-yi, who has a hearing impairment, are working in the hotel's pastry kitchen. Meanwhile, Richee Lee Ho-ting, who has an intellectual disability, and Kwok Ka-fung, who has hearing and speech impairments, are working as food runners for the hotel's two restaurants, two-Michelin-star Amber and European casual restaurant Somm.
Gu only recently developed an interest in hospitality. "Before, I didn't know what I enjoyed or wanted to do," he says. "But after going to the Shine Skills Centre and studying the bakery and cafe service course, I started liking making food, because I understood how certain ingredients, mixed together, could be so beautiful and delicious."
Now he feels confident that he's found his life goal. At The Landmark Mandarin Oriental, his daily tasks include preparing chocolate pieces for decoration, sorting through almonds and scooping fruits for jelly.
Having this practical in-the-field experience, he says, has taught him about the high standards of organisation and hygiene in a top-tier kitchen.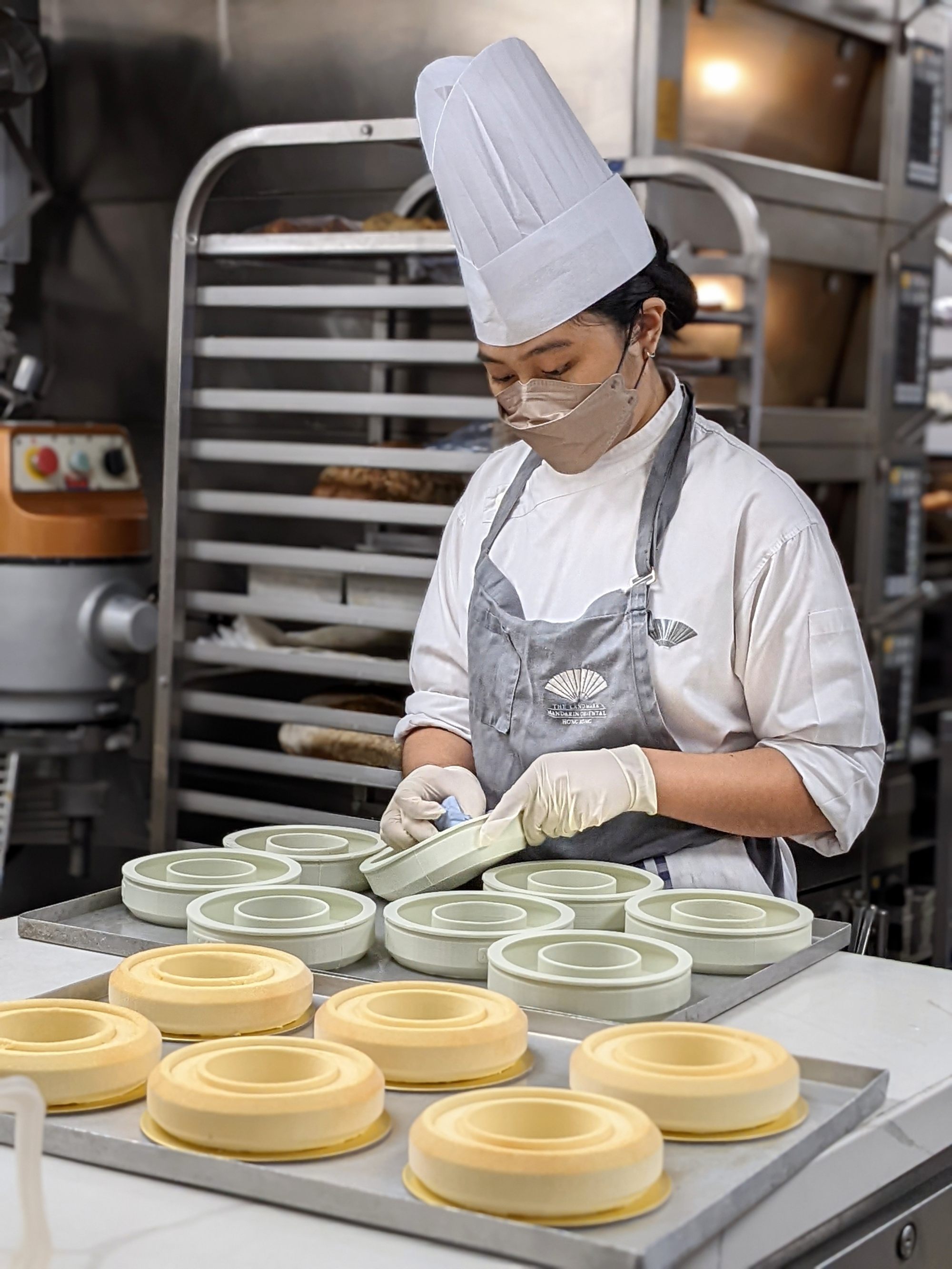 Given his hearing impairment, Gu has made several adjustments. In the kitchen, he has a printed list of simple phrases so that colleagues can communicate with him by pointing and vice versa.
At times, he'll resort to using his phone to type out certain words. "I also wear a hearing aid, [but] sometimes when people speak too quickly, I won't be able to hear it clearly. So people need to speak a bit slower to me," he adds.
Esteban, on the other hand, has found her transition to the kitchen quite seamless. She loves organising desserts in the big pastry fridge, while other tasks have included rolling out cookie dough and frosting desserts.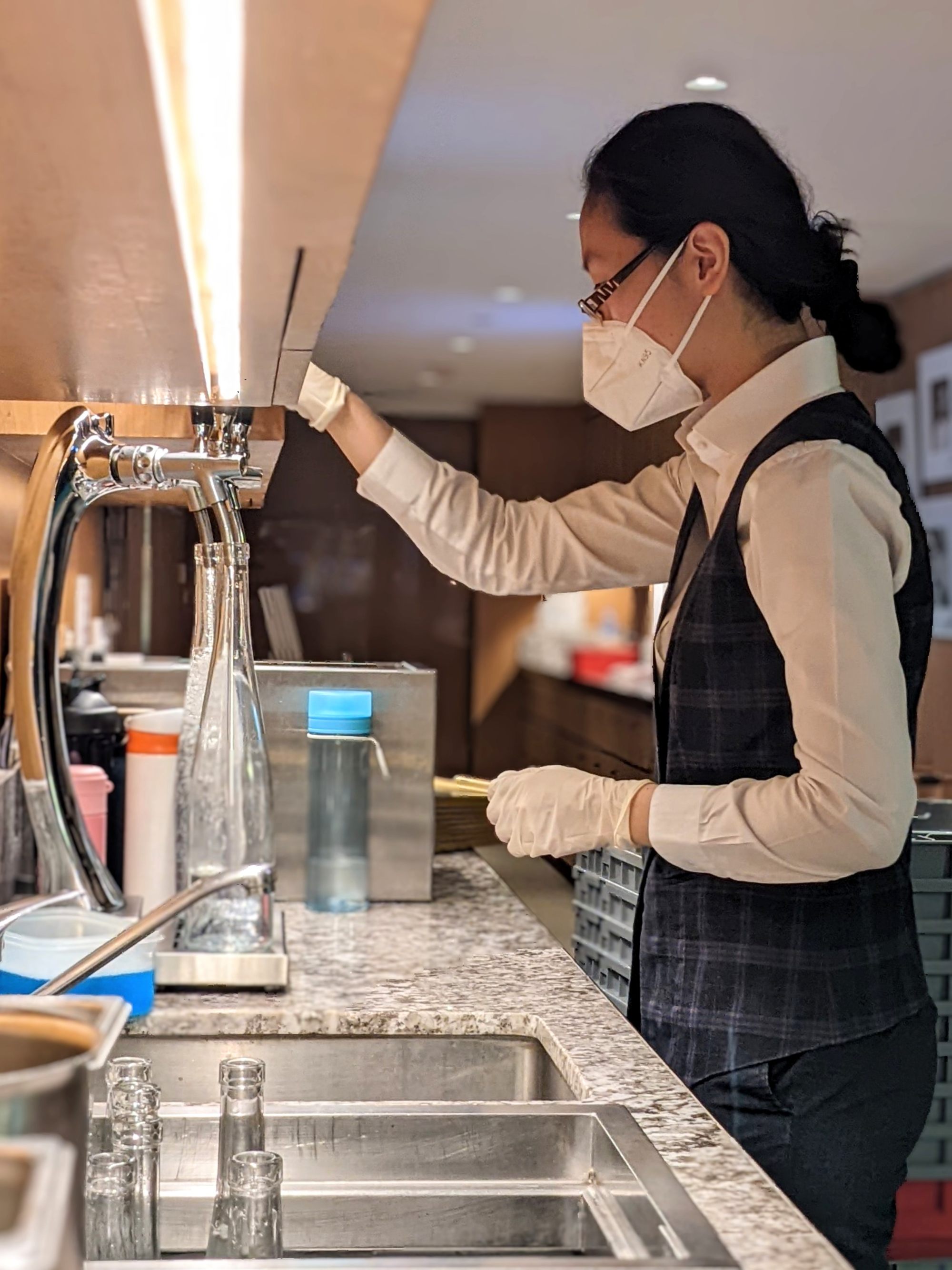 As food runners, Kwok and Lee help kitchen staff and waiters by sorting out utensils, folding napkins, wiping wine glasses and bringing coffee for the waiters to serve.
While both Kwok and Lee are avid home cooks, neither opted for work experience as chefs this summer, as they wanted to gain new skills. "[I wanted] to start and learn from the bottom, and slowly practice and move up," Kwok says.
Because of her hearing impairment, Kwok mostly relies on sight when she's working. For her, it's the details that she struggles with the most, like folding napkins correctly, differentiating between the matt and shiny red cutlery, and remembering table numbers.
When she's on the MTR (Hong Kong's subway) or the bus, she'll regularly study a piece of paper that denotes all the tables.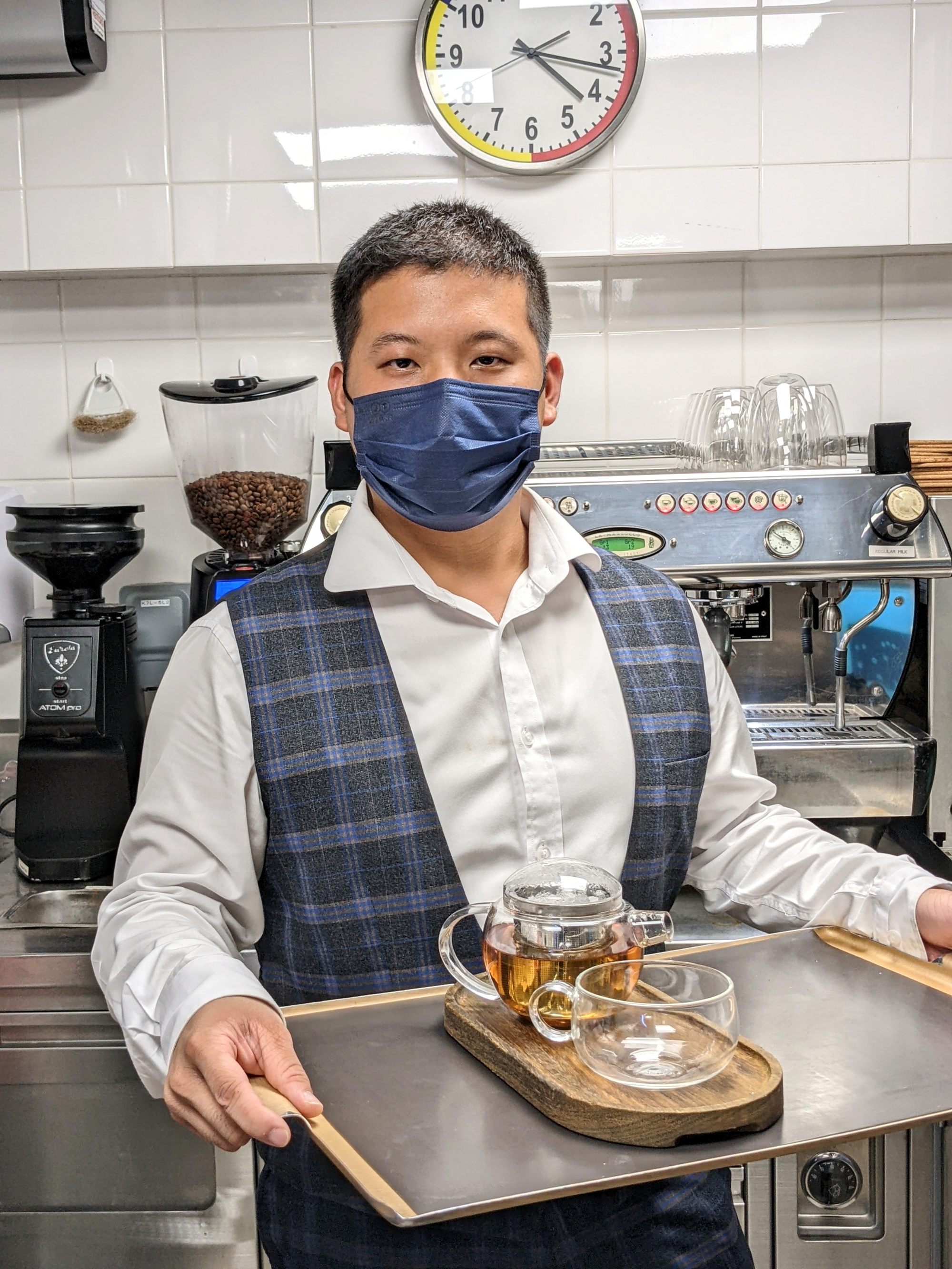 Lee has taken some time to develop his chatty personality. "[When I was young] I rarely spoke because my parents were worried about me talking to other people. But now I really like talking," he says.
At the hotel, he finds communication to be most difficult, but not because of his disability. Rather, it's because he doesn't know how to speak English – so he relies on colleagues to help translate. Over the past weeks, he's also been learning how to make coffee, and hopes eventually to be able to make proper latte art.
Richard Ekkebus, the culinary director of The Landmark Mandarin Oriental, has high praise for the four students, describing them as "exemplary" employees.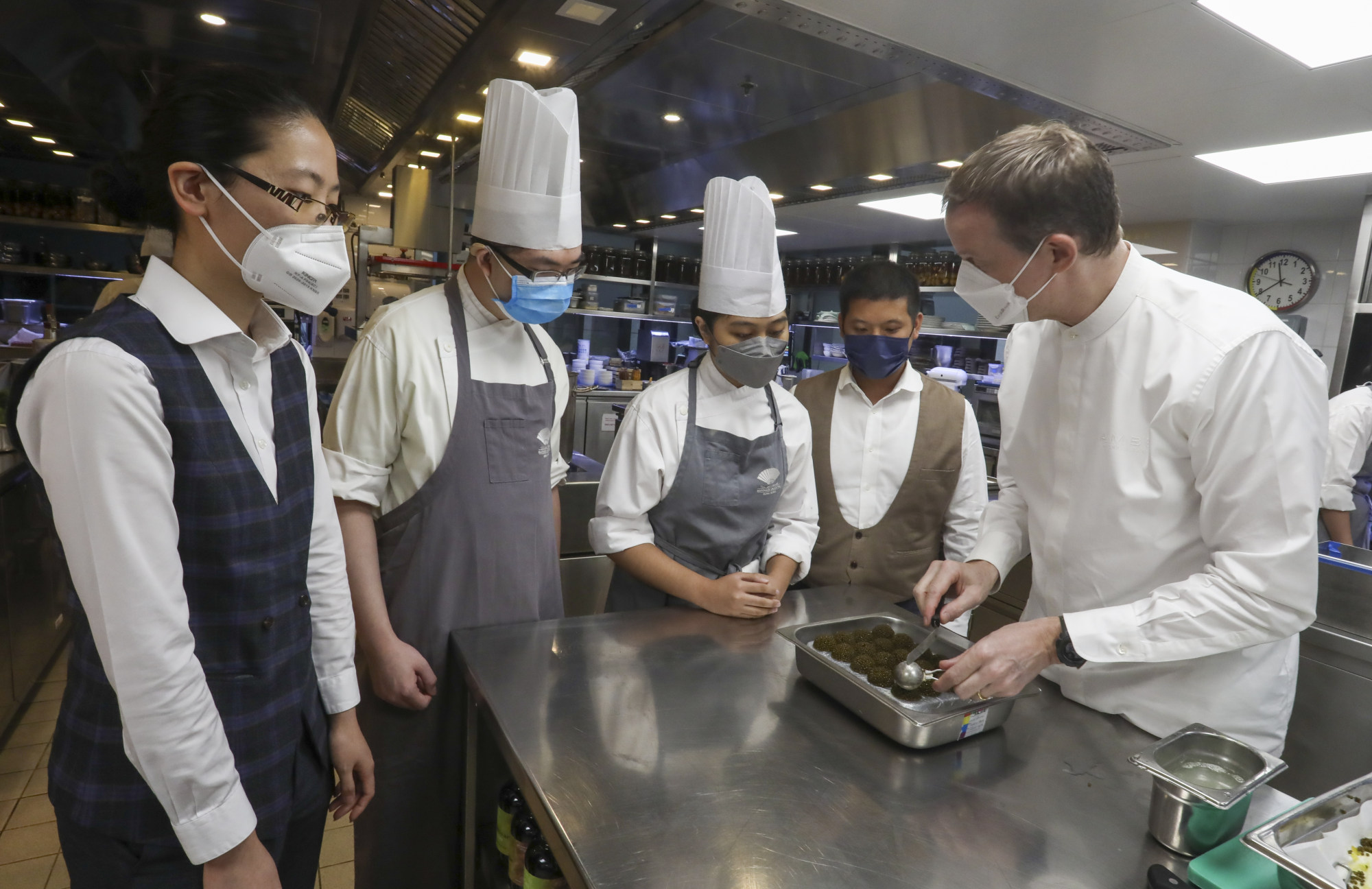 "They have been super, super engaged, to be quite frank. It is pretty rare to find people that are so concentrated, and so focused on doing what they came to do here, to get that right," he says.
He also points out that there's been no special treatment for the students whatsoever.
"They are part of the team, they are considered as such, and there's no difference, so they have been fully, seamlessly integrated in our team," he says. "In just maybe some areas, we need to give them a little bit more support and help, but to be quite frank, we have that every day – we have fast learners, and we have not-so-fast learners."
Over the past few years, the chef has advocated for social inclusion and diversity within the hotel, and has worked with organisations such as mental health education charity Mindset and institutions such as the Ebenezer School & Home for the Visually Impaired to implement similar programmes.
"There are many people in Hong Kong, still, that are not really part of society and struggle to get back in, because it's stigmatised or because there's just not a really good structure to get these people back on their feet," Ekkebus says. "And we feel that as a successful business, it is key for us to give these people an opportunity."
Jo Soo Tang, a co-founder of Cookie Smiles, says: "I think [having this experience] gives the students more confidence, because I think they come into any job or their studies with less confidence as an individual.
"We all do as well, as humans – we have our high days, we have low days – but I think [for] these guys, this extra push [can] really accelerate their growth," Soo Tang adds.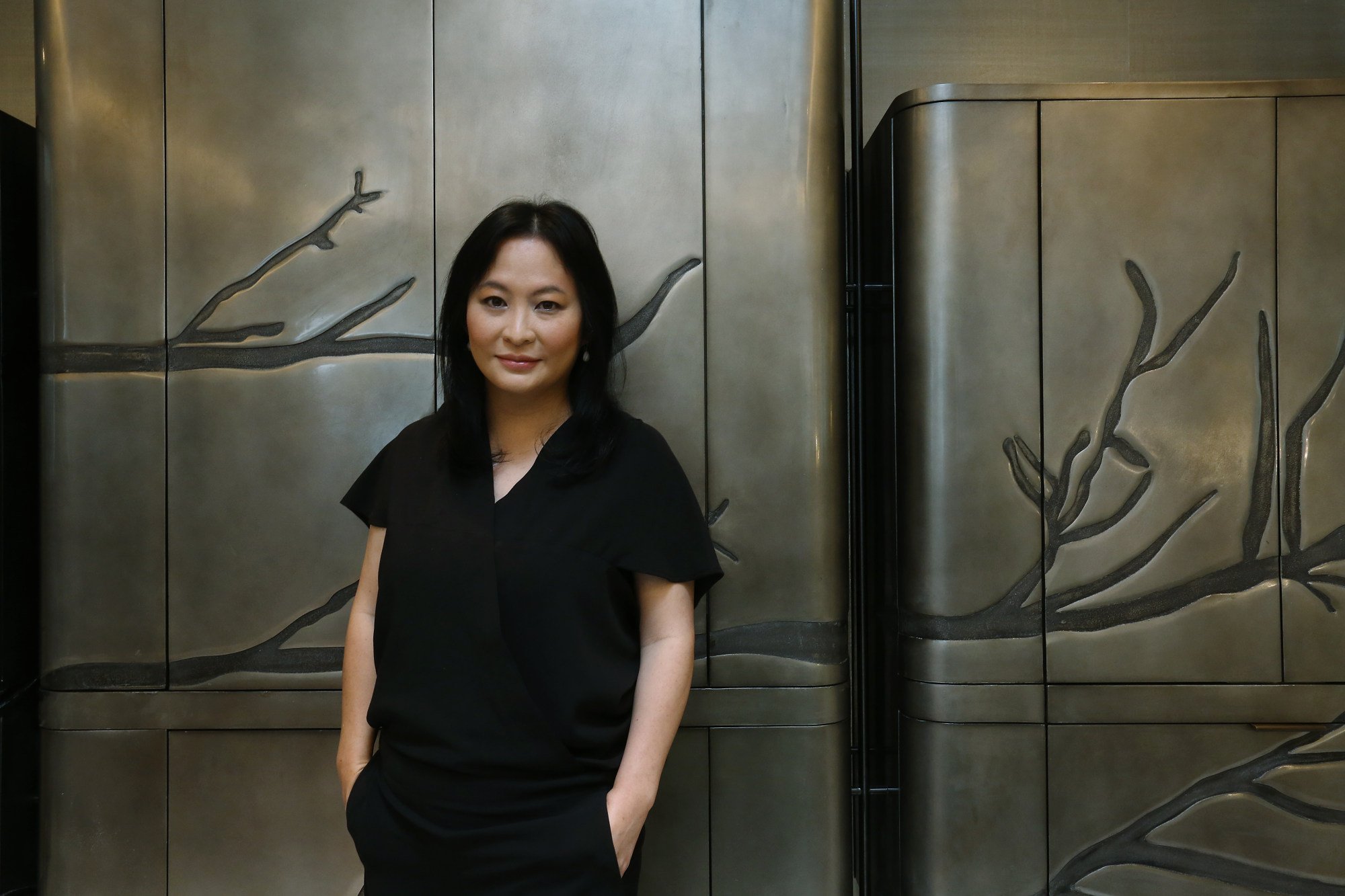 The hope is that the Shining Star Programme can continue to grow, with more hotels and restaurants coming on board. So far, the Fullerton Ocean Park Hotel has accepted several students, and Soo Tang has confirmed agreements with the Island Shangri-La and the Upper House in Admiralty.
All four students currently at the The Landmark Mandarin Oriental aim to stay in the industry. While Lee and Kwok are open to exploring different aspects of hospitality, Gu and Esteban want to continue working in the pastry realm.
Gu hopes to work at a hotel full-time – "I want to make dedicated desserts that will satisfy and make guests happy," he says – and Esteban wants to eventually open her own bakery in the Philippines with her mother.
Ekkebus hopes that participating in this programme can lead the way for others. "If we can make it work, there's no excuse for any business in Hong Kong [not to collaborate] with organisations to make it work, and to really have a seamless integration of people with special needs."