The best ice cream in Hong Kong and its little-known history in the city
Ever since On Lok Yuen began selling American-style ice cream in the 1920s, Hong Kong has had a love affair with the frozen dessert
As America celebrates National Ice Cream Day we recall Hong Kong's history of ice-cream making and reveal where to find the choicest servings and flavours
We all scream for ice cream, but it was former American president Ronald Reagan who declared the third Sunday in July to be dedicated to celebrating the cool treat.
National Ice Cream Day – which in 2022 falls on July 17 – has been celebrated since 1984, and July is officially known in the US as National Ice Cream Month.
Ice cream has a fascinating history in Hong Kong, beginning in the earlier part of the 20th century.
Today we may hear a lot about Hong Kong brands Dairy Farm and Appolo (the latter experiencing something of a resurgence thanks to viral videos of employees creating gravity-defying six-and-a-half twists of soft serve), but there have been plenty more sellers of ice cream down the decades.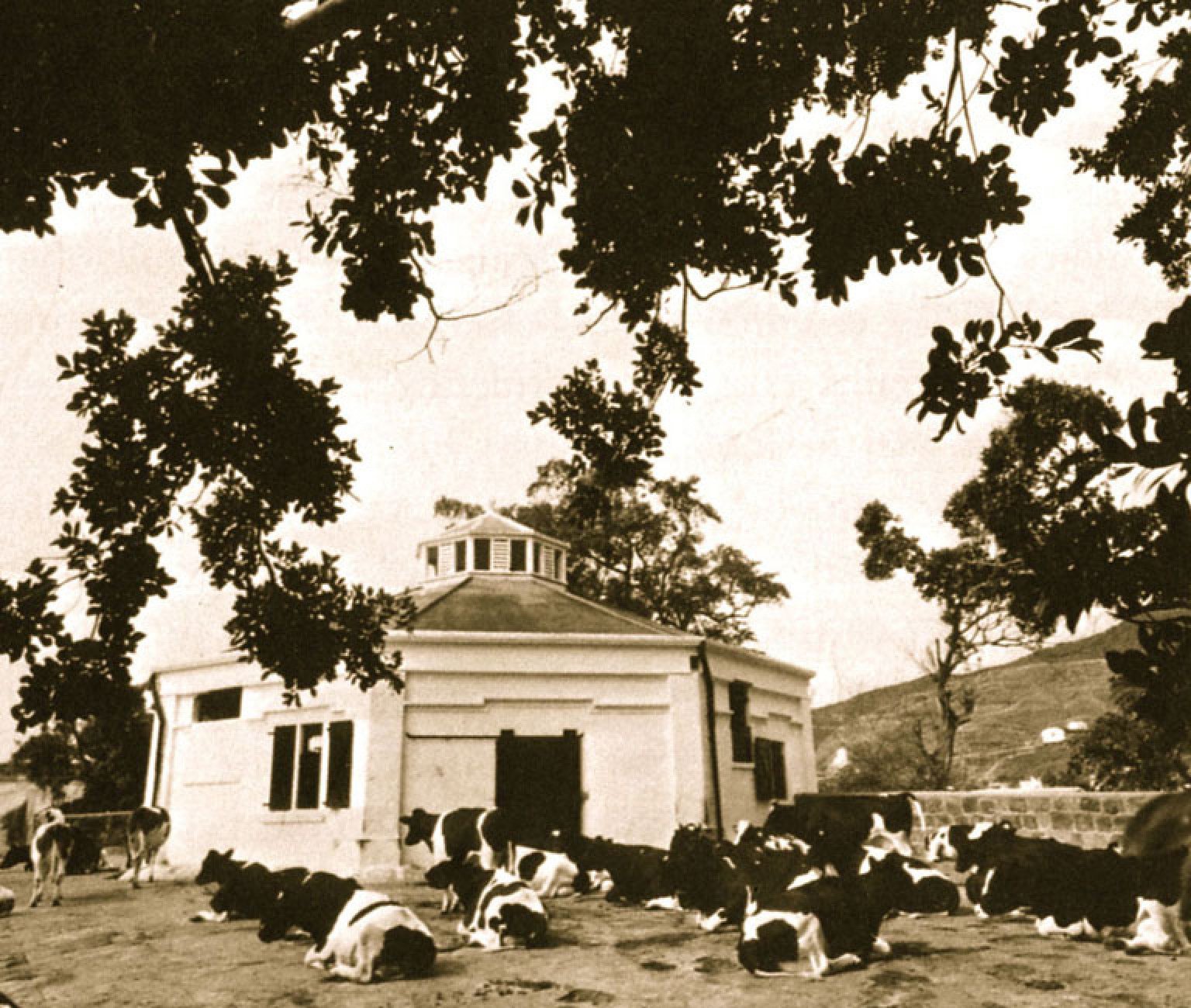 Among the most famous is On Lok Yuen, founded in 1919 by Cheung Kat Shing as a cafe serving Western-style food and drink that eventually became the city's first modern ice-cream manufacturer.
The forward-thinking Cheung studied ice-cream manufacturing on trips to the US, travelling to cities including New York, Chicago and San Francisco to learn more about producers' methods, and set about ordering the necessary equipment to bring back to Hong Kong.
Fresh milk and cream were rare in the city at the time, however, and so the enterprising Cheung arranged for several staple ingredients to be imported from Australia, including skimmed milk powder and canned butter.
According to a report in the 1922 issue of The American Exporter magazine, Cheung successfully recreated American-style ice cream by combining the powder with water to create skimmed milk, which was mixed together with the butter and the mixture run through a homogeniser. Then it was churned and the resulting ice cream frozen in vats.
For the next half-century, On Lok Yuen would be synonymous with ice cream, giving many Hongkongers their first taste of it (strawberry and vanilla flavours were popular, according to ads from the time) at its network of restaurants across the city.
Competitors would soon join the fray, including Dairy Farm in 1928, followed by a succession of European-sounding producers in the 1950s and '60s – Finland Ice Cream, London Ice Cream and Swiss Ice Cream – along with Yan Chim Kee, Mister Softee and Appolo, which all launched in the 1970s.
In the noughties, XTC came onto the scene with its richly textured gelato.
Today a much wider range of ice-cream makers exists, along with independent brands churning up intriguing flavours for the modern palate. Here are some notable scoops to try as the mercury continues to rise.
1. Messina
The
Australian ice cream legends
are launching a pop-up kiosk at the Landmark in Central at the end of July, and will offer 20 flavours – 10 classics from their line-up such as egg tart and black sesame
tong yuen
(glutinous rice ball) and the remaining 10 on rotation and including exclusive flavours not available at their Soho parlour. The launch flavour is Tandy's Egg Tart, a salted plain chocolate gelato with egg tart gelato and flaky caramelised pastry.
The pop-up will operate for 10 to 12 months, starting from July 21.
Shop 239, 2/F, Landmark Atrium, 15 Queen's Road Central.
2. Tiffin
The Grand Hyatt's afternoon tea is rightly legendary, but so is its famed ice cream buffet. New flavour requests from the hotel's social media followers have been introduced to the line-up, including Kyoho grape sorbet, peanut butter milkshake and bacon, and egg tart crème brûlée.
There is even a black sugar and ginger flavour that was suggested by fans of Keung To, a member of Canto-pop group Mirror, who call themselves "ginger candies".
M/F, Grand Hyatt Hong Kong, 1 Harbour Road, Wan Chai, tel: 2584 7722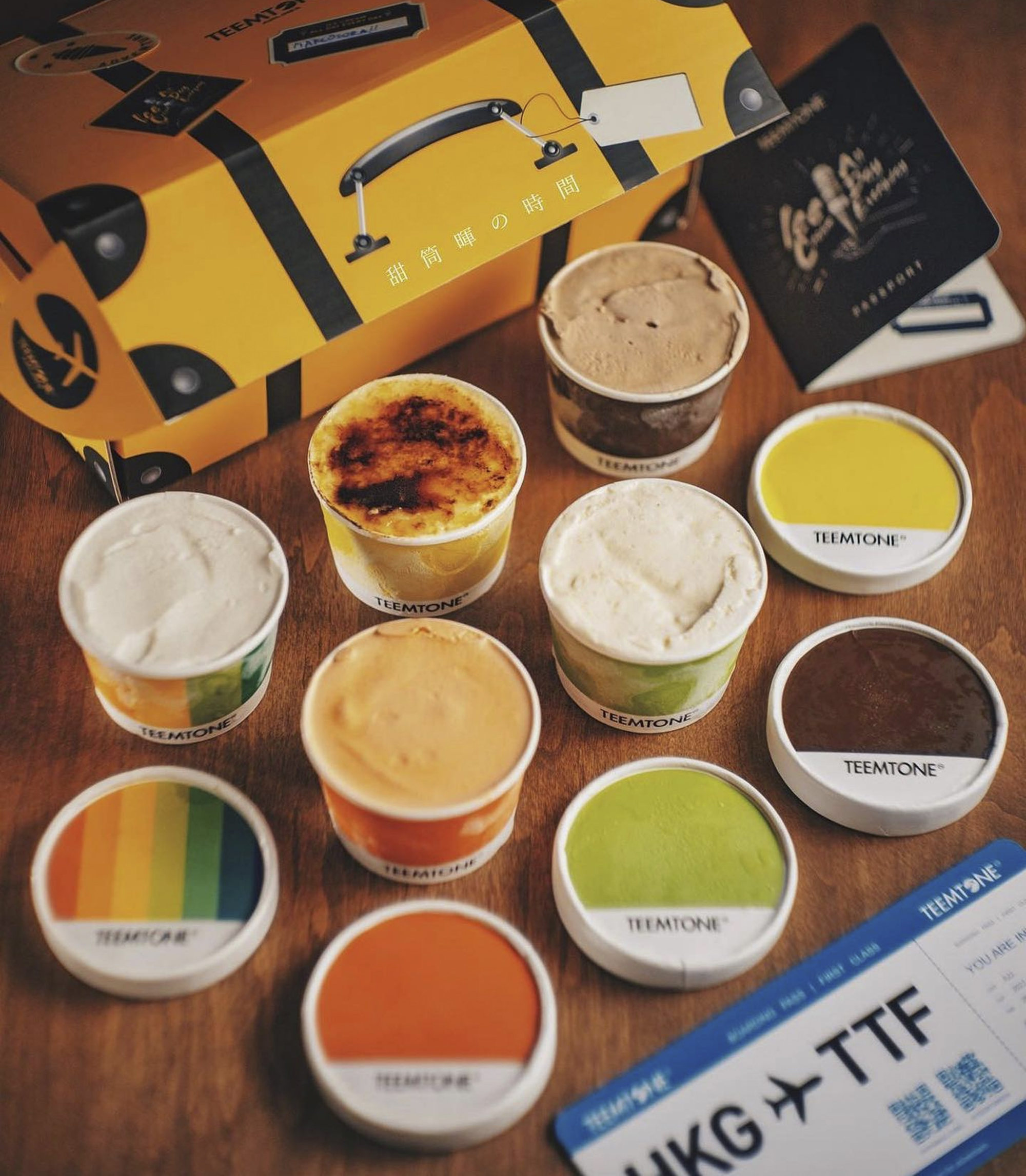 3. Teemtonefai
Graphic designer turned ice-cream maker Thomas Fung launched Teemtonefai several years ago as a study in colour and food, and hasn't looked back since. He works with brands to create eclectic flavours, and also runs pop-up ice-cream shops around the city.
His latest is his most ambitious yet, a six-month residency at K11 Art Mall for which he has created an ice-cream parlour inspired by the American diner that sells eight different flavours, including bacon, cereal milk, maple syrup and apple pie.
B1, K11 Art Mall, 18 Hanoi Road, Tsim Sha Tsui.
4. Hea
This Hong Kong-themed ice-cream parlour in Sham Shui Po is all about soft serves with the taste of nostalgia. Among its popular flavours are salted lemon with 7-Up, mango and pomelo, and mapo tofu with chilli crisp.
Shop 5, Nam Fung Mansion, 10F Boundary Street, Sham Shui Po, tel: 5345 5954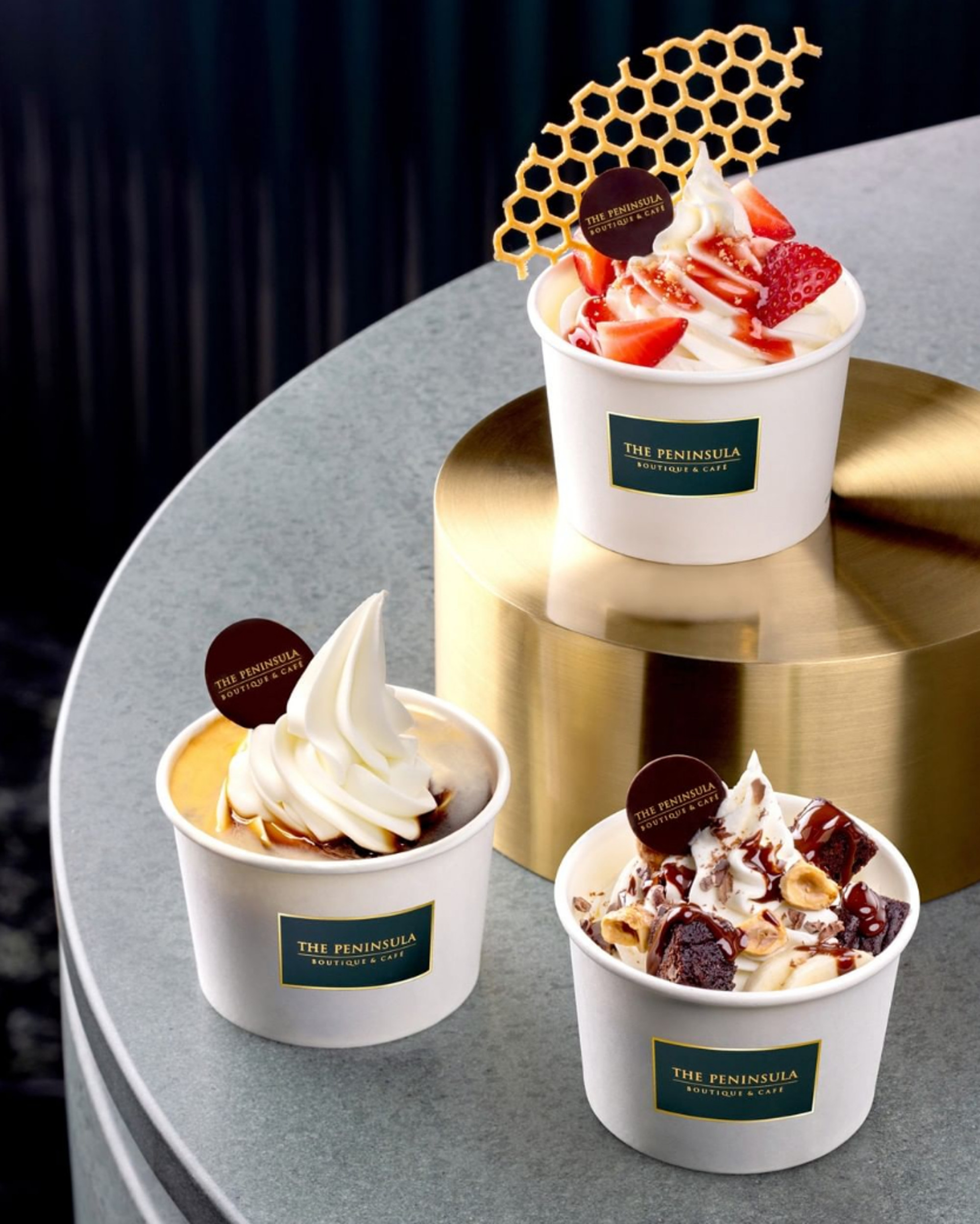 5. The Peninsula Boutique
Head to the grande dame of Hong Kong hotels for a sundae that's on another level. Made with Hokkaido milk from Japan, the soft-serve sundaes come in three flavours: affogato, fresh strawberry and chocolate brownie.
The Peninsula Arcade, Salisbury Rd, Tsim Sha Tsui, tel: 2696 6969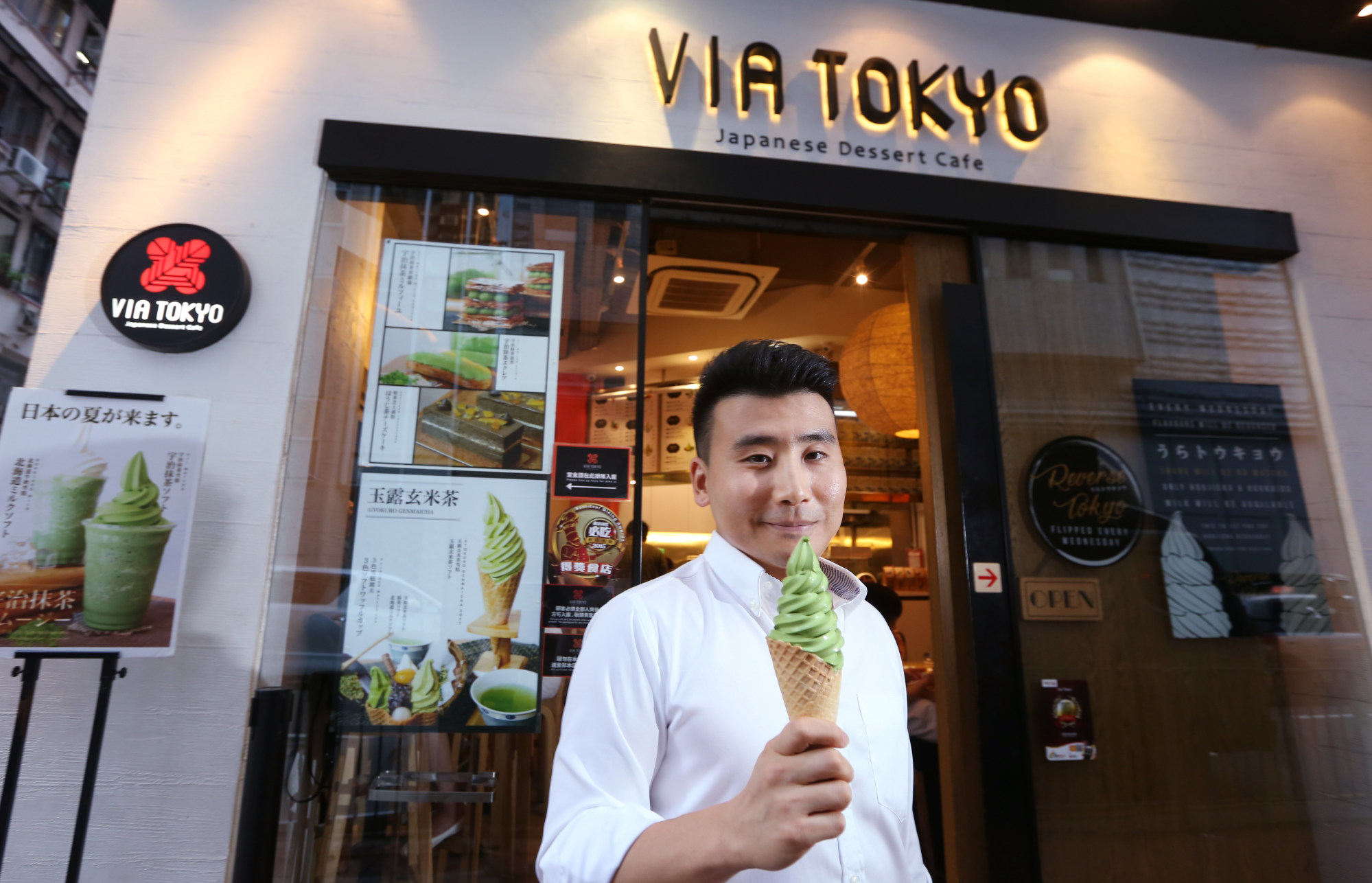 6. Via Tokyo
Via Tokyo is one of our most consistent picks and a perennial favourite for fans of Japanese-style soft serve. We're also thrilled that its royal milk tea flavour, previously out of rotation, has come back after five years in the form of a parfait with coffee jelly.
Don't miss out if you're into the intense flavour of Assam tea, as this ice cream flavour will only be available for another month.
Shop 1A-1B, Leishun Court, 106-126 Leighton Road Causeway Bay, tel: 2895 1116