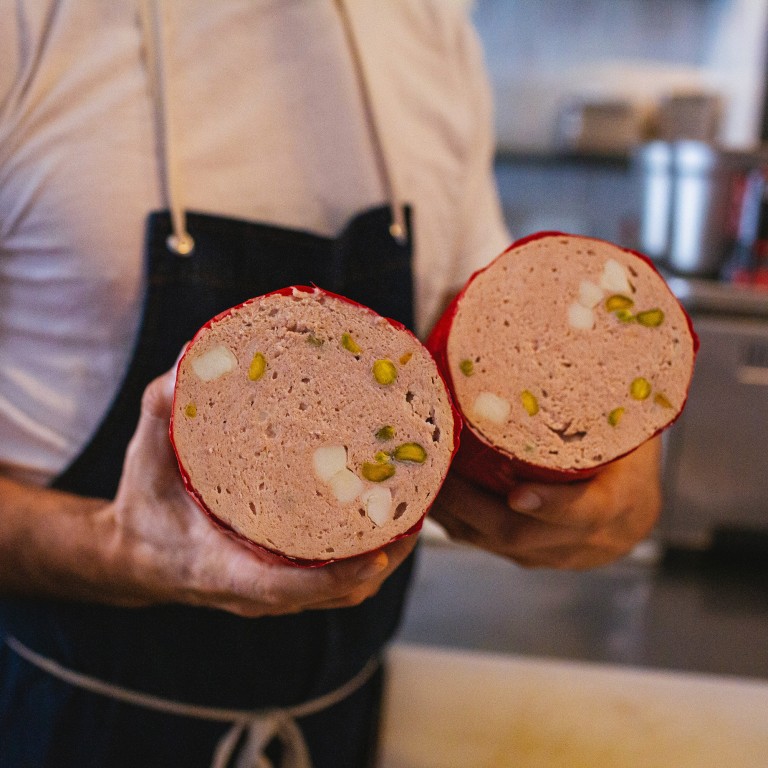 Don't say bologna: why mortadella, an Italian deli favourite, is trending in the US, and the chefs who make their own versions of the sausage
Often seen on cold meat platters and in deli sandwiches, mortadella has a long history, possibly dating back to the Ancient Romans or even before
Chefs in Los Angeles, who often make their own mortadella, talk about how they like to serve the deli favourite and put their own twist on it
Thin slices of white-speckled pink mortadella are popping up in sandwiches, on charcuterie plates and even in the occasional cocktail in Los Angeles, but it's hard to view any food item depicted in ancient Roman carvings as a flash in the pan.
The Italian deli meat that traces its roots to Bologna and maybe as far back as the Etruscans isn't new, but it's been gaining the kind of star power that salami and prosciutto have hogged for too long in the United States, where a maligned derivative, bologna, lacks the nuance in texture and flavour of its inspiration.
At Grandmaster Recorders restaurant and bar in Los Angeles, the aromatic deli meat is draped around hot, freshly fried cacio e pepe-flavoured zeppole (doughnuts) buried under freshly grated pecorino. At Pizzeria Bianco, it is served on a round of focaccia with goat cheese and arugula, while La Sorted's showcases the thin slices on even fluffier focaccia with burrata and a slick of slightly sweet pistachio cream.
It's served as an option on the cured meat plate at Capri Club, a new addition to the best bars in LA Cocktail bar Thunderbolt recently experimented with a mortadella-washed bourbon old-fashioned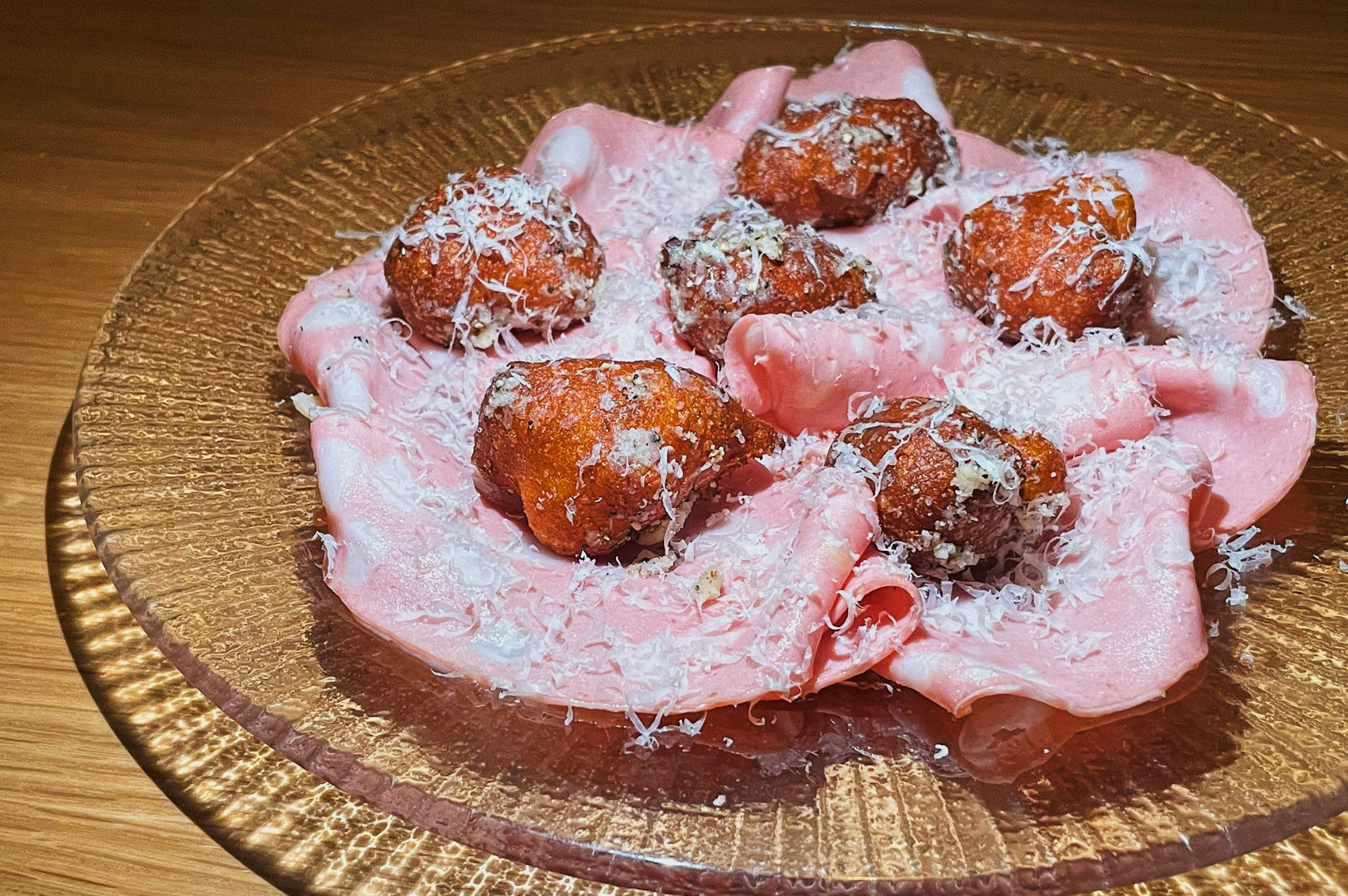 A blend of pork cuts and fat, originally ground together in a mortar in Italy's Emilia-Romagna region, mortadella is essentially a large cooked pork sausage spiced with myrtle, garlic and pepper. In 1998, it received its own Protected Geographical Indication (PGI) – meaning its ingredients and methods must adhere to a strict set of criteria to be considered authentic.
For the chef of Felix and Mother Wolf, Evan Funke, mortadella's time was long overdue. "I think it's one of the most underrated salumi to come out of anywhere in the world; it's underused, underappreciated, super versatile, and I think it's the best."
At Mother Wolf, Funke features mortadella made by Verona-based Leoncini, which adheres to the PGI regulations, on a kind of inverted Napolitano pizza dough that forms an almost sandwich-like base, with lemon-scented ricotta.
Travis Hayden is one of the few chefs in Los Angeles making his own mortadella. At Virgil Village wine bar Voodoo Vin, Hayden drapes several slices on a plate, pistachios and fat on full display, brightened by whatever pickled peppers he's sourced from the farmers' market. The recipe is always evolving, but often involves dry white wine, nutmeg, coriander and mace.
Hayden began with small batches. At first, one of his larger batches would last three weeks. Now he makes a large loaf – weighing in at around 3.5kg (8lb) – roughly once a week and runs through it in four or five days.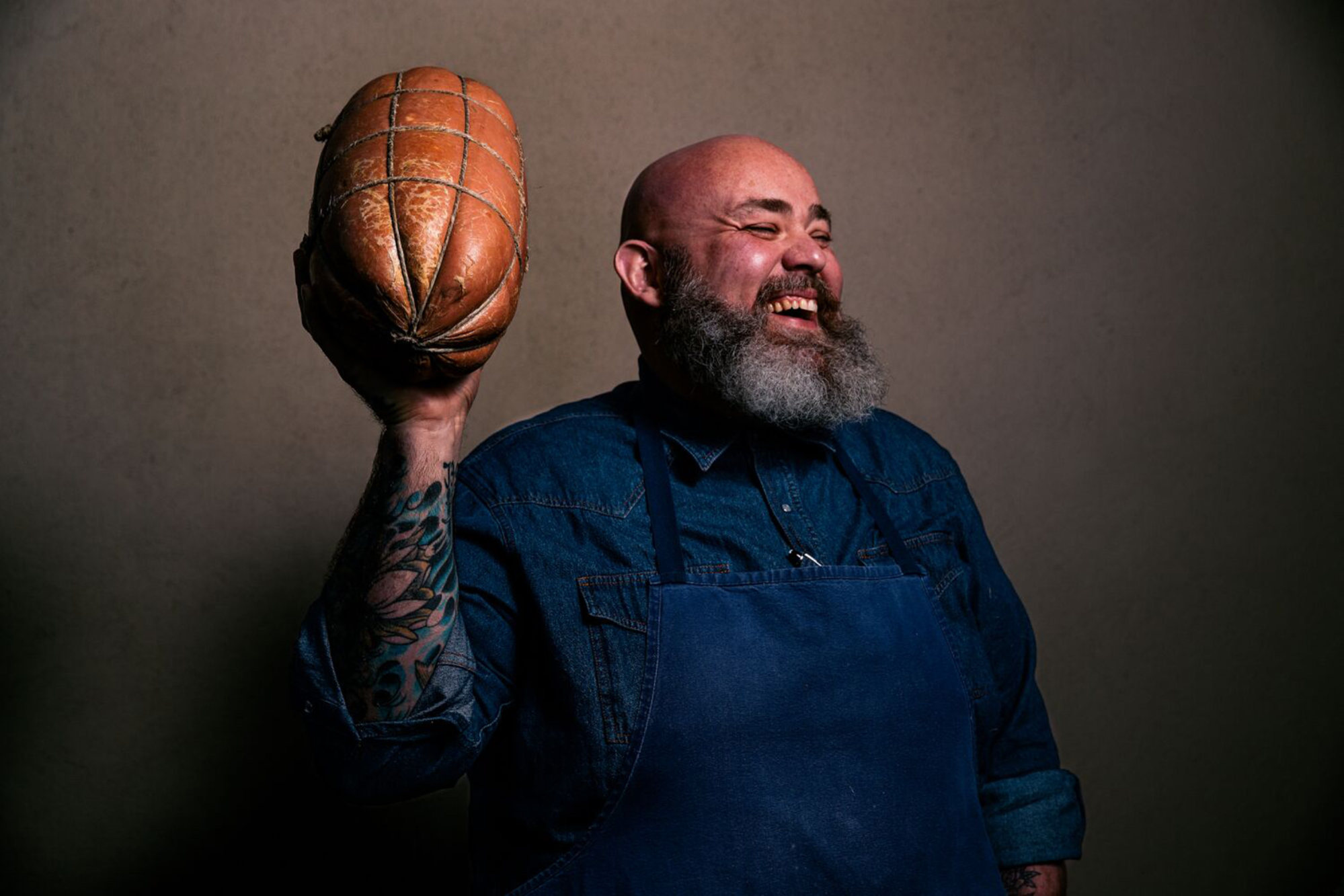 "People have started talking about mortadella," Hayden says. "It's like the tinned fish of charcuterie." Some nights nearly every table orders the mortadella, despite other varieties of house charcuterie also being available.
It takes Hayden about eight hours to prepare his mortadella. He weighs out and grinds or slices pork shoulder and salt pork. He blanches pistachios, then peels them by hand, which takes about an hour and a half, and measures out the wine and dry components.
He begins by emulsifying the pork meat, adding garlic and wine. Then come aromatics and spices, milk powder and the fat. He pauses occasionally to take its temperature, ensuring his emulsification won't break. As it spins, the emulsification turns from a bright pink to a creamy white paste; it's emptied into a large metal bowl, where he folds in the fat cubes and blanched pistachios.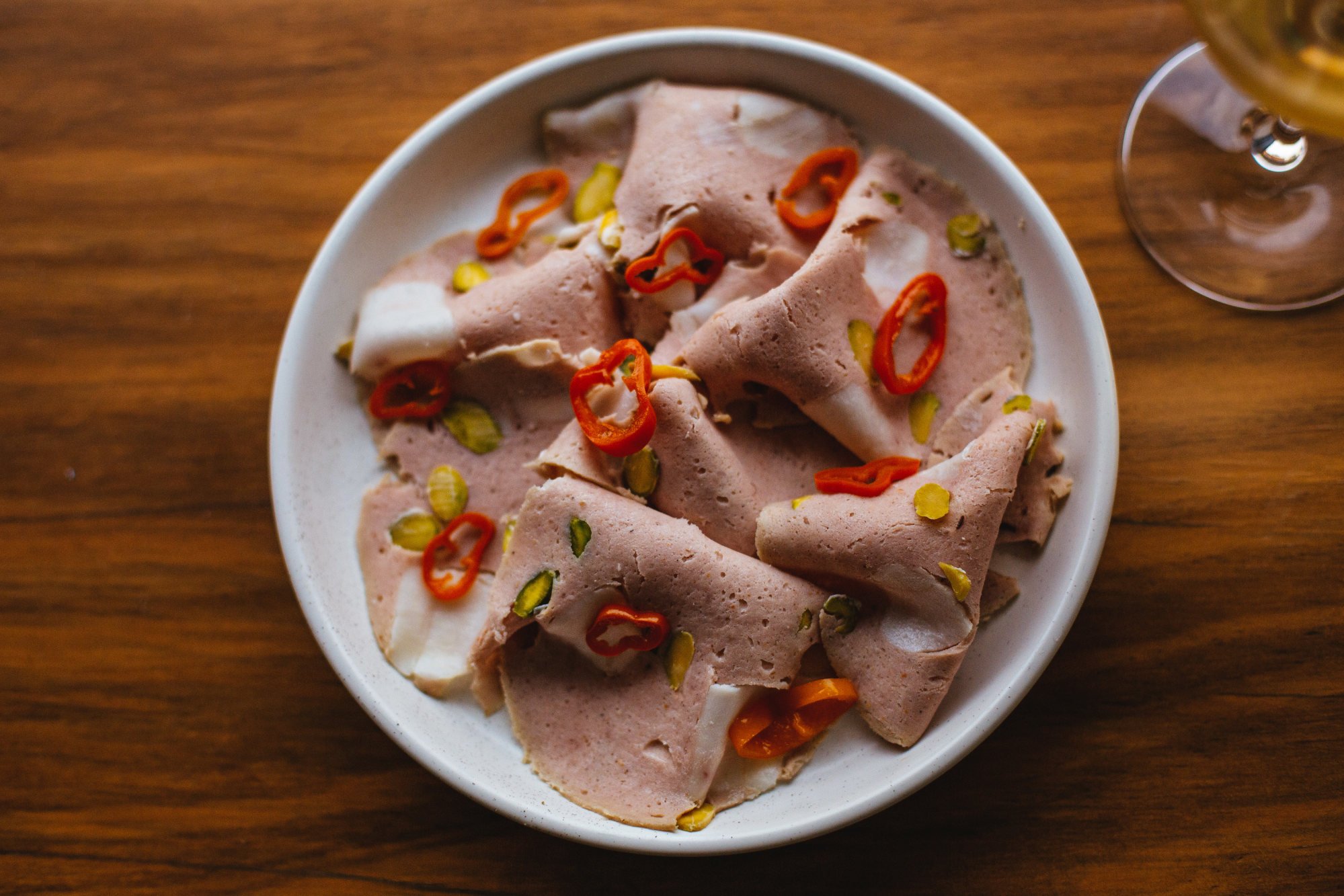 Hayden unveils a large metal contraption to compress the meat into the casing, where an airlock at one end pushes the air out, while an attached tube at the other extrudes the meat into the synthetic casing. He cooks the mortadella in a water-filled catering pan on portable electric burners, slowly raising the temperature, then hangs it in the refrigerator for three days before it's ready to serve.
Shea Montanez, who refers to it as "kind of the next prosciutto frontier", has gone through years of trial and error. The chef and co-owner of pop-up Happy Mediums Deli gravitates towards mortadella because of nostalgia, harking back to the delis his grandma used to take him to as a child.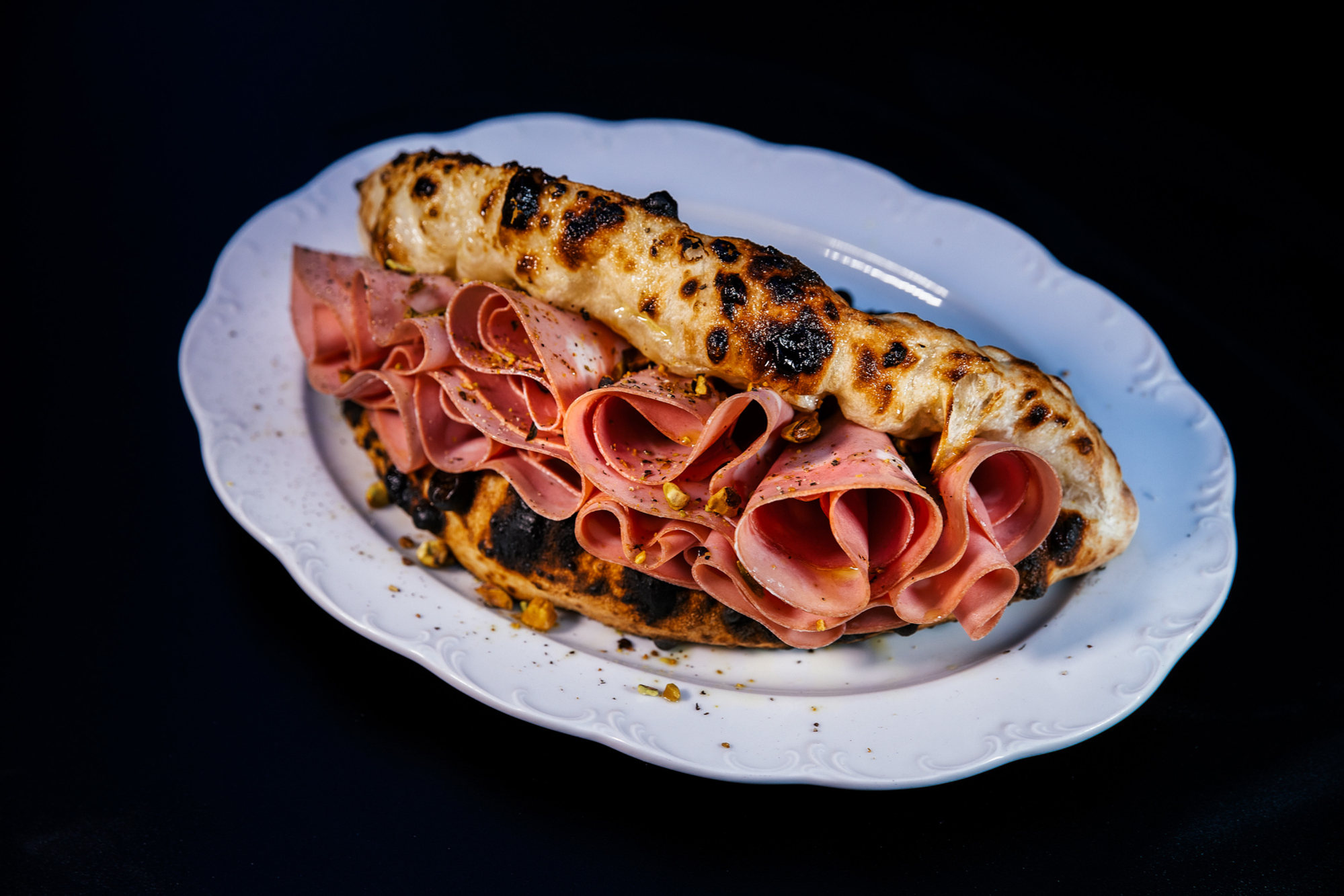 He grinds pork shoulder and salt pork separately, so that the blend is fine, then adds mace, cinnamon, black pepper, garlic and cayenne. It's served sliced thick on the pop-up's signature sandwich.
As with any trend, no one can predict where the growing ubiquity of mortadella will lead. Just don't call it bologna.