Apple
Get more with myNEWS
A personalised news feed of stories that matter to you
Learn more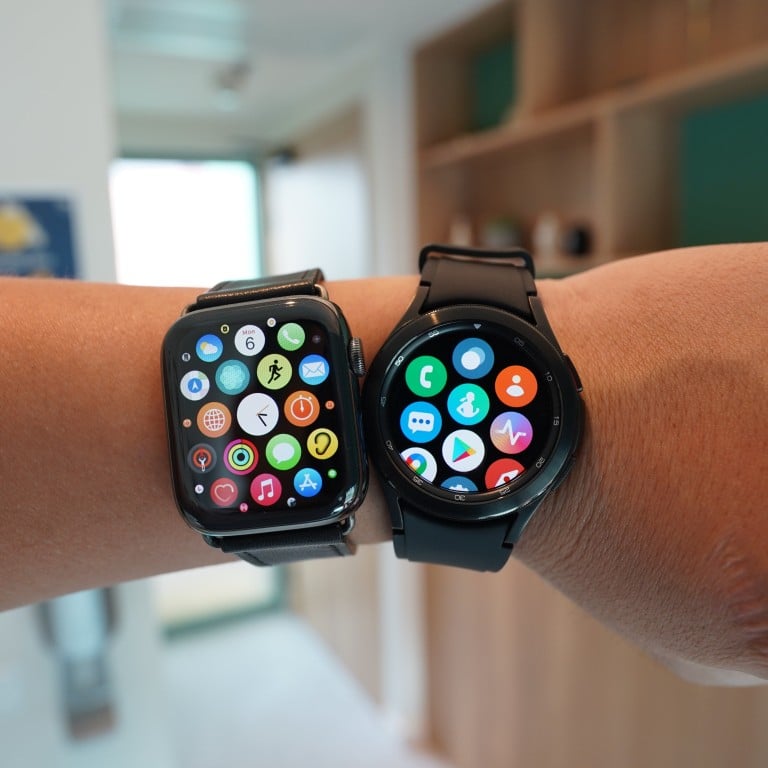 Smartwatch showdown: Apple Watch Series 6 vs Samsung Galaxy Watch 4 Classic – is Wear OS a game-changer for the Samsung?
Apple has led the smartwatch market from the start, but Samsung and Google have joined forces to challenge that
We compare Apple's Watch 6 with Samsung's Galaxy Watch 4 Classic, and the differences come down to their ecosystems and voice assistants
Since its debut six years ago, the Apple Watch has dominated the smartwatch market. Sales may fluctuate every quarter, but industry numbers show Apple's smartwatch generally grabs 30 to 40 per cent of the global smartwatch market share, while all other brands are in single digits.
So when Google announced at its developer conference in May that it had partnered with Samsung to jointly develop the former's Wear OS platform for the latter's wearables, many saw it as a necessary move: two rivals teaming up to take on a bigger threat.

The just-released Samsung Galaxy Watch 4 series is the first result of this collaboration: running Google's Wear OS instead of Samsung's Tizen platform, these are the first Samsung wearables to have access to Google apps in years, and with a new 5nm processor built by Samsung, these are also the most capable hardware WearOS has ever run on.
With Google's Wear OS replacing Samsung's Tizen platform, Samsung wearables now have full access to Google apps. The smartwatches will also benefit from running on a new 5nm processor built by Samsung.
But are these improvements enough to beat the Apple Watch Series 6?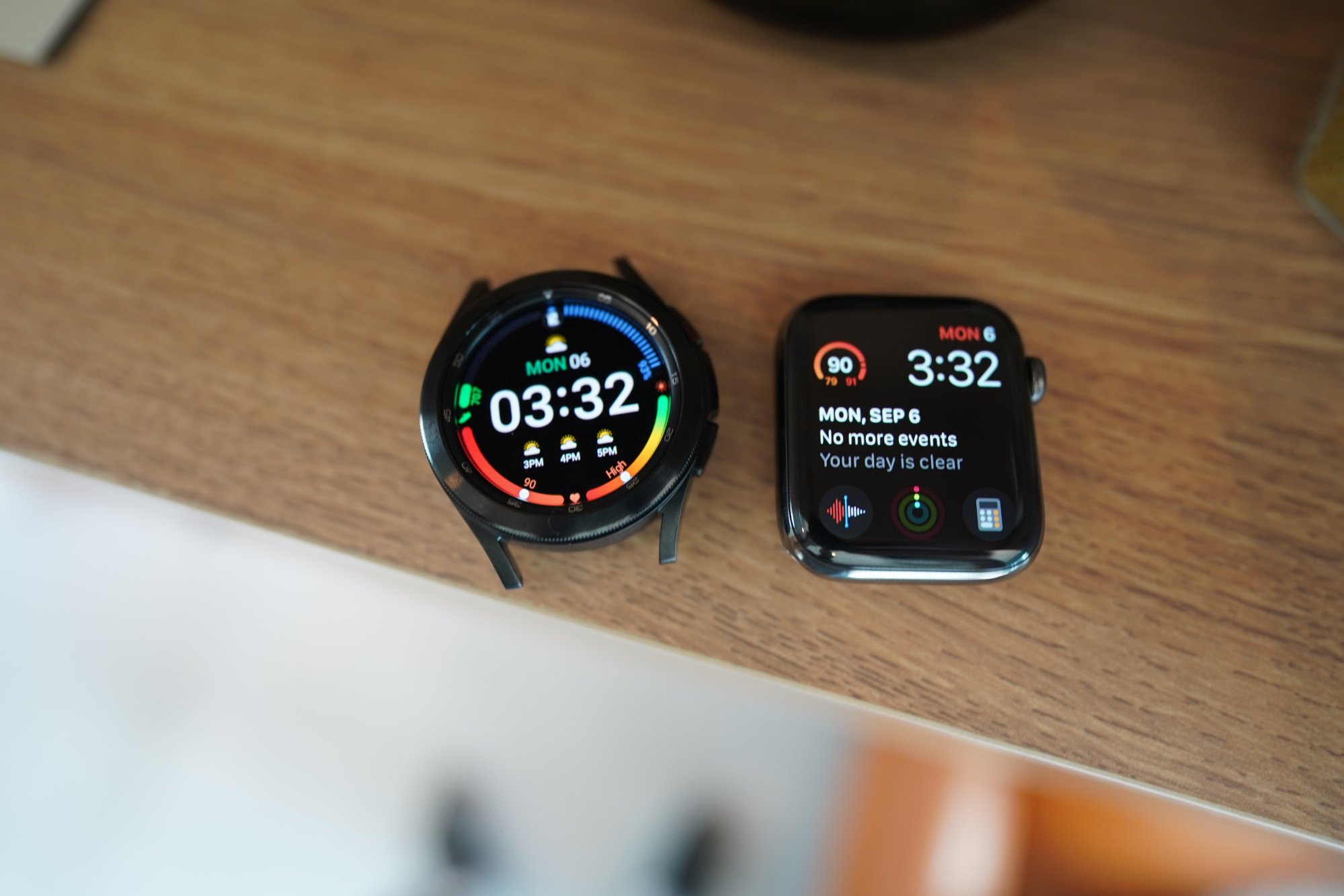 Design and hardware
Samsung's Galaxy Watch 4 Classic is designed to resemble a traditional watch, with an elevated rotatable bezel and two physical buttons. The Apple Watch 6, meanwhile, is rectangular with curved sides. Looks are subjective, but I'm partial to that of the Apple Watch; however, the raised stainless steel bezel around the Galaxy Watch 4 Classic seems to provide better protection, as the screen is not exposed on the sides.
Both watches have beautiful OLED screens that are visible under even heavy sunlight, and can be navigated via swipes and taps. Samsung's watch, however, offers another method of navigating the UI: rotating the bezel. This method brings a tactile experience to what is otherwise a digital experience, and I am a fan.
They both protrude from my wrist a bit more than I'd like, but the Apple Watch 6 is slightly sleeker at 10.7mm thick compared to the Galaxy Watch 4 Classic's 11mm.
Both watches have powerful chips that are the latest from each company. The downside of that is mediocre battery life of roughly a day-and-half on a single charge (Fitbit's Sense can last five days; Huawei's Watch GT2 can go for 14 days).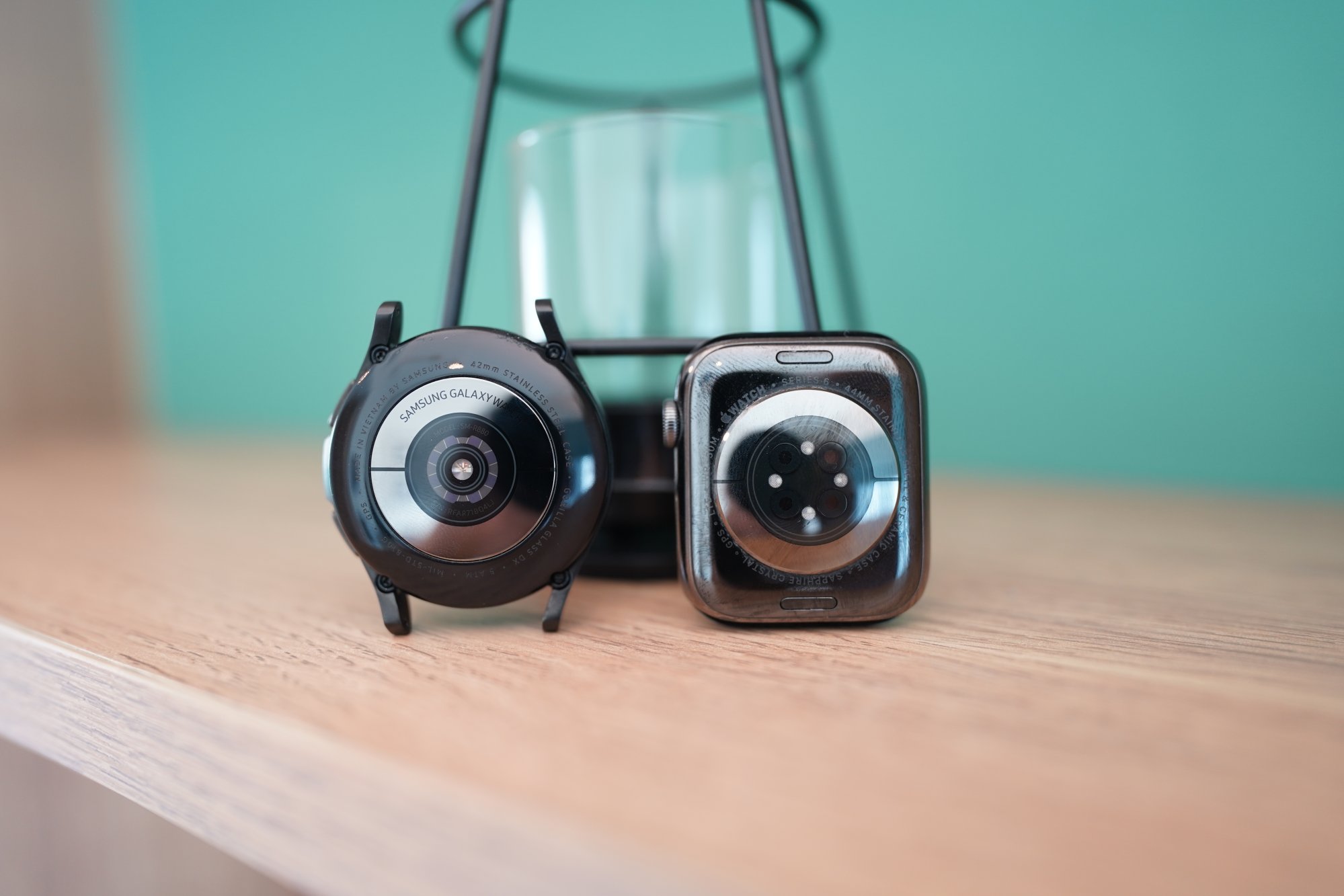 Software and features
In previous years, there would be a clear win for Apple in this category. Samsung's Tizen OS had an anaemic app ecosystem, and last year's Galaxy Watch ran on an underpowered chip that really struggled with intensive tasks like voice dictation. Apple's Watch, meanwhile, has worked seamlessly for years.
The partnership with Google and the new chip have paid dividends: the Galaxy Watch 4's software runs smoothly, it has access to useful Google apps like Google Maps directly on the wrist, and responding to messages via voice actually works this time.
However, Samsung's watch still doesn't have as seamless an integration with Google's ecosystem as the Apple Watch does with its own. A major reason for this is that the Apple Watch only works with Apple products, but Samsung's watch has to work with not just Samsung products, but also all Android products, such as Xiaomi's or those of OnePlus.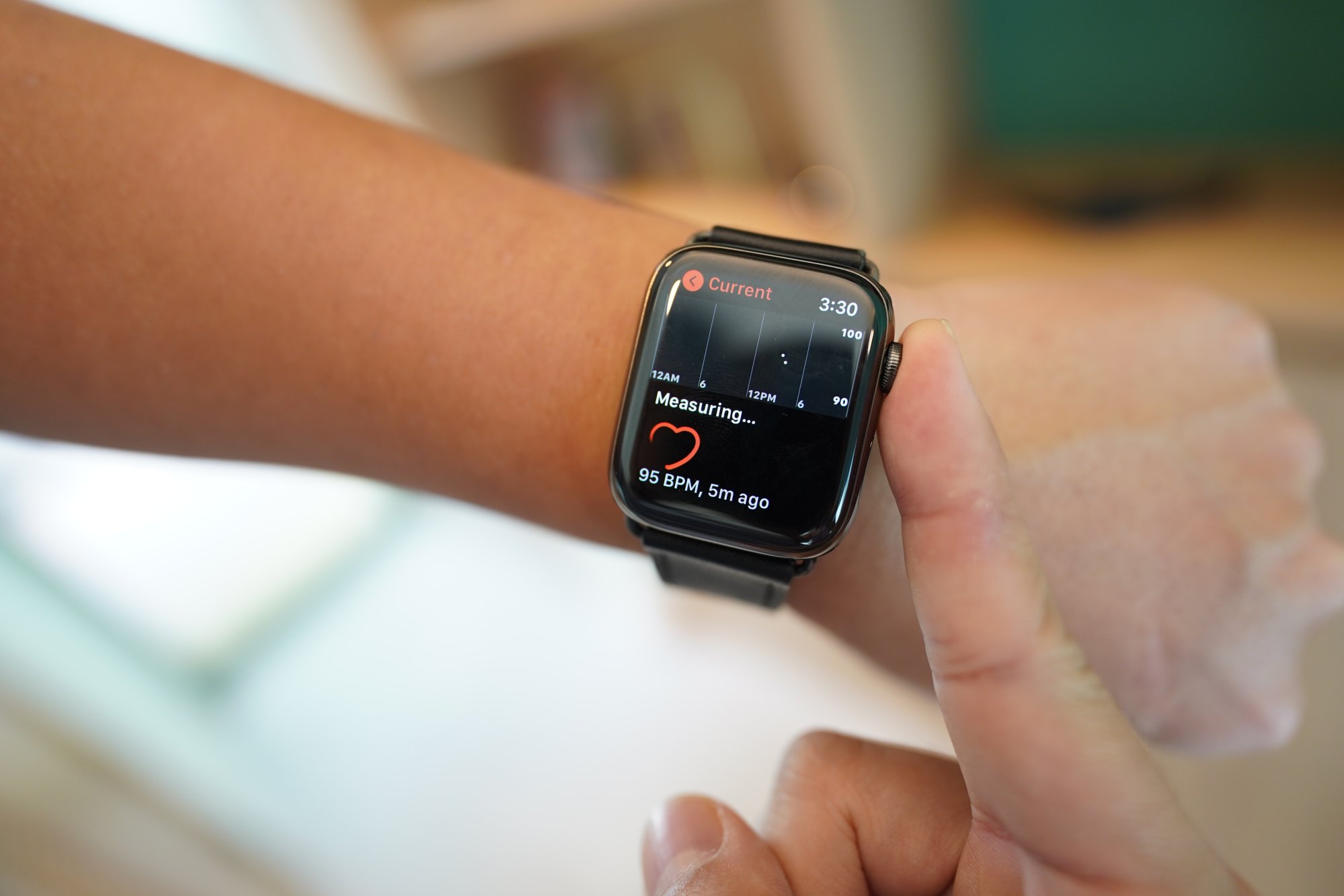 Apple's narrower ecosystem is always going to result in smoother connectivity, such as the ability to record a voice memo on the Apple Watch and have that clip show up on an iPhone or iPad within seconds.
The biggest problem for the Galaxy Watch 4 Classic is that it cannot access Google Assistant – the only digital voice assistant available is Samsung's objectively inferior Bixby. Samsung says support for Google Assistant will come, but it's baffling that a Wear OS device does not have access out of the box to Google's universally loved voice assistant.
Until Samsung fixes it, this is the most lopsided win for the Apple Watch 6. I can ask Siri for directions or weather information, or send a message, directly on my wrist; on the Galaxy Watch 4, I must deal with Bixby, which is nowhere near as capable.
Both watches are great at
fitness and health tracking
, and show similar numbers in terms of step count and heart rate, but Samsung's wearable has more features.
New this year is body composition measurement, which uses the new "BioActive" sensor to send electrical waves through the wearer's body to determine body fat percentage. From my testing, the body fat percentage measurement is accurate. Apple's Watch has no such feature.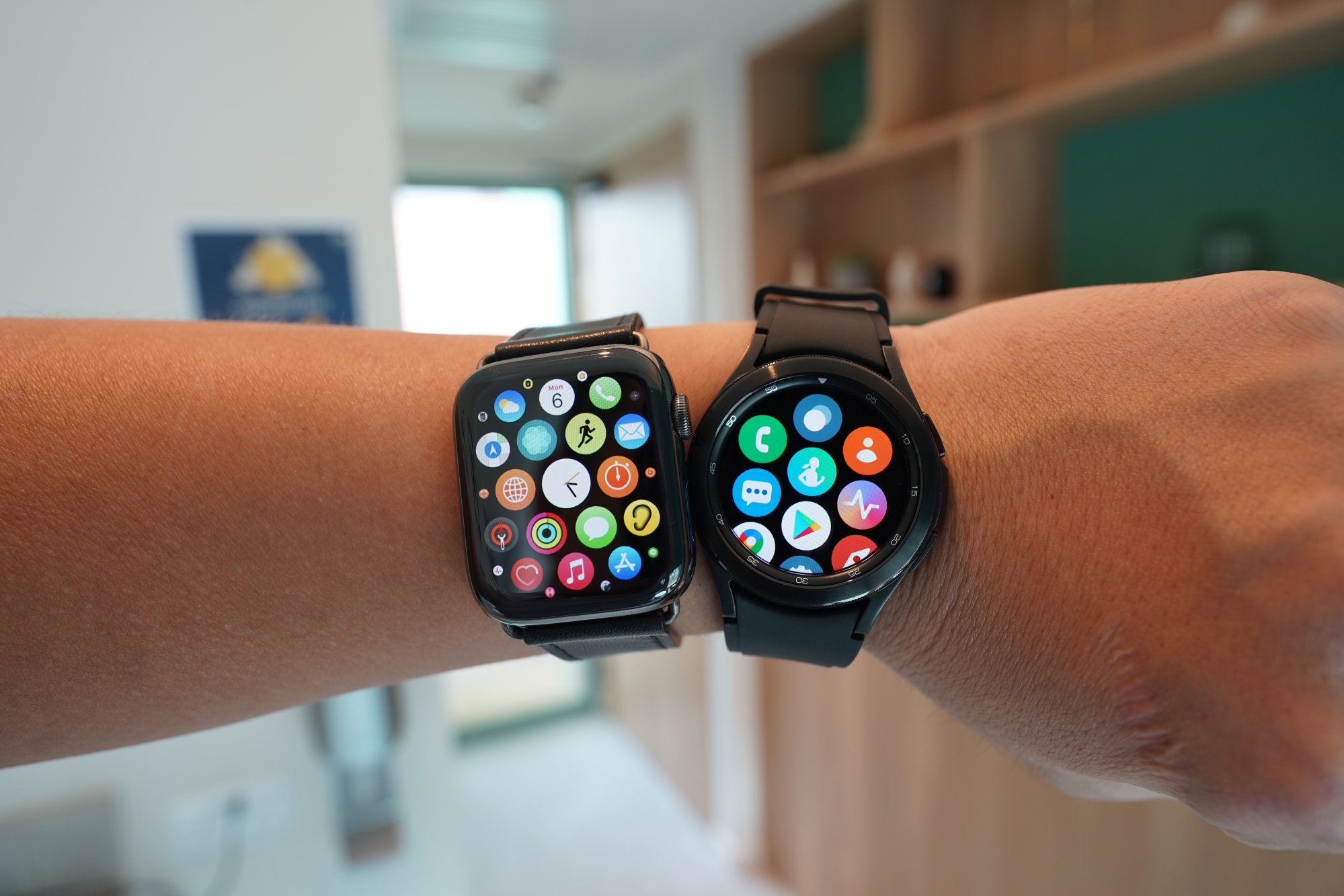 Conclusion
Ultimately, this comparison is purely for curiosity and bragging rights rather than an actual buying guide for consumers, because your choice of phone will determine the final decision.
If you use an Android phone, you cannot use an Apple watch, period. And while Samsung says the Galaxy Watch 4 Classic will be able to work with iPhones later, there is virtually no chance it will be able to access Apple's Siri or control Apple's products.
No matter which watch you wear, you can be satisfied in knowing these are absolutely the best possible smartwatches for each ecosystem right now.

Samsung's Galaxy Watch 4 Classic starts at HK$2,898 in Hong Kong (US$350 in US) while Apple's Watch Series 6 starts at HK$3,199 (US$399).