LIFE
Get more with myNEWS
A personalised news feed of stories that matter to you
Learn more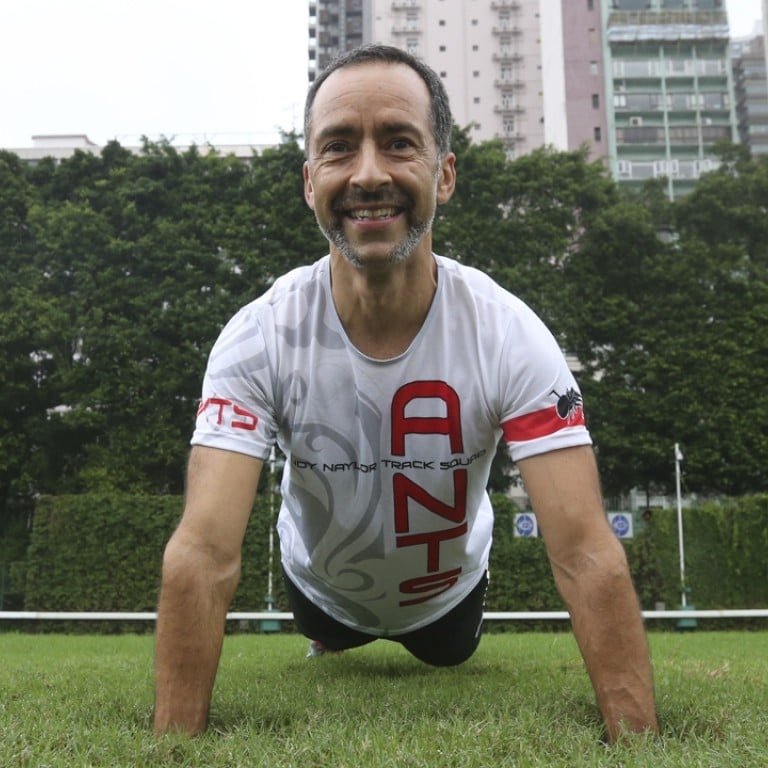 Keeping cancer on the run: Hongkonger fights disease on city's trails
Runner vowed to show the big C a clean pair of heels, and has since won nine races in a row while undergoing radiotherapy
Extreme tiredness and weakness are common side effects experienced by cancer patients during radiation therapy. But not for Mo Devlin.
Recently diagnosed with early stage prostate cancer, the 50-year-old's reaction to the treatment is a winning streak: nine victories in nine local running races in as many weeks of radiation therapy.
"When I was diagnosed, like everybody else who's diagnosed with cancer, I went through the emotions of denial, anger and then despair. Then this idea popped into my head: just because I'm a cancer patient, doesn't mean I have to become a cancer victim," says Devlin, a Scot who has lived in Hong Kong for the past decade.
"When I started the treatment, I thought: I don't want my whole life to be overwhelmed by cancer or by the treatment. I want to have something positive to focus on. So I decided I'm going to stay active because I love running, and I'm going to set myself a target of trying to take eight wins in eight races in eight weeks."
Devlin, a physical education teacher, not only achieved that goal, but went one better when his English Schools Foundation team outran more than 120 other teams to win the Bloomberg Square Mile relay on November 5.
Though seemingly superhuman, Devlin has not been immune to the side effects of radiation therapy, which he has for 30 minutes every weekday at Adventist Hospital after work. He says he feels some fatigue, and so has cut down his training from about five times a week to three or four times. He's also lost about 2.5kg due to a lack of appetite.
Astonishingly though, he isn't running much slower than before his treatment began.
"I don't know if it's because I'm a bit mental and crazy, but I just run harder each race," he says. "My running times have actually stayed pretty consistent. Over a 10-kilometre race, I'm probably only about 30 seconds slower, with times between 36 mins 20 secs and 36 mins 45 secs."
Devlin's achievements, active lifestyle and positive attitude to life with cancer have inspired his fellow members of Sai Kung-based running club Ants (Andy Naylor Track Squad). The club launched a "MOvember Streak", challenging participants to swim, cycle or run for at least 30 minutes every day in November.
Janine Canham, the club's social secretary, says about 70 people have joined the challenge, each paying a HK$150 sign-up fee. Fines are collected for each day of missed activity. All proceeds go to the Movember Foundation, the charity behind the annual Movember campaign where men grow moustaches to raise awareness for men's health issues.
Canham, the chief operating officer for Asia at global asset management firm Sanford C. Bernstein, says her company will double the funds raised through the challenge. The target is to raise a total of HK$30,000.
"Mo has been an inspiration to us all at the club," says Canham. "He's never complained about having cancer or treatment, and he's probably trained harder to prove something to himself. I'm inspired by his positive attitude. It's really hard to feel sorry for yourself when you've a bad day."
Teetotal, a non-smoker, and active in sports from a young age (he was a former professional soccer player in Scotland and the US, and ran a 2½ hour marathon at the age of 17), Devlin never expected he'd get cancer.
Then in April this year, while leading the 17km Hard As Nayls trail race at Clearwater Bay by 10 minutes, he collapsed 500 metres short of the finishing line due to heatstroke. He was taken to hospital.
During his five-day hospital stay, he had a battery of tests for his heart and liver. Canham suggested he get some blood tests for cancer, too.
"I said, I don't need to be tested for cancer – I'm healthy and fit. But Janine insisted," Devlin says. "When the tests showed that I have prostate cancer, I learned the difference: you can be fit but not necessarily very healthy."
Devlin encourages men and women – "no matter how fit or healthy you feel" – to get tested for cancer when they move into the age group that puts them in a higher-risk category.
He also encourages cancer patients to maintain a positive attitude and stay active.
"I definitely think that's something that can help," says Devlin. "I have a brother in England who has stage four lung cancer and his response has been different – he's been a lot more emotional and has spent a lot more time just thinking about what's happening and how he's feeling. I've tried to compartmentalise it and try to maintain as normal a life as I can."
Achieving his winning streak wasn't easy, but the hardest part was coming to terms with the fact that he is a cancer patient and telling people about his status.
"It's difficult to tell people because most people think of cancer as a death sentence. Quite quickly, people start being very sympathetic towards you, asking every day: 'Are you OK? Are you resting enough, eating enough, sleeping enough?'" says Devlin.
"And it's hard to come to terms with because you don't want to feel like you're ill, like you're a victim. You still want to have a full life; you want to eat and exercise normally. So, just changing people's perceptions took a bit of time, but it seems to have worked. I think people still see me as a runner first, and a cancer patient second."
MO'S HOT STREAK
1. Aug 29: AVOHK 5km Bowen Road, 1st in category and 11th overall
2. Sept 6: 31st Annual Thaiquain Cup 10km, 1st in age group and 6th overall
3. Sept 26: AVOHK 5km Wan Chai Gap, 1st in category and 8th overall
4. Sept 27: New Balance 10km, 1st in age group and 17th overall
5. Oct 1: National Day 10km Team Race, 1st team overall
6. Oct 10: AVOHK 5km South Bay, 1st in age group and 11th overall
7. Oct 25: Race to Feed Heifer Race (10km), 1st in age group and 2nd overall
8. Nov 1: Gigasports 10km, 1st in age group and 14th overall
9. Nov 5: Bloomberg Square Mile Relay, 1st team overall