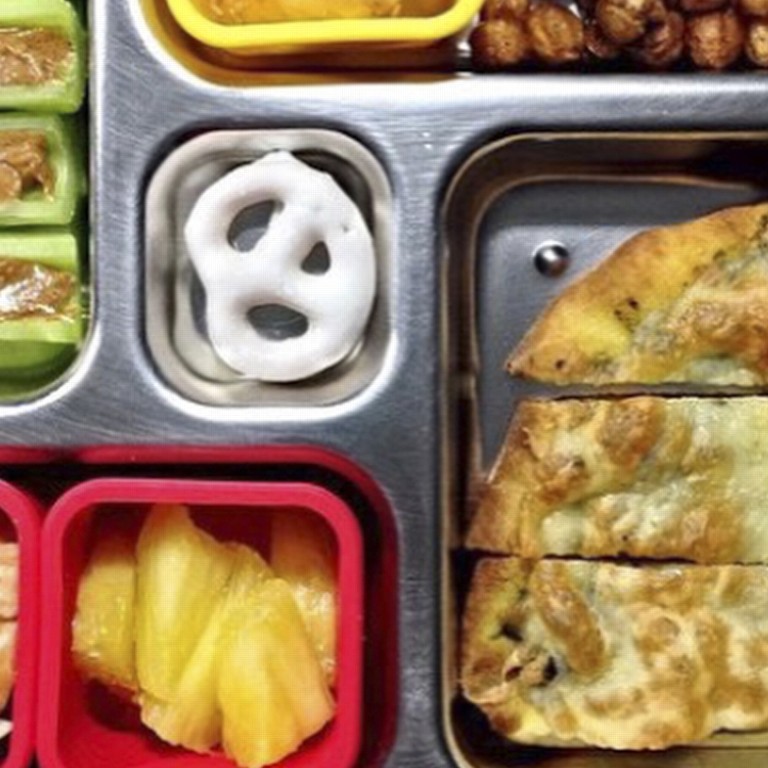 10 Instagram accounts to follow for healthy home-made lunch inspiration
Packing your own lunches is a healthy alternative to quick takeaway meals which may contain more calories than you need and harmful additives that contribute to weight gain and illness
If breakfast is the most important meal of the day, lunch runs a close second. But for many Hongkongers, lunch is either an unhealthy affair due to limited options or skipped totally because of time and work pressures. Either way, you're not doing your health any favours.
"A healthy, nutritionally dense lunch is essential to carry us through the day in an energetic, motivated and productive manner," says Hong Kong-based health coach Rowena Hunt.
A packed lunch from home is an easy lifestyle tweak that could improve your health. Not only does preparing your own lunch mean you can control the calories and quality of your food, but also the portion size, says Hunt.
"You know what you're getting, plus you can ensure that not only do you like what you choose to eat but it will fuel your body in the best way possible," she says.
People who frequently eat home-made lunches or dinners – approximately 11 to 14 meals a week – have a 13 per cent lower risk of developing type 2 diabetes, a major risk factor for heart disease, compared to people who eat fewer than six home-made lunches or dinners a week, according to a 2015 study by researchers at the Harvard T.H. Chan School of Public Health in Boston.
Overall, people who frequently cook meals at home eat healthier and consume fewer calories than those who cook less, according to a study published in Public Health Nutrition in June 2014.
"Eating too much is a common problem when eating out – we tend to eat until we have finished rather than until we are satisfied,"says Hunt. "Very few of us actually need a three-course lunch or dinner, so it is a social habit rather than the best choice for our body."
Eating out regularly may mean overexposure to unwanted additives.
"There will likely be a lot of hidden flavourings [in restaurant meals] such as salt, sugar and MSG, highly processed oils rather than beneficial fats, cheap factory-farmed meats, as well as colourings and preservatives you would not even imagine could be present in something as simple as a fruit salad."
Skipping lunch, on the other hand, can actually make it harder to lose weight because the body naturally wants to compensate for being starved by overeating later in the day.
Need some inspiration to pack a healthy lunch? Here are 10 Instagram accounts for mouth-watering ideas.
1. @Weelicious
Mummy blogger Catherine McCord is queen of healthy lunches, particularly for kids. Author of Weelicious Lunches: Think outside the box with more than 160 happier meals, her Instagram feed is riddled with healthy food ideas for all ages.
Lunchbox pick: cauliflower crust grilled cheese sandwich.
2. @Lifeofavegetarian
Warning: following @lifeofavegetarian will give you lunchbox organisation envy. It also has the potential to convert you into a vegetarian. Each day features a shot of the lunchbox she prepares for her husband, while a later picture shows her own daily meal – both are vegetarian and full of flavour. Following her feed provides options for going "green" (at least on some days). A clear highlight, however, are her weekly lunchbox treats, mostly with full, detailed recipes.
Lunchbox pick: peanut brittle fudge slice.
3. @JamieOliver
England's favourite cook shares the love on his Instagram feed with daily recipe inspiration. From aubergine al forno to his everyday superfood protein loaf, you'll find the motivation to create your own healthy lunch. Follow for hearty, healthy meals with a classic Jamie twist.
Lunchbox pick: incredible leftover lasagne.
4. @HealthyFamily5
Having turned her life around on the I Quit Sugar programme, mother of three Elise has taken to Instagram to document her creations for her family. Her wholesome meals are perfect for cooking the night before and bringing into work for lunch. She also has the occasional healthy sweet treat to spice up any lunchbox.
Lunchbox pick: spiced pumpkin and choc chip oat bars / roasted pumpkin, spinach and goat cheese tart.
5. @FingerPrickingGood
Finger Pricking Good is a recipe blog dedicated to families who have children with type 1 diabetes. Follow their feed for inspiration for creative low-sugar lunches.
Lunchbox pick: cheeseburger cupcakes.
6. @NomNomPaleo
Author of the award-winning blog by the same name, Michelle Tam's Instagram feed is the destination for nutritious, grain-free meals which are kid-friendly and portable. You don't even have to be a Paleo fan to appreciate her easy-to-cook recipes.
Lunchbox pick: spicy tuna cakes.
7. @NutritionStripped
Being a registered dietitian and a passionate foodie, McKel Hill's Instagram feed is both inspirational and informative. She regularly posts recipes for innovative bread loaves – perfect for a nutritious twist on the regular sandwich – as well as healthier treat alternatives.
Lunchbox pick: golden savoury cake.
8. @FitMenCook
Men can cook, too! And when it looks as good as Kevin makes it look, you'll want to get involved. His colourful feed features a healthy daily meal inspiration as well as video recipes. He's often on the go, so his meals fit in a box.
Lunchbox pick: chicken and hummus quesadilla and black bean brownies.
9. @planetbox
Makers of the innovative Planet Box stainless steel lunchboxes (sadly, only available in North America at this stage) share daily posts of lunchbox ideas from around America. We like the simple, healthy snack ideas such as corn kernels, pomegranate seeds and other healthy treats. Their feed will inspire you to rethink your afternoon snack.
Lunchbox pick: two-cheese pesto pizza, roasted honey cinnamon chickpeas, sesame bread stick, celery and almond butter, pear, pineapple, and yogurt-covered pretzel.
10. @ohsheglows
Angela Liddon shares her love of baking and vegan creations on her Instagram feed. They're so beautiful they will appeal to even the most dedicated of omnivores.
Lunchbox pick: Eat Your Greens chickpea salad.