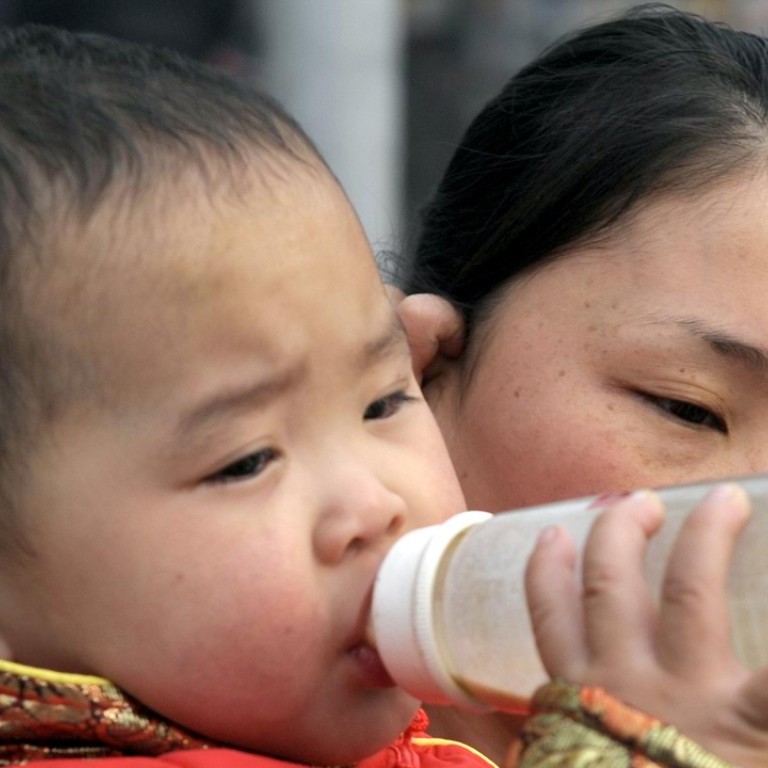 Why countries such as China pay price in lives for baby formula dependence
Major study shows breastfed babies are smarter, healthier and live longer than those fed formula, and if every baby was breastfed world would avoid 800,000 deaths a year and save US$300 billion. Yet in Chinese cities only 16 per cent of babies are exclusively breastfed, and in Hong Kong barely 2 per cent
China bought 40 per cent of the world's baby milk formula, a market worth US$17.78 billion, in 2014, according to a new study published in leading medical journal The Lancet. By 2019, Chinese demand will more than double and China will account for more than half of global sales that are projected to reach US$70.6 billion by then, researchers say.
But their study – the largest and most detailed analysis yet of the levels, trends, and benefits of breastfeeding around the world – stresses that formula is no substitute for breast milk. Babies who are fed on formula milk grow up less healthy and less smart than breastfed babies, they say.
They calculate that boosting breastfeeding rates for babies under six months old to 90 per cent in China would cut treatment costs of common childhood illnesses (such as pneumonia, diarrhoea, and asthma) by at least US$223.6 million a year.
Worldwide, they say if nearly all babies and young children were breastfed, there would be 823,000 fewer child deaths and 20,000 fewer deaths from breast cancer every year, and economic savings of US$300 billion – the price the world pays for the reduced cognitive abilities of children fed on formula.
"There is a widespread misconception that breast milk can be replaced with artificial products without detrimental consequences," said study author Professor Cesar Victora from the Federal University of Pelotas in Brazil. "The evidence outlined ... contributed by some of the leading experts in the field, leaves no doubt that the decision not to breastfeed has major long-term negative effects on the health, nutrition and development of children and on women's health."
The study, published last week, was funded by the Bill & Melinda Gates Foundation and the Wellcome Trust.
In 2014, fewer than 16 per cent of urban Chinese women exclusively breastfed their babies for the World Health Organisation's recommended period of six months, according to data from the National Health and Family Planning Commission. In rural China, the rates were higher – around 30 per cent – but in both urban and rural areas, rates of breastfeeding continue to decline.
In Hong Kong only 2.3 per cent of mothers exclusively breastfed their baby for six months, according to a survey by the Department of Health of babies born in 2012.
Overall, only one in three children in low- and middle-income countries are exclusively breastfed for the first six months, while just one in five children in high-income countries are breastfed to 12 months, the study found.
Victora and colleagues' analysis of data from 28 systematic reviews and meta-analyses – 22 of which were commissioned specifically for the Lancet report – indicates that breastfeeding not only has multiple health benefits for children and mothers, but also has dramatic effects on life expectancy.
For example, in high-income countries breastfeeding reduces the risk of sudden infant deaths by more than a third, while in low- and middle-income countries about half of all diarrhoea episodes and a third of respiratory infections could be avoided by breastfeeding. It also increases intelligence, and may protect against obesity and diabetes in later life, they say. For mothers, the longer they breastfeed the less chance they have of suffering from breast cancer and ovarian cancer.
The report identifies ways countries can significantly improve breastfeeding rates and duration.
For example, in Brazil, the average length of time women breastfed babies increased dramatically from 2.5 months in 1974-75 (one of the shortest durations in any low- or middle-income country) to 14 months in 2006-07 due to a combination of policy, health service, civil society and mass media initiatives.
The authors contrast Brazil with China, two countries similar in economic development but with differing breastfeeding trends. Promoting breastfeeding in China faces unique challenges because of the country's enormous population and the large number of maternity facilities – about 600,000 – the authors say.
"Although China enacted [The International Code of Marketing of Breastmilk Substitutes] legislation in 1995, it has not been updated to take into account new marketing tactics, and implementation and enforcement are weak or non-existent. Independent monitoring in 2012 showed that 40 per cent of new mothers reported receiving at least one free formula sample. Of these, 60 per cent reported being provided the sample by staff of breast-milk-substitute companies and 37 per cent reported being offered the sample by health workers," the authors write.
"Although the Baby Friendly Hospital Initiative is actively implemented by the Ministry of Health, no public information is available about the number of hospitals certified because there is no centralised process for the monitoring and reporting of implementation. Furthermore, authorities can only assess [a] few facilities per year, with certification almost entirely based on self-assessment. Maternity leave is only 14 weeks, and in 2010 China had the highest female labour participation rate of high- and middle-income countries studied (67 per cent vs 60 per cent for Brazil).
"Lack of a well-coordinated government programme, active civil society participation, and a lower level of maternity protection than that of Brazil, combined with aggressive unchecked marketing of breast milk substitutes, might explain the decreases in breastfeeding in China."
In April last year, Beijing announced that it was considering a ban on infant milk formula advertising in the hope of changing the country's dire nursing statistics. According to one of the Lance report's authors, Dr Nigel Rollins of the World Health Organisation's department of maternal, newborn, child and adolescent health, the success of the International Code of Marketing of Breastmilk Substitutes, adopted at the 34th World Health Assembly in 1981, depends upon countries enacting legislation, rigorous monitoring and enforcement.
"The multibillion-dollar breast milk substitute industry – and its marketing practices – undermines breastfeeding as the best practice in early life," he says.
The report was launched at a stakeholder event in Washington on January 29.
Dr Sue Desmond-Hellmann, chief executive officer of the Bill & Melinda Gates Foundation, said: "The evidence from the [report] could not be more clear: with its linkages to child survival and development, breast milk is the ultimate personalised medicine. Breastfeeding helps children to thrive, and [sets] societies on a path toward prosperity. The [report] offers a clear call to action for all of us. With greater political will and more investment, we can put children everywhere on the path toward a healthy, prosperous life – starting with breastfeeding."