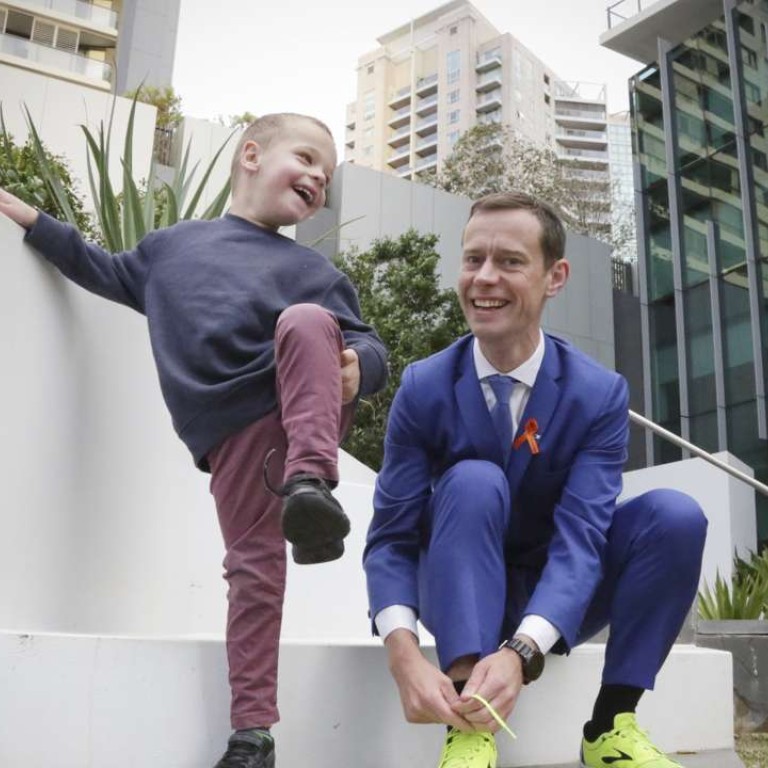 Hongkonger runs race in suit and tie to raise awareness of genetic disorder Fragile X
Mike Tozer fell short in his bid to set a Guinness World Record time for running a half-marathon in a suit, but his run helped raise awareness of, and funds for, a genetic condition affecting his son
Even for a regular runner, completing a half-marathon poses a challenge. Attempting to run it in a business suit? Madness. Trying to run fast enough to secure a place in the Guinness World Records? Unfathomable for all but a few.
Such was the quest of Hong Kong-based Mike Tozer at the Sydney Morning Herald Half-Marathon in May. Frustratingly, his speedy finish time of 78 minutes 40 seconds was just seconds slower than the record set by British runner Scott Forbes at a half-marathon in Reading, in southern England, a month earlier (78 min 13 secs).
Yet Tozer, 35, feels victorious. True to his aims, his feat successfully raised awareness and funds for Fragile X – a genetic condition that causes intellectual disability, behavioural and learning challenges.
"Every volunteer and spectator was giving me hi-fives and yelling 'Go Suitman!'… and we raised more than HK$20,000, which was about five times my original goal."
It's a cause close to Tozer's heart: his five-year-old son, Josiah, was diagnosed with the condition in 2013. Tozer serves as the executive director for Fragile X Hong Kong.
"The number of people globally with a Fragile X disorder or at risk of developing it is 20 million – more than those with Down's syndrome – so we are trying to make more people in Hong Kong and Australia aware of this condition and the importance of getting tested if any development delay or autism symptoms are present.
"Fragile X means having just one missing protein, which is vital for brain development. This one protein holds [Josiah] and others back in a way that doesn't seem fair. By choosing to [run in a suit] I had to adapt my running and go at a slower pace. To a similar but much lesser degree, my suit holds me back and is a constant reminder."
Tozer only started running recently. "My first road race was a 5km river run in Boston in 2012 and I surprised myself by coming fourth."
As part of his daily routine, he sees running "as a chance to get out into nature and de-stress". It's also a channel for his competitive streak, he says. "I love to push myself to see what I can achieve and to connect with other runners with a similar mindset."
After some gentle persuasion from his wife Helen, Tozer will make another record attempt in July. "I'd like to give it one more shot at breaking 78 minutes but it will have to be soon as I've heard a few people targeting the record in Toronto in October. By then it might be out of my reach."
How did the race go? How did the suit affect your run?
The race was a massive success from a fundraising and awareness-raising perspective. But from a running strategy viewpoint it was a disaster: I got so excited I shot off the start line with the leaders. Suddenly I found myself running almost a personal best for the first 5km. I paid for it in the last few kilometres. I just didn't anticipate how much the suit would get heavier as the race went on just as the sun was getting hotter, too. I was close to heat exhaustion by the end and I dragged myself to the finish.
What were you thinking of during the race?
Usually I just crank out my workout and listen to music when I run, or during regular racing I think about my strategy and target time. But during this race I was so focused on taking selfies every two kilometres [part of the Guinness World Record qualification requirements], which kept me distracted. In the later stages I fell apart mentally and physically. With 2km to go I even texted Helen to say, "Help!" She wrote back, "Run til you vomit!" and I thought, yeah, I guess I'm not at that stage yet, so I kept running.
What sort of suit did you run in?
The Guinness World Records folk say it must be "instantly recognisable as a suit". So most of the modifications were internal: no polyester lining to reduce weight and heat, all pockets removed except one for my phone, and making the jacket and trousers slightly shorter so there was less material. The suit was tailor made and sponsored by a fantastic Hong Kong social enterprise called Bonham Strand.
What will you do differently for your next attempt?
Start slower. My coach thinks I could have wiped a minute off my time if I had paced better. I wish I'd known that the first 10km would feel totally normal and the second 10km would feel like someone pulling down on my back and shoulders.
What is one piece of running kit you cannot do without?
My superlight racing shoes, the Brooks T7. Brooks are my sponsors, but I was running in their shoes even before. I honestly reckon that with these lightweight shoes I get an extra minute for a 10km race; I ran it in 33 minutes compared to 34 minutes previously, which is a big jump.
What is your go-to pre-race meal?
Usually something plain, like a sandwich or pasta. Nothing spicy. I once made the mistake of having a pre-race Indian meal – never again. I prefer to carb-load with drinks, not food; I like to drink loads of Lucozade.
How did you celebrate finishing?
When I was finally able to pick myself up my wife and I celebrated by grabbing a coffee. Then I went for a massage – a typical runner's response to a tough race – and ended the day with a quiet meal with the family, my favourite way to end every day.