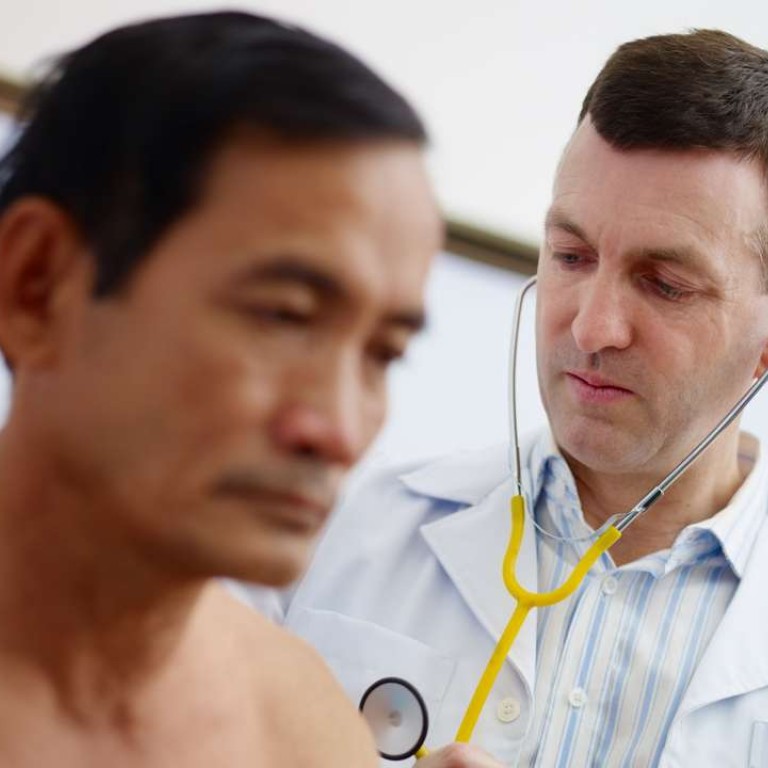 Chinese adults diagnosed with diabetes live nine years less on average
Study of 513,00 adults from across China ran from 2004 to 2014 and found significantly increased probability of dying in those with diabetes. In other health news: acupuncture might help colicky babies stop crying
Among adults in China, those with diabetes diagnosed in middle age lose, on average, nine years of life compared with those without diabetes, according to new research published in the January 17 issue of JAMA, the Journal of the American Medical Association.
In China the prevalence of diabetes has quadrupled in recent decades, with an estimated 100 million adults now affected. Researchers from the University of Oxford and Peking University analysed data from nearly 513,000 adults aged 30 to 79 years from 10 areas (five rural and five urban) across China, who were recruited between 2004 and 2008 and followed up until 2014. Among the participants, 6 per cent had diabetes.
The researchers found that, compared with adults without diabetes, individuals with diabetes had twice the risk of dying during the follow-up period, and the increase was higher in rural areas than in urban areas.
The researchers estimated that the 25-year probability of death would be 69 per cent among those diagnosed with diabetes at age 50 compared with 38 per cent among otherwise similar individuals without diabetes, corresponding to a loss of nine years of life (10 years in rural areas and eight years in urban areas).
Acupuncture may alleviate babies' excessive crying
Acupuncture may be an effective treatment option for babies with infantile colic – those who cry for more than three hours a day on three or more days of the week – according to research published online in Acupuncture in Medicine.
Researchers compared two types of acupuncture with standard care alone in 147 babies whose colic was confirmed at statutory routine check-ups in four child health centres in Sweden. All the babies were aged between two and eight weeks and were otherwise healthy.
The trial lasted two weeks and required twice weekly visits to the child health centre. Each child was randomly allocated to one of three groups: Group A received standard minimal acupuncture at one acupuncture point for 2-5 seconds without stimulation; group B were given tailored acupuncture at a maximum of five acupuncture points for up to 30 seconds with mild stimulation; and group C received no acupuncture. Parents were asked to keep a detailed diary of how often and how long their child cried.
Overall, the amount of time spent crying excessively fell in all three groups, which is not unexpected as colic tends to clear up by itself eventually, say the researchers. But a significantly higher proportion of babies in the acupuncture groups no longer fulfilled the criteria for colic compared with those in the standard care group after the trial.
New urine test can quickly detect whether a person has a healthy diet
Are you eating healthily? Your pee could tell you. Scientists have developed a urine test that measures the health of a person's diet. The five-minute test measures biological markers in urine called metabolites, which are created by the breakdown of foods such as red meat, chicken, fish, and fruit and vegetables. The analysis, developed by researchers from Imperial College London, Newcastle University and Aberystwyth University, also gives an indication of how much fat, sugar, fibre and protein a person has eaten.
In the study, published in the journal Lancet Diabetes & Endocrinology, the researchers asked 19 volunteers to follow four different diets, ranging from very healthy to very unhealthy. The volunteers strictly followed these diets for three days while in a London research facility, throughout which the scientists collected urine samples in the morning, afternoon and evening.
The research team then assessed the urine for metabolites. From this information the researchers were able to develop a urine metabolite profile that indicated a healthy, balanced diet with a good intake of fruit and vegetables. The idea is this "healthy diet" profile could be compared to the diet profile from an individual's urine, to provide an instant indicator of whether they are eating healthily.
The team now hope to refine the technology by testing it on larger numbers of people.