Wellness
Get more with myNEWS
A personalised news feed of stories that matter to you
Learn more
Ten top Hong Kong gym trainers to help you get fit fast and lose fat after the holidays
The best classes to take at the city's leading fitness studios, from Pilates to spinning, CrossFit to resistance training, barre to pole dancing
If a lean, toned and sculpted body is on your wish list for 2018, consider these 10 fitness studios in Hong Kong.
XYZ, Coastal Fitness and Performance Training, Pherform and TopFit have programmes to help get fit fast and lose fat. Head over to Barre2Barre, H-Kore, Flex, Aerial Arts Academy and Trybe if your goals include flexibility and core strength. Or jump around at Bounce Limit if you have forgotten that working out is supposed to be fun.
Membership of all 10 studios might break the bank, but thanks to GuavaPass you can sample most of the classes below for a fraction of the usual cost.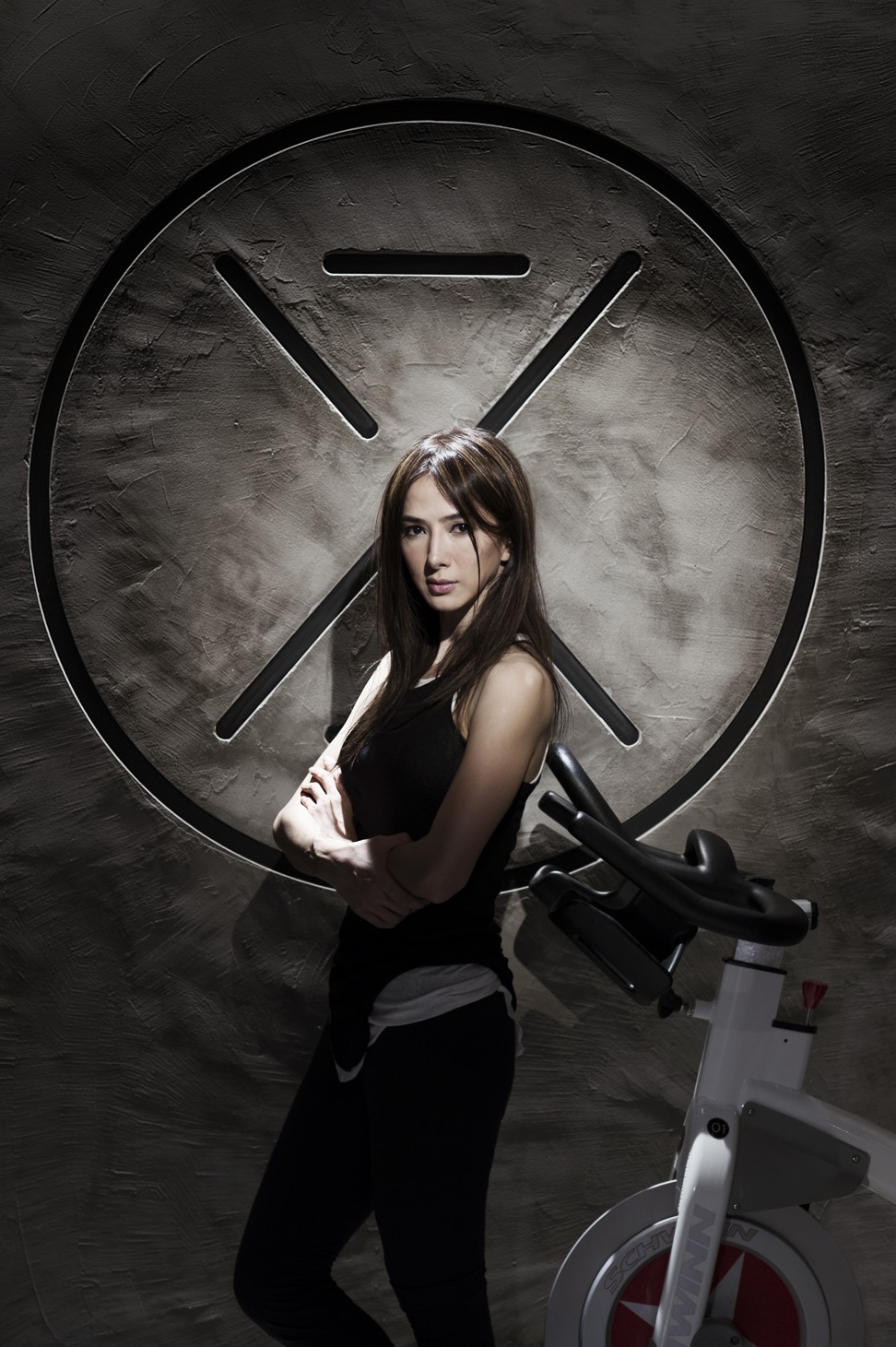 Spinning at XYZ
You'll find Lycra-clad cyclists donning XYZ gear filing in and out of the pitch-black workout room for 50-minutes on the hour every hour at this cult spinning studio. You can often find founder Belinda Koo spinning alongside members in the front row, who set the pace to playlists that are changed on a weekly basis.
The class you want to try is Born to Move, and if you can find a vacant bicycle in business manager and instructor Rachel Moon's class, you're in for a challenging treat. A quick look at the instructor's lean and lithe physique gives new guests a quick glimpse as to what they can expect if they commit to regular classes.
XYZ Central, 2/F, New World Tower II, 18 Queen's Rd Central, tel: 2865 0999
XYZ CWB, 5/F, OLIV, 15 Sharp St East, Causeway Bay, tel: 2865 1077
youarexyz.com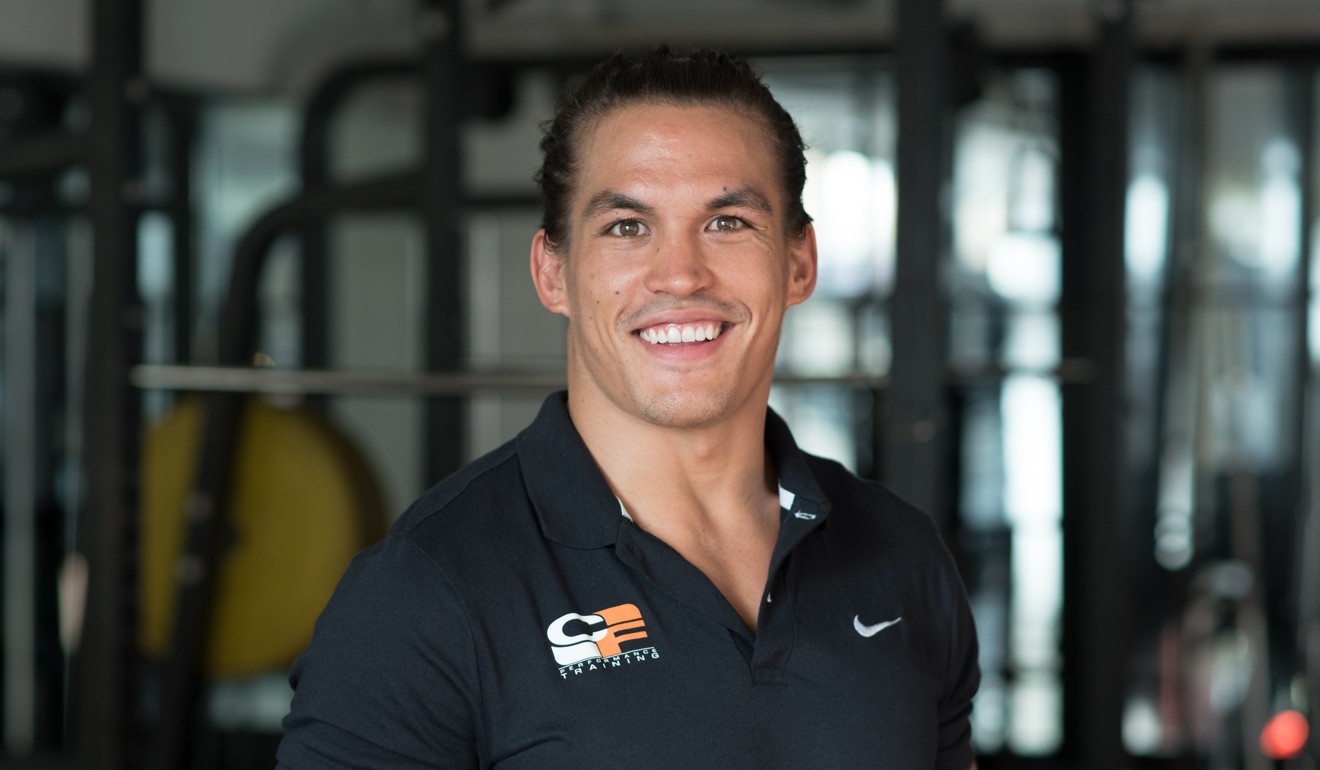 CrossFit and HIIT at Coastal Fitness Performance Training
Ed and Ant Haynes' eight packs are evidence that the founding brothers of Coastal Fitness Performance Training practise what they preach. The general focus is on overall fitness, strength, mobility and cardio work, with an emphasis on CrossFit and high-intensity interval training, or HIIT.
Many members of the close-knit community follow personalised fitness and nutrition programmes designed to lower body-fat percentage, increase muscle mass and improve performance. The workouts cater to all fitness abilities, and the trainers are helpful, motivating and knowledgeable.
Trainer Shingo Moromasa, who specialises in gymnastics and movement, is a former regional gymnast, stuntman and football player.
Coastal Fitness Performance Training Centre (CFPT), 3/F, Block C, Sea View Estate, 8 Watson Rd, North Point, moving in January to 15 Watson Road, North Point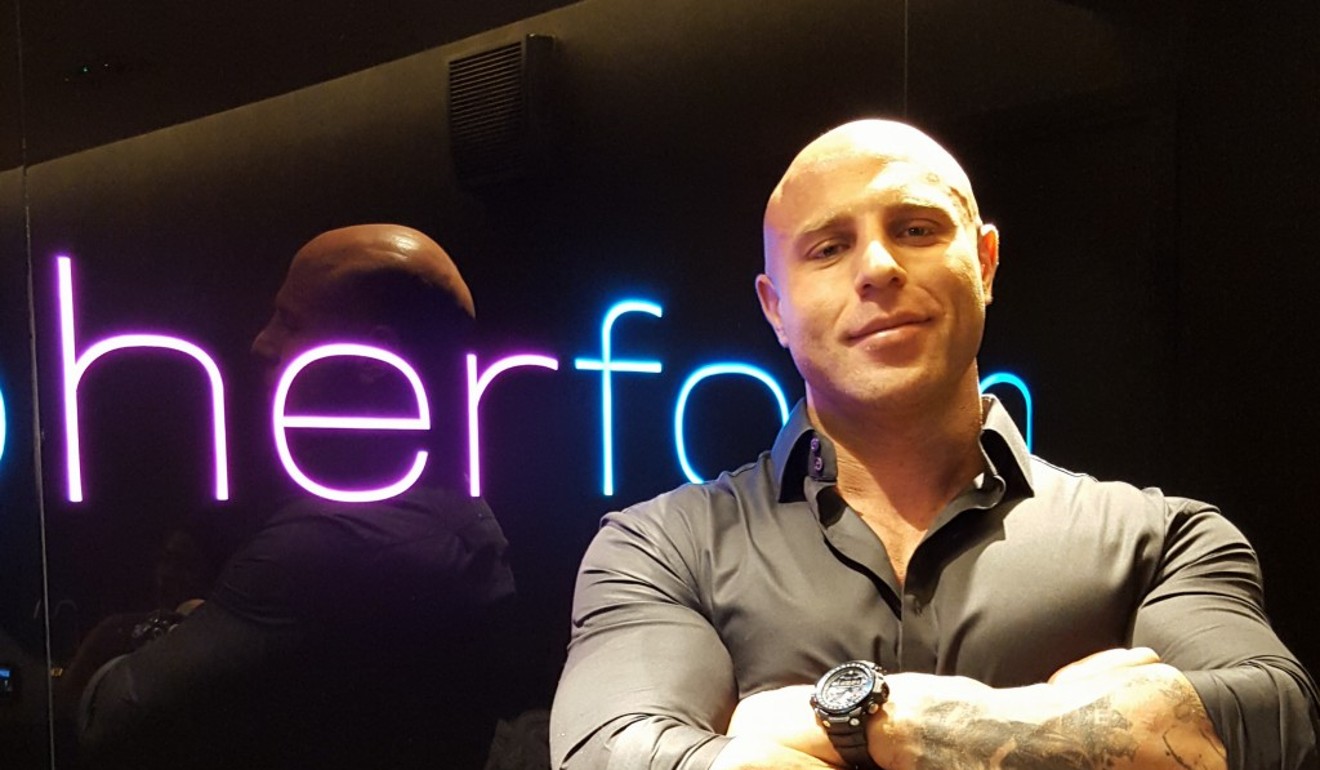 Female resistance training and conditioning at Pherform
Former BikiniFit co-founder Alex De Fina launched this female fitness studio on Wyndham Street at the start of 2016. The personalised approach to training focuses on sculpting lean and athletic bodies by losing fat and gaining muscle. There is a strong feeling of camaraderie between members and coaches, and most trainers are national or regional champions in strength and physique sports. There are 12 classes on offer, and the resistance training classes that form a system called PherformFST (female-specific training) get visible results fast. Members who want more dramatic results can sign up for the new body transformation programme to shed body fat in as few as 12 weeks.
2/F, Man Cheung Building, 15-17 Wyndham St, Central, tel: 2798 8824, pherform.com.hk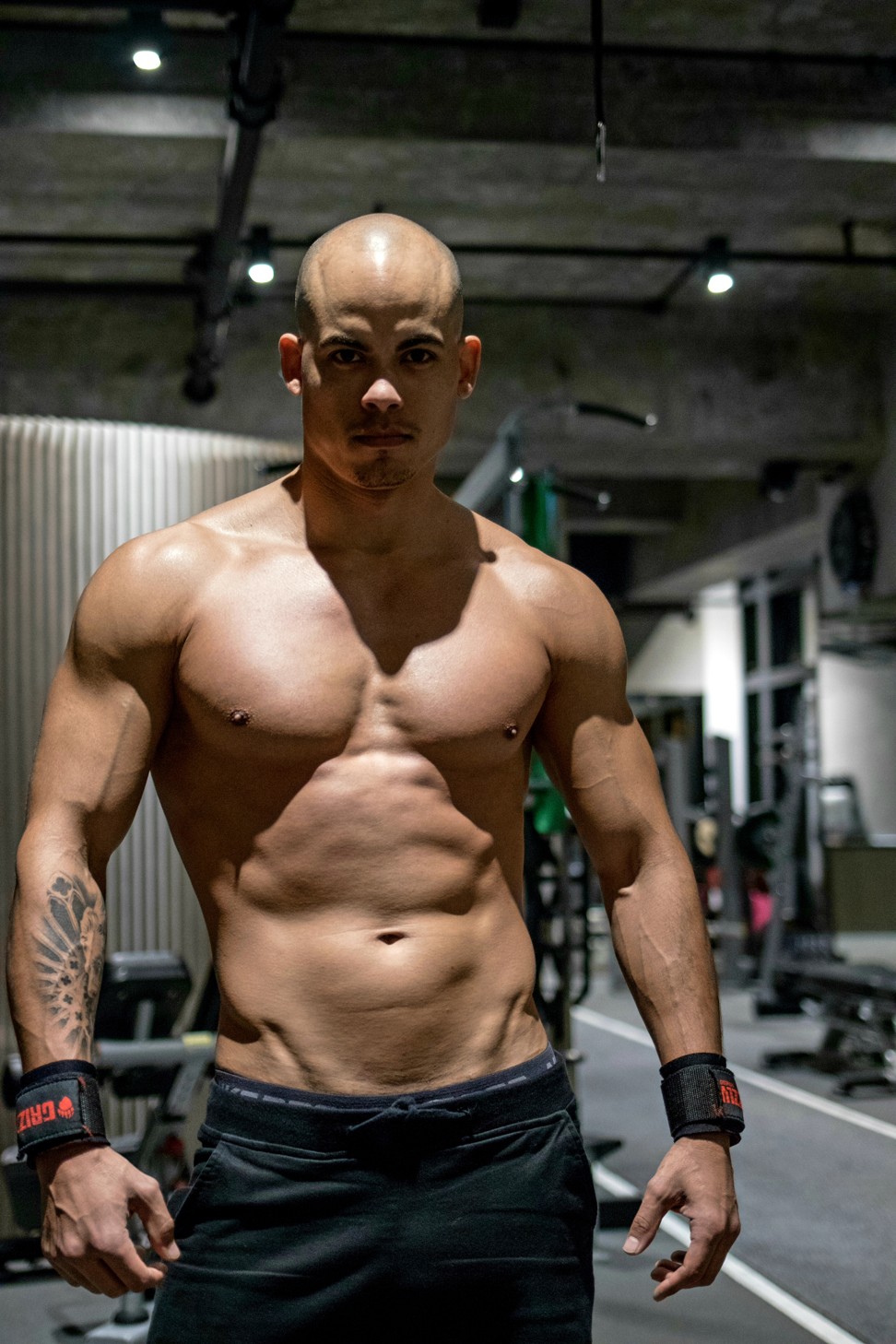 Strength and conditioning at TopFit
When Kevin Poon, Vince Poon and Wendy Wong could not find a fitness space that offered a curated experience and deliver on its promise of results, support and fun, they opened up TopFit. Managed by head trainer Louis Doctrove, the centre specialises in changing the way people look and feel. Several principles including time under tension, high-intensity training and pyramid-sets – increasing the weight while decreasing the reps – are incorporated into workouts to guarantee maximum results in the shortest time. Curves Ahead is the most popular female-focused group class, and Push Your Limits is a hit with regulars.
3F, The Wellington, 198 Wellington St, Central, tel: 2776 7298
top-fit.com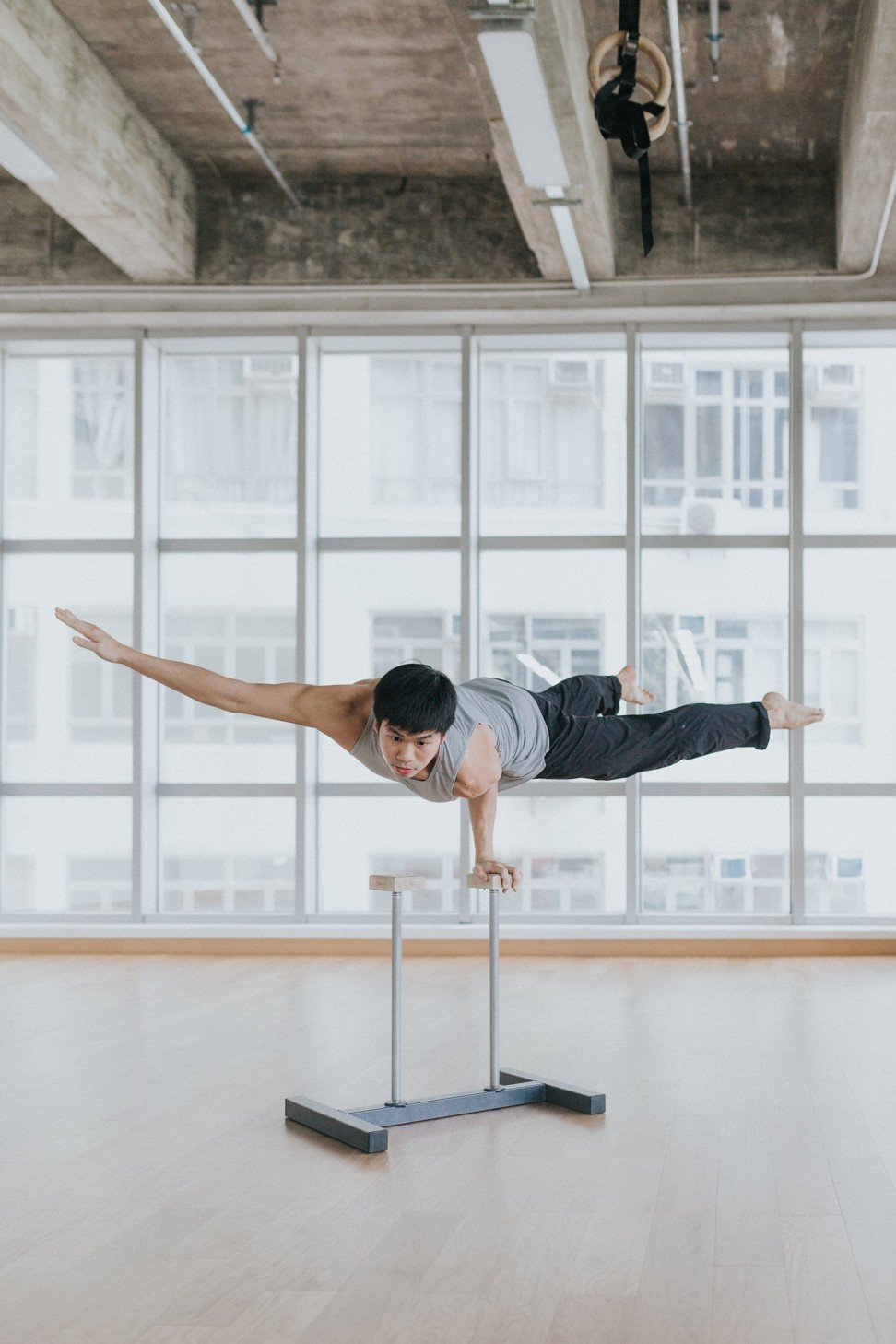 Gymnastics, acrobatics and movement at Trybe
Teddy Lo, Kay Kay Keung, Stephanie Lee, Vee Lea and John Chan founded the 3,500 sq ft facility in Wong Chuk Hang to teach gymnastics, mobility, strength and conditioning, and circus and movement. Students are encouraged to explore as many disciplines as possible, and classes include handstands, contemporary dance, martial arts, backflips and weightlifting. 'Ninja Flow', the signature class allows students of all levels to discover the foundations of movement. Lo focuses on helping clients overcome their limitations because he believes that, "Once you do that first flip, arm balance, bridge or cartwheel, anything is possible."
Trybe, One Island South, 2 Heung Yip Road, tel: 3427 9017
trybehk.co
If you want to experience a muscle-aching, jelly-legs-inducing and body-buzzing workout, book a BarreAmped class at Mylène Mackay and Karen Lim's Barre 2 Barre studio. Founded in 2012, the centre is the regional base for BarreAmped Teacher Training in Asia and they recently expanded to Singapore with partner Jessica Anwar. The low-impact exercises are challenging, sustainable and kind to the joints which means that clients of all ages can challenge themselves. Regular classes build robust and mobile bodies and better posture thanks to focused movements that work on tiny muscles that are often ignored.
4/F, Cheung Hing Commercial Building, 37 Cochrane St, Central, tel: 9688 3503
barre2barre.com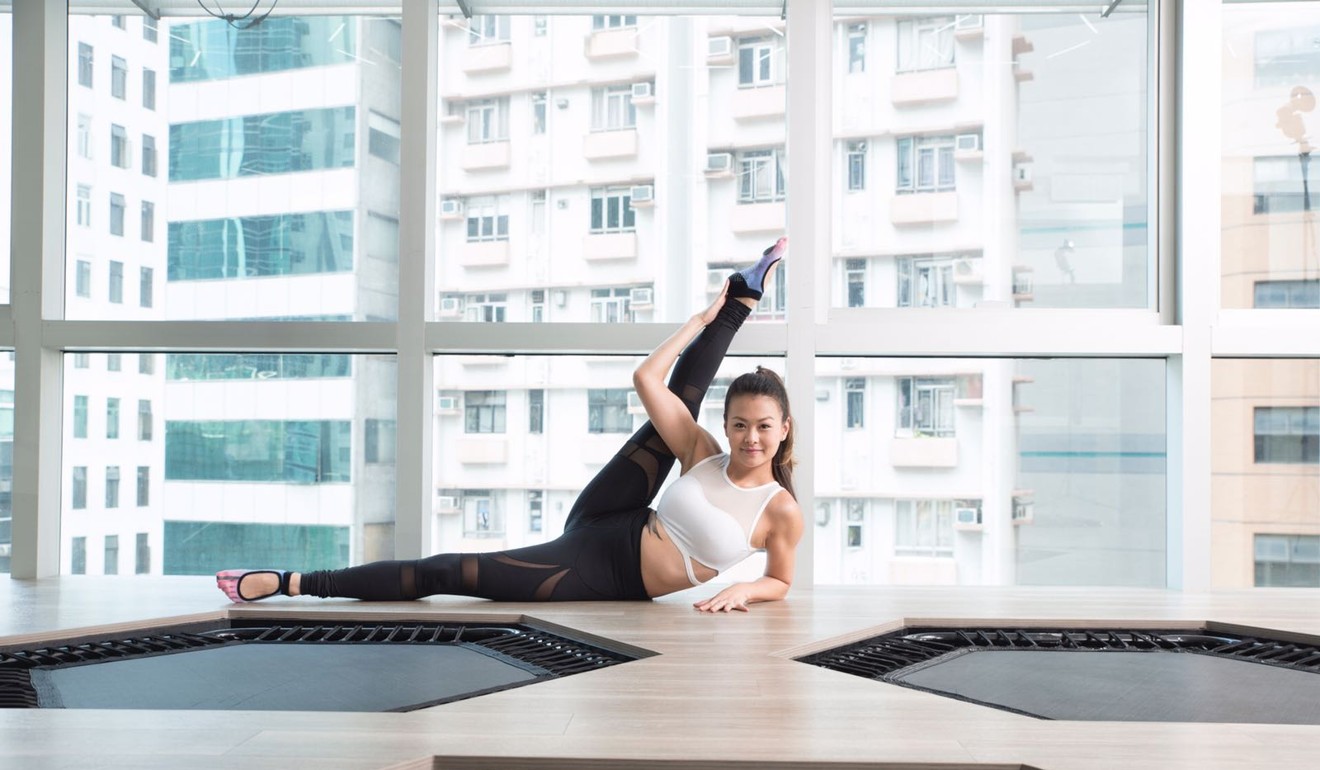 Rebounding at Bounce Limit
BounceLimit founder Lucia Tam is a professional dancer and is certified in a dozen fitness disciplines including rebounding. She offers high-intensity workouts with limited impact that get your heart rate in the perfect zone for hitting specific fitness goals.
The rebounder (similar to a mini trampoline) ensures that all movements are light on your knees and ankles and can help people with back injuries enjoy pain-free workouts. Try the AirBounce class on a Tuesday or Friday where you can rebound in the dark with LED lights and dance music.
13/F, The Pemberton, 22-26 Bonham Strand, Sheung Wan, tel: 2441 0021
bouncelimit.com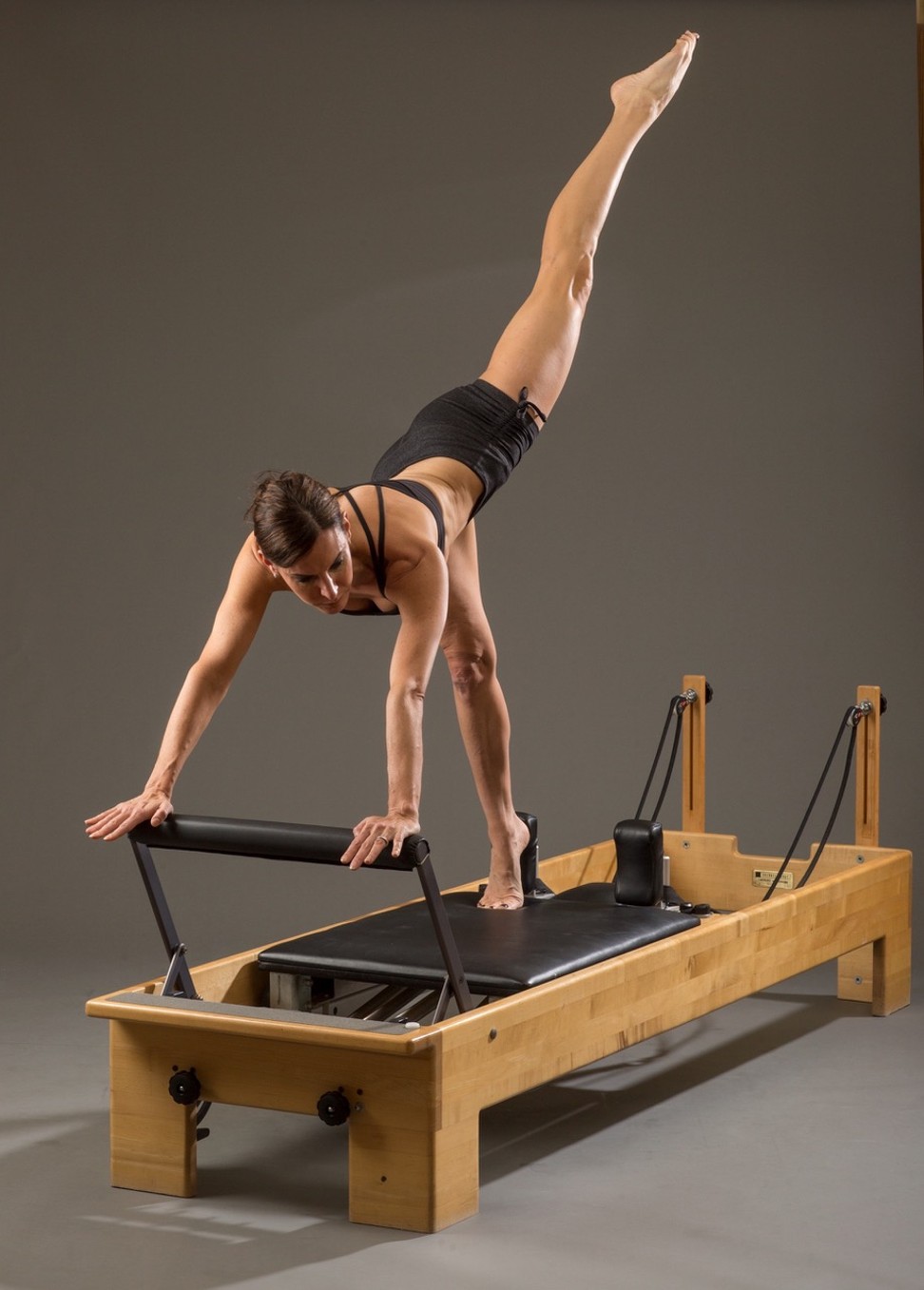 Pilates, Allegro Pilates, yoga and pre/postnatal conditioning at Flex
Heather Thomas Shalabi founded Flex in Stanley in 2005 and has been at the forefront of a Pilates revolution in Hong Kong. She has contemporary studios in Central and One Island South that offer motivating and personalised group and private classes.
The results that clients see and feel when they learn how to activate their abs, butt, thighs and back over time keep them coming back for more. The Pilates Allegro class on the reformer machine is the one you want to try if you would like to feel effects immediately.
3/F, Man Cheung Building, 15-17 Wyndham St, Central, tel: 2813 2399
One Island South, 2 Heung Yip Rd, tel: 2813 2212
flexhk.com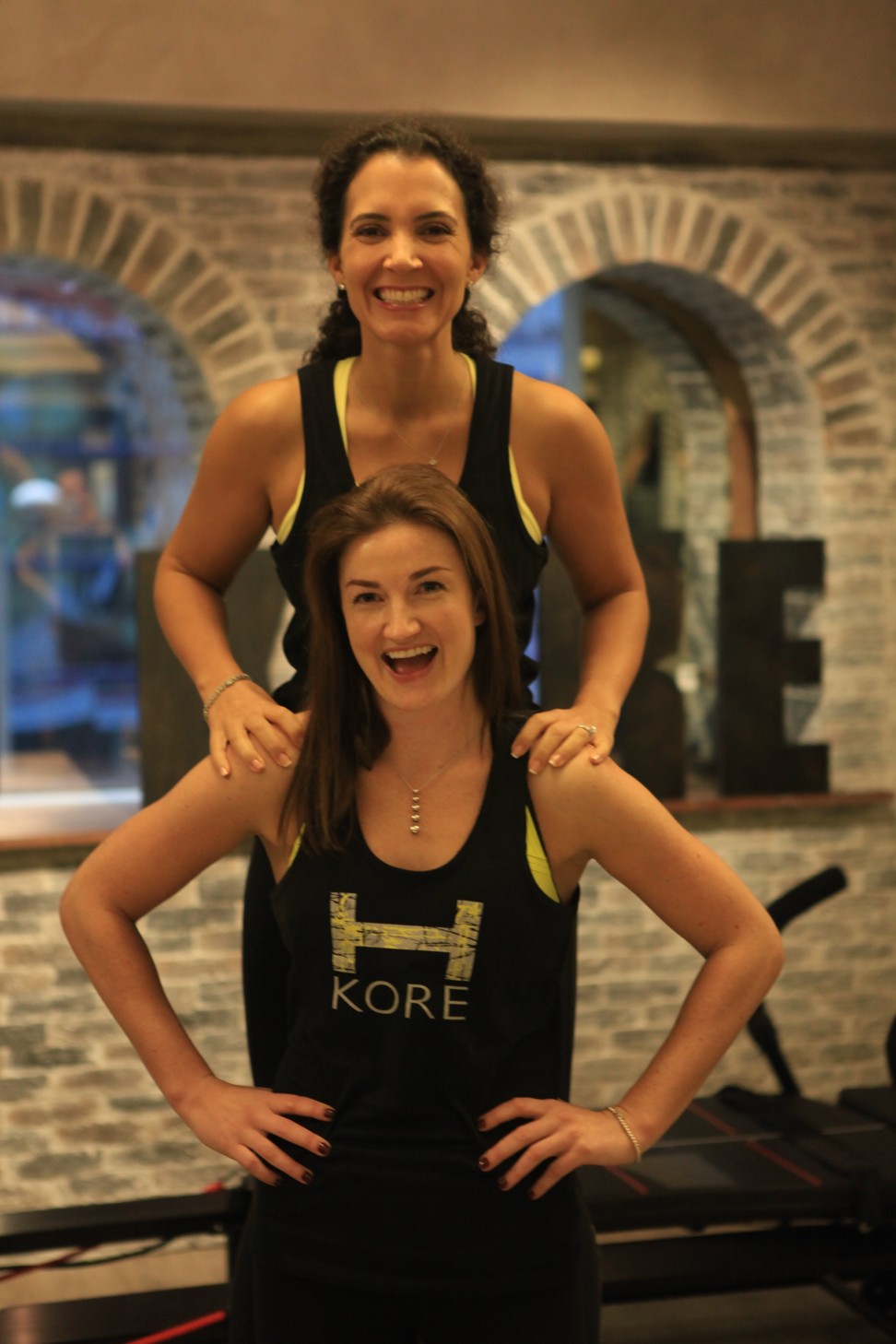 Megaformer Pilates at H-Kore
H-Kore's membership has grown steadily since Vivienne Fitzpatrick and Vanessa Valenzuela opened the doors in 2013. The only Lagree Fitness studio in Hong Kong (Sebastien Lagree opened his first studio in Los Angeles in 2001 and introduced his Megaformer training machine, attracted Hollywood celebrities and sports stars, and has now licensed more than 300 studios globally) offers 45-minute classes on the machine that aim to strengthen, tone and tighten the body by ensuring movements are slow and controlled, and muscles maximally tensed during each exercise. After a few seconds doing donkey kicks with the bungee chord at the back of the Megaformer, you understand why clients look so good in their leggings. Try the signature H-Kore class for a full body workout.
3/F, Wincome Centre, 39 Des Voeux Rd Central, tel: 2441 9000
h-kore.com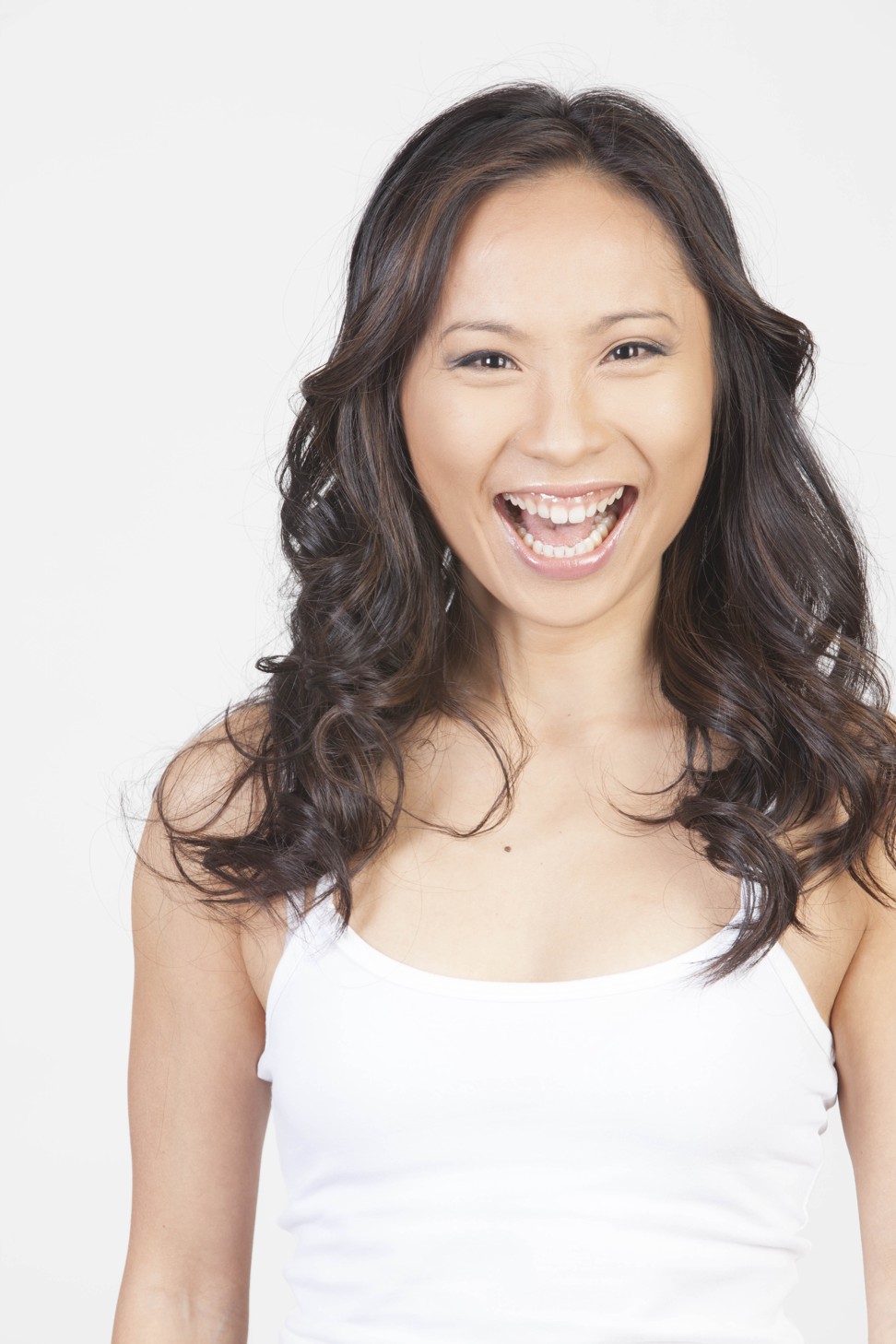 Aerial yoga and pole dancing at Aerial Arts Academy
Vee Lea launched Hong Kong's predominant studio for pole, aerial arts, acrobatics and dance in 2010. Classes cater to newcomers who want to try pole and chair dancing for the first time, and expert aerialists who need to prepare for shows. The signature pole-dancing classes are popular full-body workouts that build coordination, balance and strength. Book a class with Ea Holm who has trained worldwide and is skilled in all aerial disciplines.
16/F, Parkview Commercial Building, 9-11 Shelter St, Causeway Bay, tel: 2375 8088 aerialartsacademy.com