Wellness
Get more with myNEWS
A personalised news feed of stories that matter to you
Learn more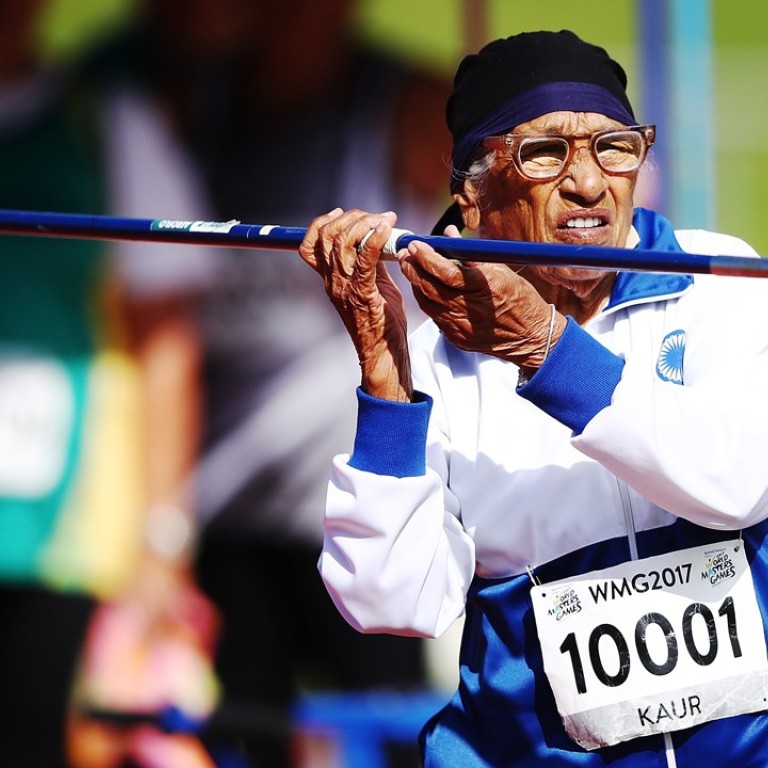 102-year-old runner who's setting records around the globe and the diet of wheatgrass, kefir and pulses that fuels her exploits
Indian Man Kaur took up running at the age of 93 at the urging of her son, 79, and hasn't looked back since, adding javelin and shot put to her repertoire. Her advice for living a long life? Avoid junk food, eat healthily and always exercise
For a culture that prides itself on respecting elderly people, India has paid scant attention to a 102-year-old woman in Punjab who still competes in the World Masters Games around the globe, clocking up records in the 100- and 200-metre races.
Sitting up in bed in her spartan, partially furnished two-room flat at the Punjabi University campus in Patiala, cosy under a duvet against the winter cold, Man Kaur lives an unsung life.
There has been scant media coverage of her feats, no magazine profiles, no interviews, no awards, little public recognition at all, in fact, of her astonishing achievements.
Kaur used to lead the average life of an elderly Punjabi woman in Chandigarh, in Punjab. Widowed, her life revolved around her children (in their 60s and 70s) and grandchildren. She began running at 93 when her eldest son, Gurdev Singh, 79, urged her to take it up.
Singh, a retired civil servant from the Punjab Forest Department and a widower himself, is passionate about athletics. For 25 years, he has been participating in the World Masters Games, held every four years, with its philosophy of "sports for all" for people of all ages. He has bagged 80 medals of his own. At the events, he used to see foreign women in their 70s and 80s participating in track events.
"I said, why don't you run? There is nothing wrong with you physically. You have no health problems, no knee problems, no blood pressure, no heart problem," he says, of his question to his mother.
Man Kaur took up running – and loved it. She won her first medal in 2010 at the Chandigarh Masters Athletics meeting where she participated in the sprint events. "I felt happy running," she says simply. In the 100 metres, she clocked up a new record, finishing in just over one minute. In the 200 metres, she also set a new mark of two minutes and 29 seconds.
Practising was difficult. Of the four universities in Punjab state, only one – Punjabi University – has an athletics track. There was no facility near their home in Chandigarh. A year ago, mother and son were offered the tiny, second-floor apartment on the Punjabi University campus in Patiala so that they could use the track. This is the only official help they have received.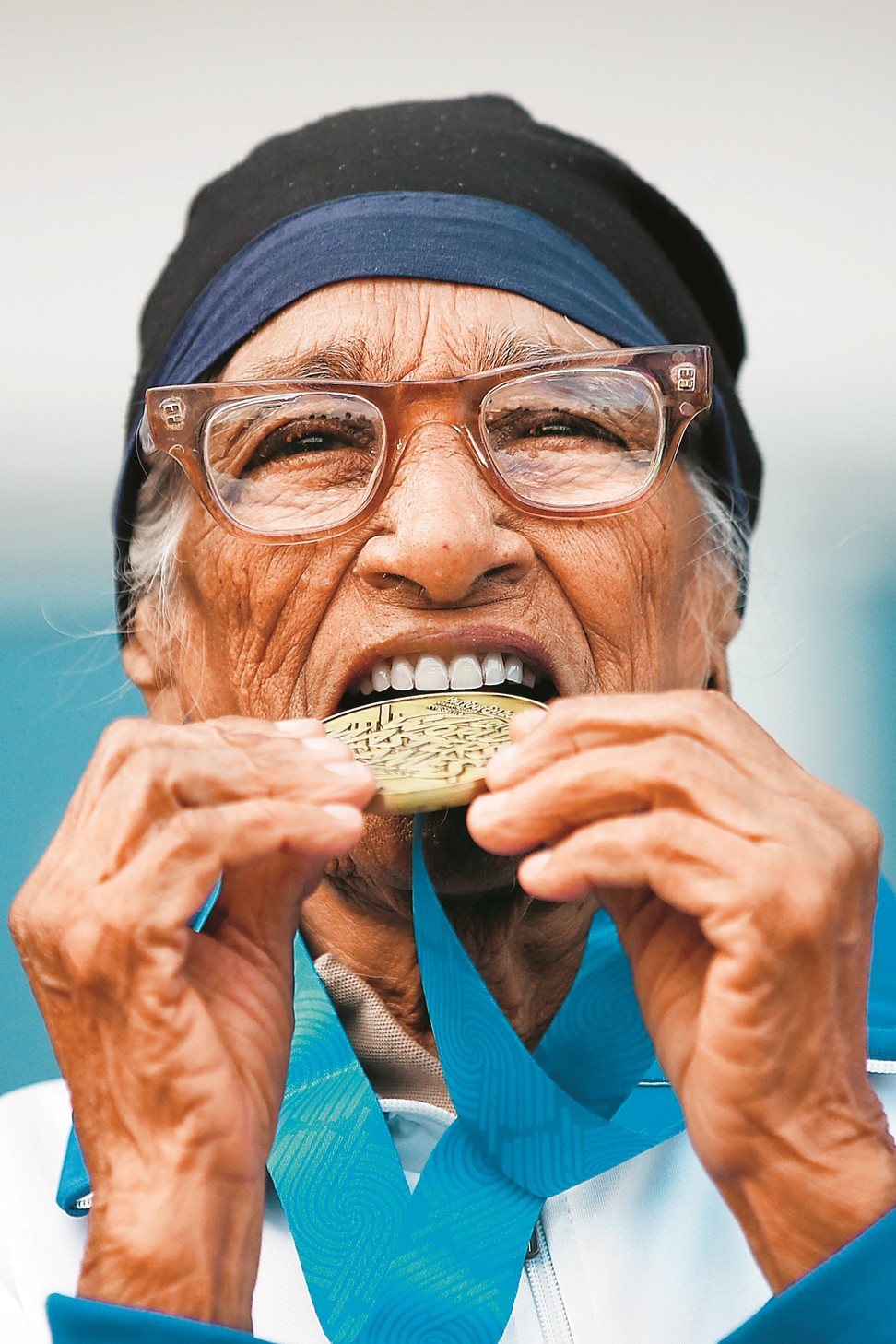 Singh has been spending his savings to finance their trips to the Masters events. "I have about 400,000 rupees [US$6,288] left now. What we are going to do when that runs out is something I don't know," he says.
The second floor is hardly suitable for a 102-year-old, and there is no lift. But it was the only flat available and they took it happily to be close to the track. They share the bedroom because in the second room, they grow numerous clay pots of wheat grass – high in antioxidants, vitamins and minerals. Man Kaur has two tablespoons of wheat grass juice every day.
In the tiny kitchen separating the two rooms, Singh prepares his mother's meals. One staple item is the savoury pancakes he makes twice a day, from a combination of sprouted black chickpeas and sprouted organic wheat.
He grinds the two into a thick paste, adding some spinach or another vegetable. Then he pours it out like a thick pancake onto a griddle and cooks on both sides. Man Kaur has three of these for lunch and three for dinner, along with vegetables or pulses cooked in the traditional Indian way, though with little oil and spices.
Another staple is a glass of kefir – a fermented yogurt drink – every day. Someone in America gave Singh the kefir grains, beads containing bacteria and yeasts that start the fermentation process. "You never buy or sell kefir grain – it has to be received as a gift and given as a gift," he says.
Singh places the grains in a glass of yogurt and leaves it for 24 hours. This enables the bacteria and yeast to ferment the yogurt. Then he strains the grains from the kefir, keeping the kefir in another glass of yogurt for a fresh batch. He gives this strained kefir to his mother every day.
The kefir, wheat grass juice and savoury pancakes are the only out-of-the-ordinary items in Man Kaur's diet. Otherwise, it is vegetables and pulses, fruit, soya milk, and two tablespoons of ground nuts mixed with pumpkin seeds. "I avoid junk food. I hardly ever have tea or coffee or soft drinks. No cakes or biscuits. No fried things, and no sweets," she says.
She stopped eating meat 20 years ago after reading the Hindu religious text the Bhagavad Gita (though she is a Sikh). "It said eating animal flesh was wrong and I stopped. I don't even eat eggs," she says.
Traditionally religious, like most Indian women of little education, Man Kaur prays in the mornings and listens to religious songs in the evenings. "The religious songs relax me so much I don't need to do yoga or meditation," she says.
Neither of them has any interest in television. Singh reads books on healthy living. Man Kaur doesn't read much any more, but her eyesight and hearing are fine. She speaks little, but when she does, her voice is strong and steady. She is mentally alert.
Asked the secret of her longevity, mobility and fitness, Man Kaur says she doesn't know, but she suspects it is crucial to be physically active. In the days before India abolished the princely families, she used to work as a nanny for the princes and princesses of the Patiala royal family.
"I used to run around all day after the children," she says.
After she left that job, throughout her entire life as a housewife, she has cooked, cleaned, washed and ironed.
"Even today, every day, after my bath, I wash my own clothes. These days, people have maids and cooks who do everything for them. I think it's better to do all your chores yourself because your body stays supple and fit that way," she says.
Her husband, Ranjit, died at 102 and was also physically active, cycling everywhere in his old age. She also sews. While talking, she pulls out random pillow cases from under her duvet that she has made for relatives and friends.
At the Auckland World Masters Games last year, Man Kaur was the only participant from India in the centenarian category. The average age of athletes in the World Masters is 45. At Auckland, she won the 100 metres in one minute, 14 seconds, winning the 17th gold medal of her career. After a friend encouraged her to try the javelin and shot put a few years ago, Man Kaur also competes in these sports. She was entered into the Guinness Book of Records at the Auckland World Masters Games owing to a javelin throw of 5.12 metres.
"At Auckland, there was a media scrum for her. There was a dinner in her honour. Everyone wanted to talk to her, and she was made a fuss of. She was taken to speak to schoolchildren at three schools to inspire them and answer questions," Singh says.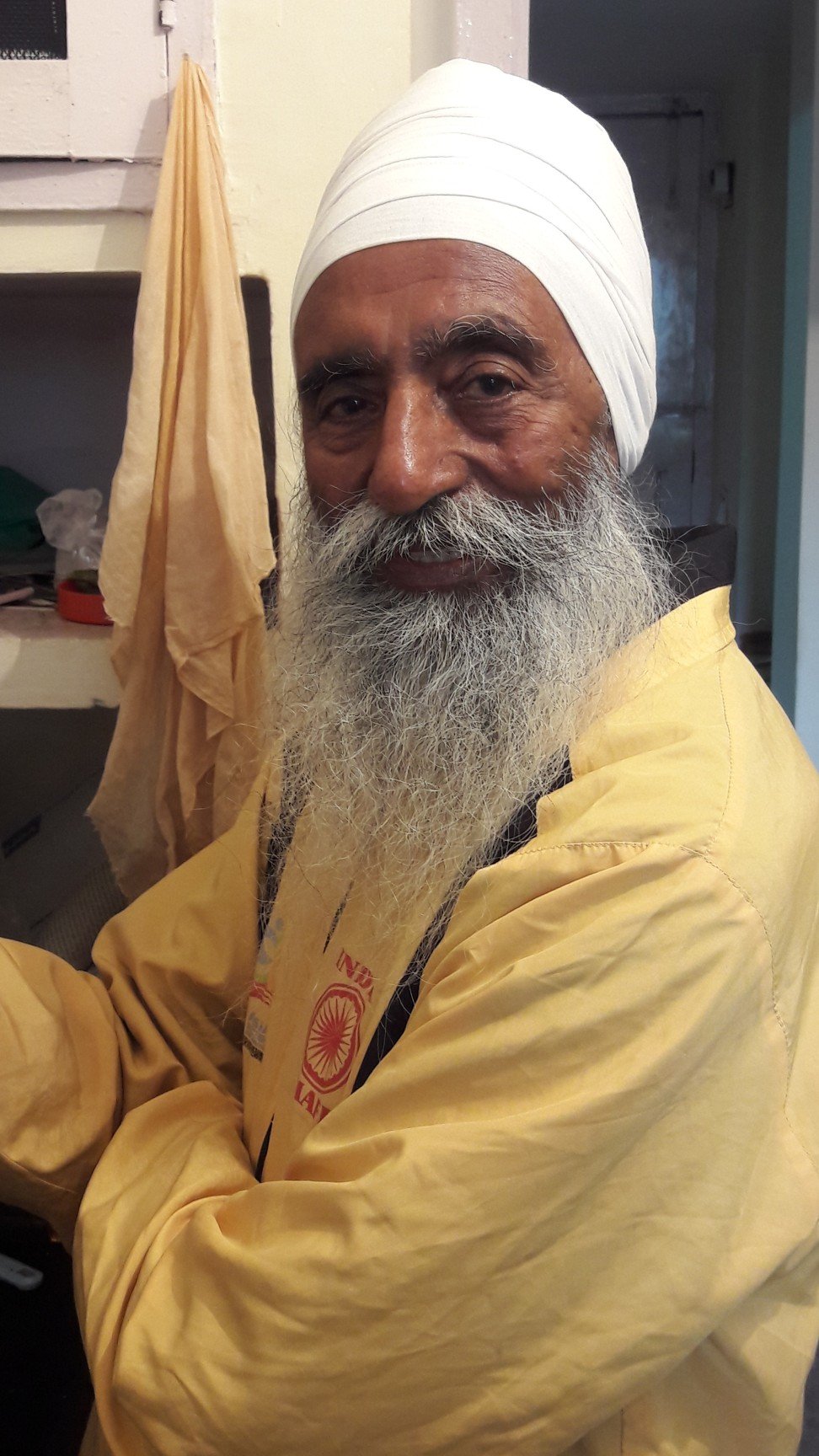 "Here in Punjab, I asked senior sports officials if they would like her to participate in races in schools, to give children a chance to interact with her, but I got no reply."
Her medals and trophies from Masters Games across the globe are perched on top of the small fridge that stands in the middle of the bedroom and on a top shelf of the room. A dignified, gentle man devoted to his mother, Singh doesn't sound at all bitter about the lack of public recognition for his mother. Puzzled, yes, but not bitter.
He was also puzzled when, last September, the Chinese embassy in New Delhi denied him and his mother a visa to attend the Asian Masters Athletics Championships.
"We had a letter from the Masters organisation inviting us, but they wanted a letter from the organisers in China, which we didn't have," says Singh.
Now, mother and son are gearing up for the September's World Masters in Spain.
Although she has been a bit under the weather, Man Kaur won't tolerate the idea of not getting up for at least a few minutes of running, particularly as a weak sun has managed to push through the clouds.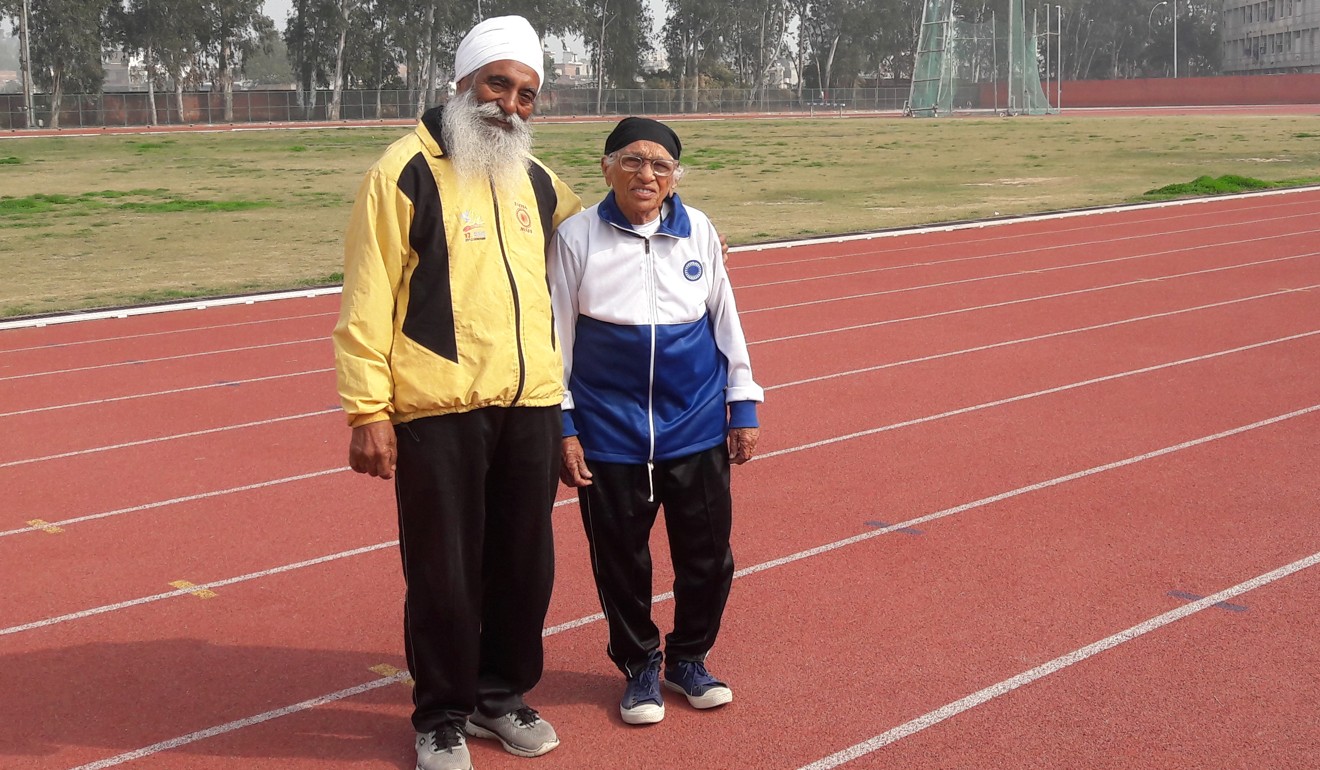 She practises daily. On some days she goes to the gym to do weight training. Singh helps her with her shoes and a spine-support belt, and she is ready to go down the stairs unaccompanied, looking fit and steady on her feet.
At the nearby track, she runs for a few minutes with Singh by her side. "She is so funny, she always runs at exactly the same speed. She never changes it, never goes faster or slower, not even slightly," Singh says with a chuckle.
Back in her room, where she is not panting in the least after climbing the two flights of stairs, Man Kaur concentrates, trying to think of useful advice for readers.
"The key is to be physically active and have a clear conscience. Be honest and treat people well. Don't harm anyone," she says.
This article appeared in the South China Morning Post print edition as: The tracks of her years