Wellness
Get more with myNEWS
A personalised news feed of stories that matter to you
Learn more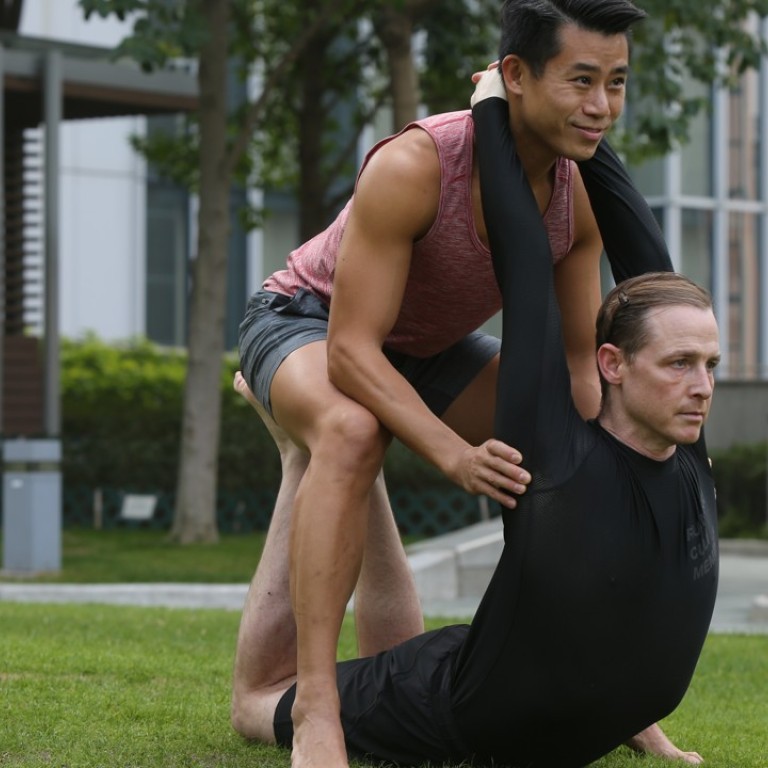 Couples that work out together tend to stay together, and Hong Kong pair are living proof
Victor Chau and Adam Hawkshaw turned their back on partying in Hong Kong three years ago and began a new fitness regime that includes yoga and regular gym sessions; it has got them feeling at their healthiest and happiest
Neither Victor Chau nor Adam Hawkshaw were at their physical best when they began dating in Beijing a decade ago, while working with Lane Crawford.
Chau was practising yoga, but not to the advanced level that he is today as a fully fledged yogi.
"He has an eight-pack now, but Victor didn't have it when we met," recalls Hawkshaw, a fashion retail veteran and Australian native.
"And he was like this shape," Chau retorts good-naturedly, pointing to a blob-shaped light fixture at Sugar bar in Taikoo Shing, Quarry Bay.
In Beijing the two spent much time drinking and dining out together. A career opportunity in Hong Kong at Celine in 2014 for Hawkshaw (where he is currently the fashion house's retail director) led the duo to the city where their sybaritic pursuits continued. In a matter of months, Hawkshaw had packed on an extra 10 kilograms.
The couple remember their first hike over The Twins and Violet Hill on Hong Kong Island. "I couldn't make it past the first peak … I moaned all the way for three hours and said I'm not doing this again," recalls Hawkshaw. The pivot to a healthy, fitter life together began as Chau's yoga pursuits intensified. In 2014 he became ambassador for yoga clothing retailer Lululemon.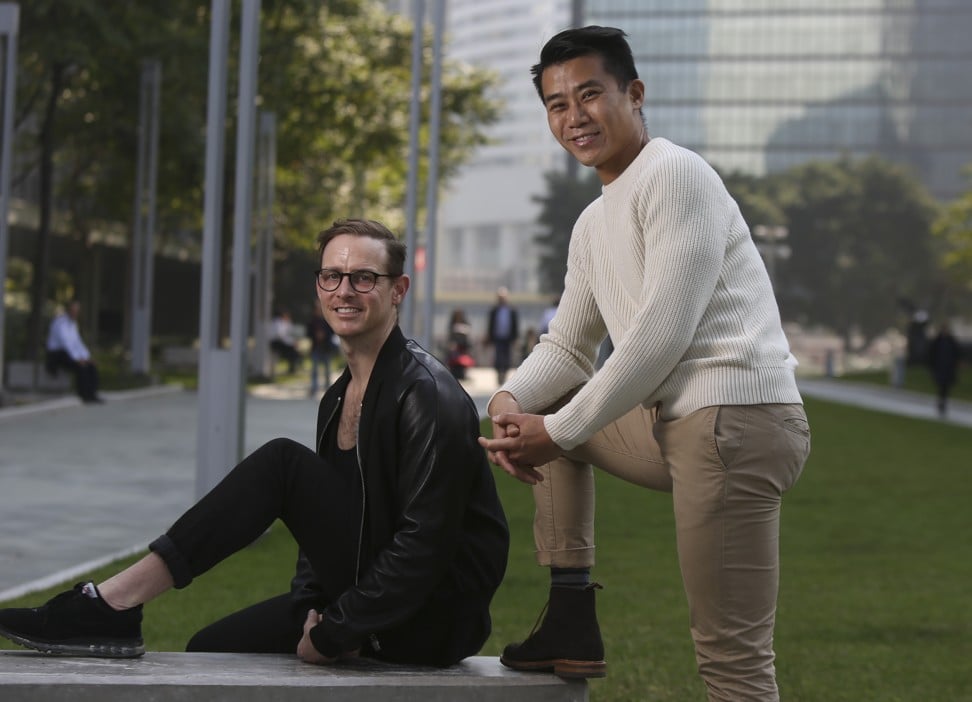 "I met other fitness instructors, gym trainers and studios like [cycling studio] XYZ, that all helped me explore more of the fitness world. And I learned I wasn't as fit and strong in these areas, so I did other things [than just yoga]," said Chau. Hawkshaw decided to make a healthier lifestyle change, too.
"As the ambassador's wife I have a responsibility to not be a fat, unhealthy person; it doesn't help," he said. An encounter with another friend in China, with a ripped physique courtesy of CrossFit, prompted him to try it out too. He has been working out five times a week at Coastal Fitness in North Point for the past three years.
Much research shows when one partner achieves positive behavioural change, the other tends to follow suit. In 2015, a University College London study led by Sarah Jackson looked at 3,722 couples in the UK. It found that couples that worked out together and quit unhealthy habits such as smoking together were more likely to maintain these changes compared to people that attempted such changes on their own.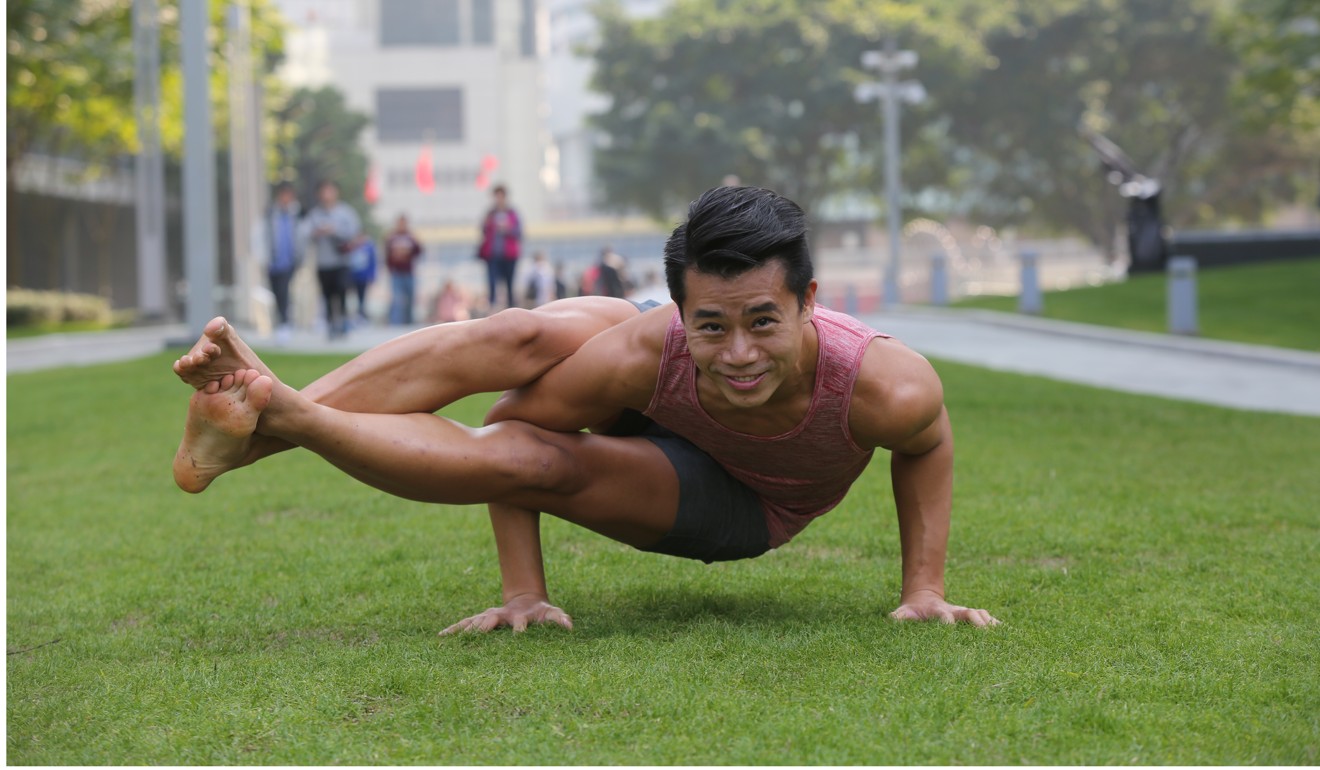 These days, this couple seldom party. Instead, they often cook healthier meals at home. They both travel frequently, so when they are in Hong Kong together, they hike twice a month, and attend spin classes at XYZ together. They also do yoga together every fortnight.
And they encourage each other to get up early to work out. "If I don't get out of bed by 6am, Adam would be like, 'See, I'm at the gym already'," Chau says.
The couple also help each other improve their fitness routines. Chau sometimes helps his partner with yoga poses, or asanas, Hawkshaw has been struggling with. The former PR professional also pushed Hawkshaw to get a personal trainer at Ultimate Performance, a gym in Hong Kong's Central business district, where he works out three times a week.
"Victor would remind me constantly of these goals that I had set out to achieve, like my body composition," says Hawkshaw.
Chau practises his yoga routines at least five times a week. He spins at XYZ three times a week for the adrenaline rush that yoga does not offer. The 38-year-old also goes to F45 Training in Quarry Bay for its high-intensity workouts.
Both men say they are at their healthiest – and happiest – now.
"Knowing somebody supports your goals, whether they are health-related or career-related … and knowing someone who has your back on those sort of things, which are fundamentally about making you a better person, is ultimately what makes the relationship strong," says Hawkshaw.
Chau espouses a fitness ethos. "It doesn't matter if it's yoga or not, you just have to move, as your body is like a car; if you don't use it and move it, your body will go rusty and go to waste," he says.
Chau encourages other couples not to get too serious in such pursuits as counting calories, or being too critical of the other. (Chau admits to being guilty of the latter.) Most of all, he says, it's imperative you are both having fun.
Research shows how healthy behavioural changes, particularly weight loss in couples, shift dynamics in relationships. In 2013, a study by North Carolina State University and the University of Texas in Austin surveyed 21 couples and found those that were supportive and attuned to such healthy behavioural changes tended to report more positive communications, as well as physical and emotional intimacy.
"When I teach yoga trainers, I keep saying to them: take yoga seriously but don't take yourself seriously, otherwise, you'd be stuck up and not have fun doing the exercise," said Chau.
Now Hawkshaw is a seasoned hiker who loves trekking with Chau at Violet Hill, though he admits he still complains "a bit, but mostly it's about being too hot, [and] about carrying my backpack with water bottles", he laughs.
Next year, the duo plan to climb Mount Kilimanjaro in Tanzania (the highest peak in Africa) to celebrate their 40th birthdays. One lesson Hawkshaw has learned is that patience is key.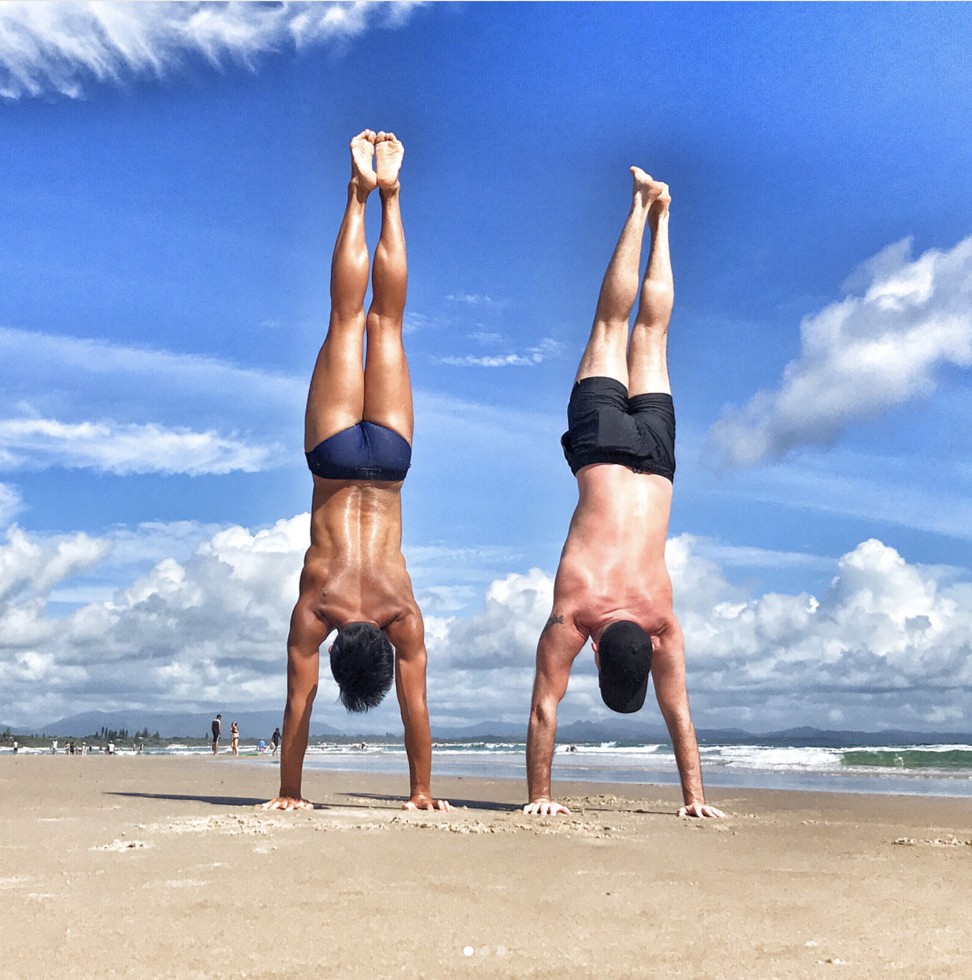 "Fitness, like relationships is not something [where] you're going to get overnight results," he cautions. "You can go to one spin class and sweat really well; you can also go to a bar and pick someone up and sweat really well afterwards, but that is not the goal."
Instead of seeking an instant hit of endorphins, aim to build a life together that is healthy – emotionally, physically and spiritually – he advises, something which can take time.
The joy of it is seeing each other go through transformations, and proudly calling each other their loved one.
"I'm looking forward to my forties so I can be in even better shape," says Hawkshaw.
This article appeared in the South China Morning Post print edition as: let's sweat together: couples who work out