Wellness
Get more with myNEWS
A personalised news feed of stories that matter to you
Learn more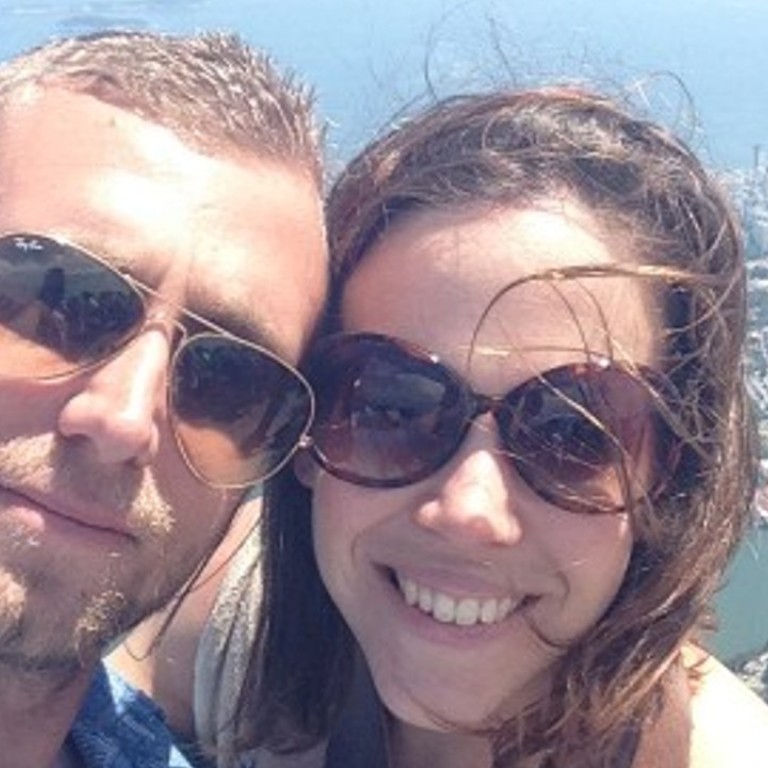 Mental health in the workplace, and why Hong Kong lags behind in its support of staff
More than one in three professionals surveyed in city report symptoms of poor mental health. Most still go to work and nearly all say employers lack the resources to help them
A survey of Hong Kong professionals' well-being has found mental health issues are widespread and most think employers lack adequate resources to help staff cope. Not only that, but employees battling mental health problems continue to work.
"A lot of the walking wounded are still out there at their desk," says Dr Barry Connell, a psychiatrist who has been working in the UK and Hong Kong for more than 30 years.
Of 394 employees at 11 professional services firms in Hong Kong surveyed by the City Mental Health Alliance (CMHA), 35 per cent said they had experienced symptoms of poor mental health in the workplace. Of these, nearly a quarter said they are dealing with such struggles in their current job. Respondents noted symptoms such as low energy (50 per cent), feeling mentally drained (41 per cent), difficulty sleeping (39 per cent) and feeling depressed (24 per cent).
Of those who had experienced mental health issues at work, 76 per cent said they would still go to the office. Based on anecdotal evidence, researchers cite several reasons for this, including: having a heavy workload and a sense of responsibility; being physically present in accordance with company policies, and; an unwillingness to discuss mental health issues with superiors.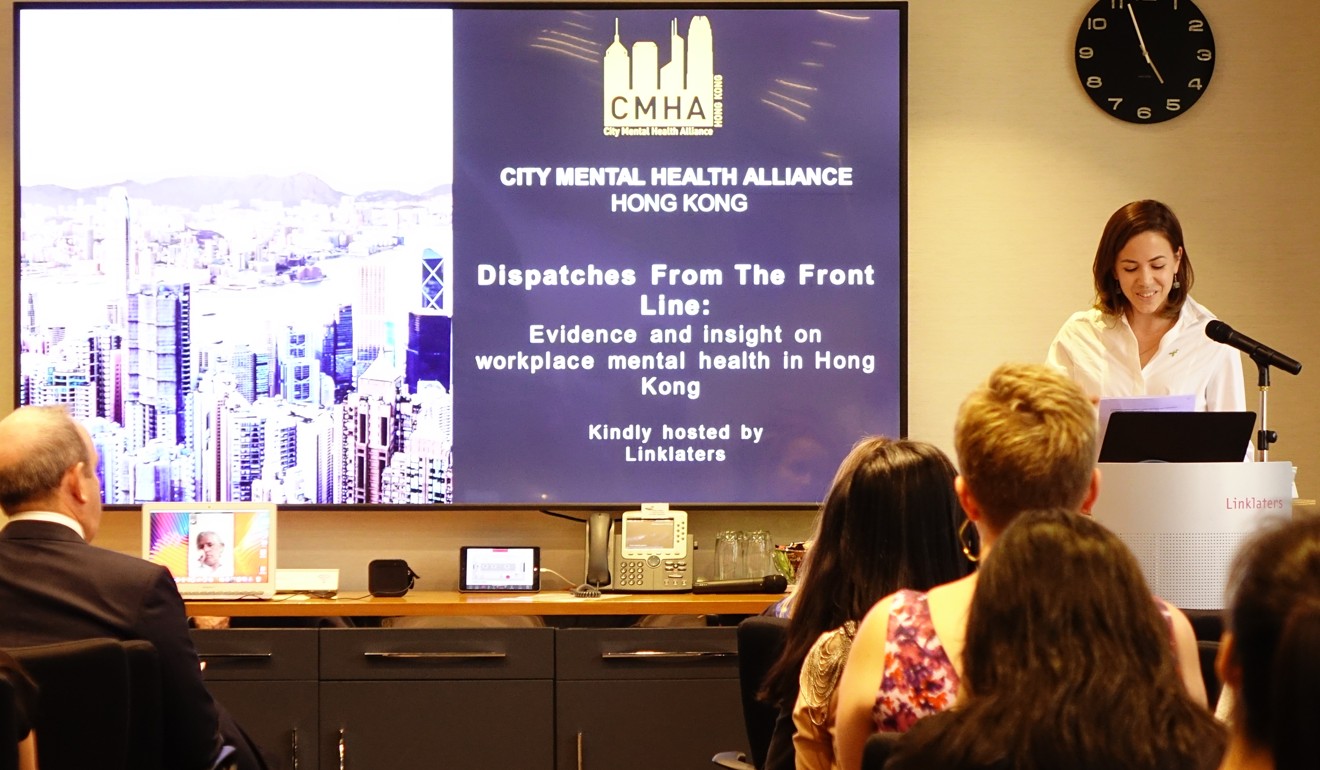 Of these respondents, 21 per cent admitted their work suffered at least once a month as they were not operating at the level expected.
More than a third did not feel comfortable talking about their mental health struggles at work and kept quiet about it. And only six per cent found their employer had sufficient resources to support them in dealing with their problems.
CMHA is a year-old non-profit organisation that aims to improve mental health in the workplace. Its 10 founding corporate members include banks HSBC and JP Morgan and law firm Linklaters. The survey, the second CMHA has run, was conducted with management consultants Oliver Wyman and the University of Hong Kong.
Nearly 70 per cent of respondents said they had never received any form of mental health training. Peter Reynolds, a partner from Oliver Wyman, said this showed the need to introduce such training for staff, as it affects people's willingness to discuss their mental health.
"The more people know about mental health the more confident they are talking about their mental health," he says.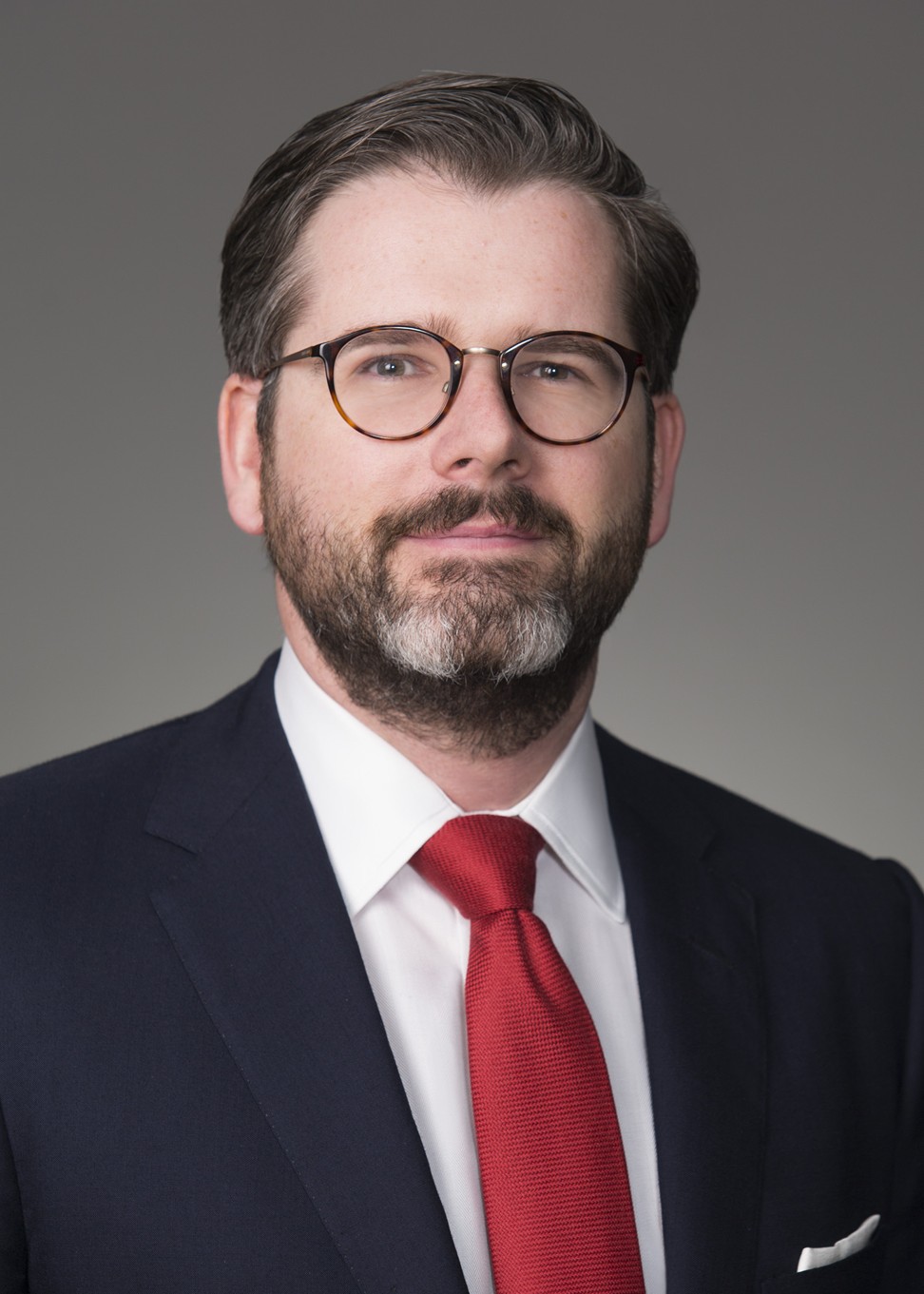 Last year, CMHA Hong Kong's survey found that employees with greater knowledge of mental health were more likely to talk about the issue with others. Reynolds recommends making such mental health education available broadly across an organisation.
This year, respondents were asked if they thought colleagues grappling with poor mental health at work had been stigmatised; 15 per cent said they did.
The worrying psychological state of Hong Kong's labour force – a consequences of long work days and a workaholic culture – has been documented in studies over the years. The way society views mental health, in particular negative attitudes towards people with mental health problems, and the fact many companies lack effective or comprehensive strategies for dealing with employees' mental health, make the problem worse, the survey suggests.
According to the World Health Organisation, one in four people in the world will suffer a mental or neurological disorder at some point in their life.
Olivia Parker, an advocate for mental health awareness and a board member of Mind Hong Kong, sheds light on the reality and the challenges people in the city with mental health issues face. Her army veteran boyfriend grappled with severe depression and anxiety for years before he died of an accidental overdose a year ago. Laurence Grant was a British Army captain who did a tour of duty in Afghanistan. He left the army in 2014 and joined the corporate workforce in London and later Hong Kong.
Parker says Hong Kong is far behind in helping people with mental health conditions compared to what she was used to in the UK.
In his London post, Grant was sometimes gripped with anxiety and had panic attacks before meetings. Colleagues noticed, and a senior partner asked if he was OK, said Parker. The partner also shared his past mental health struggles with Grant.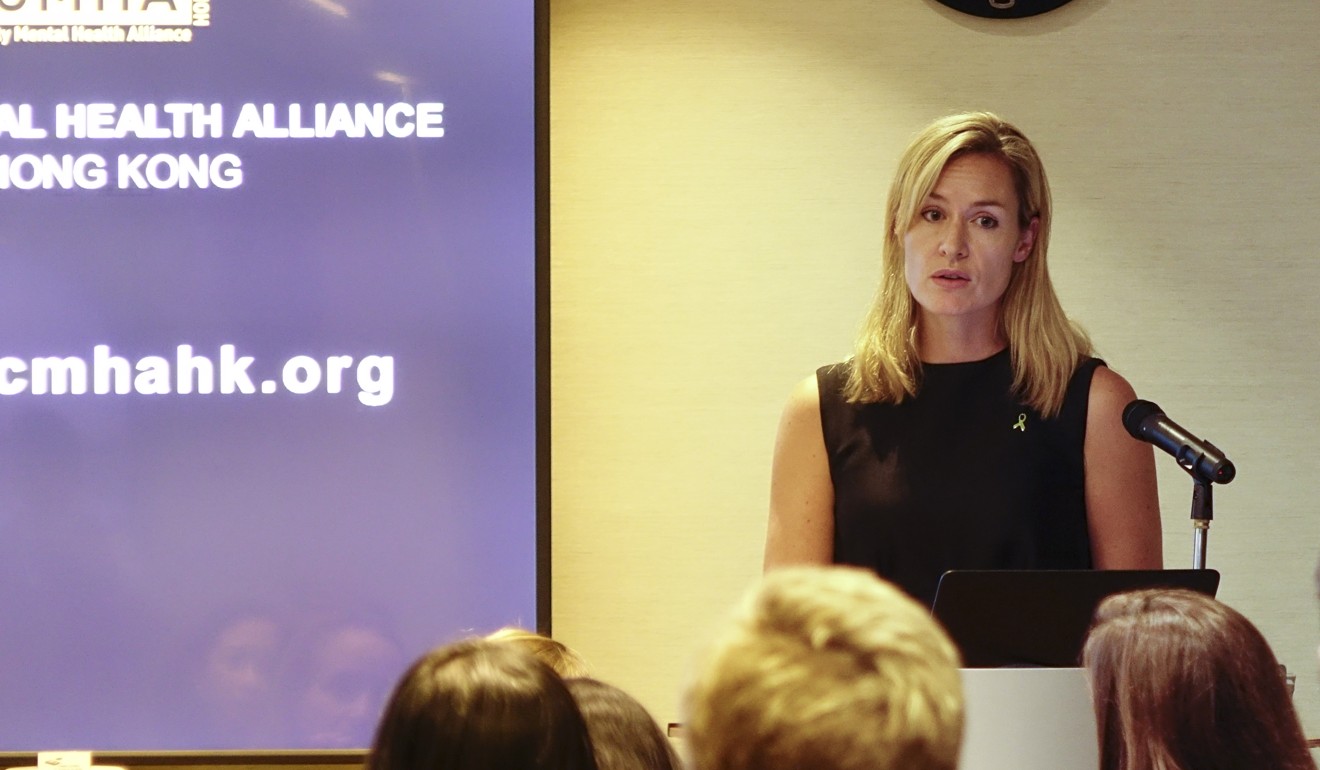 "Colleagues who see you every day are the best placed people to tell if your behaviour is out of character," says Parker. "Sometimes they are easier to talk to because they are one step removed from your home life."
Grant's employer in London told him to see a psychologist and a psychiatrist, who diagnosed his depression and anxiety. The company's health insurance paid for these services.
"This was something we totally took for granted and it was a huge testament that the company that was prepared to take mental health seriously, knowing the businesses benefited as well," says Parker.
In contrast, Grant's employer in Hong Kong was not so supportive when it came to mental health services, financially or otherwise. Discussing mental health issues at work was discouraged.
Parker raised the need for mental health to be addressed and acknowledged in workplaces, to encourage employees to talk about mental health conditions.
"If companies in the UK can offer full financial support to employees who need to see therapists and psychiatrists, why can't we do that here as well?" she says. Parker also noted that sufferers who do get help should be seen as "strong, not weak".
To end the stigma, Connell advises more openness in the office. "When people talk openly and they are in the same room with others who may not have experienced mental health problems, that is when it changes and it becomes real [for them]," he says.
Connell says Hong Kong companies tend to hire people who are ambitious, perfectionists, and motivated – but who are also prone to burnout. However, such people tend to stay quiet if they do have a problem, to avoid showing weakness to others. He encourages such employees to adopt a more balanced perspective to survive, and to seek help.
"Wellness is a well accepted concept – it's now all about diet, nutrition, fitness and getting sleep [for employees] … we need to incorporate this part of our humanity [mental health] into that subject."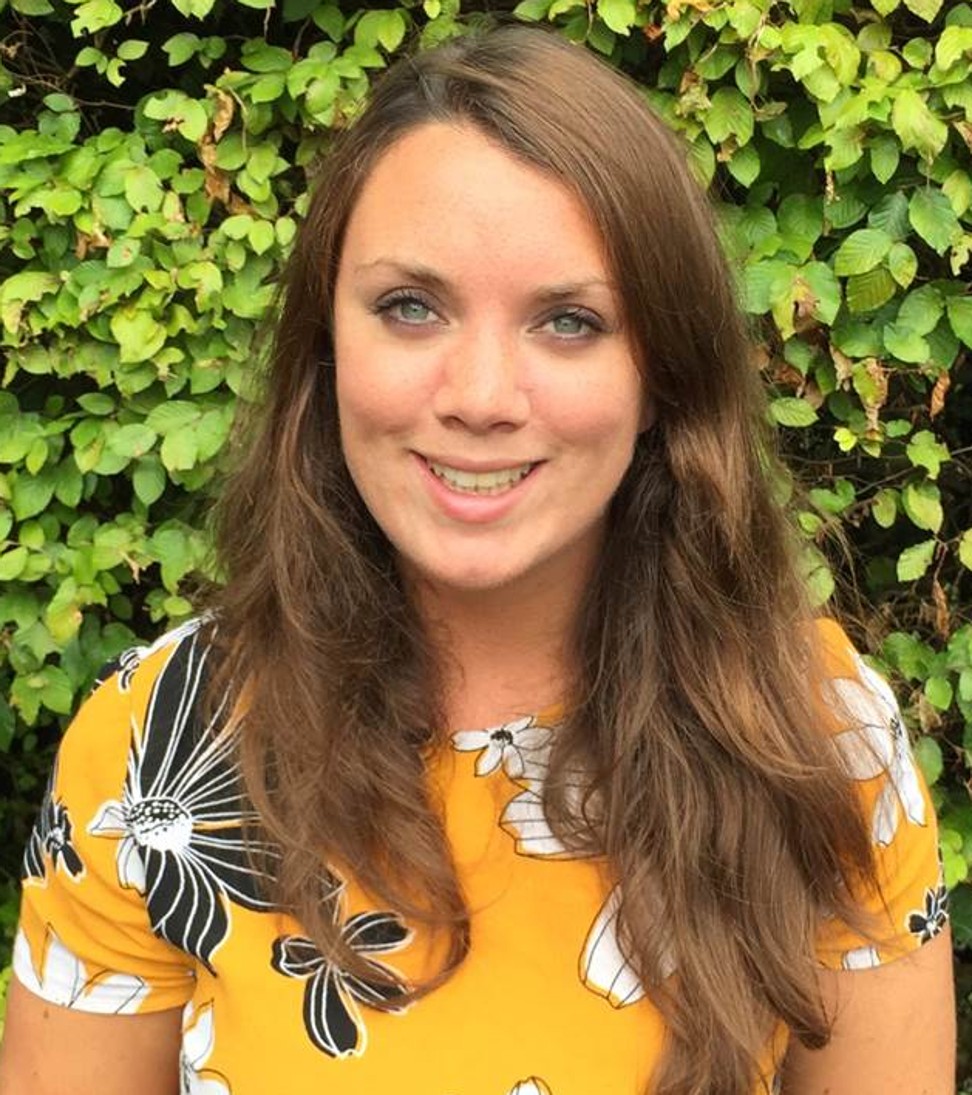 Mind-numbing numbers
Mind Hong Kong recently surveyed 1,210 adults on their attitudes to and knowledge of mental health. The non-profit group found:
Only 29 per cent of respondents would be willing to live with someone with a mental health problem in the future, but 64.8 per cent would stay friends with someone if they developed a mental health problem.
Forty-one per cent believed that one of the main causes of mental illness was a lack of self-discipline and willpower.
Sixty-one per cent felt that it was easy to tell people with a mental illness apart from perceived "normal" people.
Most respondents felt that mental illness is like any other illness (89.4 per cent), and that anyone could become mentally ill (87 per cent).
Eighty-nine per cent agree that there is a need to adopt a far more tolerant attitude towards people with mental illness.
Seventy-three per cent said their workplaces did not provide any support programmes for staff's mental health needs, and about 60 per cent did not know of any mental health support sources apart from hospitals.
Mind HK commissioned the research, conducted with the University of Hong Kong, the Institute of Psychiatry, Psychology and Neuroscience (King's College London) and Time to Change UK.
Mind HK's #LetsTalk campaign encourages people to share a photo with the hashtag #LetsTalk and tag back to #LetsTalk#MindHK.
"The first step to reducing stigma around mental health problems is [to increase] conversation. In Hong Kong, we don't talk openly enough about mental health problems and therefore the stigma is ever present," says Hannah Reidy, CEO of Mind HK. "The #LetsTalk campaign aims to raise awareness and increase understanding of how you can help. It's time to start talking."
This article appeared in the South China Morning Post print edition as: Duty calls, even for those who are not up to the task