Wellness
Get more with myNEWS
A personalised news feed of stories that matter to you
Learn more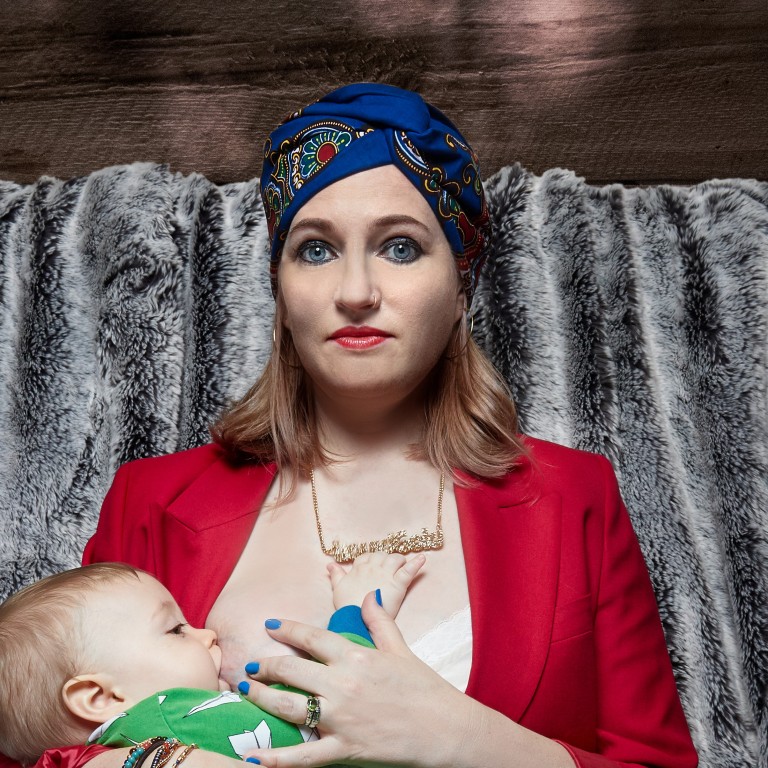 Breastfeeding Hong Kong mothers, inspired by Rachel McAdams, ask for acceptance
A group of mothers gathered in Central business district for a glamorous photo shoot, inspired by the actress who pumped milk during a fashion shoot
They want to normalise breastfeeding and pumping breast milk in Hong Kong, where a stigma still surrounds these activities
The lights are bright and the smell of hairspray hangs in the air of a Hong Kong bar, where a photo shoot with a difference is taking place.
The photographer's flash illuminates the jewellery of the perfectly coiffed women who stare down his lens. One blond model arranges herself on the chair, checking her lipstick before attaching a pair of tubes to her nipples, which are exposed underneath her crimson jacket.
The women are being photographed while breastfeeding or expressing milk using a pump. Their goal is to normalise these actions.
In December 2018, actress Rachel McAdams caused a stir when a magazine photo of her pumping milk for her newborn went viral on social media. For mothers, the image was a cause for celebration.
"It spoke to nursing mums because she is championing and bringing attention to what we do," says Heather Lin, organiser of the Hong Kong photo shoot, called #PumpItUp. "It showed Rachel McAdams is one of us and does menial things like pumping and, instead of being asked to hide away, she is photographed while wearing Versace. It's accepted, looked up to, and admired – as it should be."
Twelve mothers assembled at the bar Whiskey and Words in Central district to take part in the shoot with photographer Brian Smeets. The objective, Lin explains, was to dispel the stigma around breastfeeding in public, particularly in Hong Kong, where a mother feeding her child out in the open without a cover is a rare sight, misconceptions around the practice are rife, and milk formula is still the go-to for many parents.
Formula is often fortified with probiotics and vitamins, which boosts a product's nutritional profile. Breast milk is a source of antibodies, adapts to a baby's needs, and is linked to lower rates of asthma, obesity, diabetes and some types of cancer later in life, according to the US Centres for Disease Control and Prevention.
Despite efforts by the government and hospitals to encourage new mothers to breast-feed, reservations about doing so – let alone feeding in public – remain, especially among older members of the local Chinese population.
"I got involved because I want to show others that breastfeeding is normal," says Edith Law Hon-yin, 36, the only local Hong Kong mother to participate in the shoot. "I want other mums to have an easier path when it comes to breastfeeding in Hong Kong."
However, Law, whose daughter is now 13 months old, admits she had reservations about exposing herself in public.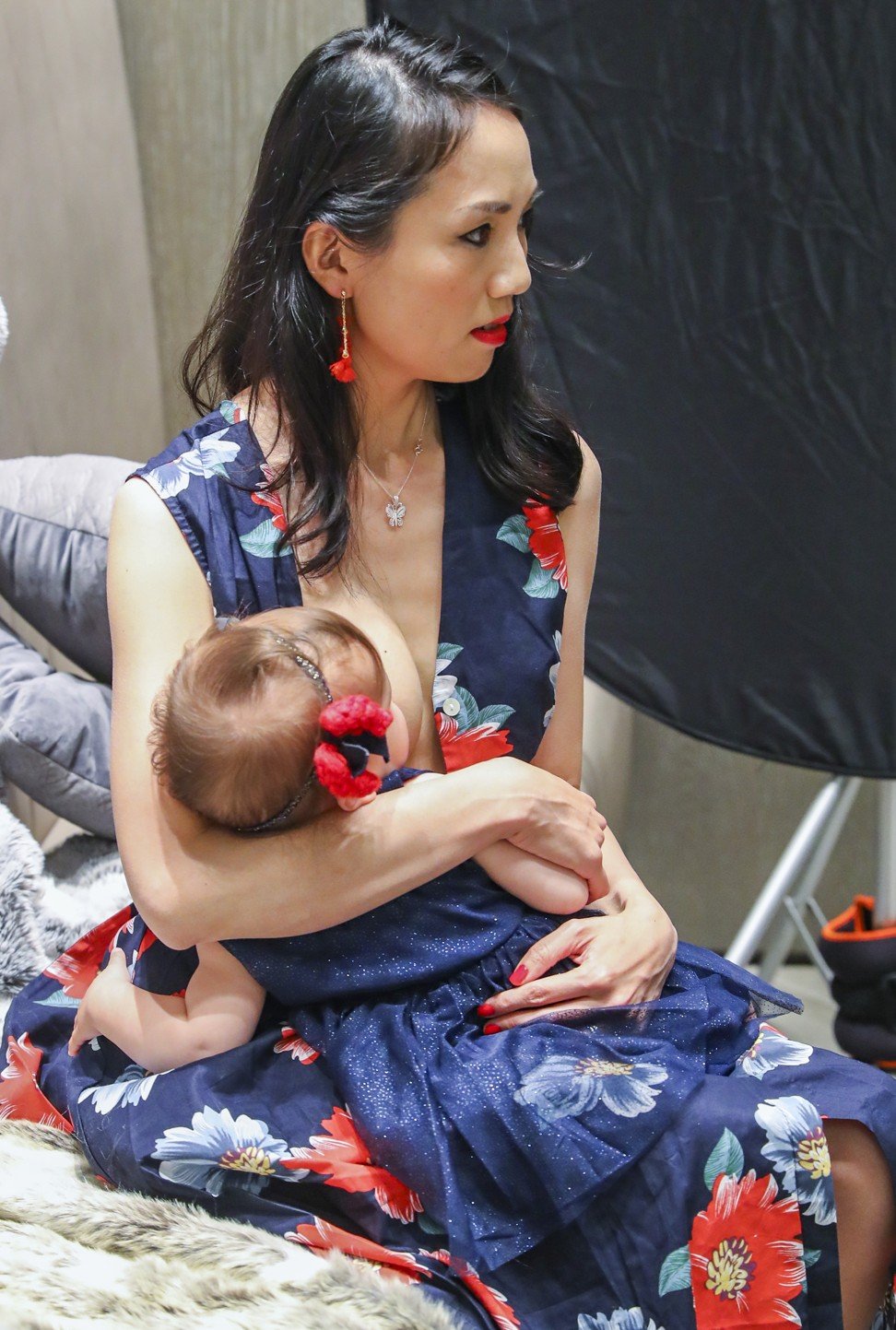 "I usually go to the room [reserved for breastfeeding] in shopping malls or a very dark corner so nobody can see me, so I don't have any problems. I don't feel comfortable breastfeeding in restaurants – lots of people in Hong Kong are very conservative. You're worried that men will look at you."
Lin's group came together on Facebook's Hong Kong Breastfeeding forum, which has nearly 2,000 mostly English-speaking mothers looking to share and ask for advice. The #PumpItUp mums were a mixture of expats and Western-educated Chinese women; Lin says there wasn't much interest among local mothers to be photographed in a partial state of undress.
Stories about being told to cover up when attempting to breastfeed in public are rife in the community: in a 2016 survey, 30 per cent of Hong Kong mothers told the United Nations children's agency Unicef that they had been asked to feed their children elsewhere, while 90 per cent claimed to have been stared at while nursing in public. Mari Kobayashi says she was asked to use the toilet while breastfeeding on a plane.
"It's food! Feeding a baby is hard enough that you should be able to do it like you're drinking a milkshake or having a coffee," she says. Kobayashi refuses to cover herself while feeding her 10-month-old daughter. "I'm doing it because I don't want to … have to carry extra things or inconvenience myself. If I feed in public, other [women] will see me and want to do it, too. Should you hide in a corner? No."
In 2015, Unicef launched a "Say Yes to Breastfeeding" campaign "to cultivate a positive public attitude towards breastfeeding in the workplace and public place; and to provide mothers with better community support for sustaining breastfeeding".
It ran an advert featuring Asian mothers pumping under restaurant tables, in photo booths and grimy toilets. "Please don't force breastfeeding mothers to hide," the slogan pleaded.
"I was in a restaurant once; the only other people there were three women. I was breastfeeding my first child with my back to the other customers, and a staff member came over and asked if I'd like to be shown somewhere else I could feed. I said 'No', and they asked me to cover up as it was making other customers uncomfortable," says Lucy Mullins, 35, who attended the shoot with her daughter, almost two.
"Again, I said 'No'. I was told to cover up or stop. They gave me this really heavy cloth and I complied, but it was hot under there and my baby started to scream and kick and wasn't feeding. I thought, 'What am I doing?' So I took it off and they weren't happy. But who was I offending?"
The number of women breastfeeding in Hong Kong has been steadily climbing, but pumping – whereby a lactating woman produces milk with the aid of a device, enabling another carer to feed her baby if she returns to work – receives less attention.
The global breast pump market was valued at US$540 million in 2015, and is expected to grow to US$829 million by 2022. Meanwhile, the infant formula market was estimated to be worth more than US$24 billion last year, rising to US$45 billion by 2025, with relatively stronger growth in the Asia-Pacific region. That is partly due to women's increasing participation in the workforce and a high birth rate, according to Allied Market Research.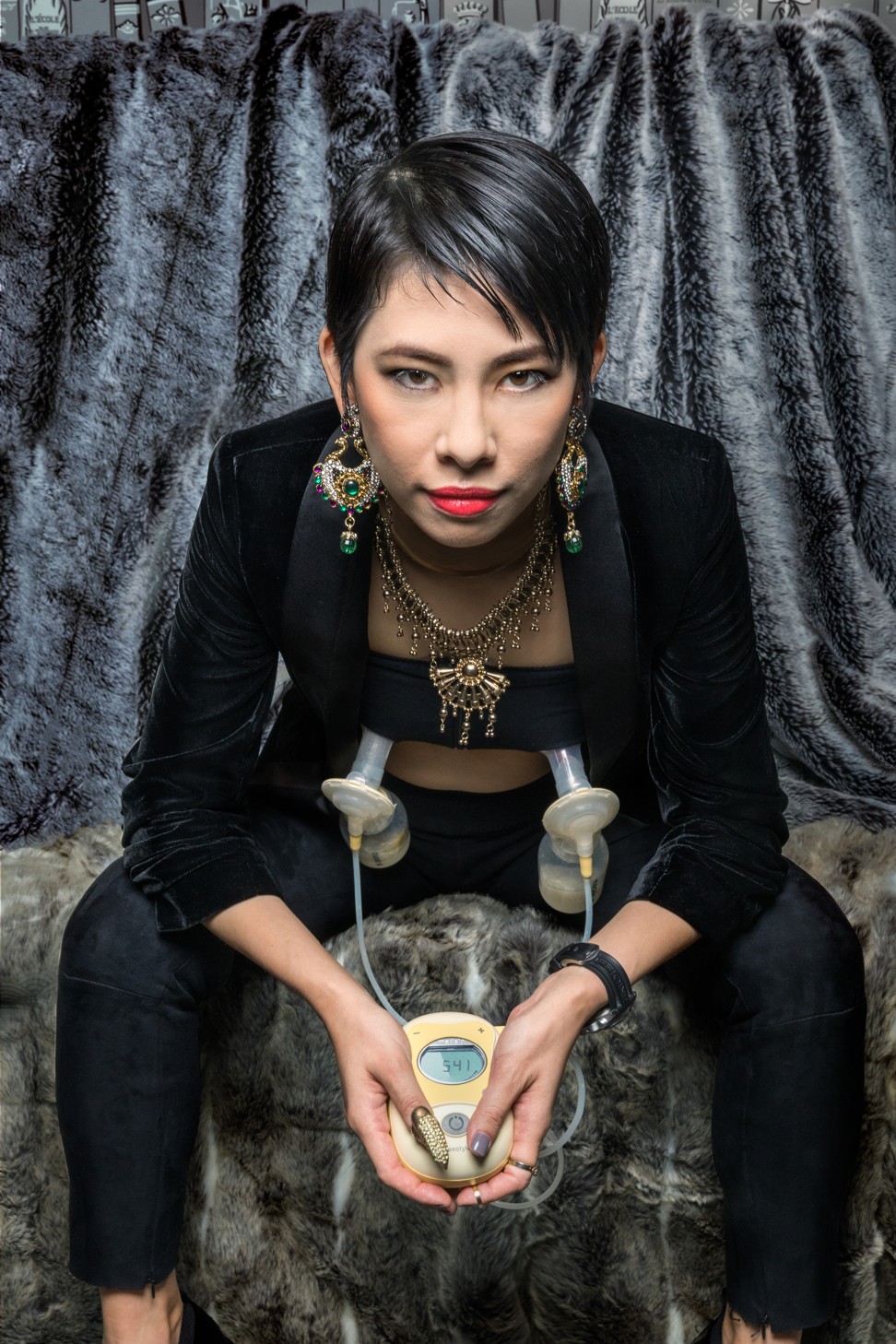 Breast pump technology has been slow to evolve beyond the traditional air-horn design, however, leading women in the US last year to stage a "Make the Breast Pump Not Suck Hackathon" to promote research and innovation in the field.
Despite recent developments in design, such as the Willow Pump, a US$500 device that slips discreetly into the bra, Lin says campaigns by formula companies encourage women to switch directly to formula after six months.
The World Health Organisation recommends exclusive breastfeeding up to six months of age, continuing up to two years and beyond with complementary foods.
Figures from Hong Kong's Family Health Service, which has been monitoring the trend of local breastfeeding rates since 1998, show that less than a third of mothers in 2017 chose to breastfeed exclusively after six months.
In adverts for US pharmaceutical company Wyeth's BabyNes range of formula, targeted at a Chinese-speaking audience, glamorous women are depicted using its product – dubbed "Nespresso for babies" – which uses capsules of powder to dispense liquid formula. The campaign slogan "From It-girl to It-mom" presumably depicts women who are too stylish to breastfeed.
The #PumpItUp photo shoot aimed to dispel the notion that breastfeeding is a humdrum chore with no place in the lives of women with high-powered jobs.
"We wanted to make this about being strong, fierce women who do all these other things: we go out, we have jobs, we have sex lives and we're mothers who pump and breastfeed," says Mullins, who works in financial crime prevention.
Alex Campion chose to be photographed while pumping and breastfeeding, to show that both are natural ways of feeding her nine-month-old son. The 33-year-old teacher says the photo shoot gave her more confidence in her body.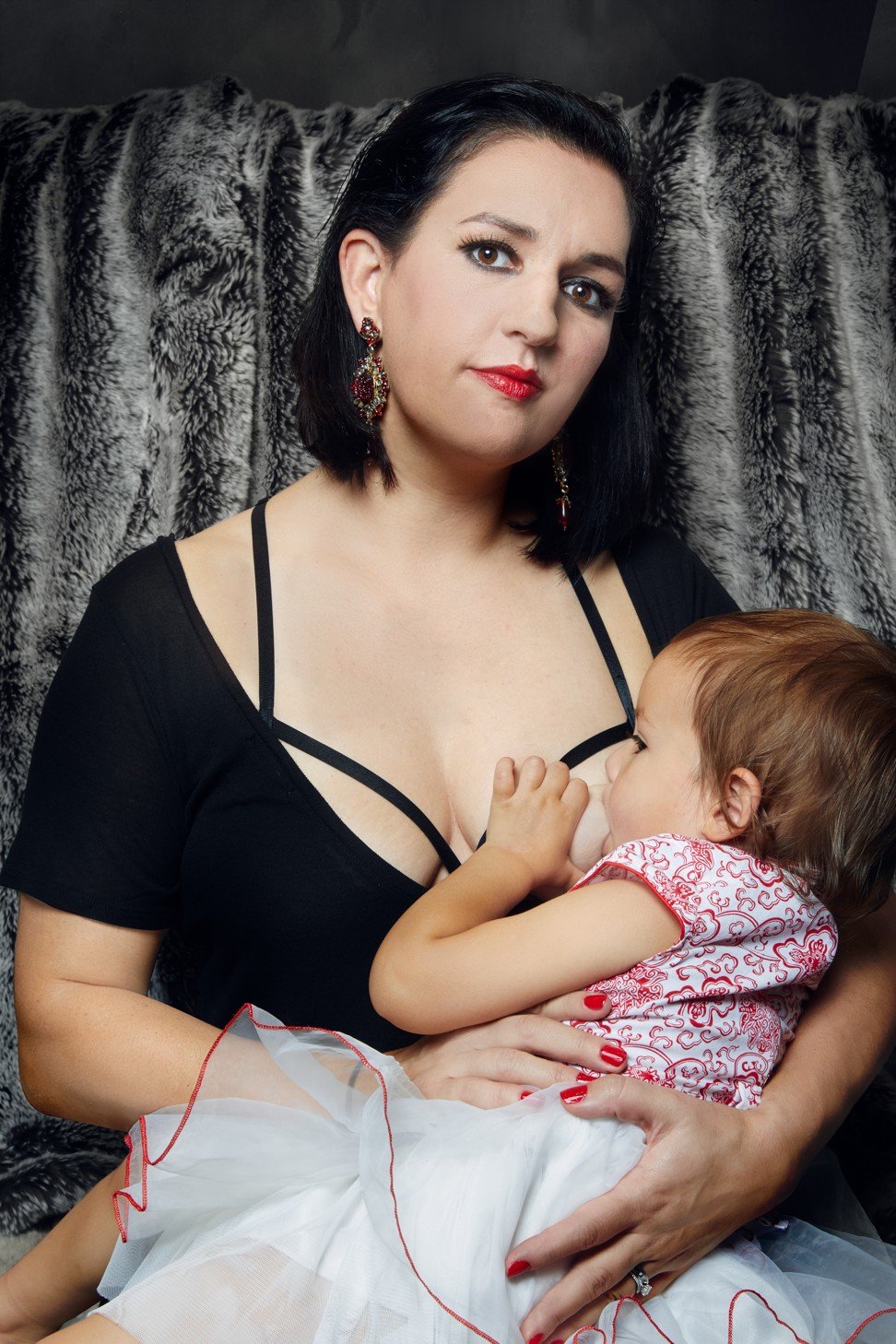 "Breastfeeding is seen as more natural, though it doesn't come naturally to everyone. The idea is that once you go back to work you just give your baby milk formula. People don't realise that if you've just had a baby and want to breastfeed, you need to pump," she says.
For all the mothers, the photo shoot was the pinnacle of their efforts to bring breastfeeding and pumping into the open, while sending a reassuring message to fearful parents that it is nothing to be ashamed of.
Joining a community of like-minded parents can be a "game changer" for new mums, who may be struggling with feelings of isolation after giving birth, Lin says.
"They say it takes a village to raise a child, but that source of communal knowledge is gone: you're not learning this stuff from your grandma any more because she didn't [breastfeed] and we live in an urban society.
"We don't live in a village any more," she adds. "So you need to find a village."
This article appeared in the South China Morning Post print edition as: Hoping for the breast