Beauty
Get more with myNEWS
A personalised news feed of stories that matter to you
Learn more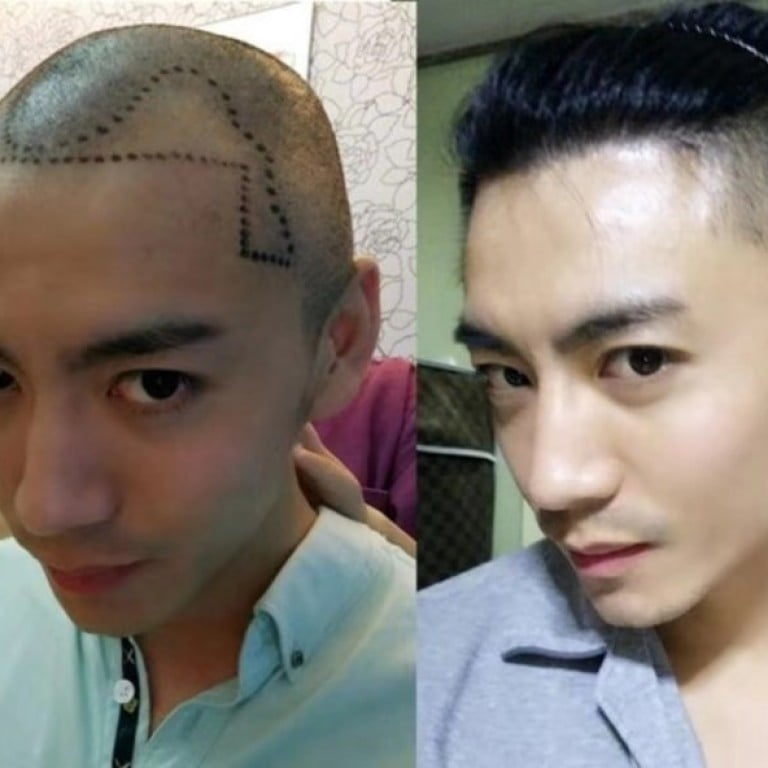 Millennial Chinese men going bald younger, getting hair transplants to restore their locks and confidence
Stress, lack of sleep and unhealthy lives have been blamed for a rash of receding hairlines among Chinese men under 40
Hair transplant surgery, which in Hong Kong can cost more than US$12,500 per session, is on the rise, and robots are making one popular procedure easier
Bald men are often considered intellectual, intelligent and authoritative, studies suggest. Still, men the world over go to great lengths to hang on to their hair. From drugs to surgery, some are willing to try any remedy to avoid a bare scalp.
Of late, male pattern baldness has transfixed Chinese men. News media in mainland China this year reported that young men there are losing their hair much earlier than their fathers did. This was because they are more stressed, do not get enough sleep and do not lead healthy lives, the reports said.
One of China's leading tertiary institutions, Tsinghua University in Beijing, conducted a survey of 4,000 of its students last year, and found that 60 per cent had experienced some degree of hair loss.
Data from e-commerce giant Alibaba shows that last year, more than seven in 10 consumers of anti-hair-loss products in China were born after 1980. (Alibaba owns the South China Morning Post.)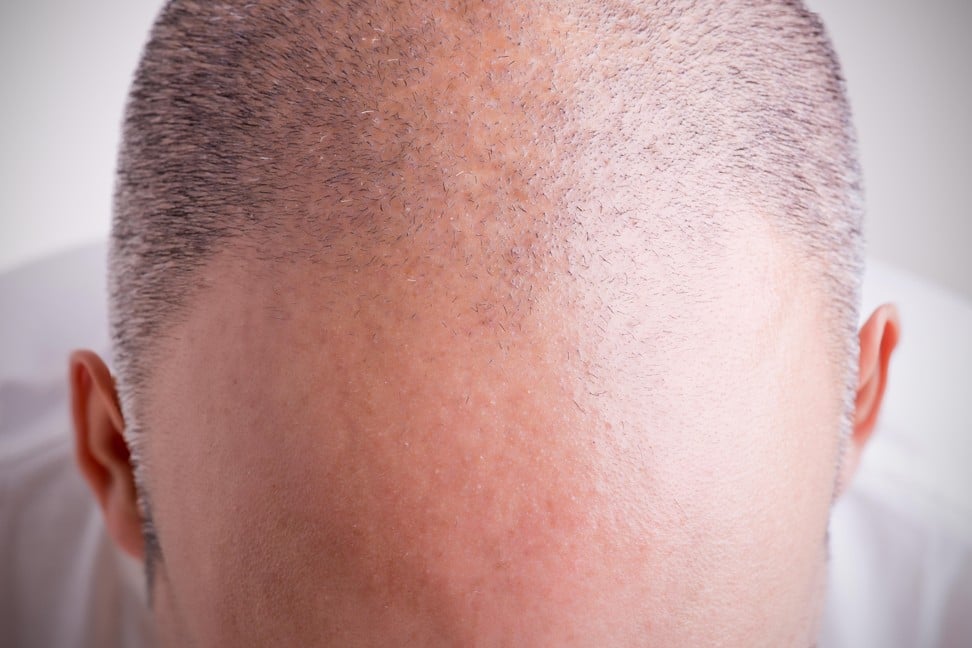 Yin Dongyi, a 28-year-old who lives in Beijing, saw his hairline starting to recede quickly around his temples when he was a college student. His confidence receded with his hairline. He believes unhealthy lifestyle choices, such as staying up late and smoking, made his hair loss worse. It is likely that Yin's hair follicles were oversensitive to his male sex hormones. This hereditary failing affects hair on the crown, the temples and along the hairline, and gradually spreads over the whole of the scalp.
Knowing his hair wouldn't grow back naturally and concerned about his looks, in 2016 Yin turned to a hospital in Beijing for hair transplant surgery. This surgical technique moves hair from the more hirsute areas on the head to the parts where the hair is thinning. Yin, who works in the cosmetic surgery industry, sought help from a hair transplant surgeon he knows and trusts.
"The overall social competition makes you desperately need a good appearance," Yin says. "If you start losing hair in your 20s and see it get pretty bad, you will lack confidence."
During the surgery, 2,200 follicular units in total (a follicular unit is a group of follicles, and a follicle normally has one hair) were transplanted from the back of Yin's head to the front. At the time, transplanting one unit cost 16 yuan. His bill for the surgery was 35,200 yuan (US$5,060 in today's money).
Yin says his confidence came back right after the surgery and he is satisfied with the result – more than 95 per cent of his new hair grew successfully.
"On the day when the surgery was completed, I could see the effect immediately," Yin says. "A hairline appeared. The changed hairline gave me a sense of youth."
He left the hospital on the day of the surgery. Three days later, he washed his hair with warm water and went out. For the first week after the surgery he could see redness, swelling and scabbing on the affected area, and he was not allowed to eat spicy foods, smoke, drink alcohol or work out hard.
A year later, his new hair had fully grown, long and shiny. He posted selfies of himself to share his delight. Three years on, his transplanted hair is still there.
"I have more confidence. It helps me a lot when I go on stage to give a speech. When interacting with women, I feel young again. I think a straight hairline makes me feel young again and gives me confidence."
Yin is not alone. Globally, about 60 per cent of men and 50 per cent of women suffer from some form of hair loss, according to research published in the Journal of Plastic and Reconstructive Surgery.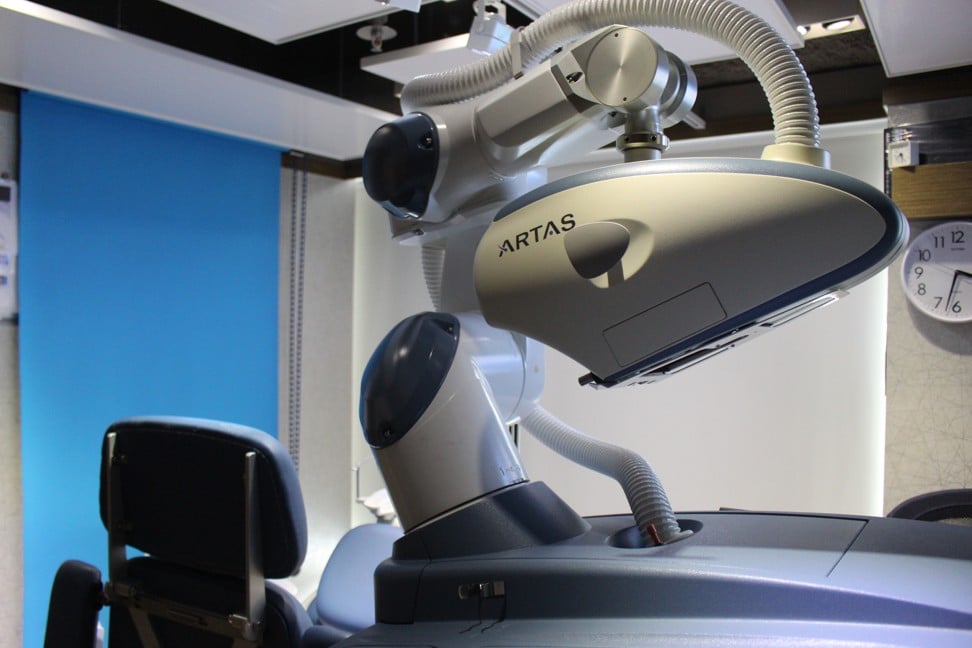 With more men becoming aware of hair loss and concerned about their physical appearance, the hair transplant industry has strong expansion potential. Global Market Insights predicts the hair transplant market could be worth more than US$24.8 billion by 2024, and demand from people in the Asia-Pacific region is growing.
Hair transplants do not work for everyone, cautions Dr Walter King Wing-keung, a plastic surgeon at Cosmetic Central in Hong Kong with 30 years of clinical experience.
He explains that a clinician has to find the real causes of a patient's hair loss. If it is the result of thyroid conditions, scalp infections, stress or chemotherapy, a hair transplant will not solve the problem. He next examines the patient's scalp to see if their hair is strong and dense enough for transplant. If a patient has lost too much hair, there may not be enough follicles available for transplant.
Since 2017, the most commonly used transplant method has been follicular unit extraction (FUE), which is similar to transplanting a tree in that it is not difficult, but time-consuming.
Under local anaesthesia, follicular units are removed one by one from the healthy parts of the patient's head. Using a microscope, the surgeon and assistants examine each follicle unit and select the best grafts, which are implanted to the bald areas.
FUE can create smooth, natural hair, and the side effects are usually minor. Patients can usually return to work within days of the surgery. The transplanted hair will fall out one to three months after the surgery, then regrow. Within six months, patients should start to see full hair regrowth.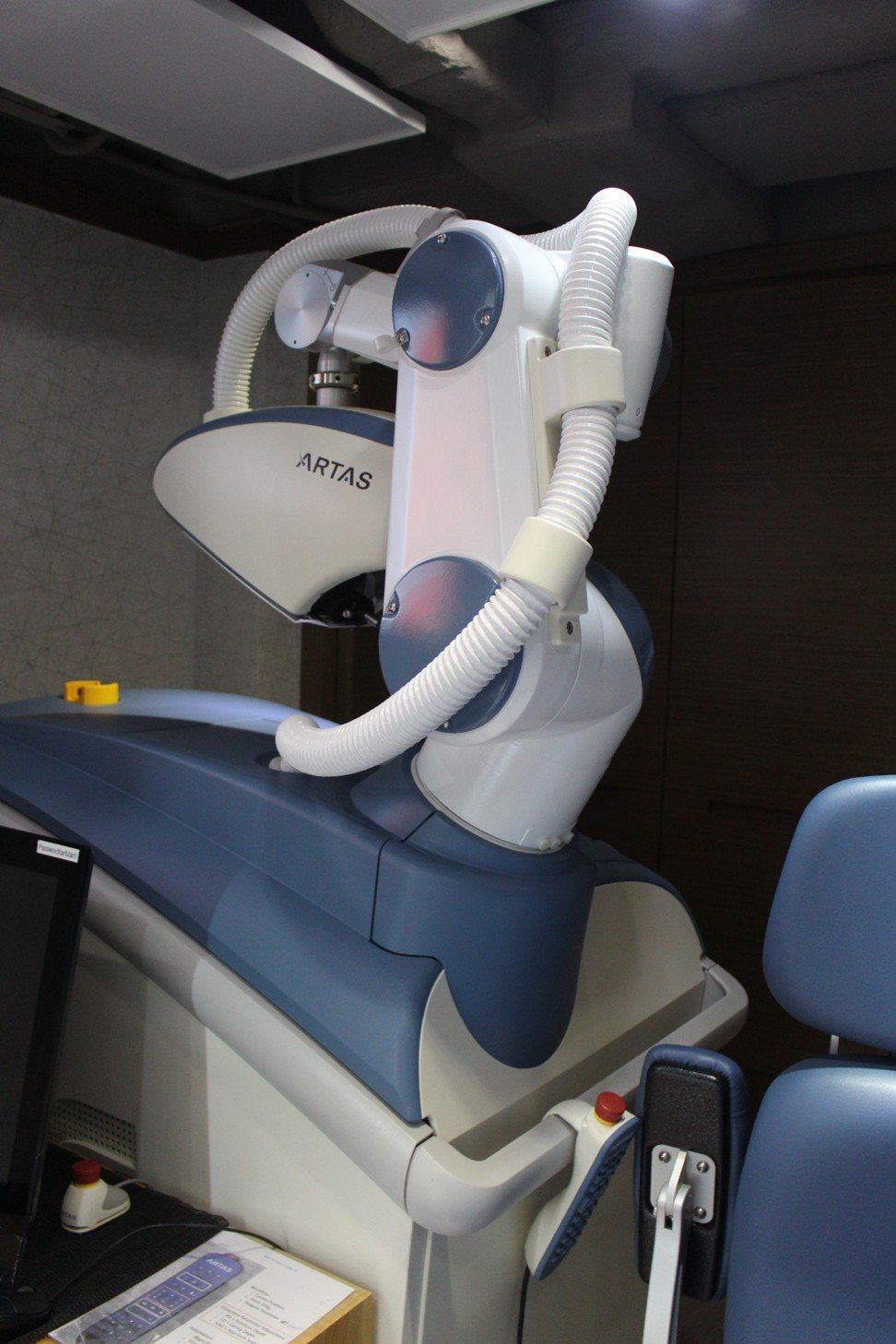 An FUE hair transplant is extremely labour intensive. A hair transplant session requires six to eight clinical assistants and takes eight to 12 hours, during which 1,000 to 1,500 follicular units (comprising 1,000 to 2,500 hairs) can be transplanted. Some patients may need more than one session. In Hong Kong clinics, a session can cost around HK$100,000 (US$12,700), according to Alman Lam, manager at Cosmetic Central.
"If we are holding a manual instrument to draw out [follicular units] 60 times every 30 minutes, we get tired," Dr King says. "Our eyes get tired. Our hands get tired." Because of this, Cosmetic Central uses a robotic system called Artas.
Approved by the United States Federal Drug Administration, the system can identify the location of each follicular unit and punch a hole around it, making it easier for a surgeon to pluck out. This makes the transplant faster and reduces human error and damage to the patient's hair.
The robot does not implant hairs, however. Dr King says: "The robot doesn't do everything. It, in a way, assists the clinician to do a good job."
The robot doesn't save them much time either, he laughs, because when patients learn about the robot, they want more hair to be transplanted.
Editor's note: the story has been corrected. People born after 1980 make up more than seven in 10 of the consumers of anti-hair-loss products in Chiuna, not four in 10 as originally statee.
This article appeared in the South China Morning Post print edition as: the bald truth about hair loss on the mainland