Wellness
Get more with myNEWS
A personalised news feed of stories that matter to you
Learn more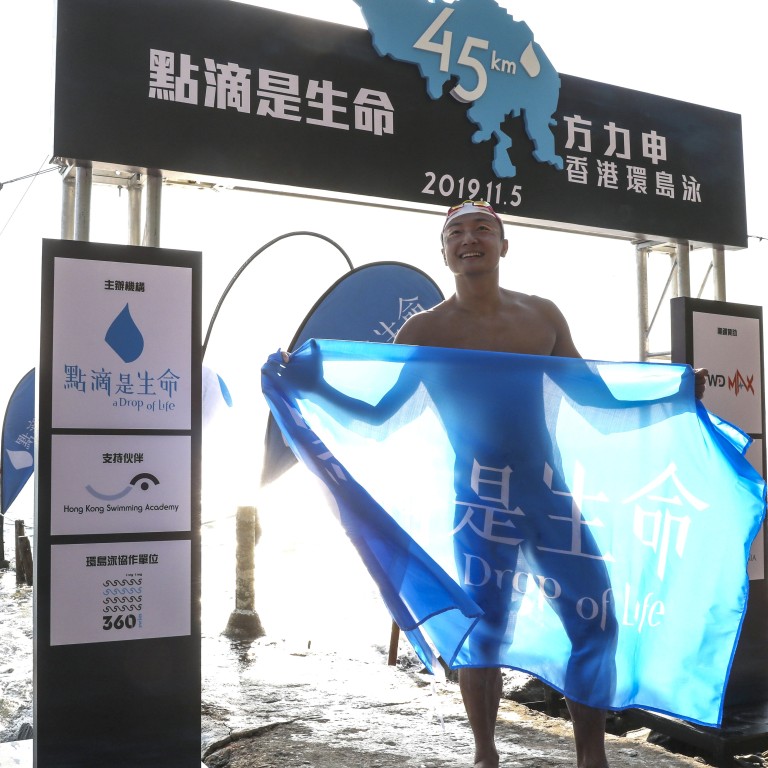 Alex Fong on how he swam 45km around Hong Kong Island, from pre-race training to smashing the record on the day
The Canto-pop star and former Olympian hadn't swum seriously for 15 years before taking on the swim for charity A Drop of Life
We talk to him about working up to 45km, overcoming seasickness, his diet in the days before the race and staying motivated over the more than 10-hour swim
Alex Fong Lik-sun looks fresh-faced two days after his record-breaking 45km (28-mile) swim around Hong Kong Island on November 5. That 10-hour, 43-minute journey created a big splash for charity, raising more than HK$8.5 million (US$1.1 million). Friends, family and fans lauded his feat, but the modest former Olympic swimmer says he couldn't have done it alone.
To swim 45km was not Fong's original idea. As an ambassador for A Drop of Life, a charity that brings clean water to those in need in Nepal, Cambodia and China, he was asked how he could raise funds to mark the charity's 20th anniversary last year.
"I thought I could do a 20km swim because it was A Drop of Life's 20th anniversary and when I trained as a swimmer, I used to swim 13km every day, so I thought I should be able to do 20km," he says.
By March, Fong decided to start training in earnest. However, he hadn't swum seriously for 15 years after diving into show business.
As a Canto-pop singer and actor he had maintained his fitness through gym workouts and running, even completing 42km in the Standard Chartered Marathon a decade ago. He had to gradually build up his endurance in the pool, from 400m to 4km, and up to 17km from June to the end of August.
After a press conference in August announcing his planned island circumnavigation, Fong was still confident, thinking in the worst-case scenario he would just swim slowly.
"Before, swimming to me was like walking. I never thought I could not do it," he says. "But then my mother reminded me that I was going to turn 40 next year [and] that I may not physically be able to do it. And my former teammates were sceptical that I could actually swim that distance in open water. That's when I started to get scared."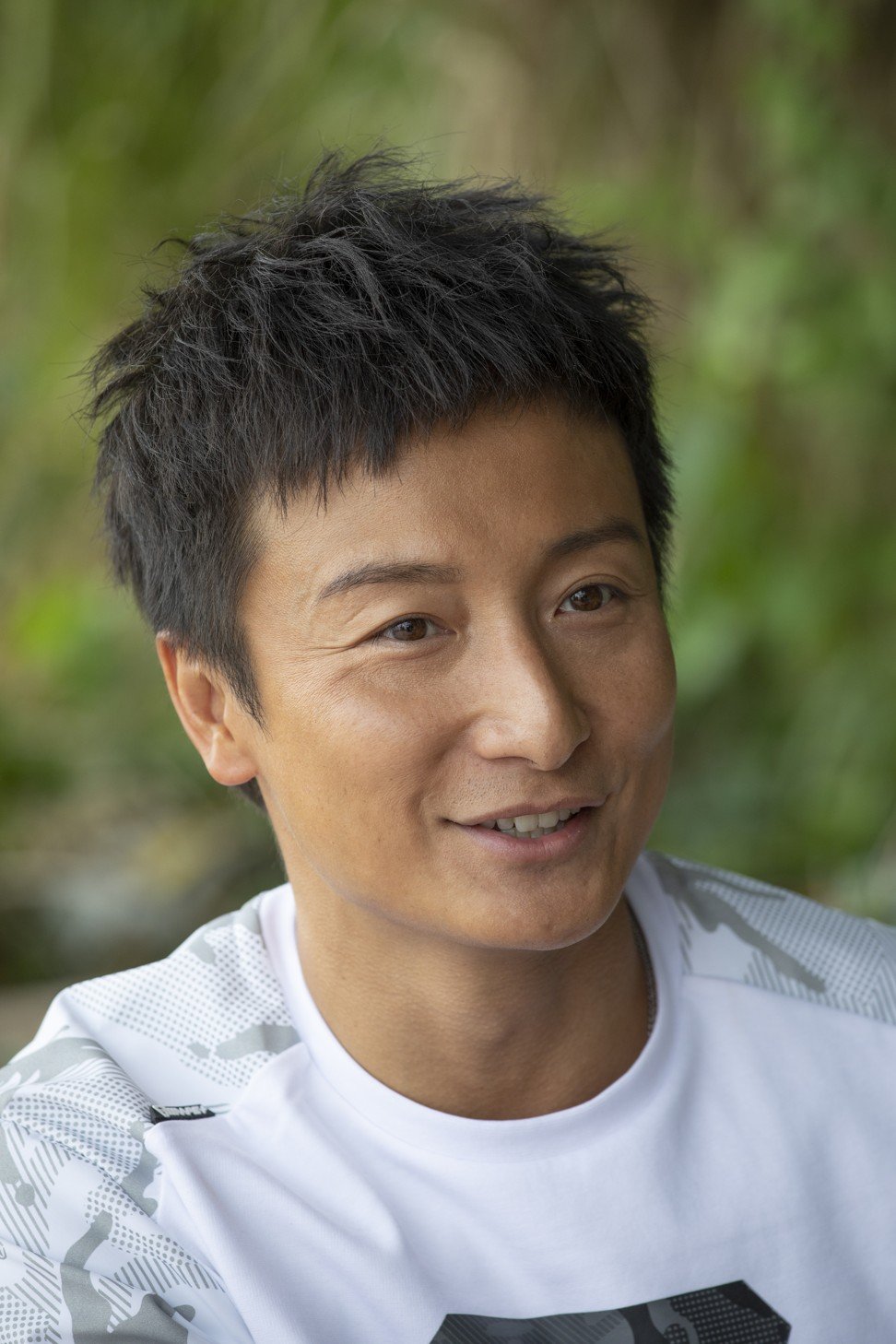 When he started training in open water, Fong learned some hard lessons.
"I threw up four times while training in open water. I never thought you could get seasick from swimming in the water. I don't even get seasick on a boat. So I needed to take seasickness medication before swimming," he says.
"Also when you swim in open water, you can easily get dehydrated. Even though the water is cool, the sun is out. One time I swam in open water and I felt unwell, as if I had a cold. I found out later that every hour you need to drink 500ml to 800ml of water."
Fong had his first real test on October 5 at the Clean Half Extreme Marathon Swim, a gruelling 15km race starting from the southern town of Stanley, going around nearby Tai Tam and finishing in Deep Water Bay to the northwest. Many competitors do it in relay teams, but he competed as a solo swimmer. To push himself, he doubled the distance – swimming from the finish line to the start, then taking part in the actual race. He won.
"I had more confidence during the race. My energy didn't taper off and I pushed myself to go faster. But afterwards my tongue was so swollen, I couldn't roll my it inside my mouth," he says.
A month before his charity swim, Fong stopped drinking alcohol and his daily drink of milk tea to reduce his sugar intake. Five days before he took a three-day break from eating carbohydrates or anything sweet. Two days before, he loaded up on carbohydrates, eating 20 per cent more than he normally would.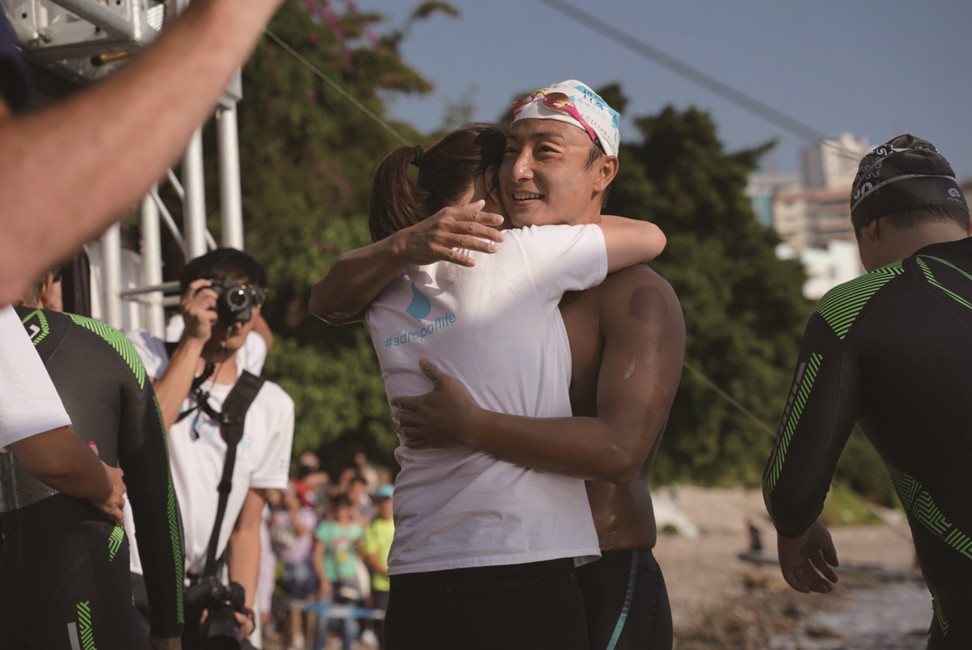 At 2am on the day of the swim he ate a plate of spaghetti, and then some bread an hour before he dived into the sea off Sandy Bay on western Hong Kong Island at 5am.
"I planned out when to rest and eat, resting each time for at most a minute and a half. Since I already carbo loaded before the swim, my first … break would be after the first hour, and from then onwards it was every 45 minutes until I reached 30k."
After 30km he took breaks every 30 minutes, following advice from ultra athletes such as climber Elton Ng Chun-ting,
who summitted Everest in 2017
, and runner Wong Ho-chung,
who finished seventh
in the 171km Ultra Trail du Mont Blanc through the Alps in September.
At the start, Fong took in mostly energy gels and protein bars. After three hours, he ate easily digested wet foods, including congee with ground corn and soggy breakfast cereal. He drank plenty of water and
electrolyte drinks
to prevent cramping and in the last two hours had caffeinated drinks to keep his energy levels up.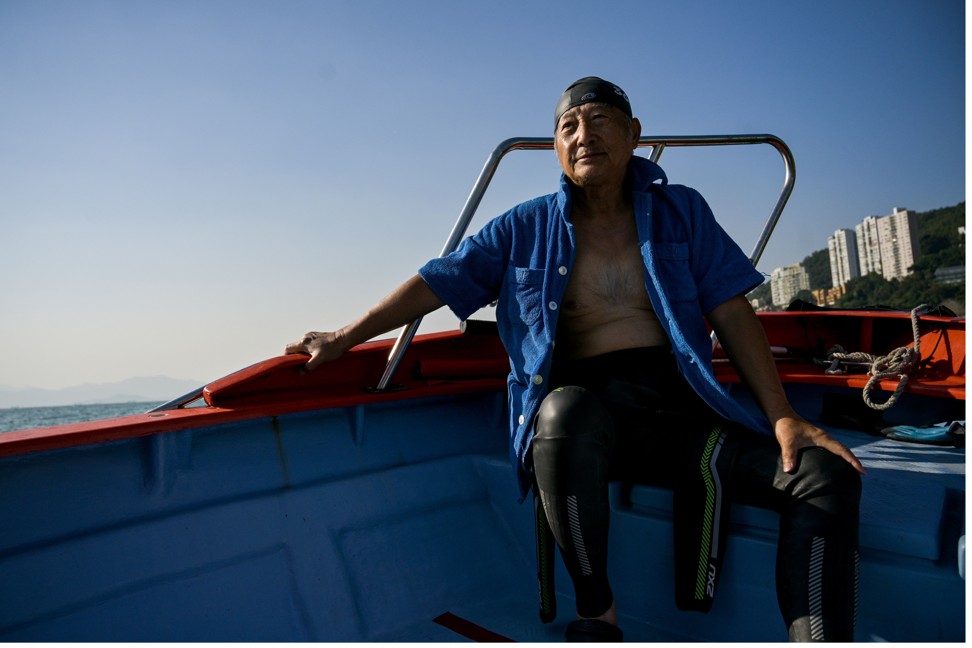 Up to a month before his big swim, Fong typically went to bed around 1am. He started going to bed earlier and earlier so that towards race day he was in bed by 7pm.
He had learned in training not to stick to front crawl swimming as he would get a sore neck from constantly turning it to the same side. His support team sent him a signal five minutes before his scheduled breaks to alert him to switch to the backstroke, to use different muscles and prevent cramping.
Fong felt relaxed during the swim. When he finished the first 15km quicker than his October 5 race, he grew confident that he would break the previous 12-hour record.
He had a perpetual cheering squad, with his support team shouting out messages from people tuned in to his live online broadcast. He was surrounded by people on the support boat, in two kayaks, on a paddle board and in the water.
For about half of the swim, actor and former Olympic windsurfer Ken Wong Hop-hi paddled alongside him. Fong's former teammate and academy instructor Janet Wu Ka-wing and Olympian Stephanie Au Hoi-shun were among the squad of support swimmers who took turns alongside him.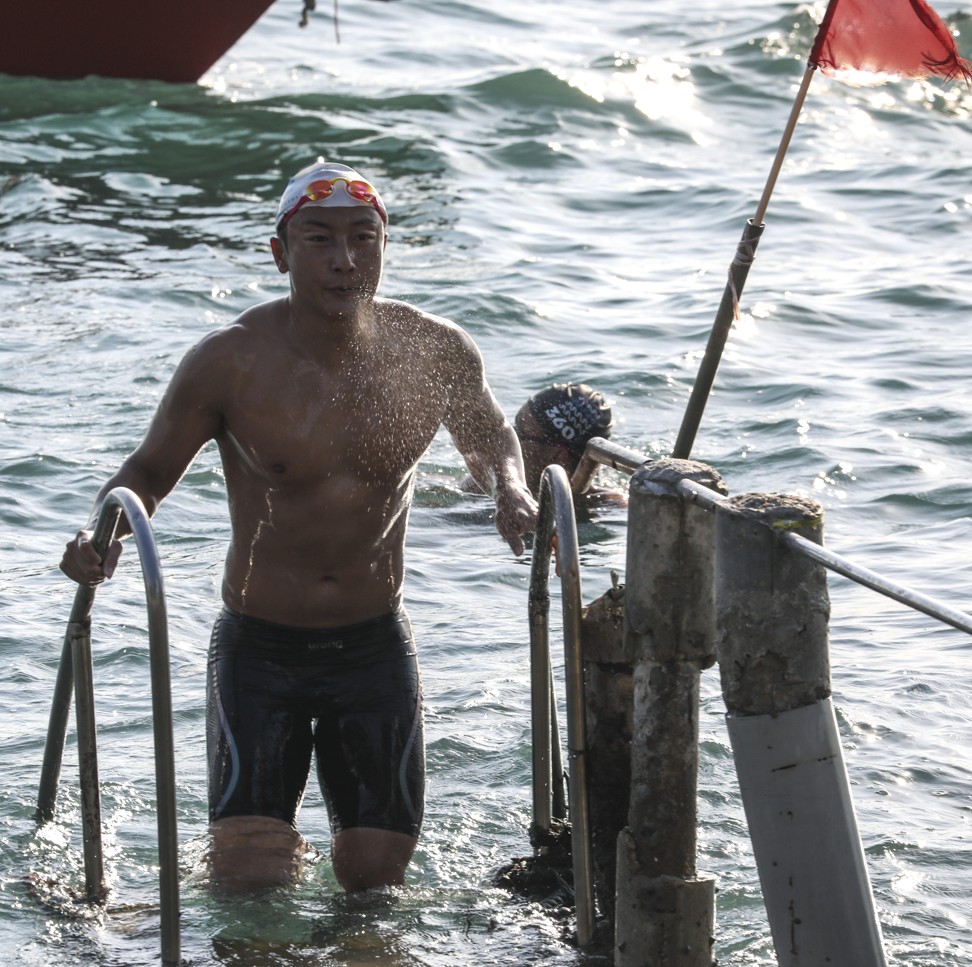 "It was nice knowing that there was someone swimming with me, and [I was] also looking forward to the next person who would be in the water," he says.
Navigating choppy waves just past Shek O was Fong's biggest challenge. He became weary in the last two hours, and struggled in the final 7km.
Fong was emotional at the sight of some 100 family and friends who had flown in from as far as the United States and Canada to see him off at 5am and celebrate with him
as he stepped ashore
.
"I'm happy not because I finished, but because there were many people behind me," he says.
While Fong says he won't repeat this feat again, he will continue swimming.
"Before when I was competing I swam for ego, to be the fastest. But because this was for charity, this time I really enjoyed it."
To donate or learn more about A Drop of Life, visit alex.adropoflife.org.
This article appeared in the South China Morning Post print edition as: master stroke for charity inspires return to water