Wellness
Get more with myNEWS
A personalised news feed of stories that matter to you
Learn more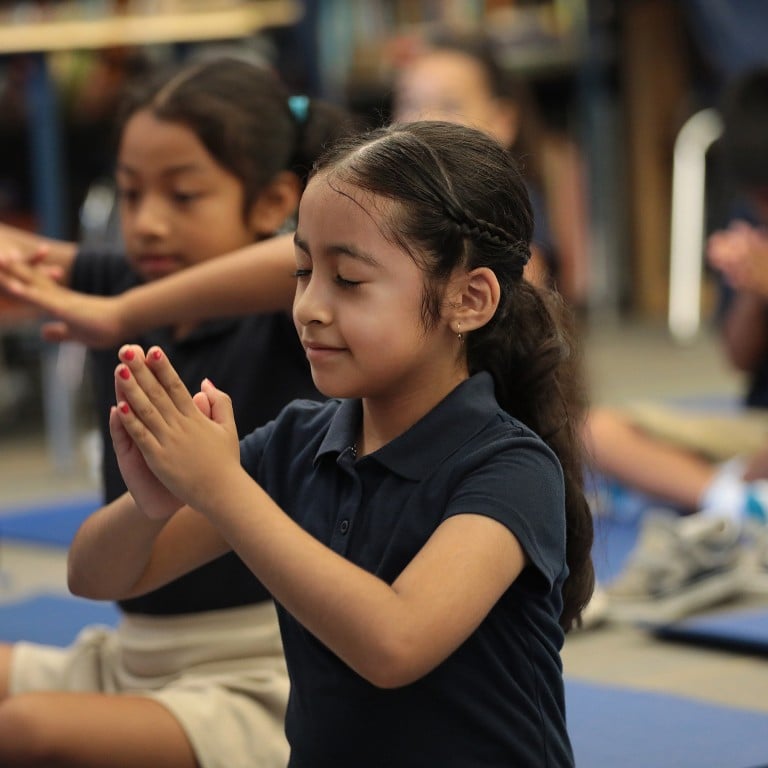 The benefits of yoga for children: they're less anxious, not as stressed out and are more resilient
Even before the pandemic, mental health was the leading cause of poor life outcomes in young people, according to a US Surgeon General public health advisory
Many schools in the US are embracing low-cost programmes such as yoga to help children create a sense of internal peace and bolster their resilience
In 15 minutes, the library at Accelerated Charter Elementary School would be full of young students, arms raised overhead, following Leah Rose Gallegos' instructions to breathe, stretch and look inward.
But first, it was time for a consecration of sorts.
Gallegos stepped around the yoga mats on the floor, leaving drops of
rosemary and lavender oil
near the desks against the wall and bookshelves.
"It's aromatherapy," explained the co-founder of People's Yoga, as the scent wafted around the room in Los Angeles, in the US state of California. "It's one of the tricks that we do. When they walk in, they can feel like they're somewhere else."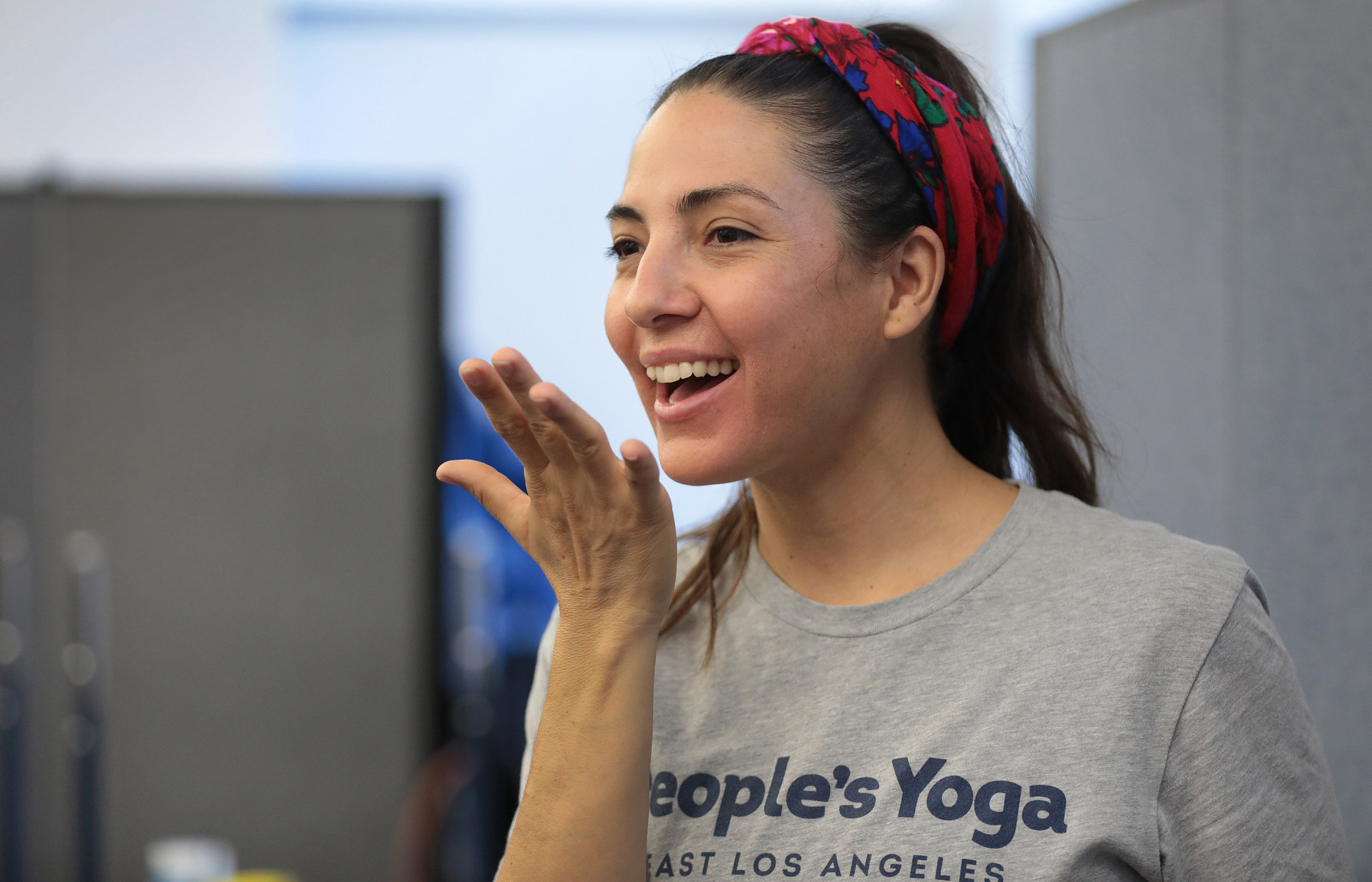 In a world that can feel scary and out of control, the class aims to teach children how to create a safe place of their own.
"I don't tell them, 'It's going to make you feel good.' I say, 'See how you feel'," Gallegos said. "I really want them to reclaim the power of their own body, and of managing their own emotions."
When the school's campus fully reopened for in-person learning for its summer 2021 programme, principal Karin Figueroa could see right away that her students were going to need extra support.
Covid-19
, she said, "was like a new layer of trauma" on top of what kids were already dealing with.
As with the rest of the world, pandemic-fuelled disruptions to education have undermined years of progress in basic maths and reading skills. Those losses have been most acute in communities of colour and those with high rates of poverty in the US.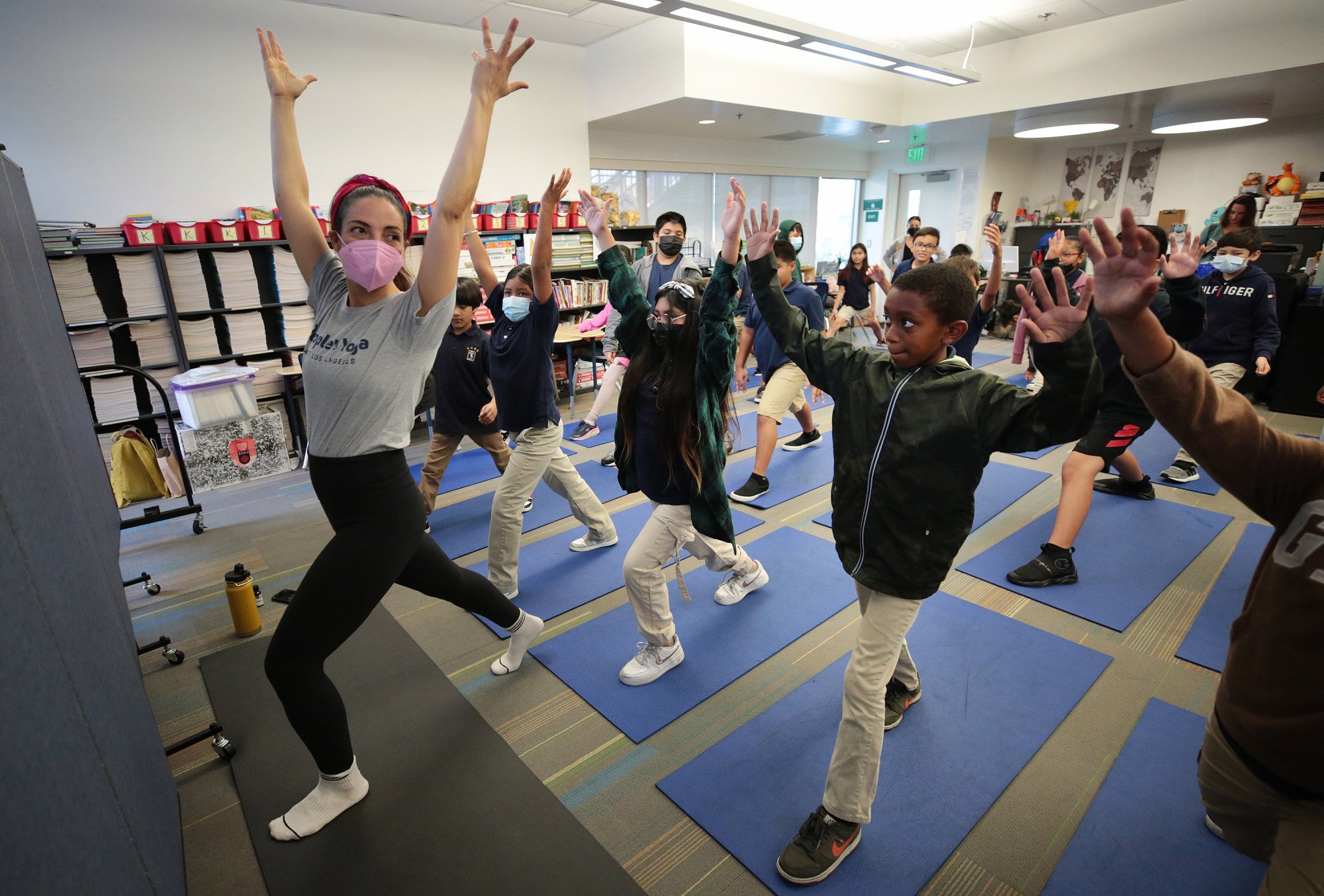 "With younger children, they're not able to verbalise [stress], but they will display it in different ways, whether it be a push or a yell. That's the only way that they know how to express it," said Figueroa. "So, our job is to equip them with the words, techniques and strategies that they can tap into to cope with whatever it is that they're feeling."
She reached out to People's Yoga. Before the pandemic, the studio offered family classes and occasional one-off workshops in schools. As the slow return to in-person activities began, Gallegos felt a strong urge to expand the studio's offerings to young people.
"I felt this huge pull to do something that would support children, especially during this time when everything is crashing down on all of us," she said.
It is a challenge that the US – and California in particular – was ill-prepared to meet.
Even before the pandemic, mental health was the leading cause of poor life outcomes in young people, according to a public health advisory the US Surgeon General issued in December 2021.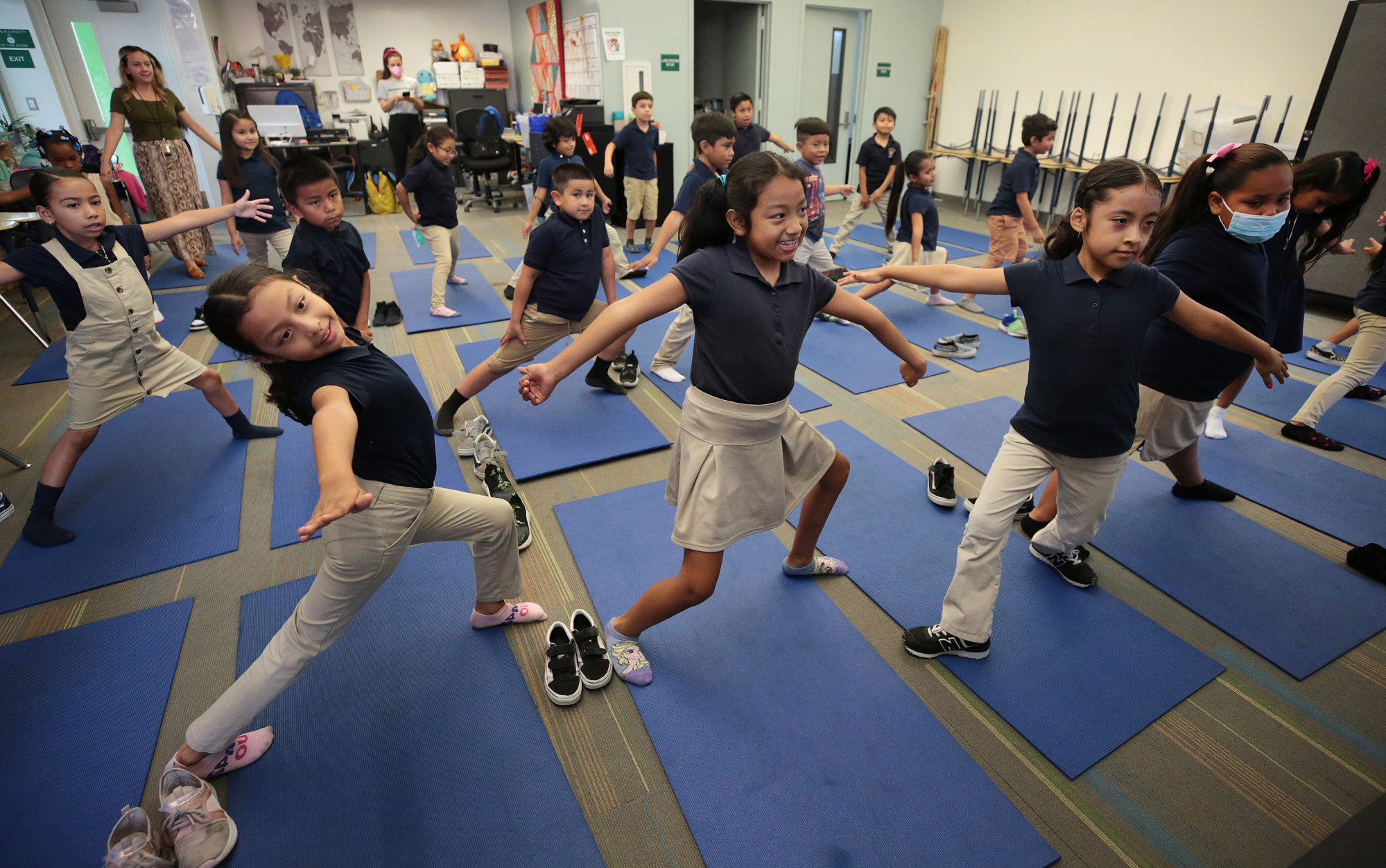 One study found that of the millions of children experiencing a treatable mental or emotional health condition, roughly half did not receive adequate care.
Several studies have found that regular yoga instruction in the classroom helps improve students' anxiety and emotional regulation. By 2015, roughly 1,000 schools across the country had implemented some sort of yoga programme on campus.
But it has not been universally embraced: Alabama law banned yoga in schools until 2021 and still prohibits meditation, chanting and the use of non-English terms in any classroom mindfulness instruction. For example, the pose known in Hindi as adho mukha svanasana must have an English nickname like "downward dog", and namaste is out.
With children, educators say, specific poses matter less than the deep breathing and quiet attention that yoga requires. In a world that throws out all kinds of unexpected challenges, being able to create a sense of internal peace is invaluable.
"We wanted to be able to equip the students with techniques on self-regulating behaviour, self-calming behaviour, especially under stressful situations," Figueroa said.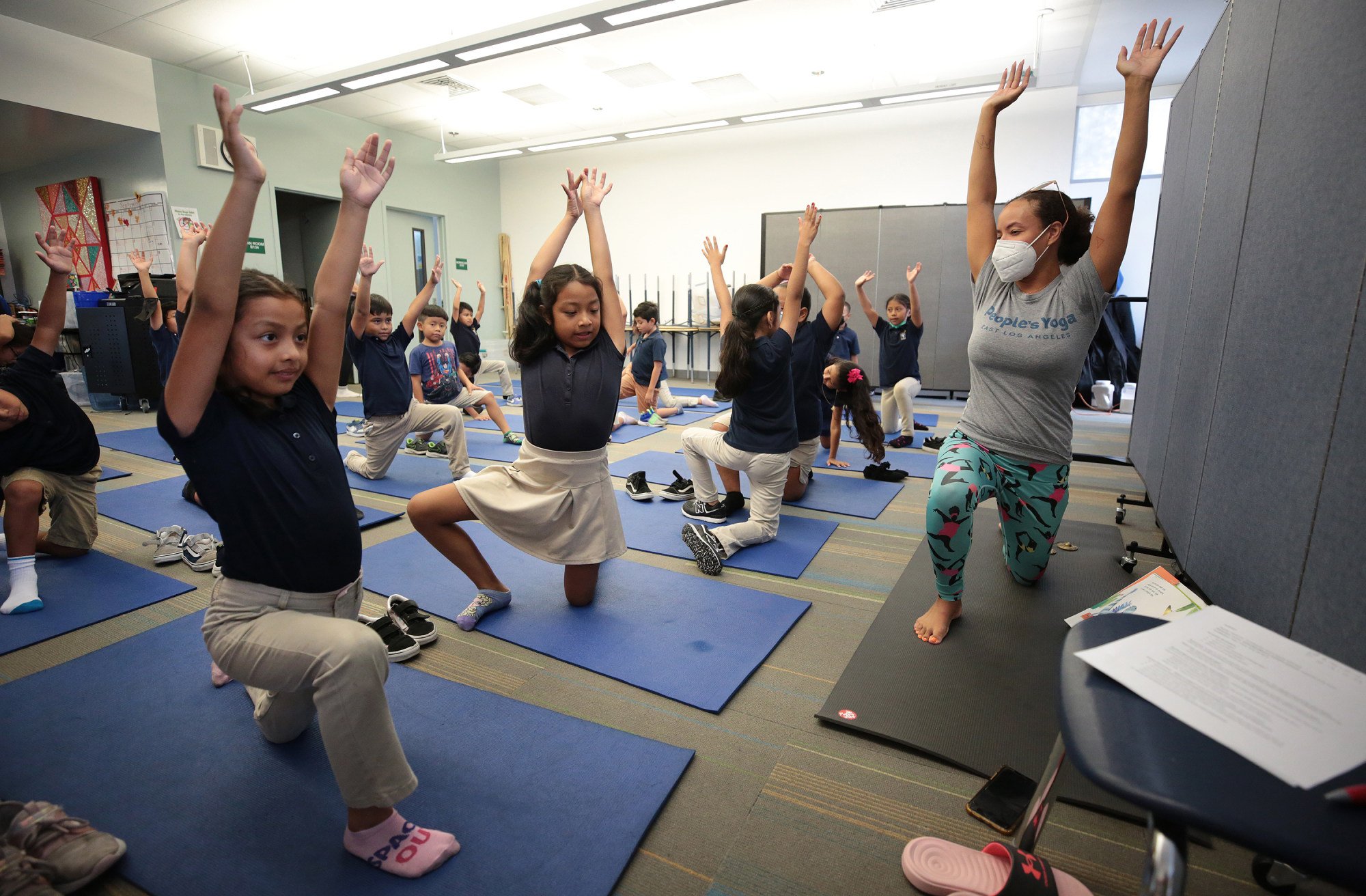 Back at Accelerated Charter, the room filled up with the students of Edgar Dominguez's fifth-grade class. "What's the definition of yoga?" Gallegos asked the class.
"To be flexible," a girl called out.
"With just our bodies?" Gallegos asked.
"No. Our arms, our hearts," said Matthew Rosario, 10, from a mat in the front of the room.
Gallegos has them rise and stretch their arms and legs as though climbing an invisible ladder. They practise
breathing exercises
: a deep breath in through the nose, an exhale through the mouth, as though fogging a mirror.
At the end of the class, Gallegos asked how they had felt when they came in that day and how they felt afterwards. A hand shot up from the front. At the start of the class, he had felt exhausted, Jabet Ibarria said. And now?
"Grateful," the 10-year-old said confidently.
When the pandemic hit, Ibarria explained after class, students had "nothing – just do class and do work". But things are better now. He is back in school. He can see his friends.
"We're not in Zoom or home school, and we have yoga," he said. "So I was grateful that we have something to calm us down."