Wellness
Get more with myNEWS
A personalised news feed of stories that matter to you
Learn more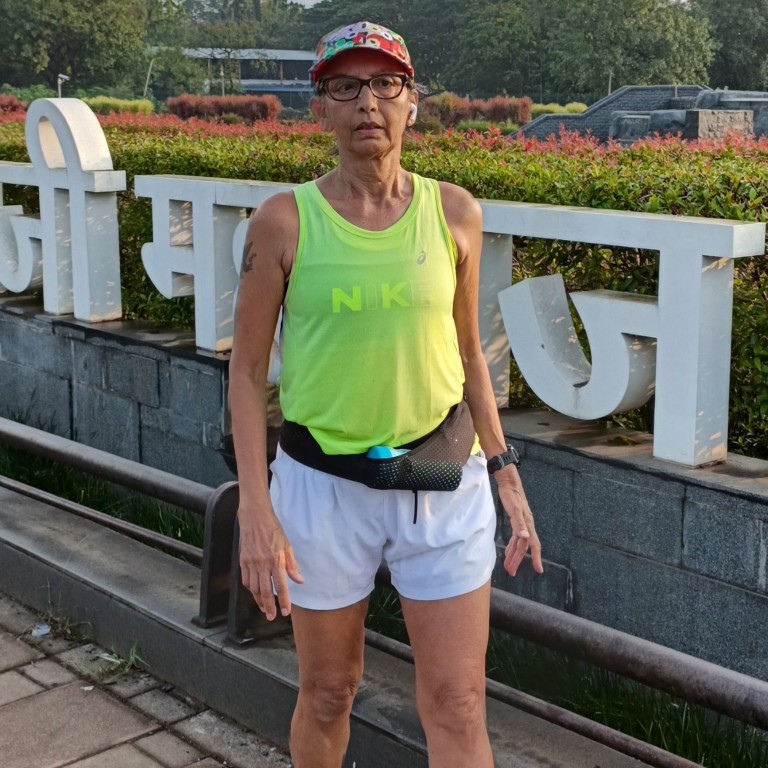 'Running completes me': since her first marathon aged 58, she's run 11 more, and 9 ultramarathons. How a sedentary mum in middle age transformed her life
Pushpa Bhatt was middle-aged and sedentary with some health issues when she took up her employer's offer of free entry to a 7km race. It was to change her life
Now 66, she has run 11 marathons, is the oldest woman to finish the Khardung La Challenge – the world's highest ultramarathon – and is training for a 100km race
Nearly two decades ago, Pushpa Bhatt, then 47, was becoming worried about her health. Her sedentary lifestyle and desk job as a senior human resources executive was taking its toll, her lower back was weak and she had developed arthritis in her knees.
Bhatt, who is from Mumbai in India, was determined to overhaul her health and she started running – not realising that it would transform her life. Now 66, she has become a poster child for fitness and inspirational clichés.
Bhatt ran her first marathon at 58, learned how to ride a bicycle at 60, took part in her first ultramarathon at 63 and trained to become a nutrition coach at 64. Over the past eight years, she has run 11 marathons and nine
ultramarathons
. In 2022, she became the oldest woman in the world to complete the Khardung La Challenge.
The route of the 72km (45-mile) ultramarathon in Ladakh, high in the Indian Himalayas, begins in Khardung village at 3,975 metres (13,000 feet) above sea level. Runners climb steadily to the top of the Khardung La pass, at 5,370 metres, making it the world's highest ultramarathon.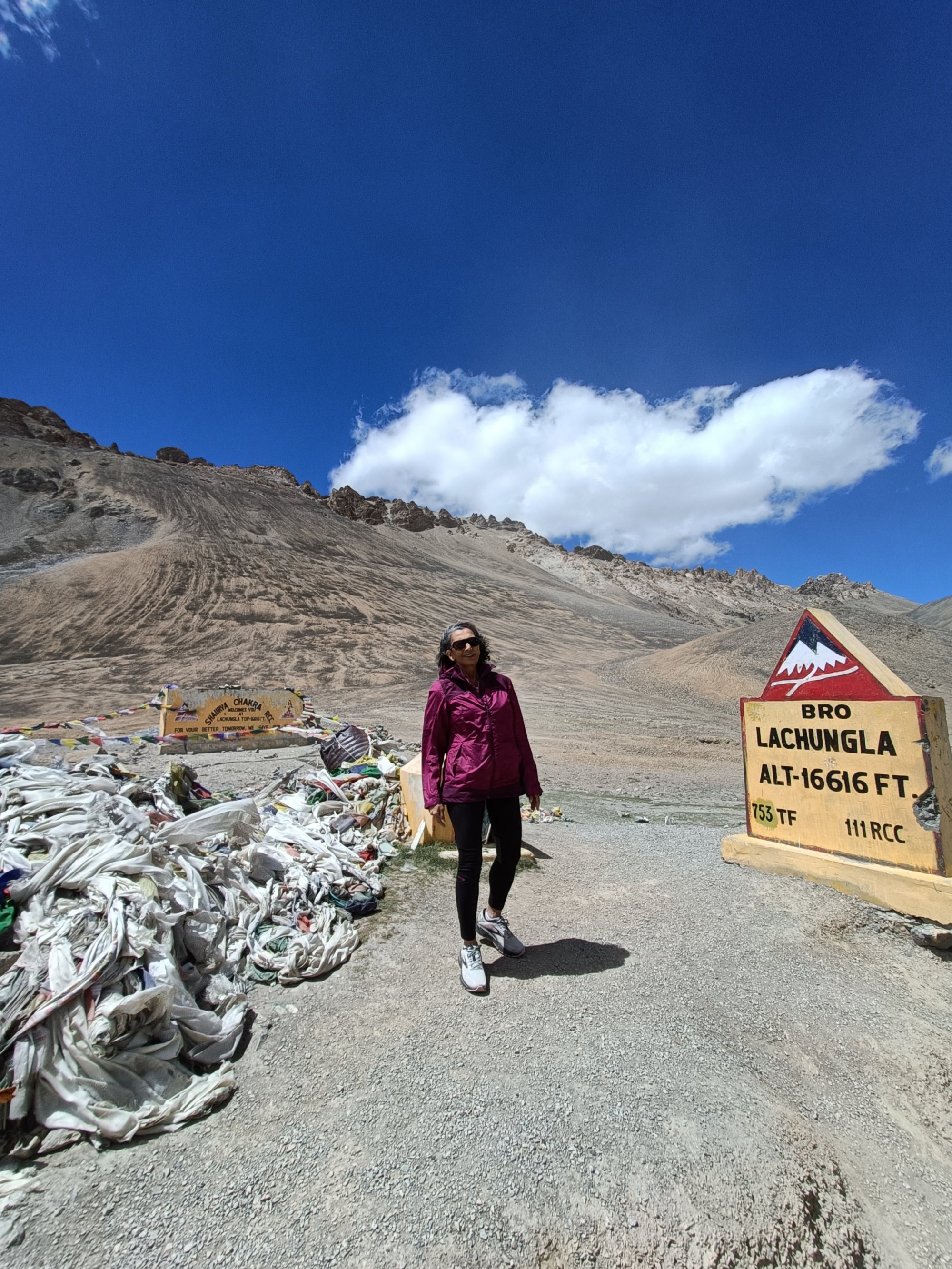 "As a single mother, I worried about who would take care of my daughter if something happened to me," Bhatt says on why she started running. "The company I worked for offered me a complimentary spot in the 7km Standard Chartered race, and I signed up. When I started training, I could not run for more than 15 minutes without stopping."
Her stamina, however, improved and she could soon run for up to an hour at a time. The following year, she signed up for the Standard Chartered Mumbai Half Marathon.
In 2013, Bhatt joined a Mumbai running group called Striders, which trains running enthusiasts for fitness and competition. The group offered Bhatt a sense of community and motivated her to keep running.
"About 80 of us would meet at a park three times a week. We would go through our warm-up routine and mobility drills together and go for long runs on Sundays," she says.
She ran her first marathon, the Standard Chartered Marathon in Mumbai, in 2014, finishing in five hours and 48 minutes.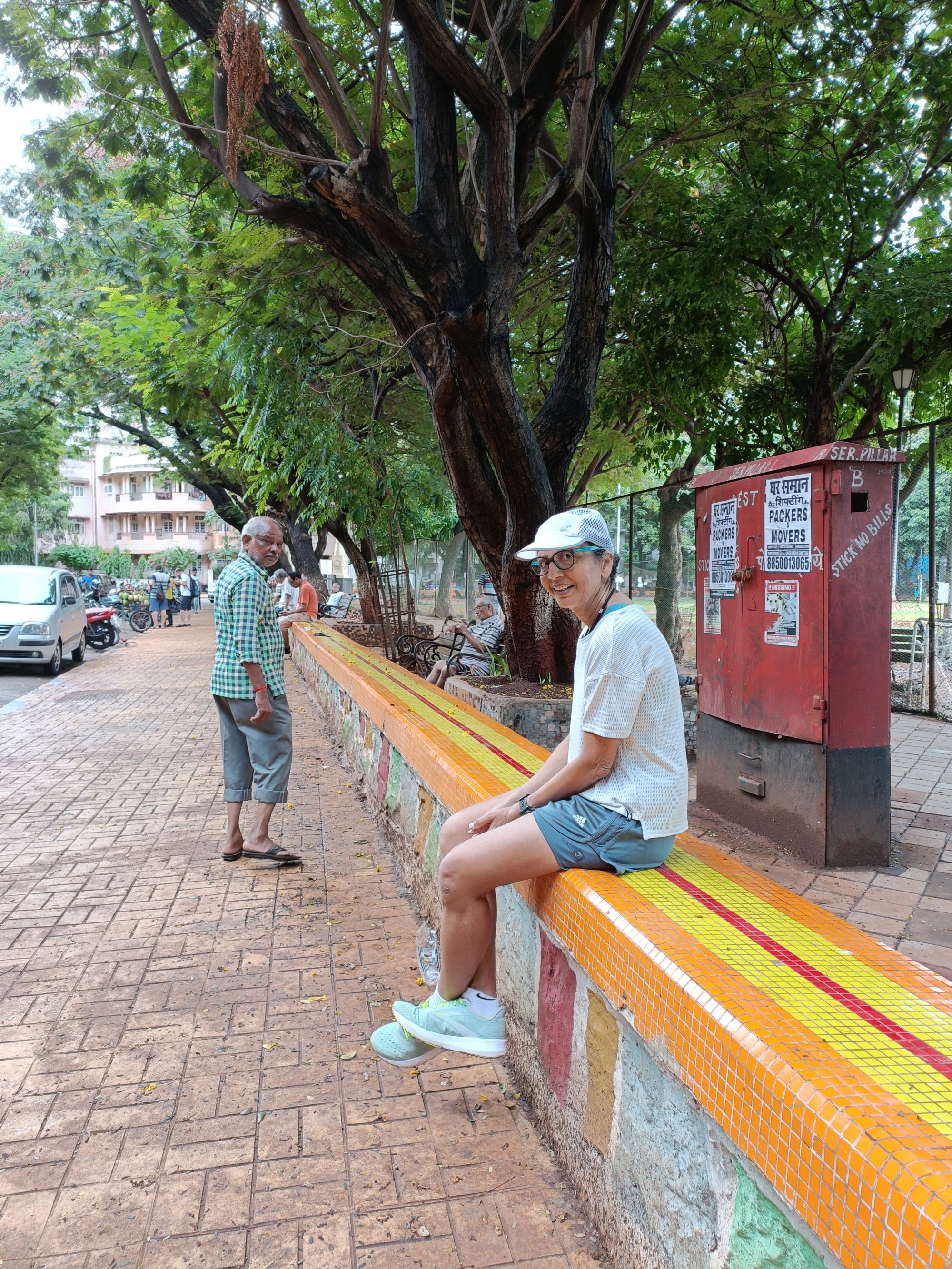 "It took a while for running to become a habit. In the earlier years, while I was working, I did not have much time and used to run mainly on weekends and once during the week," shares Bhatt. "The sense of accomplishment I got after each run kept bringing me to the next run. Starting slow and easy kept me at it."
In 2018, Bhatt started training with Daniel Vaz, the head coach of the Nike Run Club in Mumbai. Vaz worked with Bhatt on her form, her maximum oxygen consumption – the maximum rate at which the heart, lungs and muscles effectively use oxygen during exercise – and fitness levels.
"Daniel introduced stringent speed intervals in my training regimen, which was instrumental in making me run faster and longer," Bhatt, who ran the New York Marathon the same year and finished in four hours and 58 minutes, says.
The biggest test of Bhatt's endurance was running the Khardung La Challenge. This ultramarathon requires runners to arrive in Leh, the capital of Ladakh, at least 10 days in advance to get used to the altitude, as more than 80 per cent of the race takes place at over 4,250 metres above sea level.
Bhatt added hill repeats – running up a steep slope – to her training schedule and breathed through her nose while running to improve her oxygen intake. One of the main challenges of running the Khardung La race is the low levels of oxygen so far up.
She ran the race in 2019, finishing four minutes over the cut-off time of 14 hours, and in 2022, finishing four minutes under. "To be finally able to complete the race within the stipulated time was a dream come true," says Bhatt. A day later, she ran the Ladakh Half Marathon.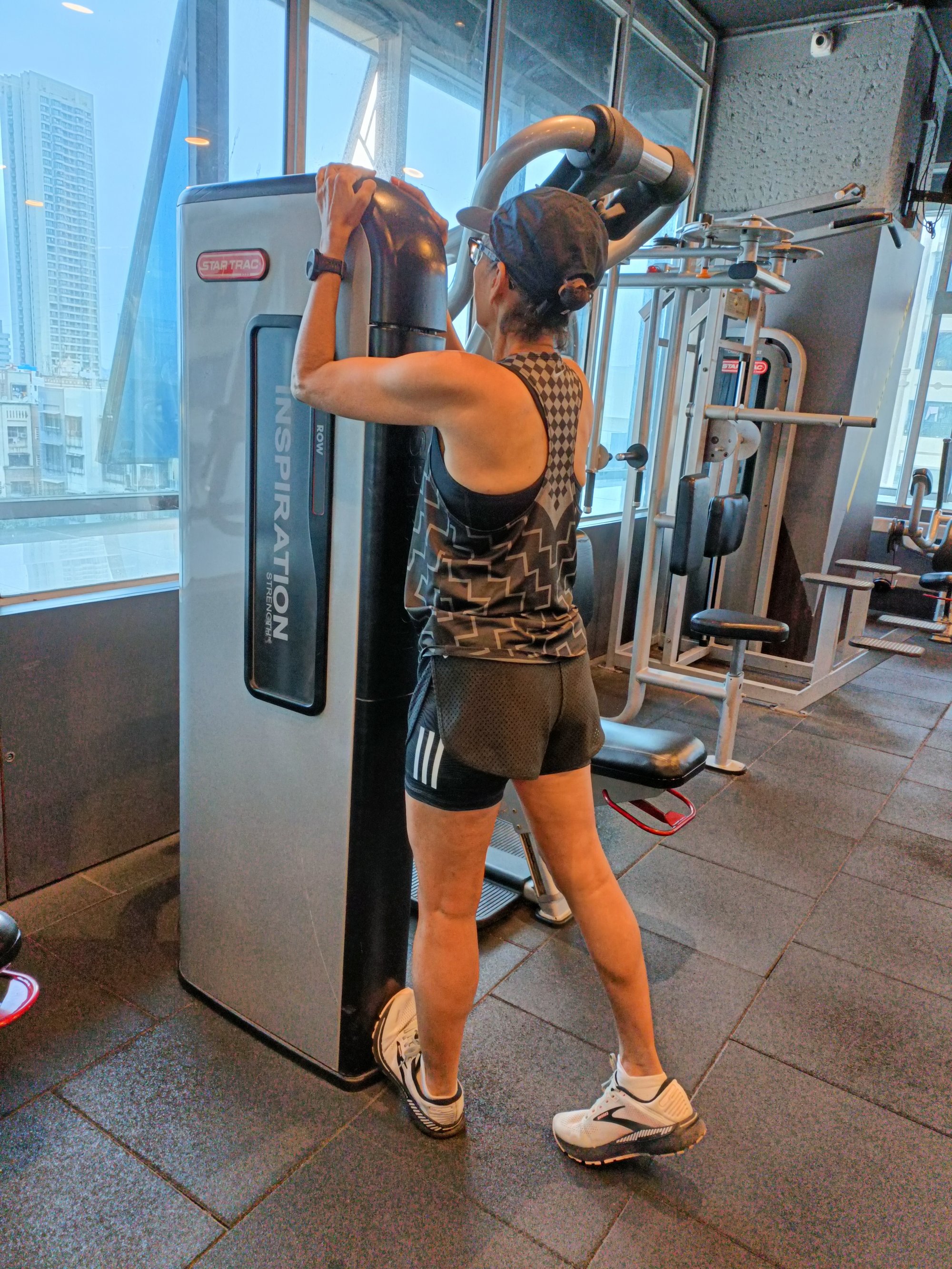 A focus on
strength training
, yoga, Pilates and nutrition helped her to become a stronger runner and stay injury-free.
She had a few issues with her
iliotibial band
tendon – a common source of knee injuries – when she began running, which she resolved with physiotherapy. Bhatt has since remained largely injury-free, something she attributes to a regular regimen of strength training.
"Training with weights has strengthened my muscles and helped correct my muscle imbalances," she says.
Her weekly mileage varies from 50km to 90km, depending on the race she is training for. She runs outdoors in a nature park, near her home, six days a week, early in the morning when there is less traffic and
less air pollution
.
A change in diet has also contributed to Bhatt's increased fitness levels. "I cut out sugar, gluten and milk from my diet two decades ago, after consulting a naturopath. After I began running marathons, I stopped eating junk and fried food."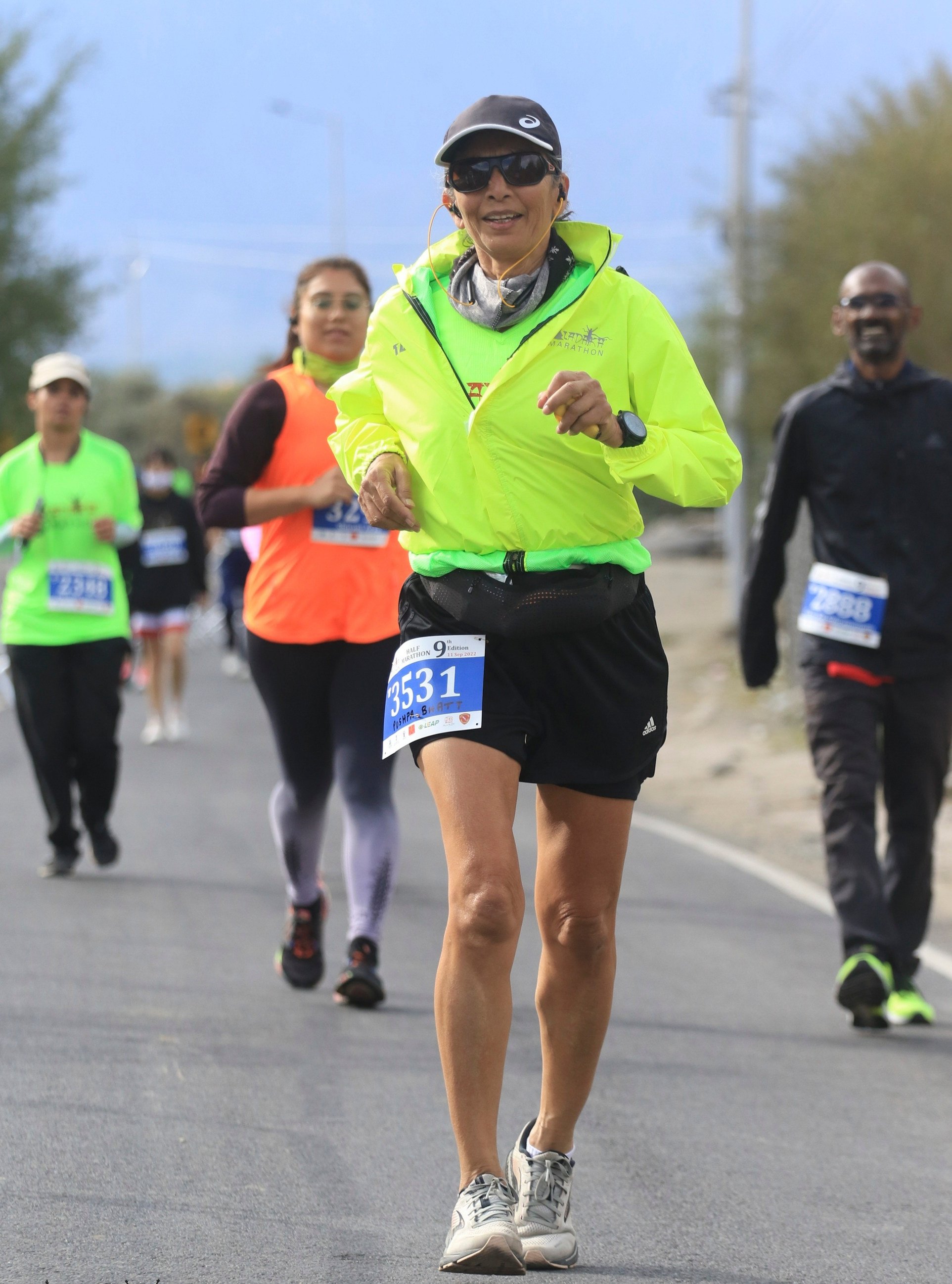 For breakfast, Bhatt has green vegetable juice, a piece of fruit, three egg whites and one whole egg; for lunch she eats five boiled egg whites, lightly cooked sprouts and green leafy vegetables; and for dinner she has a large bowl of home-made yogurt with mixed berries and a protein shake or a bowl of oats and
jaggery
.
In between meals, she snacks on nuts and berries. Bhatt eats chicken and fish a couple of times a month.
During
the pandemic
, Bhatt completed a course in nutrition from the American College of Sports Medicine. She now helps clients make healthy lifestyle changes, and provides guidance on good nutrition and weight loss.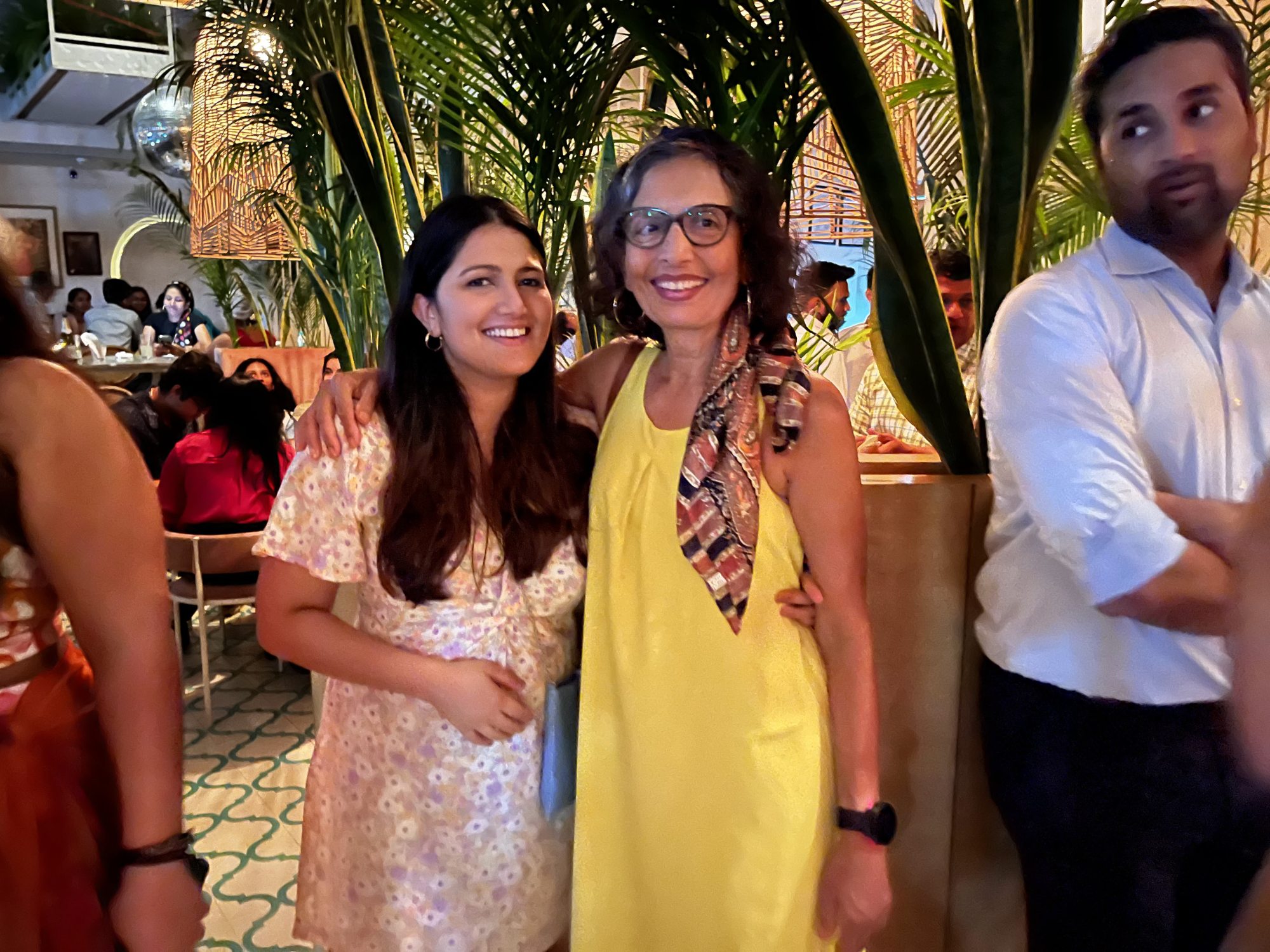 Her advice to people who want to take up running later in life is to go slow, focus on the correct running form and nutrition, and listen to their body.
Bhatt's biggest cheerleader is her 29- year-old daughter, Keya, who runs occasionally. "Keya is always waiting for me at the finish line. Our roles have reversed. She mothers me now," says Bhatt.
"Running completes me as a person, gives me freedom from my thoughts and routine and helps channel my energy in a positive way," she adds.
No race is too tough or too long for her. Bhatt is currently training for Border Ultra, a 100km race in Jaisalmer, Rajasthan, in December.