LIFE
Get more with myNEWS
A personalised news feed of stories that matter to you
Learn more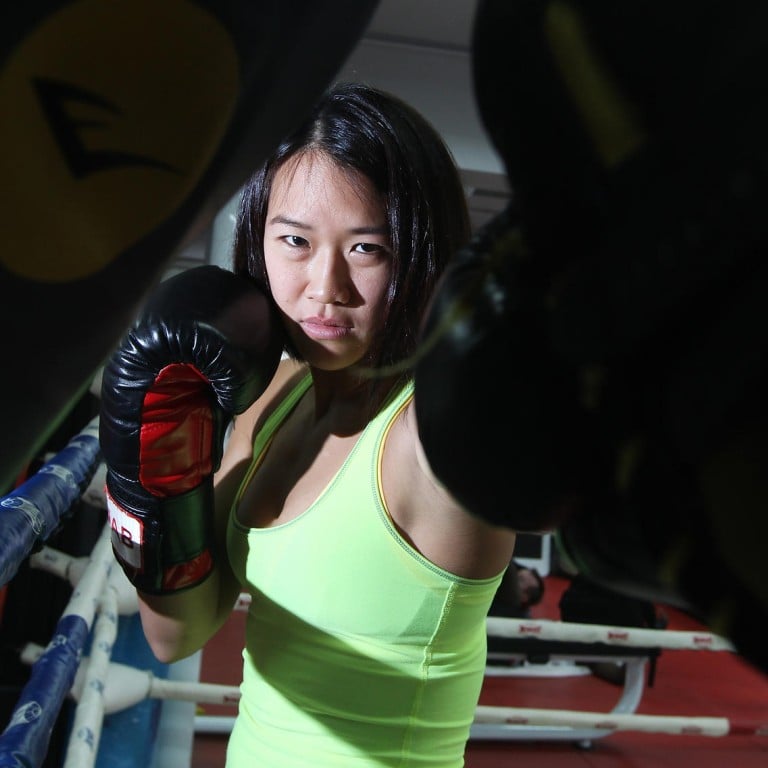 Tricia Yap always had a passion for fashion and jewellery. So friends and family were shocked when she took up white-collar boxing two years ago.
Tricia Yap always had a passion for fashion and jewellery. So friends and family were shocked when she took up white-collar boxing two years ago. But with three fights under her belt, an obsession with martial arts and a new career as a personal trainer, today it's Yap who's surprised.
"Things I never dreamed of being able to do I accomplished in just six months," she says. Her success began with a victorious debut match at the Hedge Fund Fight Night in October 2011 - the first woman to do so at the event.
In the six months leading up to the fight, she endured a gruelling regime of training twice a day, six days a week, at Jab boxing studios in Central, subsisting on a strict diet to lose eight kilograms. Realising what hard work and determination could achieve, 30-year-old Yap didn't stop.
With her new confidence, the IT project manager began studying to be a personal trainer. Complementing her boxing skills, she took up Brazilian jiu-jitsu (a form of martial arts) with the goal of one day fighting in a mixed martial arts match.
"Anything is possible and attainable if you throw out the excuses, put in the hard work and never lose faith," she says.
Throwing caution to the wind, she left her job at PricewaterhouseCoopers two months ago to pursue her passion for fitness. She is now an inspiration for other women as a personal trainer with female-only outdoor fitness company, Bikini Fit.
But she hasn't abandoned her feminine side. A talented jewellery maker, Yap has also launched her own bespoke jewellery line, Bejewelled. "Just because I put headgear on and box doesn't mean I can't dress up," she says. "I still love things that look pretty and sparkle."
For this dynamo, it's a hunger to learn and a drive for self-improvement that gets her up in the morning. "You learn one thing and then there's still more to learn, you never stop."
 
They're both hard, but realistically you can't have one without the other. If you're an amateur white-collar boxer you've got to have the professional career, otherwise you have to become a pro to box. But I find amateur boxing gives me a discipline to do whatever I want to do, while still working.
It wasn't so much a desire to get out of corporate life - it was a desire to do something different. Instead of reading up on technology, I was reading up on how I could get strong, good sports nutrition, anatomy and fitness. When you find yourself thinking long, hard and often, "Surely there is something else other than this", I think it's time to re-evaluate what you're doing.
I've finally found a sport I love, where you learn something new every day. You never sit down and think: "Ah that's it, I've learned everything." You can get the technique right and then there's that one angle or degree that you didn't change. There are so many elements: the moves, the defence, playing smart, knowing when to strike and when not to strike. I love the discipline. While I'm not trying to bring down other, more social sports, there's no such thing as social sparring. When you're in the ring, for two to three minutes there is nowhere to hide.
Sleep. I never seem to get enough, so I sleep when I can. I also let myself have a treat day once a month. Generally, a treat day has constituted a run in the morning and eating whatever I want during the day. It's heaven.
So much of my new found confidence was as a result of not just training hard, but also learning to believe in myself - and that came from support from my coaches. I was inspired to be like them - someone who has a passion for helping others and is an inspiration. It was not an easy or immediate decision, as it meant starting over, but now my only regret is that I did not follow my dreams earlier.
Yes, definitely. I believe I haven't really lived for over 30 years, until now.
This article appeared in the South China Morning Post print edition as: Boxing ring is my gem, says jeweller