LIFE
Get more with myNEWS
A personalised news feed of stories that matter to you
Learn more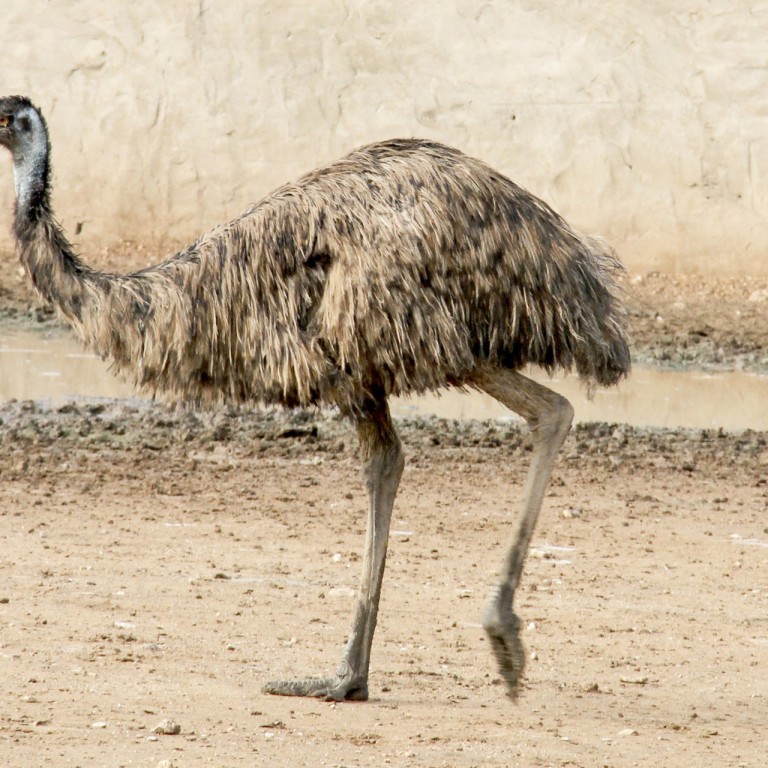 Emu oil: traditional healing treatment for Aborigines wins new converts
Long-used by Australian Aborigines for healing, emu oil is increasingly in demand to treat a range of ailments, writes Bhavna Sakhrani
Until about 15 years ago, emu oil was quietly used as a cure-all remedy by Aborigines in Outback Australia, who believed it sent powerful healing agents through the skin and into the body. They ascribed many medicinal properties to the oil, claiming positive results in the treatment of conditions like arthritis and tendonitis.
The emu, a 1.8-metre-tall flightless bird that resembles an ostrich, has become increasingly popular for its meat, which is rich in healthy fatty acids and low in fat. However, it is the layer of fat between the hide and the flesh that has increasingly been gaining attention.
Taken orally, the oil is said to improve cholesterol levels, aid weight loss and act as a cough syrup for colds, H1N1 (swine) flu, and flu. Applied topically, the oil is used as a natural anti-inflammatory that works to treat swollen or sprained muscles, joint pain, skin conditions like eczema and rosacea, and is also widely used in the treatment of healing burns and scars.
The oil, which is derived from the bird's processed fat, is an alternative treatment for chronic pain conditions, as well as various skin ailments. Apart from its liquid form, it also comes in soaps, creams, drops and capsules. Some products have recently become available at stores in Hong Kong.
"Emu oil has been shown to provide anti-inflammatory, anti-ageing and moisturising properties. It consists of an abundance of omega 3-6-9 oils and is generally well tolerated by most people because it is known to be hypoallergenic," says Dr Ardyce Yik, a Canadian-licensed naturopathic doctor at the Integrated Medicine Institute.
Research by the University of Adelaide released in April last year provided some evidence for emu oil's anti-inflammatory properties. In lab experiments, the oil was also found to help treat a variety of common bowel diseases, as well as the intestinal damage caused by cancer chemotherapy.
The oil accelerated the repair process by stimulating the growth of intestinal crypts, the part of the intestine that produces the villi which absorb food. Longer crypts and villi mean a healthier bowel.
For most part, however, emu oil still remains an obscure treatment due to the lack of scientific evidence on its efficacy. In the US, it is classified by the Food and Drug Administration as a dietary supplement and cosmetic ingredient that is safe for human consumption, but not as a drug.
The oil is said to consist of a large amount of essential fatty acids such as oleic acid, linoleic and palmitic acids. Approximately 70 per cent of the fatty acids in emu fat are unsaturated omega 3-6-9s. These fatty acids, long associated with a heart-healthy diet, are known to increase the body's anti-inflammatory process to help fight off cardiovascular diseases and infection.
"Emu oil contains various fatty acids that are classified as healthier fats [monounsaturated and polyunsaturated fats] that have been shown to reduce blood cholesterol levels, and it may help with heart health as part of an overall healthy diet," says Professor Thomas Wilson, a nutritional sciences expert with the University of Massachusetts Lowell, who has conducted studies on emu oil.
"Also, these same fatty acids have also been shown to have anti-inflammatory properties, thus emu oil might help in preventing inflammation internally and externally."
Omega 3 fatty acids have been linked to lowering bad cholesterol and triglyceride levels while increasing good cholesterol, and are also known to aid in lowering blood pressure. High levels of these fatty acids have proved effective in the reduction of pain associated with conditions like arthritis and are thought to play an important role in reducing inflammation in the body.
Omega 6 fatty acids, or linoleic acids, are also important for growth and development and, because they are not produced naturally in the body, we need to get them from food.
Omega 3-6-9 fatty acids contribute to maintain the health of cell membranes, improve the absorption of nutrients and can play a major role in cell proliferation. "It is important to realise that, although the research is not 100 per cent conclusive on these actions of emu oil as a supplement, there may be uses when consumed as part of the diet for treatment of some inflammatory diseases like arthritis, with the possibility of lowering blood cholesterol," says Wilson.
A 2001 study on the biological activity of emu oil by Wilson and his colleagues found that the lipids in emu oil mimic those of the human skin, showing that emu oil has an efficient trans-dermal delivery system and can deeply penetrate the skin's surface faster than many other oils and creams. This makes it an effective moisturiser and skin protector. In fact, the oil can penetrate skin so deeply that its active compounds can have an effect on the body.
Because of how well it is absorbed by the skin, its cosmetic uses are growing. Emu oil users report a host of skin-improving benefits, ranging from deep moisturisation and nourishment, to soothing burns, scars, acne, wounds, and fine lines and wrinkles.
It is favoured as an environmentally friendly, alternative remedy for skin conditions because of its anti-fungal and non-irritant properties. Emu oil is naturally non-comedogenic and therefore won't clog pores, and anti-bacterial, so it can help get rid of acne-causing bacteria.
"There doesn't appear [to be] too much to worry about as far as side effects or precautions from the trans-dermal/external use of emu oil as an active ingredient in skin creams or similar products," says Wilson.
Yik says the oil's restorative properties make it popular as a remedy for ageing and dry skin in Hong Kong.
"I've had patients and friends use pure emu oil on their faces for moisture and to treat wrinkles. I've also used it for scars and to treat skin conditions like eczema, psoriasis, as well as sun-damaged skin. There are studies that show it speeds wound healing and also provides pain relief," she says.
"One precaution [to take] is to make sure that the product is 100 per cent pure emu oil for the best results."
However, more scientific evidence is needed to confirm the effectiveness of emu oil and to determine an appropriate dosage range. Furthermore, not enough is known about the use of emu oil during pregnancy and breast-feeding, so pregnant or nursing women should stay on the safe side and avoid using it.
This article appeared in the South China Morning Post print edition as: Beak season