LIFE
Get more with myNEWS
A personalised news feed of stories that matter to you
Learn more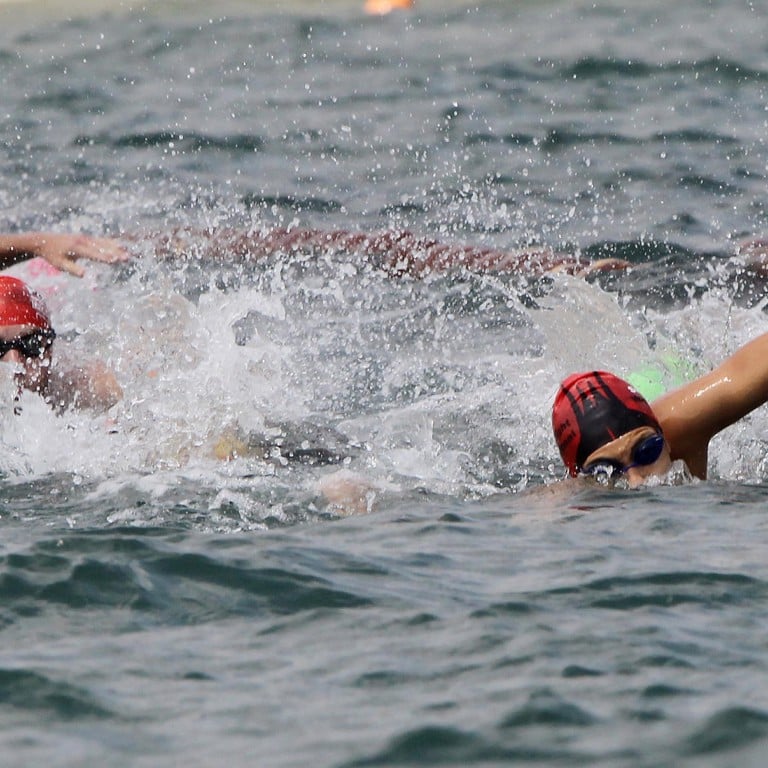 The dangers of open water swimming in triathlons and how to minimise the risks
Open water swimming is the most dangerous of the triathlon disciplines. Dr Michael Tse offers advice to reduce the risks
The arrival of summer generally marks the start of the triathlon, aquathon and open water swim racing events. Many of those new to these events have spent the winter in the comfort of a swimming pool, and have not had much open water practice.
Others undertake practically no swimming training before joining these events. Because of this lack of preparation, swimming in open water brings about a high level of anxiety in inexperienced athletes.
A 2010 study in about sudden deaths during triathlons, found that there were 14 deaths in 2,971 USA Triathlon-sanctioned events held between 2006 and 2008. The events had nearly one million competitors. Thirteen deaths occurred while swimming, and one occurred while cycling.
So swimming seems to be the riskiest of the triathlon disciplines, although if one takes into account the number of people participating in triathlon events worldwide, deaths are relatively rare. Nonetheless, any avoidable risk should be addressed. Triathlon associations worldwide have recently been taking measures to minimise these risks.
Last year, the World Triathlon Corporation, which owns the Ironman-branded races, began incorporating a wave start (starting in smaller groups) instead of the usual mass start.
Ironman also began creating swim warm-up areas for athletes to acclimatise to temperature, test equipment such as goggles, and raise their heart rates so that they are more race-ready when the gun goes off.
In the open water, the psychological comfort of knowing you can reach out for a wall or lane rope vanishes.
Unlike the dark lines at the bottom of the pool that help guide your direction, you need to rely on your ability to pop your head up briefly and actually see where you are going.
But the biggest cause of anxiety for slower and less experienced swimmers is open-water swimming race starts.
Imagine the first two minutes of a race where, despite your desire to find a rhythm, you get splashed in the face instead by flailing arms, which might also unintentionally - one hopes - hit you as you try to take a breath. These first few chaotic minutes are known to triathletes as "the washing machine".
The only way to reduce such anxiety is to practise, practise, practise. One of the safest ways to start is to train in the controlled environment of a pool under the guidance of an experienced coach. Here one can learn, or fine-tune, basic swimming techniques, as well as open water skills.
These include sighting for navigation, swimming in close pack formation, turning around buoys, deep water starts, and even drafting (swimming in the slipstream of other athletes) to save energy.
According to swim coach Fenella Ng of Tritons Triathlon Club, there are some important differences between swimming in a pool and the open water.
Ng further emphasises that "rhythm is key to getting relaxed and moving well in open water".
A good dose of common sense also helps. When training in open water, try to swim close to shore where you are more visible. It can be safer to swim in shorter loops as opposed to swimming long distances out to sea. This way you can more easily implement your emergency exit plan if needed.
"It is important to wear a brightly coloured swim cap and be wary of boat traffic."
You cannot assume that drivers can see you, Ng says. She also recommends using safety gear, such as visibility or emergency flotation devices, in open water.
• Open water practice is paramount, and should be included in your swim training routine.
• Always swim in a group, and pair up for safety when training in the open water.
• Practise the open water drills mentioned above in the pool, and repeat in the open water.
• Mass starts can be daunting. Practise race starts and pack swimming with friends so you get use to the chaos of flailing arms and legs in close proximity.
 
• Manage anxiety: practise open water skills and mimic race-like conditions in training.
• Train safely in open water: group swim in a visible, guarded environment with a safety device. Look out for one another.
• Pre-race warm up: increase your heart rate with a short jog, swim, and arm swings.
• Pre-race familiarisation: listen closely to race briefings, familiarise yourself with race course layout and landmarks, and acclimate to the water temperature.
• Race start positioning: in mass start races, weaker swimmers should not start right at the front of the group to avoid getting swum over. Start off to the side or possibly even a few moments after others have gone off. Know your ability.
• During the swim: pace yourself so you don't get too out of breath. If you find it difficult to get into a rhythm, slow down for a few strokes and focus on your breathing. It's fine to breaststroke, but be wary of those behind you. No one wants to be kicked in the face.
• Prepare for the unexpected: goggles may come off or fill with water. A plan for unexpected circumstances will minimise stress if and when they occur.
• If you are in real trouble: in all Hong Kong Triathlon Association events, and most other local open water swim events, kayakers and rescue personnel should be close by and ready to come to your aid if you raise a hand or call out.
This article appeared in the South China Morning Post print edition as: Splash course