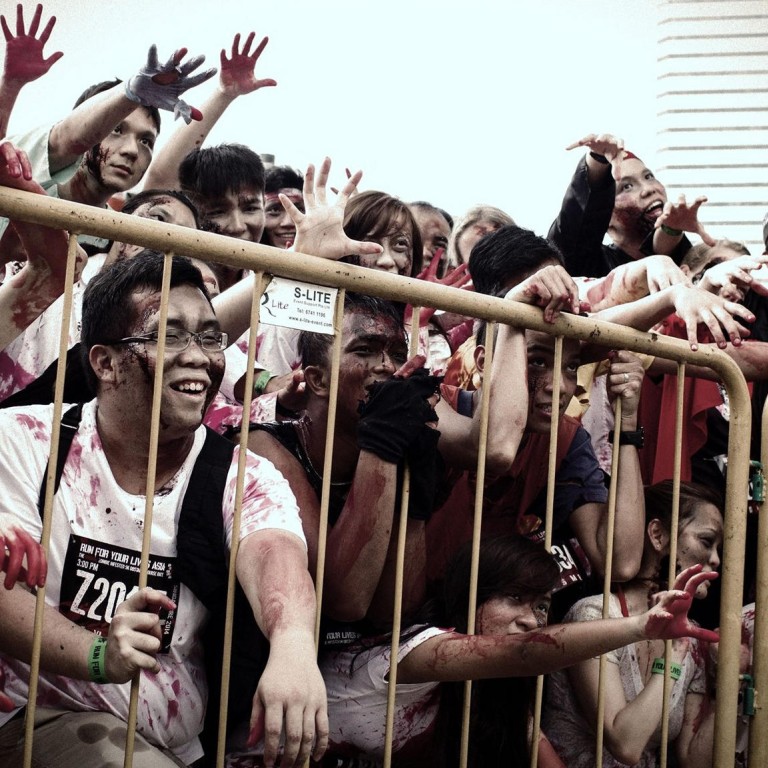 Zombies out in force in Hong Kong obstacle race
If you see rotting flesh and blood-splattered zombies, your instinct might be to run rather than think about health and fitness.
That may be about to change when an expected 12,000 Hongkongers take part in the zombie-themed obstacle course, "Run For Your Lives", at West Kowloon Waterfront Promenade, from 9am to 9pm, on October 2.
The race, organised by Action-X - a Singapore company that embraces the notion that exercise should be fun - is the latest Asian after similar events held in Singapore and Taiwan.
Arthur Lin, the company's founder and a self-confessed fitness nut, says people rarely get the chance to enjoy fitness-related social events in big cities such as Hong Kong and Singapore.
He says the only time he and his friends went out in Singapore was for drinking or concerts.
"We wanted to create something where people could be active and have fun," Lin says. "This is like an interactive computer game brought to life."
Staged over an 11-hour course, participants are assigned to groups of 10,000 "survivors" - and 2,000 zombies. Both survivors and zombies are divided into different groups and race in half-hour intervals to prevent overcrowding.
The race's 5km track covers 12 zombie zones (where zombies ambush survivors), six obstacle courses, and two water stops.
The goal of a zombie is to grab as many flags tied to a survivor's belt as possible, while the goal of a survivor is to retain at least one of the belts by the end of the race.
Husband and wife Arya and Kelly Hashemi, both 30, are taking part in Hong Kong. They signed up because they wanted to get fit while having fun.
"We're both zombie fans; well, she watches behind the cushion," Arya says, pointing at his wife. "But we both watch [US television series] ," he says.
The couple, who recently adopted a child, say they have found it hard to squeeze in time to exercise. Both are using the zombie race as practice for Hong Kong's Unicef 10km run on November 23.
They agree that the zombie race will not be easy. "We've just got back into running, so obstacle courses like crawling on the floor, climbing over things will be challenging," Kelly says. "And the zombies will probably make me panic."
Action-X plans more races in Asia, with Melbourne and Sydney next.
Lin's simple tip to people thinking of taking part in the Hong Kong event is to go on some power runs. "Get ready to do a lot of sprinting away from the zombies in between the obstacle courses," Lin says.
The Hashemis believe the event will help motivate people to exercise. "It's inspired us to do more," Kelly says. Arya says most of his friends are competing because they love the zombie genre and because they want to improve their health.
"My friend Tim is also in the race," says Arya. "And he could really do with losing some weight."
This article appeared in the South China Morning Post print edition as: Beware the walking dead