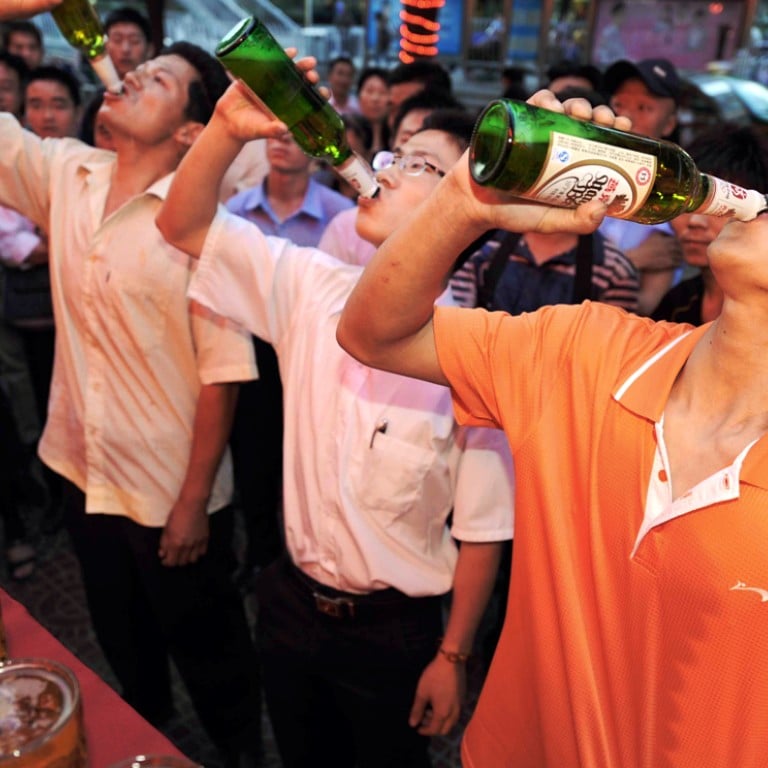 Chinese drinkers consume more alcohol than the Brits and Australians, says study
Writing in The Lancet medical journal, researchers note that social and health issues related to dramatic increase in alcohol consumption have been largely neglected by the Chinese government
Chinese drinkers consume about three standard drinks on average a day – more than the Brits, Americans, Germans or Australians, recent statistics show.
Given this dramatic increase in alcohol consumption and alcohol-related social and health problems in the mainland, attention and changes are urgently needed to the alcohol use policy in China, urge researchers in a leading medical journal published this week.
Writing in the April issue of The Lancet Global Health, the researchers say the social and health issues related to alcohol use and misuse, such as liver and cardiovascular diseases, mental disorders, cancers, violence, and transport and unintentional injuries, have been largely neglected by the Chinese government.
Led by Jiang Heng, from the Centre for Alcohol Policy Research at Turning Point Alcohol and Drug Centre in Melbourne, the authors cite statistics from the World Health Organisation's Global Status Report on Alcohol and Health 2014. While more than half of the Chinese population aged 15 years and older are teetotal – 42 per cent of men and 71 per cent of women in 2010 – those who do drink averaged 15.1 litres of pure alcohol in 2010.  
That works out to about 40 millilitres of alcohol a day, or just over three standard drinks, such as a bottle of beer, glass of wine or a shot of straight spirits.
And that's more alcohol than those in Britain, the USA, Sweden, Germany, Australia, New Zealand, and many other countries, the researchers say.
Overall, per capita alcohol consumption in the mainland has seen a striking increase from 2.5 litres in 1978 to 6.7 litres in 2010 (if you include the entire population, both abstainers and drinkers).
"A first step forward would be to establish a public health-oriented commission or agency charged specifically with developing controls over the alcohol market and a strategy for reducing levels of alcohol consumption and problems, drawing on the strategies agreed on in the WHO Global Strategy for Reducing Harmful Use of Alcohol," writes Jiang, whose co-authors are Turning Point colleague Robin Room and Hao Wei, a psychiatry professor at Central South University in Changsha, Hunan province.
"Additionally, a national monitoring and surveillance system is urgently needed to inform alcohol policy at a time when Chinese alcohol consumption has rapidly grown, with a resulting toll of death and disease."
Alcohol use contributes to more than 310,000 deaths and 13.8 million disability-adjusted life-years (DALYs) among mainland men each year, say the researchers, citing The Lancet's Global Burden of Disease study 2010.
The researchers highlight the great disparity in alcohol consumption and rates of dependence between the sexes: 9.3 per cent of men had alcohol use disorder, compared to 0.2 per cent of women, according to the WHO report. The male-to-female ratio of 47:1 for alcohol use disorder is "substantially higher" than in most other countries in the world, the researchers say.
"Taxation or price policy could be considered as an effective means to reduce rates of alcohol-related health and social harms," the researchers suggest.
The authors give historic evidence to back their recommendation. In 1994, in connection with changes required for China's entry into the World Trade Organisation, the Chinese government reduced spirits tax from a range of 40-50 per cent to 15-25 per cent of the value. The drafting of this policy in 1992 was followed by an increase in alcohol consumption.
In 2000, it was announced that a volumetric tariff of half a yuan per 500 grams would be added in the following year onto the existing alcohol tax to help raise government revenues. This led to a dramatic decrease in alcohol production and consumption.
In 2006, when the tax on spirits was lowered again to a unified rate of 20 per cent of the value, alcohol consumption saw a steep rise again.
Other possible measures the researchers suggest include re-establishing government monopolisation of alcohol; establishing systems of licensing and regulation to limit and channel the availability of alcohol; and enforcing a more effective minimum legal drinking age law.
Policies aside, the researchers say a cultural change is also needed.
"Drinking alcohol has been widely accepted as an important aspect of the culture in China for thousands of years; it has been seen as a symbol of happiness and celebration of special events or festivals, and one of the most effective ways of building links within families, relatives, friends, and business relationships," they note.
"Today, drinking with clients and colleagues is seen as vital to career advancement. Some job advertisements highlight "good drinking capacity" as a potential requirement for their candidates… An anti-corruption campaign led by the central Government since last year has diminished the sales of cognac and other luxury products, but it does not seem to have affected overall drinking; China's largest wine importer insists that 'the Chinese are still drinking...just not splurging.'"