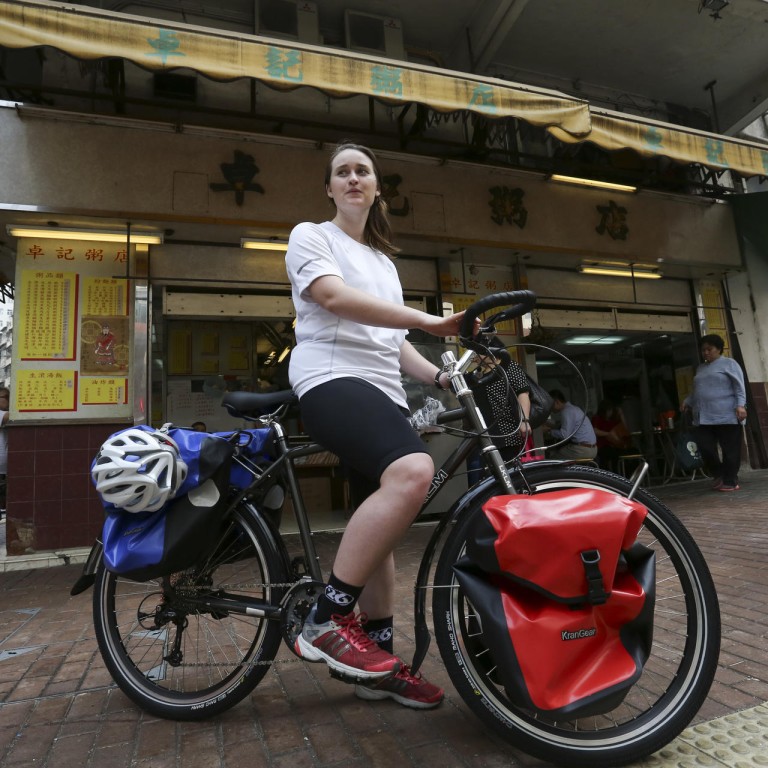 Women cycling from London to Hong Kong for food charities
Friends Julia Mason and Bethany Martin will put their mettle to the pedal when they ride across more than 20 countries to throw a spotlight on food wastage
Hongkonger Julia Mason and her best friend Bethany Martin will set off on a 16,000-kilometre journey from London to Hong Kong this Saturday to raise awareness about global food waste - and have an adventure.
The aim is to raise £25,000 (HK$287,000) for three charities that are concerned with changing attitudes towards wasting food. Two in Hong Kong - Food Angel and Feeding Hong Kong - and Feed Back in Britain.
The pair met at Sheffield University and, while cramming for their finals in biological science last year, hatched a plan to cycle through Europe to Croatia. And then they thought: why not keep going?
"I'd always wanted to do the Trans-Siberian Express and we were trying to figure out how to put the bikes on the train and we thought, 'We've got bikes, why not cycle all the way?'" says Mason, 21, who has lived in Hong Kong since she was two.
The "Forks on Wheels" journey will see them cycle from Martin's home in London to Mason's home in Hong Kong - a journey that will take in 22 countries, passing through Slovakia, Serbia, Turkey, Azerbaijan, Uzbekistan, Kyrgyzstan and China.
Food waste is an issue close to Mason's heart. As a student at West Island School, she did a final year project on food wastage in local supermarkets and was stunned to discover how much food was thrown out at the end of each day. And both have read and been deeply moved by Tristram Stuart's 2009 book .
"We've come across a huge food network, a food waste community, and have some of the groups organising events as we come through and we plan to film these," says Mason.
Events are confirmed in Brussels, Vienna, Budapest and Munich - these are mostly "disco soups" where donated food is collected and served to those in need. Footage from these events will be combined with footage from the journey for a documentary. Martin has just packed in a job at a marketing agency and it was there she met their producer for the project.
"We'll take as much footage as we can and interview people about food waste along the way and send it back to him and it will go on our blog with a few edits and when we get back look into making a documentary," says Martin.
Mason began cycling a few years ago when she went to university in Britain and then it was only to and from campus. Her longest stretch has been a five-day ride from the northern tip of Taiwan to the south. But she isn't letting that put her off this eight-month mega-journey.
"We'll be cycling about eight hours a day, starting at about 8am and finishing about 5pm. In Turkey and Kazakhstan it will be the height of summer, 40 degrees and at the end we'll be in China at the start of winter," says Mason.
Martin was brought up in a family of cyclists and her uncle will cycle the Tour de France route a few days before the professional cyclists hit the road for the official competition.
"I live in the sticks in Nottinghamshire, there are no buses and as a kid I was always cycling to get anywhere," says Martin, 22.
To get in shape, they've been following , a core strength programme for cyclists.
" works on your whole core - not just your abs but your legs and shoulders so that you are much more stable on the bike," says Martin.
They will rely on the Warm Showers Community - a free worldwide hospitality exchange for touring cyclists
warmshowers.org
- through most of Europe and have already made connections with fellow cyclists who will let them spend the night for free. For the more remote areas, such as Uzbekistan, which are not covered by the Warm Showers or Couch Surfing communities, there is a tent.
They will bring a stove with them so they can cook outdoors when camping and are hoping that locals will occasionally invite them into their homes to share a meal. Besides that it will be porridge for breakfast, fruit and energy gels for quick pick-ups at the start of the trip.
"Julia is obsessed with bananas. If she has a compartment on her bike for non-squashed bananas I wouldn't be surprised," says Martin, jokingly.
Martin has decided to stop being vegetarian for the duration of the trip, partly because meat will provide an easy source of much-needed protein and because she wants to experience the cultures - and cuisines - of the places they visit. She also plans to take vitamins after following the blog of 29-year-old British athlete and adventurer Sarah Outen.
"Sarah is travelling around the world just by manpower - rowing, by bike - she has been a huge inspiration and source of guidance," says Martin.
For two young women travelling alone there is an obvious issue of safety. To reassure their parents, they have invested in a GPS tracking device that will not only show friends and family back home their exact location, but also has an SOS button for emergencies.
"The GPS tracking will also mean we can geo-tag when we've done interviews with people and our friends back home who are helping build our blog will be able to present our journey on a map," says Mason.
Sponsors have been generous and the Shenzhen bike company LKLM has given them each a touring bike.
Both fresh graduates, neither has firm plans for what they will do career-wise when they finish, but they've got eight months to think about it.
"I've been told I've got one month to find a job and then I'm out. I'll think about what I want to do on the way," says Mason.
As they set off on their big adventure Martin says she is both excited and nervous. "We're going to trust in the kindness of people around the world."
This article appeared in the South China Morning Post print edition as: The great food cycle