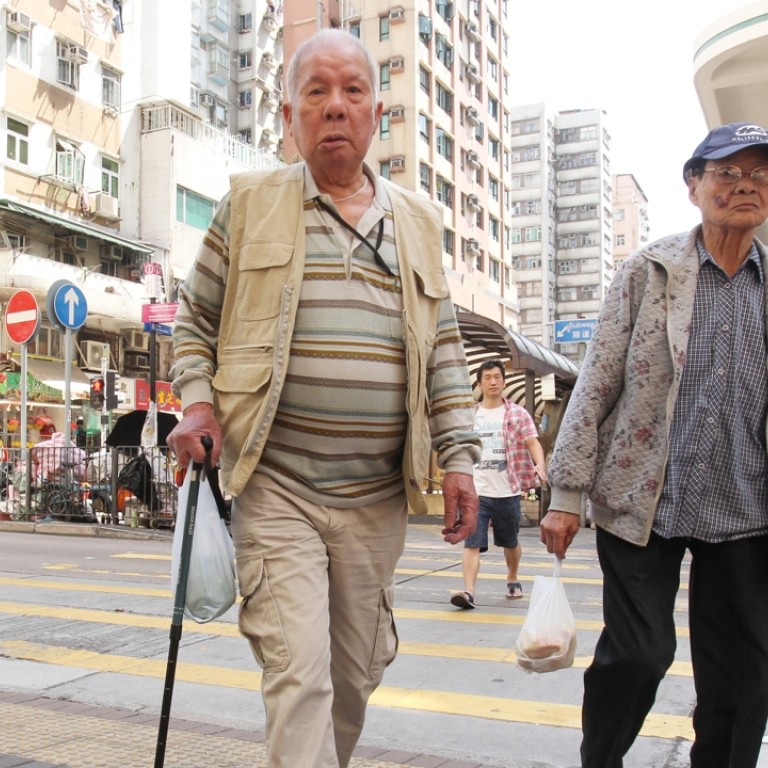 How to redesign Hong Kong for its growing elderly population
With the city's median age on the rise, a Hong Kong Jockey Club-backed institute has launched a project to make the city more liveable for the growing ranks of old people
At the Toyoshikidai housing estate in Kashiwa, a city 30km from Tokyo, the old apartment complex built in the 1960s – ageing both in physical structure and residents – is being replaced with barrier-free 10- to 14-storey apartment houses designed to make life easy for single people living alone. 
In the heart of the neighbourhood will be a "Community Eatery", a dining hall that serves nutritionally balanced meals to the elderly as well as younger residents.
Among the priorities of the community is to provide workplaces for the elderly. Many successful corporations in the agriculture, food preparation, day care, and livelihood support sectors have set up new businesses to hire old people. The agricultural sector, for example, offers jobs ranging from full-scale farming of previously fallow land, to relatively light work in a "vegetable factory" using indoor shelf-style hydroponic cultivation, to a roof garden accessible to the wheelchair-bound.
Redesigning Kashiwa to be more elderly-friendly is a project led by the University of Tokyo's Institute of Gerontology that began in 2009 in response to the shifting needs created by population ageing. It's something Hong Kong needs too, says Professor Jean Woo, director of the Chinese University's Jockey Club Institute of Ageing.
In response, the institute has recently launched the "Help Build Hong Kong into an Age-friendly City Project". It aims to reach out and gather opinions of citizens from all 18 districts in the territory through questionnaires and focus groups, to understand the desirable age-friendly features in day-to day living. It's hoped that this would lead to the creation of long-lasting programmes and initiatives that will benefit all as the city's population rapidly ages.
In mid-2001, the median age of Hong Kong's population was 37.2 years; in mid-2014 it was 43.7. In mid-2041, it's projected to rise to 51.8, with the proportion of elderly (65 and above) jumping from about 15 per cent at present to 32 per cent.
"Is our city designed in a way that meets the needs of older persons?" says Woo, chairman of Chinese University's Department of Medicine and Therapeutics. "Healthy ageing is much more than just the prevention of diseases. It's about the physical and social environment."
The most important change needed, Woo says, is that of mindset.
"One main thing about being age-friendly is the society's concept of older people. In Hong Kong, people think of older people predominantly as useless, dependent, sick, bedridden, needing 100 per cent care, and a burden on society," she says. "We're saying, no, there are lots of old people who are really functional. If Hong Kong is age-friendly, people can maintain greater functional capacity as they age."
The idea of an age-friendly city was launched by the World Health Organisation in 2005, and a formal programme started in 2006 with 33 cities from 22 countries participating in a focus group research project. Based on the opinions gathered from older persons, the desirable age-friendly features were summarised into eight domains covering outdoor spaces and buildings; transportation; housing; social participation; respect and social inclusion; civic participation and employment; communication and information; and community support and health services.
In recent years, a few districts in Hong Kong – such as Kwai Tsing, Tsuen Wan and Sai Kung – have started to embrace the age-friendly concept. However, Woo says what is lacking is a comprehensive collection of opinions from people both young and old, covering all educational and socioeconomic perspectives.
"What's lacking in Hong Kong is a more bottom-up approach to reflect the views from the users' point of view," she says. "Right now, it's 'I think you ought to have this' and so the government designs something that people feel isn't helping them, and what they feel really helps from an age-friendly perspective they're not getting because nobody listens to them."
The Age-Friendly City Project aims to change that. It's being led by the HK Jockey Club Charities Trust and in collaboration with Hong Kong University's Sau Po Centre on Ageing, Polytechnic University's Institute of Active Ageing, and Lingnan University's Asia Pacific Institute of Ageing Studies, as well as other stakeholders including government departments.
Since October, the project has been gathering opinions from eight districts for a start, with each university responsible for two: Tai Po and Sha Tin (Chinese U), Kowloon City and Kwun Tong (Poly U), Tsuen Wan and outlying islands (Lingnan), and Central and Western and Wan Chai (HKU).
"In the first phase we go down to the districts and survey people of all levels – from district officers to NGOs to the older residents – and see what they think about their district. We're doing a kind of checklist based on the WHO's eight domains," says Woo.
The aim is to survey 500 citizens per district. About 50 more citizens per district will also be selected to join focus groups – these will involve different socioeconomic levels and age groups (split into 18 to under 60, 60-69, 70-79 and 80-plus).
The target is to finish the data collection by end of December for analysis, Woo says. Then, armed with the results, meetings will be held within each district to discuss what projects to initiate to make things better.
In a previous survey done in Sha Tin by Woo and colleagues, residents were stopped in public places and asked for their opinion. Woo says a few areas ranked not so highly: participation in society, communication and information, and employment.
"We need to make strategic decisions and prepare for a fast ageing population and, more importantly, to build age-friendly communities such that our senior citizens can enjoy their golden years in a positive, meaningful and dignified manner," said Matthew Cheung Kin-chung, the government's Secretary for Labour and Welfare, at the Jockey Club's "Creating Age-Friendly Communities" conference in October.
Cheung pointed out that the estimated recurrent expenditure on elderly care services in 2015-16 amounts to about HK$6.8 billion, representing 11.5 per cent of the total recurrent social welfare expenditure. Taking into consideration government spending on social security and health care, recurrent expenditure for the elderly as a whole adds up to a substantial HK$62 billion or a significant 19.1 per cent of the total government recurrent expenditure.
An age-friendly community would not only benefit older persons, but also society as a whole, Woo says. This point was emphasised in the WHO's World Report on Ageing and Health 2015 released on the International Day of Older Persons on Oct 1.
The report stated the many contributions that older people make are often overlooked, while the demands that population ageing will place on society are frequently over-emphasised or exaggerated. Older populations in general are very diverse and make multiple contributions to families, communities and society more broadly, the report said. It cited research that suggests these contributions far outweigh any investments that might be needed to provide the health services, long- term care and social security that older populations require. And it said policy needs to shift from an emphasis on controlling costs, to a greater focus on enabling older people to do the things that matter to them.
"It's not just about money," Woo says. "Older people can continue to work flexibly part-time – you improve their health, increase their purchasing power and consumption, you're using social capital, and you promote social cohesion, a kind of connectedness between all ages by their continued participation in society."