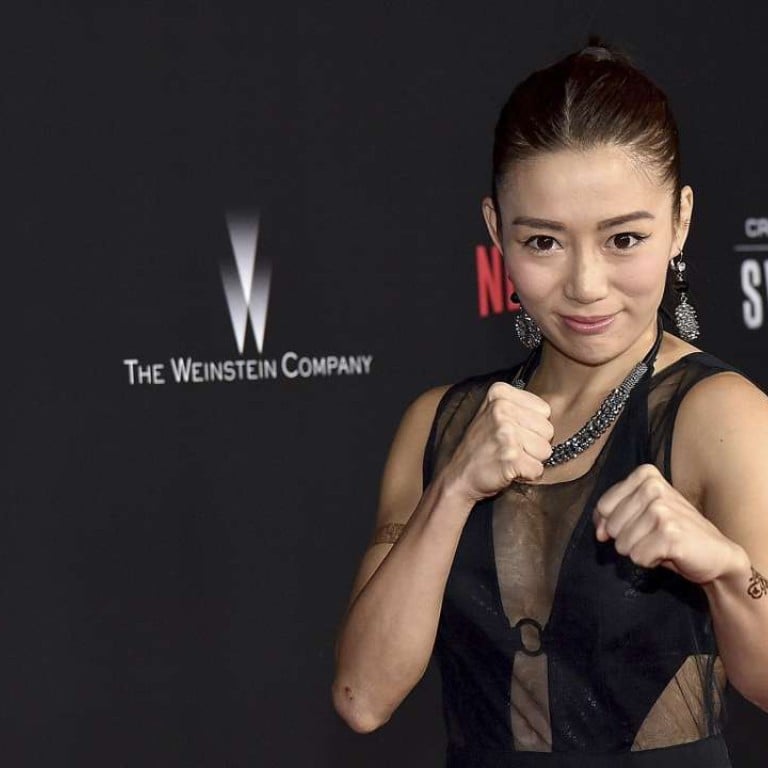 Crouching Tiger's JuJu Chan on why more Hong Kong women do muay Thai
The actress, model and former Thai boxing champion teaches the combat sport at Fight Factory Gym three times a week
JuJu Chan Yuk-wan is an action movie actress who doesn't need a stunt double. Nicknamed "the female Bruce Lee", she is also a muay Thai fighter and instructor, and is passionate about both careers.
Chan, who plays the character Silver Dart Shi in Crouching Tiger, Hidden Dragon: Sword of Destiny, holds the 2014 belt for the 46kg WMC The One Legend Thai Boxing Championship (Hong Kong). She had more than enough martial arts experience to hold her own on the film set against long termers such as Donnie Yen Ji-dan and Michelle Yeoh. She has also represented Hong Kong in taekwondo championships, and previously practised judo, karate, kung fu – wing chun and Hung kuen – and nunchucks.
She also has a softer side, as a former beauty pageant winner, singer-songwriter and author.
These days, when she's not on the film set, Chan is one of the star coaches at Fight Factory Gym (FFG) in Central, where she teaches muay Thai and functional training classes for women three times a week. About 40 per cent of muay Thai students at FFG are women, she says.
"Muay Thai is definitely getting more and more popular now, not only because it's a very good cardio workout, it also helps women gain self-defence skills. Moreover, it helps build a strong, confident and healthy image for a woman," she says.
"When I am away for film projects, my students will need to take a short break from my classes. But I will give them some self-practice material to keep up their workout and skills. I also have a group chat with my students for them to ask any fitness and martial arts questions."
Chan didn't get a chance to show off Thai boxing nor taekwondo in Crouching Tiger, but enjoyed the spins and wirework created for her character in the wuxia film. It was easy for her to adapt because of her martial arts skills, body coordination, flexibility and strength, she says.
"It was great to work with a lot of real martial artists in this film. Donnie Yen, Michelle Yeoh, Jason Scott Lee, Roger Yuan ... are all real martial artists. With the skills we all have, it allowed the action choreographer to create amazing moves and allow the director to shoot us performing without using stunt doubles and breaking up the fights into segments. The result makes the fighting more real and amazing."
She says it was also an honour to work with director and action choreographer Yuen Woo-ping. "I love how master Yuen designed my character, who, as you probably guessed by the name, throws darts. I also have this cape that throws darts out when I spin. It can kill 20 people at once."
Chan is now keeping her eye out for her next off-screen rumble in the muay Thai ring. "I am always training and in shape to compete within two months' notice. I am waiting for my sports manager and FFG to arrange my next fights."