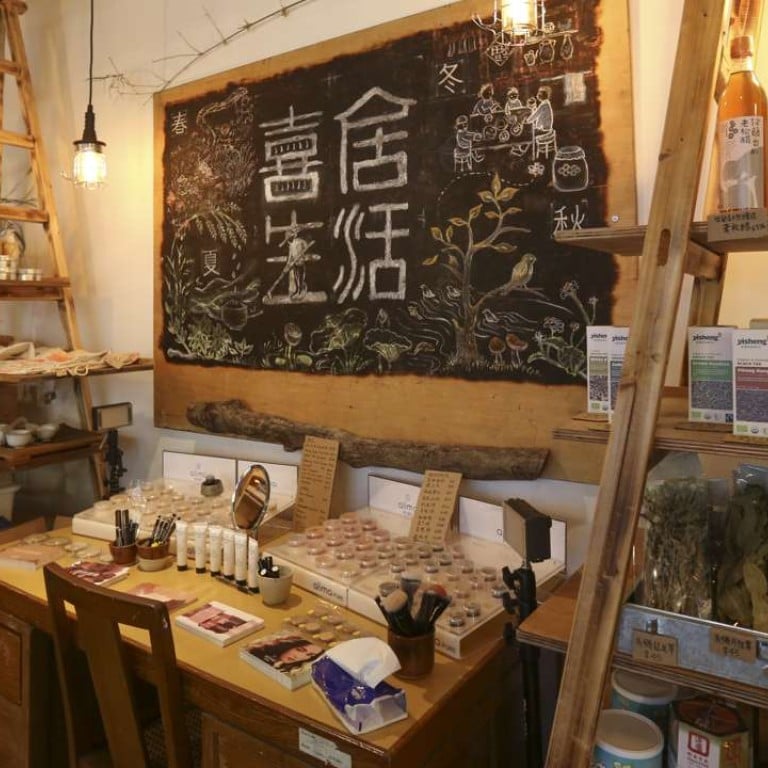 10 ways Hongkongers can live greener– and save money
From reusable cups to biodegradable party ware and second-hand clothes, consumers have a growing number of choices to help reduce the environmental damage caused by our throwaway society
Overconsumption and its adverse effect on the planet is a problem easily overlooked in materialistic cities such as Hong Kong. But growing environmental awareness has produced initiatives and inventions that make it easier to live more sustainably.
Here are 10 ideas that can help consumers lead greener lives in the Year of the Rooster.
Go cupless
Who says you have to pay more to go green? Save paper and money by joining the local movement called
Go Cup
– a reference to letting go of the addiction to disposable cups and the plastic perils that come with them. Co-founders Edmond Leung, Wilson Tang and Miriam Choi have designed a reusable travel tumbler that comes with a reusable sleeve and stirring stick.
The best part? You can get the kit for free. Simply take one of your own cups along to any coffee shop or restaurant, snap a picture of it and upload the image to Instagram with the hashtag #GoCupHK, and you can get a free Go Cup. Another useful tool is a map on the company's website that lists hundreds of local eateries that allow customers to bring their own cups – including 351 that offer discounts to those who do so.
Use a fabric hanky
Instead of using paper napkins, facial tissues or serviettes, make a green fashion statement with an old-fashioned handkerchief. Local start-up
the Chief Project
collects fabric that's been discarded by textile manufacturers, and transforms it into beautiful hankies. At HK$60 a piece, they are available in many different colours, polka dots, stripes, leopard print and other fun patterns.
BYOB for toxin-free shampoo
Consumers are right to be wary of the products they use on their skin and hair, but we often fail to consider what goes down the drain. In fact, most commercial shampoos and conditioners contain chemicals that are harmful to the environment, such as sodium laureth sulfate.
The Preface
, a local haircare and skincare brand, sells products that are toxin-free. One product line, which includes a body wash (HK$160), body lotion (HK$360) and a soothing balm (HK$248), is made using calendulas – also known as pot marigolds – grown on an organic farm in Tuen Mun. They are also suitable for people with skin conditions such as eczema, because the herb is anti-inflammatory and has healing properties.
To reduce plastic waste, the company also sells 2.3-litre family sized containers of shampoo and body wash. Alternatively, for selected products, customers can take along any empty bottles and refill them at several stores, such as
Organic We in Mong Kok
and
U Buy I Supply in Tuen Mun
. "Due to their high alkalinity, the products will not go bad easily, even if they are transferred from bottle to bottle," says The Preface founder, Kaya Kwok Yi-ki.
Wear second-hand clothes
The clothing industry is one of the world's largest sources of pollution. Stay chic without falling into the fast fashion trap by shopping at
Green Ladies
. Colour coded and neatly organised on racks, the second-hand clothes at the stores in Wan Chai and Yau Ma Tei are anything but old, ratty and retrograde.
One feature Green Ladies has in common with regular thrift stores is the plentiful supply of great bargains, and it does not take much digging to find them. During our visit, we found sophisticated blouses in pristine condition, most priced at less than HK$200.
You can also get cash back on unwanted clothes, handbags or shoes by consigning them at Green Ladies. Consignors can earn a rebate of up to 30 per cent of the selling price, though the apparel has to be in good condition. Detailed guidelines can be found on the company's
website
.
Use home-made cleaning supplies
The Zera Food Recycler, an impressive invention designed to convert organic food waste into fertiliser within 24 hours, will be launched in the US market in April. It may be a while before Hongkongers can get their hands on one, but in the meantime, do not toss your food waste into the bin just yet.
Instead, it's possible to turn your scraps into useful cleaning supplies with ingredients easily found at home. By fermenting vegetable or fruit dregs, you can make enzymes, which can then be diluted to use as detergent, fertiliser or pesticide. Put 1kg of black sugar, 3kg of fruit peel or vegetable trimmings and 10kg of water into a plastic container. Mix well and seal it tight to keep fruit flies out. Store it in a cool place out of the sunlight, and open the lid once a week to give it a stir. It will be ready to use within three months.
Buy efficient shower heads
Nebia
raised more than US$3 million in 2015 on the crowdfunding platform Kickstarter and shipped its first batch of shower heads to enthusiastic backers last month. The San Francisco-based company uses a special technology to atomise water, using 70 per cent less water than regular shower heads.
Although US$399 seems like a hefty price tag for a shower head, it is worth it in the long term because it will dramatically cut down your monthly water bill. Nebia is now available for pre-order and is scheduled to be shipped to buyers within months.
Use biodegradable party ware
Throw a guilt-free party by replacing disposable paper and plastic plates with biodegradable party ware. German start-up
Leaf Republic
started out as a wildly successful Kickstarter campaign and began mass production last year. Its products – bowls and plates – consist of a leaf-made paper pressed in between two layers of leaves. They are sturdy and waterproof, but biodegradable within 28 days. Leaf Republic's party ware is available on Amazon.com at slightly less than
€
1 (HK$8.32) per plate. Currently, however, it does not ship to Hong Kong.
A similar alternative, made from banana leaves in Nepal, is available at a more affordable price of HK$68 for 100 plates at lifestyle concept store
Pimary
in Tai Po.
Eat on the go
Take a large leap towards a plastic-free life by saying no to plastic food packaging and disposable tableware.
Eco-wraps for food storage are gradually becoming more popular, and for a very good reason. They take up little space in your bag and often come in handy, whether you need to pack up leftovers, grab some bread from the bakery or order takeaways at fast food restaurants.
There are two dominant brands on the market. Shaped like a pocket, the compact Snack'n'Go is more convenient to use; while Boc'n'Roll, which is basically a large piece of clothing with a Velcro fastener, is easier to clean, can hold more food and has a higher thermal resistance (up to 80 degrees Celsius).
Carry reusable cutlery and chopsticks
Reusable utensils are also easy to carry around. Utensil sets made from eco-friendly materials including bamboo can easily be found online. But to further lower the carbon footprint, purchase directly from
Lively Life
. The company, which sells green, fair-trade products, recently opened a new branch in Wan Chai, in addition to its original store at the Jockey Club Creative Arts Centre in Shek Kip Mei. The bamboo utensil set (HK$78) is made in Taiwan and comprises a pair of chopsticks and a spoon.
While it's not included in the set, you can also buy reusable bamboo straw (HK$12) and a straw cleaning brush (HK$15).
Avoid sanitary napkins etc.
Go old school by using washable cloth pads, or go fuss-free by investing in a silicone menstrual cup. Either way, by switching to sustainable menstruation solutions, you are relieving the Earth of tons of sanitary waste – packaging, wrappers and plastic tampon applicators, in addition to the pads and tampons themselves – which take an age to degrade, even though they are used for only a couple of hours.
By purchasing reusable cloth pads from
Eco Femme
(HK$117 to HK$149), a social enterprise based in India, you are also supporting its Pad for Pad scheme. This scheme involves educating girls in Tamil Nadu, India's largest state, on how to manage their periods. The subject remains a cultural taboo in the southern state.
For a more convenient and leakproof option, try silicone menstrual cups. They function similarly to tampons, except they collect rather than absorb menstrual fluid and have a 10-year shelf life. Finnish company
Lunette
's products are currently the highest-rated menstrual cups (HK$340) on the market and are available, along with various types of washable cloth pads, at Lively Life.