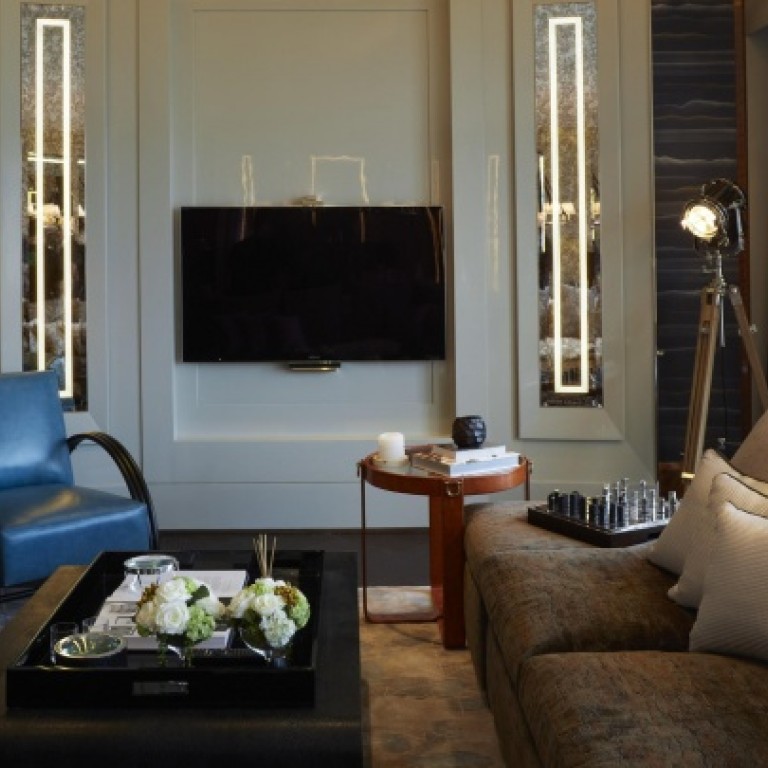 Designing talent sashays off runway into homes
Fashion houses are finding lucrative outlets for their furnishings and accessories among homemakers who are already living their brand
Experience has taught one of the world's most successful businessmen, Donald Trump, that "you're generally better off sticking with what you know". But some people just can't help pushing the envelope, among them the current seam of fashion designers crossing over into homeware.
There are no guarantees, even for a name consistently on catwalk trend, that those who wear the frock will also want to sit on its sofa. But enough have done it well, since Ralph Lauren pioneered the concept in the early 1980s.
Christian Lacroix is the latest. He of the iconic international haute couture launched his first eponymous fabrics and accessories in spring 2011 - the same year Diane Von Furstenberg launched a home collection of tableware, bedding, and rugs, and Hermès La Maison debuted at the Milan Furniture Fair. Displaying his trademark flamboyance, the Lacroix collection of extravagant prints, luxurious velvets and satins were soon followed by wallpapers, rugs and now, equally eye-catchingly, a furniture collection for Sicis, the Italian mosaic tile company.
Ed Ng, co-founder of interior design firm AB Concept, sees this transition as a growing trend. "It's a great business opportunity - when one has created a certain language or aesthetic [in fashion], why not add an extra skin for the home? It is a very natural development," he said.
John McLennan, managing director of Indigo Living, agrees that some fashion designers view interiors as a natural extension of their brand. "In some cases it works well and in others it can be a disaster," he said. "For a fashion designer to make it in the interiors market they have to start with a very strong brand such as Ralph Lauren or Armani [both with their own successful furniture and retail brands]. Without this it is a struggle in a crowded market."
McLennan added: "If the fashion brand has a large following and crosses a wide range of garments from casual to formal and everything in between so that people are already 'living' that brand, then the extension into the home is much easier. Ralph Lauren was a genius at this with his first ad campaigns set up as lifestyle shots - furniture and accessories were added to his [fashion] photo shoots right from the start."
Ng cites Hermès as another important player doing a good job with interiors. With this brand, says Ng, the key is quality. "Hermès is able to transfer the quality that people aspire to and expect with the brand into their home." The name also stands for prestige. Ng chose Hermès furniture for a Mid-Levels show flat where "money was not an issue", but the hunt for quality was. He's also used Ralph Lauren in projects where the mood called for sophistication.
A name by itself won't cut it, Ng says. "I keep telling my team that we are open to using fashion brands, but only if the design, scale, and colour is right, and it has the tag of quality."
Most designers who have successfully transitioned continue to straddle both genres. Apart from those above, names such as Fendi, Missoni, Donna Karan, Vera Wang and Kate Spade have all managed, in varying degrees of size and scope, to morph their home and fashion collections into one luxury lifestyle business. They're primarily still fashion designers, with a penchant for beautiful homes. It's nice to think that, apart from spying a commercial opportunity, the leading lights of the catwalks want to invite us into their inner sanctum, launching homeware collections as a way of sharing their vision of a comfortable and sophisticated living space - as Giorgio Armani reportedly did.
The back story with Lacroix is that the designer had left the fashion house that still bears his name, declaring at the time (December 2009) that "I'm very good at moving on." It seems so: at this year's Maison & Objet in Paris, Europe's largest design exhibition, his butterfly wallpaper for the Designer's Guild was hailed as being spot-on the animal print trend of 2013.
Apparently the notion of designing furniture had been on his mind since childhood. Indeed, Lacroix now says his foray into fashion "was almost an accident" - he'd wanted to be a stage designer. The meeting of minds with Sicis - their "imagination, open-mindedness and 'sky is the limit' attitude" - and Lacroix's inherent confidence that "everything [in design] can be mixed up", proved irresistible.
He explained: "I like to be thrown out of my life when I go see a movie. An interior gives me the same feeling of being a spectator."
Furniture and interiors now account for 50 per cent of the designer's time; the rest is spent creating costumes for opera.
"What drew me to the world of interiors is the attraction I have always had to interiors books and magazines. They display something I much prefer than boring fashion magazines and decorating expresses something deeper," Lacroix said.
Still, like Donna Karan, who views her branded homeware as "part of my life", Lacroix sees synergies. "For example, the furniture I have designed for Sicis and my couture lines have in common an expression of trends, more singular, individual and daring, mixing not only patterns and colours but also period and modern styles, past and present, East and West."
Nonetheless, the designer concedes that this furniture demonstrates his "practical and grounded" side. "Comfort was a key consideration," he said.
"I tried to find contemporary shapes, designing them to be comfortable and pure in line, including curves, details and contours, and drawing inspiration from a catalogue of timeless styles," Lacroix said.
Ng concedes that getting it right can be a challenge. "The brand has to have a strong DNA. Armani has it. Ralph Lauren has it. Even Versace has it. You may like it or not, but there has to be a strong personality before a fashion brand can cross over into homeware."
This article appeared in the South China Morning Post print edition as: Designing talent sashays off runway into homes