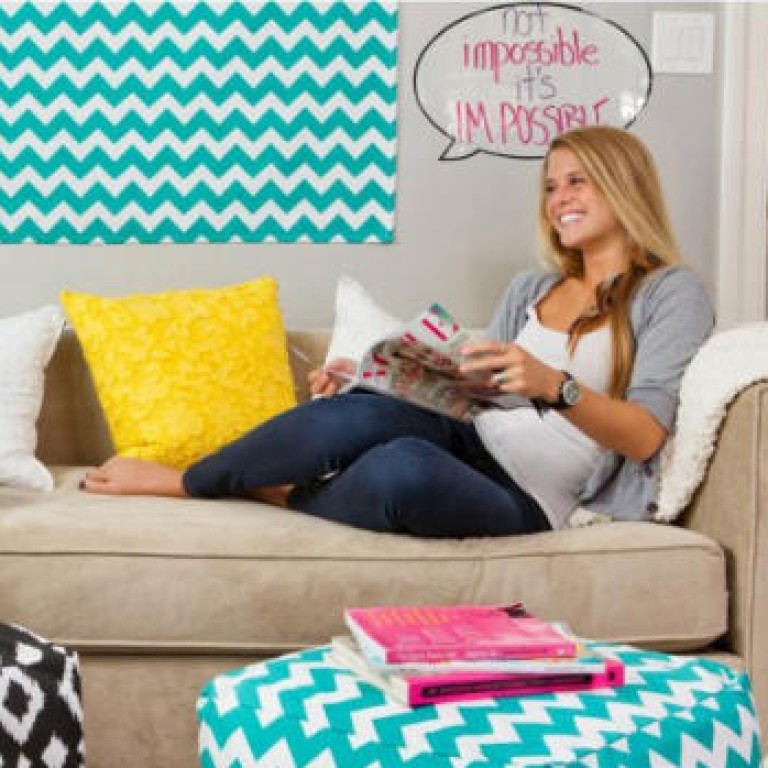 New

|
How to design and furnish the perfect college dorm room
Students need multifunctional spaces fit for studying and socialising, with lots of storage, adequate lighting and fun furnishings
Settling into a new environment thousands of miles away from family, first-year university students have dormitory spaces to equip and make their own.
But with the plethora of youth-focused and design-led offerings available, dorm rooms no longer have to look like they were plucked from the pages of an Ikea catalogue.
"Anyone who has gone away to college knows that it can be a daunting prospect moving away and into a bare dorm room that doesn't usually come with a lot of character," said Kate Babington, the managing director of eco-minded Hong Kong furniture store Tree.
Kitting out the space properly means thinking of it as a home away from home, but also keeping in mind that it has to serve multiple functions, and needs to fit in with the way students study and socialise: they are more likely to sit on a beanbag studying on an iPad than they are to be hunched over a desk staring at a book.
There need to be communal areas for them to study (or play video games) together, tonnes of storage, pieces that can serve numerous functions and quirky and fun accessories. Furniture that offers additional electrical outlets are always a plus: for the average gadget-laden student today, there never seem to be enough of those.
"Storage, storage and more storage," said Babington of what the primary considerations should be. "You're likely to have an awful lot of stuff to fit in your dorm room so organising it and making the most of your space is key."
She recommends drawers on castors that can be moved from beneath the desk to next to the bed. Bookshelves should be liberally placed on walls, and labelled boxes can hold kitchen and food items, toiletries and stationery.
A rash of fun new products help make the transition to university life easier. US company WriteyBoard
writeyboards.com
makes decals that can be written on, erased and then reused, and can be applied to almost any surface without damaging the finish. Stick them on desks, closets and walls to scrawl on reminders, phone numbers and to-do lists.
My Mighty Magnet
mymightymagnet.com
does a fun take on message boards; retire that standard cork board and instead use a thick cable that comes adorned with magnets in different designs - peace signs, soccer balls - to hold notes, papers, memos and photos.
Shelby Hill, an editor and "chief homemaker" at e-tailer
Wayfair.com
, says lighting is almost never adequate in a typical dorm room setting, so it is important to infuse light into a space to keep things cheerful, particularly in drab winter months.
"Bring bedding that will keep the room cheery," Hill said. "[And] buy an all-season down comforter. That way you don't need to switch out your bedding seasonally, and you'll have more room for storing things other than your winter blankets."
The people behind bedding maker Saffron Marigold do not see why dorm room offerings should be basic: the company's latest offerings are specifically for that particular area, using fair trade cotton in handprinted patterns. Its bedspreads and duvet covers are specifically tailored for dorm rooms; options include peacock feather motifs on an all-white background, classic navy blue with a wave-inspired design, and even vintage Hollywood: an ornate black filigree design atop white sheets. They are also reversible.
Insiders say many students are as motivated by technology as they are about surrounding themselves with meaningful pieces, and not just inexpensive formica furniture. At Tree, there are Ferum foldable desks made of wood reclaimed from old Indonesian fishing boats, each one unique. Because they are foldable, they can work as study desks, or to accommodate a dinner tray. When working, stick in front of it a Vincent Sheppard Jim chair, which incorporates FSC-certified kraft paper.
Space can be limited, especially if sharing, so make use of every inch of space: if a chest of drawers takes up too much room, there is always the option of a couple of coat stands and lots of hooks and shelves on walls.
Many dorm rooms have open closets that show everything inside. "Shower curtains and a rod," said Hill. "They're a cheap solution to covering those open closets and will make your room look neater."
This article appeared in the South China Morning Post print edition as: College dorm rooms fit for a home far away from home