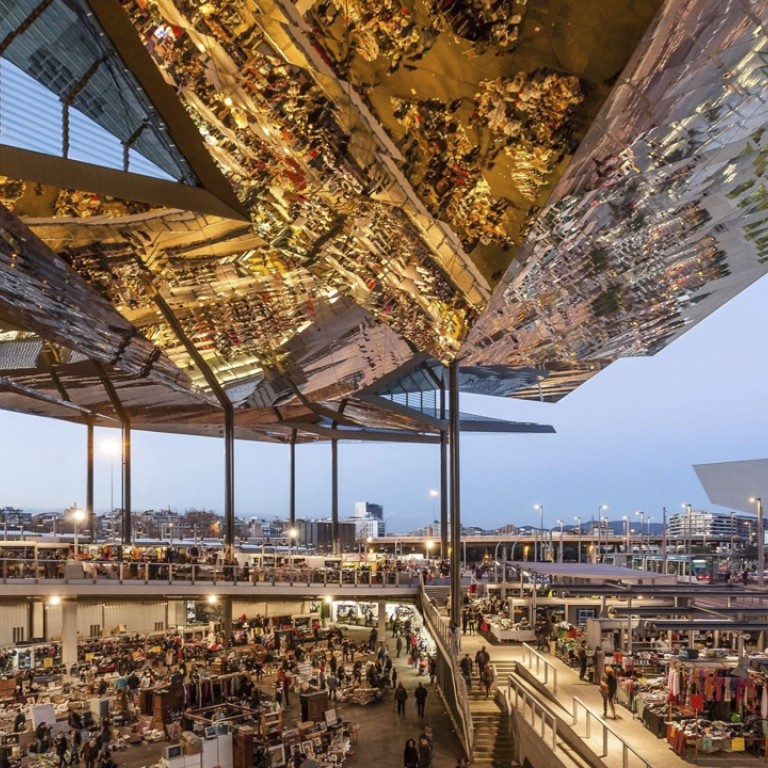 Death knell for Hong Kong's fabric sellers? Not if the government learn from Barcelona
The redevelopment of a flea market in Barcelona holds valuable lessons for Hong Kong on how to rejuvenate its own street stalls, say local architects and designers
The Mercat dels Encants rises like a mirage in the heart of Barcelona, the city shifting and shimmering across its enormous mirrored canopy. Completed in 2014, the structure is part of a vast redevelopment of the area around the Plaça de les Glòries Catalanes, but it's no glitzy shopping mall: it's a new home for a ragtag flea market that has thrived on Barcelona's streets for more than a century.
"You can feel its presence from a distance," says the market's architect, Fermin Vazquez.
The 54-year-old Madrid native is one of 70 speakers at this year's Business of Design Week conference, which was held this week at the Hong Kong Convention and Exhibition Centre. He will be discussing the importance of public space, something that Barcelona has long embraced, from the days when 19th century urban planner Ildefons Cerda transformed the city with leafy avenues and spacious courtyards to more recent efforts to reclaim road space for pedestrians and cyclists. "There's a genuine interest in the city," says Vazquez. "People in the government are aware that citizens judge their urban policies. They follow them with interest."
The picture in Hong Kong isn't as rosy. Whereas Barcelona invested €56.4 million (HK$463 million) in building a landmark new home for the Mercat dels Encants, similar markets in Hong Kong languish under a government policy that supports their gradual eradication. Increasingly, though, local architects and designers are banding together with hawkers and community activists to help markets survive.
"It's definitely a cleansing of the streets," says designer Michael Leung, who recently obtained a licence to operate a hawker stall on Hamilton Street in Yau Ma Tei, which he has turned into a kind of consignment shop selling odds and ends and community gathering space.
Stall ownership is non-transferable, thanks to a late-1970s policy of slowly eliminating street hawking through attrition, but stall owners can sublet their spaces to licensed operators. "There are fewer and fewer hawkers," says Leung. "What's happening to the fabric market is a big example of that."
Leung is referring to the Yen Chow Street Hawker Bazaar in Sham Shui Po, a 40-year-old assembly of fabric hawkers that has been slated for clearance by the government, which plans to build public housing on the site.
The Food and Environmental Hygiene Department has offered to relocate hawkers to other markets around town, but many of the tenants are resisting the move. "They say it would be the death of their fabric market community, which is understandable," says Leung. "It's a one-stop shop."
It's a situation familiar to the hawkers in the Mercat dels Encants, which the Barcelona government originally wanted to move to a vacant lot on the city's periphery. "Among merchants there was always an underlying mistrust towards the city," says Vazquez. After a long period of negotiations, however, the government decided the market could stay put, and they began a design competition for a permanent structure that could accommodate it.
That's when Vazquez introduced his bold idea for a mirrored canopy that would shelter the market area without fully enclosing it, keeping the market's loose, informal character intact. "The best flea markets are the result of spontaneous organic growth over a long time," he says. "During the competition and the design development stages of the project we did a lot of research but we could not find something really similar to what we were trying to do." He describes the final approach as one that unifies two disparate concepts: "prime urban dignity" with grass roots informality.
Here in Hong Kong, a group of designers are trying to accomplish the same goal, albeit on a far more modest scale. Hawker Reload is a project launched after the deadly fire that tore through Mong Kok's Fa Yuen Street market in 2010. The government's initial response was to thin out the number of hawkers in the market, but Manfred Yuen and a number of other designers offered an alternative: help the market survive by building on its strengths.
"We started to think about how we could understand the value of these hawker stands," says Yuen, who is an architect and a lecturer at the Polytechnic University's School of Design. With help from a Hong Kong Jockey Club grant, they began to study how hawkers used their stalls. Although just two types of stalls existed on paper – one for fresh food and another for dry goods – Yuen surveyed 235 stalls and found that hawkers had modified them to suit their needs, resulting in 11 different typologies for everything from fruit to fabric.
The next step was to design a fireproof prototype stall that could meet all those different needs. The resulting stall, which was unveiled in 2013, reuses existing materials while adding a retractable metal canopy, folding shelves and a moveable cart that reduces set-up time. It has proved popular with hawkers, especially since the government offers a subsidy ranging from HK$20,000 to HK$54,000 to reconstruct their stalls according to the Hawker Reload model.
"It's a small victory," says architect and artist Kacey Wong, who helped start the initiative in 2010. But for there to be real change – for Hong Kong to have something like the Mercat dels Encants – the government needs to adopt a new, more collaborative approach to dealing with hawkers. "The government is still running on an old model from the 1980s," he says.
Michael Leung points to the fabric market as a case in point. So far, he says the government has negotiated with only 20 hawker stall licence holders, even though most of the 40 hawkers sublet their spaces. He says there has been no acknowledgment of how hawkers have improved the bazaar over the years, by erecting a canopy and building their own electrical and drainage systems. "If the government actually came down, they would have a lot of insights into how to update the space," he says.
That approach certainly seems to have worked in Barcelona. "The market has been extremely successful, even more than we expected," says Vazquez. "It has not lost its soul – it is still the same market, but the range of visitors has increased a lot. People go there not just to buy but to be there and feel it. The merchants are very happy."
Barcelona is the partner city for this year's BODW. Fermin Vazquez is speaking at the Space & Design session on December 4, 2015 at 2.45pm. Visit bodw.com for more information