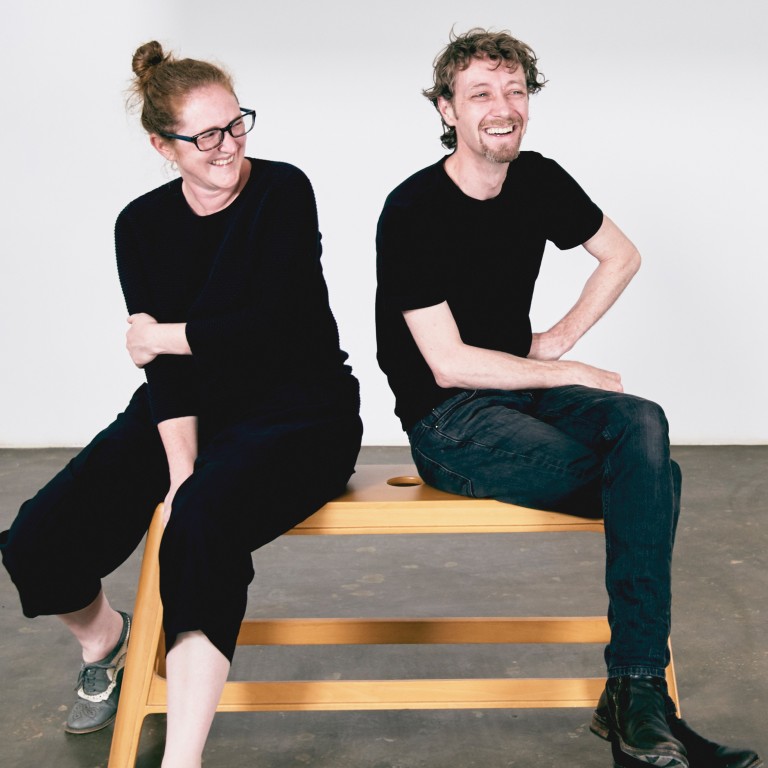 How a mistake became inspiration for a unique ceramics series with lattice-like glazes resembling poetic Chinese landscapes
An accident with glazing led to the husband-and-wife design team behind Hong Kong-based Latitude 22N creating a line quite out of the ordinary
Chinese history has been an endless source of inspiration for the couple, who have a studio in the ancient porcelain capital of Jingdezhen in mainland China
Julie Progin and Jesse McLin, the husband-and-wife design team behind Hong Kong-based ceramics company Latitude 22N, keep a "library of mistakes": hundreds of "oddities and quirks" that haven't quite worked in the kiln but represent an idea too compelling to throw away.
One of these ideas sat on a shelf for two years before being developed into a collection for their conceptual and experimental label Julie & Jesse. The collection is now featuring at a month-long exhibition at Design Spectrum, an events space located in a heritage arts building in Hong Kong's Wan Chai area.
A joint initiative between the Hong Kong Design Centre and the government-funded Create Hong Kong agency, the event showcases local and international designers and explores the interplay between traditional crafts and contemporary design.
The "mistake" on this occasion had to do with glazing, a mercurial process that often sees the glassy sealant on the surface of the ceramic melt irrevocably into a sticky mess. "It's kind of beautiful how the glaze forms into tears [in the heat of the kiln] and runs down on to the shelf," McLin says. "I thought, 'Well, that's the nature of this material. That's what it wants to do. So why not let it?'"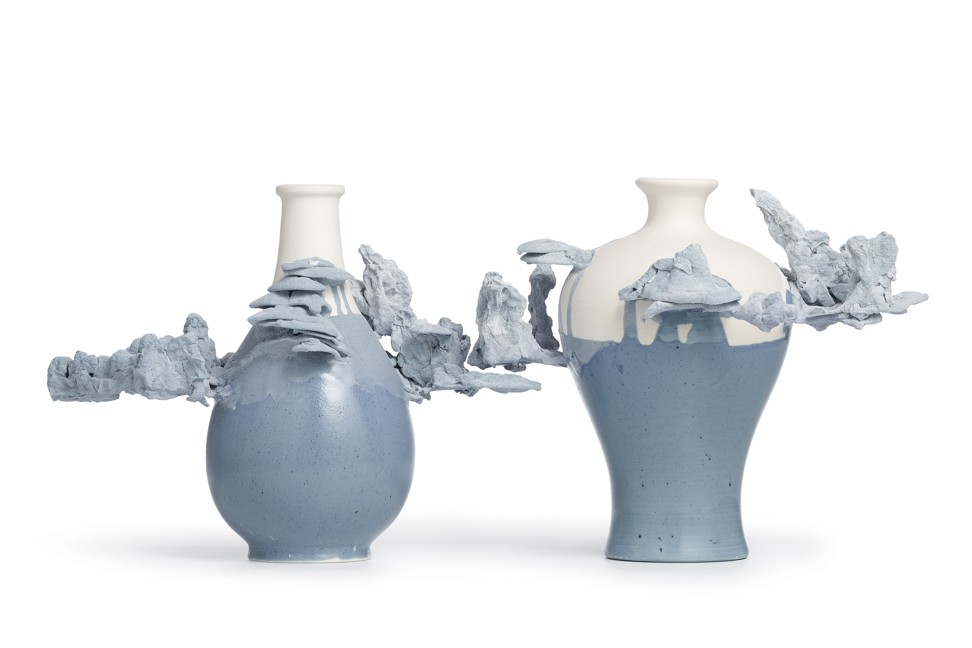 The design duo, known for the pristine precision of the dinnerware and ceramic lighting sold under their retail brand, relished the technical challenge of letting glaze run amok – normally a costly frustration – and soon hit upon their signature technique for this series. By placing a vase upside down in a bed of sand, once a volume of glaze is applied and fired, it runs down the surface and disappears into the sand, where it eventually solidifies into an intricate lattice fanning out from the vase's midsection.
"From there, it's all about playing with the temperatures and chemistry of the glaze, to orchestrate it and get it to dance and to build," McLin says. "The whole creative process is thinking upside down and looking at the path the glaze will take and where we need to position the sand."
"But the best part is when it comes out of the kiln," Progin adds. "You're there like an archaeologist with a brush to brush the sand away and discover what's there."
The first iterations capturing this movement of glaze – thin and lacy protuberances resembling Elizabethan collars – were much too delicate. More recent versions, however, such as their Deshabille series, have proved surprisingly robust and have survived multiple freight journeys to and from exhibitions in South Korea and mainland China.
"Before, we were thinking of [the glaze] more as clothing," Progin says. "But as they became more refined they became more like poetic landscapes, so we started researching traditional
Chinese ink paintings
and representations of landscapes, looking for a way to interpret that into 3D."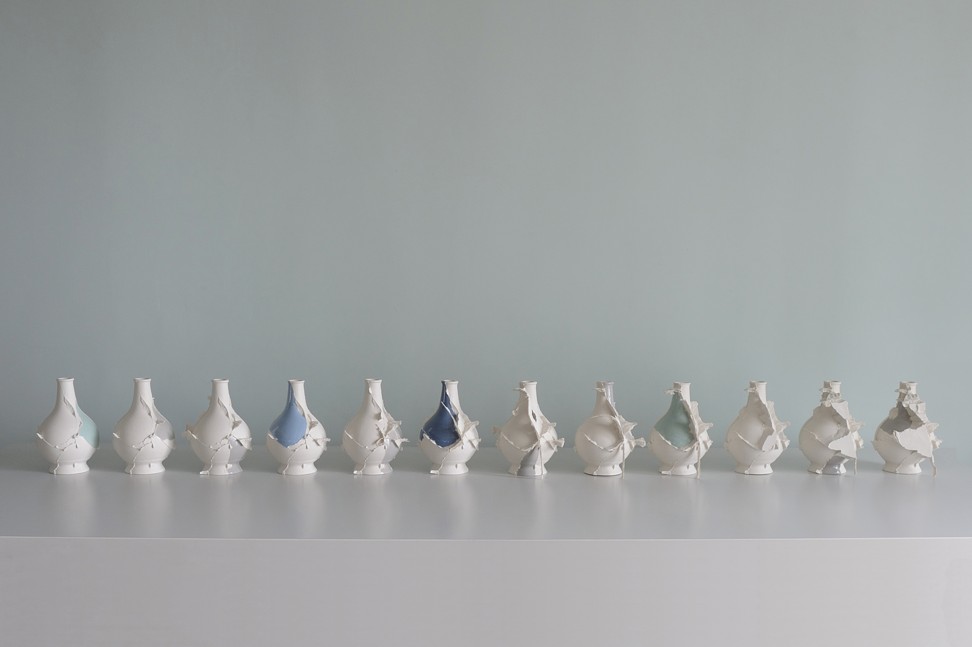 The current exhibition series, entitled "Without Leaving the Room", arose from this research, with the deep indigo pigment evident throughout referencing traditional ink paintings and evoking mountain scenes after dusk.
Chinese history has been an endless source of fascination and inspiration for both McLin, who is from California in the US, and Swiss national Progin, who was born and raised in Hong Kong. Since coming to Hong Kong together in 2008 from New York and creating their company (the 22N in the name references the latitude of Hong Kong, 22 degrees north), the couple have also set up a permanent studio in the ancient porcelain capital of Jingdezhen in mainland China's Jiangxi province, where they hold extended residencies throughout the year.
While related to their commercially successful retail products, the couple's exhibition works are a distinctly thoughtful, meticulously researched offshoot, aiming to document socio-economic changes and provoke discussion, with many projects designed to engage with local communities.
Their four Fragments series, colourful precursors to their current exhibit, and Terra Mobiles, an otherworldly collection of outdoor sculptural furniture, have both earned international recognition, with the latter to feature at the Milan Furniture Fair in April this year.
In using baijiu liquor bottles as the base forms of the exhibition, Progin and McLin chose an ancient form that was in continuous production for thousands of years in Jingdezhen but has all but died out in the past decade – along with large painted tiles set in rosewood and translucent eggshell-thin porcelain, both once highly prized products of Jingdezhen.
"There are lots of people who have the skills to make these traditional crafts but there's no demand for them now," McLin says. "So we're documenting that through our work – the evolution of the city and what has been abandoned."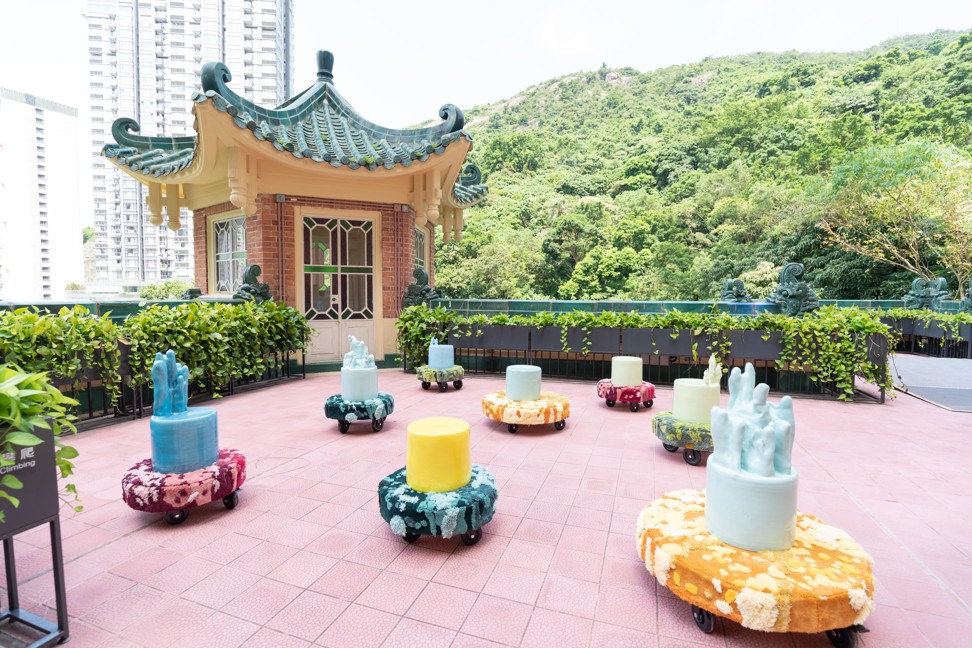 That is not to say that the economy is not thriving in Jingdezhen. McLin describes, for example, the craftsman the couple hired to make their first line of Song dynasty-inspired dinnerware. With just two employees, he used to work out of his living room. Eight years on, the man has three factories, hundreds of employees and makes teapots for Starbucks.
The pair credit contrasting educational backgrounds for their complementary approaches to design. McLin studied fine arts and ceramics in "a more conceptual and non-functional direction", while Progin specialised in textiles and industrial and product design, gaining experience in graphic design along the way.
"When we started off, I never thought we'd do anything like Latitude[22N]. I never thought I'd do anything functional," McLin says.
"And I never expected to design anything non-functional," Progin says. "But now we both do both."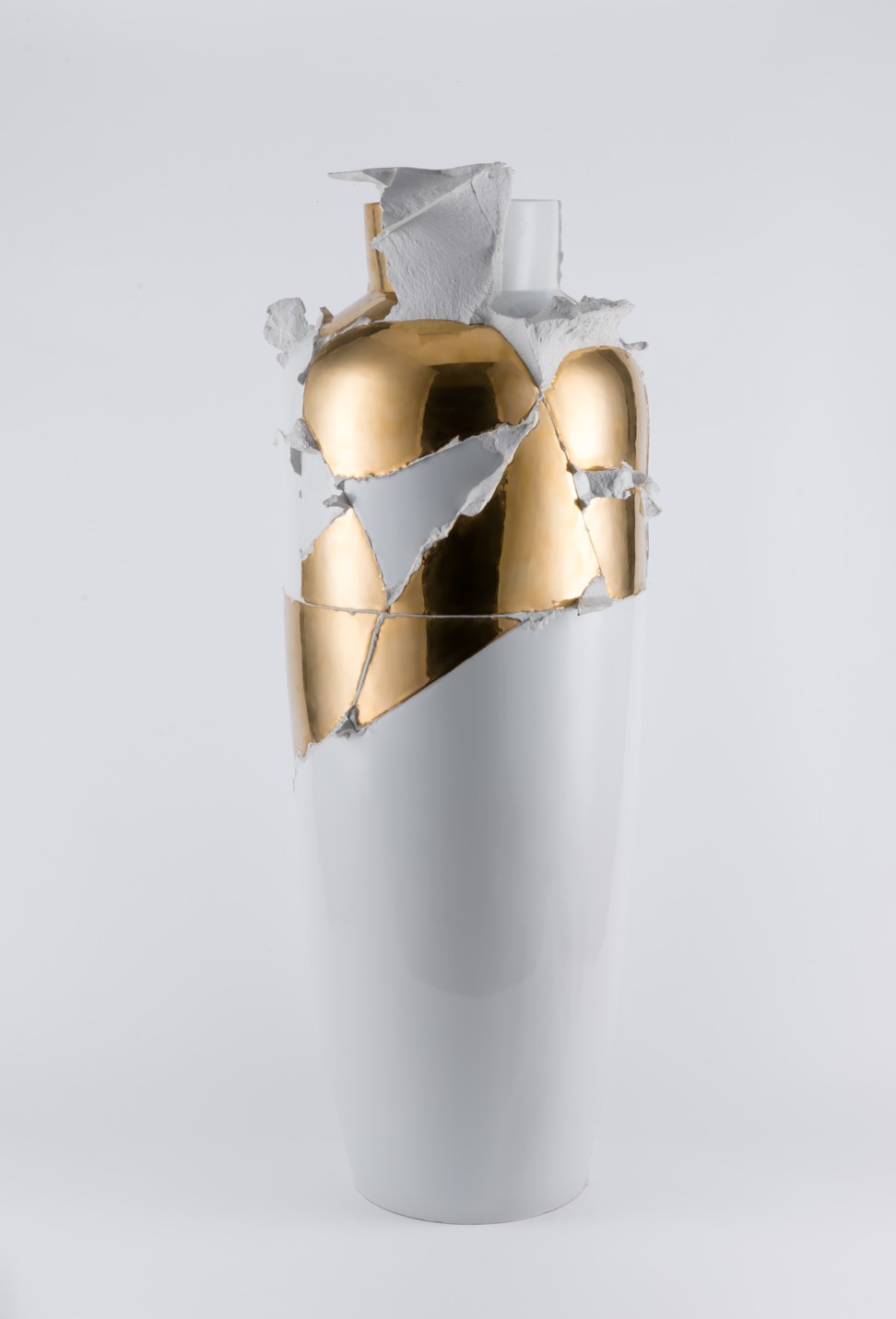 This duality, epitomised by their two distinct labels, runs through most of the couple's more conceptual work: archetypal forms cast from industrial production moulds, half glazed to perfection and half something that has run away with a life of its own.
As for the growing "library of mistakes", Progin is unperturbed.
"It could be better organised right now but nothing is wasted. Everything we do finds its way into our work in the end."
Refined Touch: Crossover Between Design and Craft, the exhibition at Design Spectrum, 7 Mallory Street, Wan Chai, ends on January 19.
This article appeared in the South China Morning Post print edition as: How a mistake inspired a unique series of ceramics