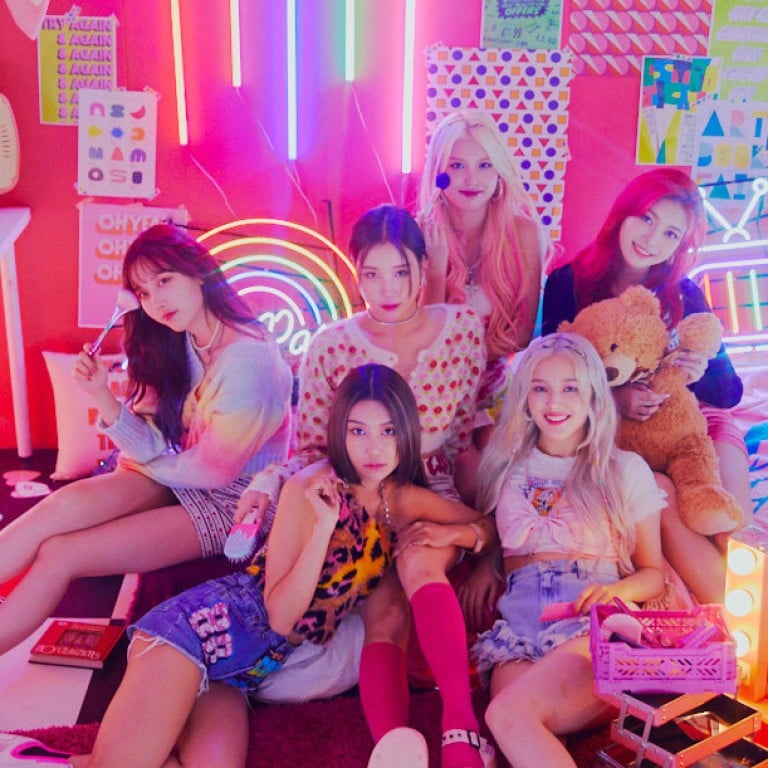 K-pop girl group Momoland find themselves during pandemic downtime, and try new things. Now they can't wait to perform on stage again
Nancy has been exploring hair and make-up styles during the downtime afforded to the girl group thanks to the pandemic, while Nayun has been dabbling in DJing
Fellow member Ahin has been trying to fix her sleep and working out, Hyebin has been in a play, Jane drums and bowls, and JooE is learning nail art
K-pop girl group Momoland, who had a breakout hit in 2018's Bboom Bboom, hadn't had much downtime until the pandemic hit. This past year, though, they have been able to get to know themselves a little better.
"We were so busy before. We didn't really know what to do when we had free time," Nancy, who has been exploring hair and make-up styles, tells the Post. "So I guess we're finding what we like right now. Nowadays, we're just chilling. Doing our hobbies. Hyebin did a play, Nayun is acting." Nayun has, other members later reveal, also been dabbling with DJing.
"So we're doing self investment, I guess," Nancy says with a laugh over a video call during a rehearsal for the K-pop Superfest. The virtual music festival, hosted by the Joy Ruckus Club, will take place on June 20.
Ahin has been using the downtime to fix her sleep after years of hectic nights on various promotional schedules. She tries to wake up early to go out and walk around. Sometimes, she works out.
"I think it's the happiest time of my day, because I'm able to see what people do, how they go around. I think it's one of the happiest times of my life," she says.
The group's other two members, Jane and JooE, are busy learning new skills, too: Jane's discovered she's really good at bowling and has taken up drumming, while JooE's been developing her skills as a nail artist.
Band members are cheerleaders for one another and meet up just about every day, even though they don't live together like some K-pop groups do. Several times during the interview, they compare themselves to sisters.
Although the downtime has been nice, the viral girl group say that returning to the stage after a long time feels like welcoming back a long-missed friend.
"It's been a while since we've been able to attend this kind of performance, so we're looking forward to it," says Hyebin, who adds that the band feel "honoured" to be a part of Joy Ruckus Club's mission to promote pan-Asian identity and music.
"We all really miss performing and meeting our fans," says Nancy. "It's a special time for us, and we're looking forward to that again."
"I really want to do a concert
when this pandemic ends
," adds JooE. "We want to be able to meet our fans around the world." Ahin, whose sister lives in Hong Kong, agrees and says they hope to be able to go there to perform soon.
The band aren't promoting any new releases at the moment. Their latest drop was February's Wrap Me In Plastic, a collaborative remake of a 2017 song that went viral on TikTok last year. It feels like the modern answer to Aqua's 1997 hit Barbie Girl, albeit with more BDSM overtones and less pointed poking at the male gaze.
Having said that, Momoland hope to release something soon. Hyebin says that they "want to make a comeback with trendy music that a lot of people love".
The music video for
Wrap Me In Plastic
is an early '00s, Day-Glo spectacular that nods to social media influencers and platforms like
TikTok
and the
recent wave of nostalgia
threading through the entertainment and fashion industries.
"I used to think music was just for listening, but now I've really internalised that it's a visual experience," says JooE. "I think of it not just as one form, but as a multifaceted art form."
The references to current online trends is fitting for a girl group known for their viral hits. K-pop stars, much like everyone else, exist in digital spaces and have to deal with other people's reactions and viewpoints, even negative ones. Each of the group's members has her own way of dealing with the negativity.
At the start of the year,
manipulated photos of Nancy were circulated online
. She says online negativity is not worth her time. "Personally, I ignore it. Because there are so many people who love us and who we are. We love ourselves, we love each other. The world needs more love."
JooE is the opposite, taking an active approach when she sees someone hating on her or the group. "I've actually asked a hater why they hate me," she reveals, saying that she used a translation app to help her understand. "We had a conversation, and now they're our fan. They actually apologised."
However, for JooE and the rest of Momoland, technology isn't just used to turn haters into fans. "Since we got a lot of attention through social media, we're really grateful," she says. "We want to use our platforms to continue showing ourselves and our music."