Review
Sinkhole movie review: Korean disaster drama starring Cha Seung-won, Kim Sung-kyun trades barbed social commentary for generic plot turns
Satire meets disaster movie as an entire residential block falls into a sinkhole during a heavy rainstorm in Seoul, the South Korean capital
Having started out as a commentary on Koreans' obsession with status, it morphs into an against-the-odds survival story. The ending is uplifting but absurd
2/5 stars
South Korea's obsession with property ownership provides the foundation for Sinkhole, a rickety hodgepodge of social satire and subterranean disaster. After being delayed almost a year because of the pandemic, Kim Ji-hoon's film sold a million tickets in just six days in the country, becoming its fastest-selling domestic hit of 2021.
The movie tells the story of residents of an unsound apartment building who find themselves trapped hundreds of metres below ground after heavy rain causes the entire structure to disappear down a potentially deadly sinkhole.
After 11 years of scrimping and saving, unassuming office worker Dong-won (Kim Sung-kyun) finally buys an apartment for his wife (Kwon So-hyun) and young son. Almost immediately they start to notice defects in the building's construction, from uneven floors to cracks in the road outside.
Dong-won invites his colleagues over for a housewarming party, and that same night, a torrential downpour causes the ground to subside and the building plummets hundreds of metres into an almost bottomless chasm.
Among the handful of survivors are Dong-won, his son Su-chan, two young colleagues (Kim Hye-jun and Lee Kwang-soo) and Man-soo (Cha Seung-won), a gruff and antisocial neighbour who has already had a couple of run-ins with the timid and unassuming Dong-won.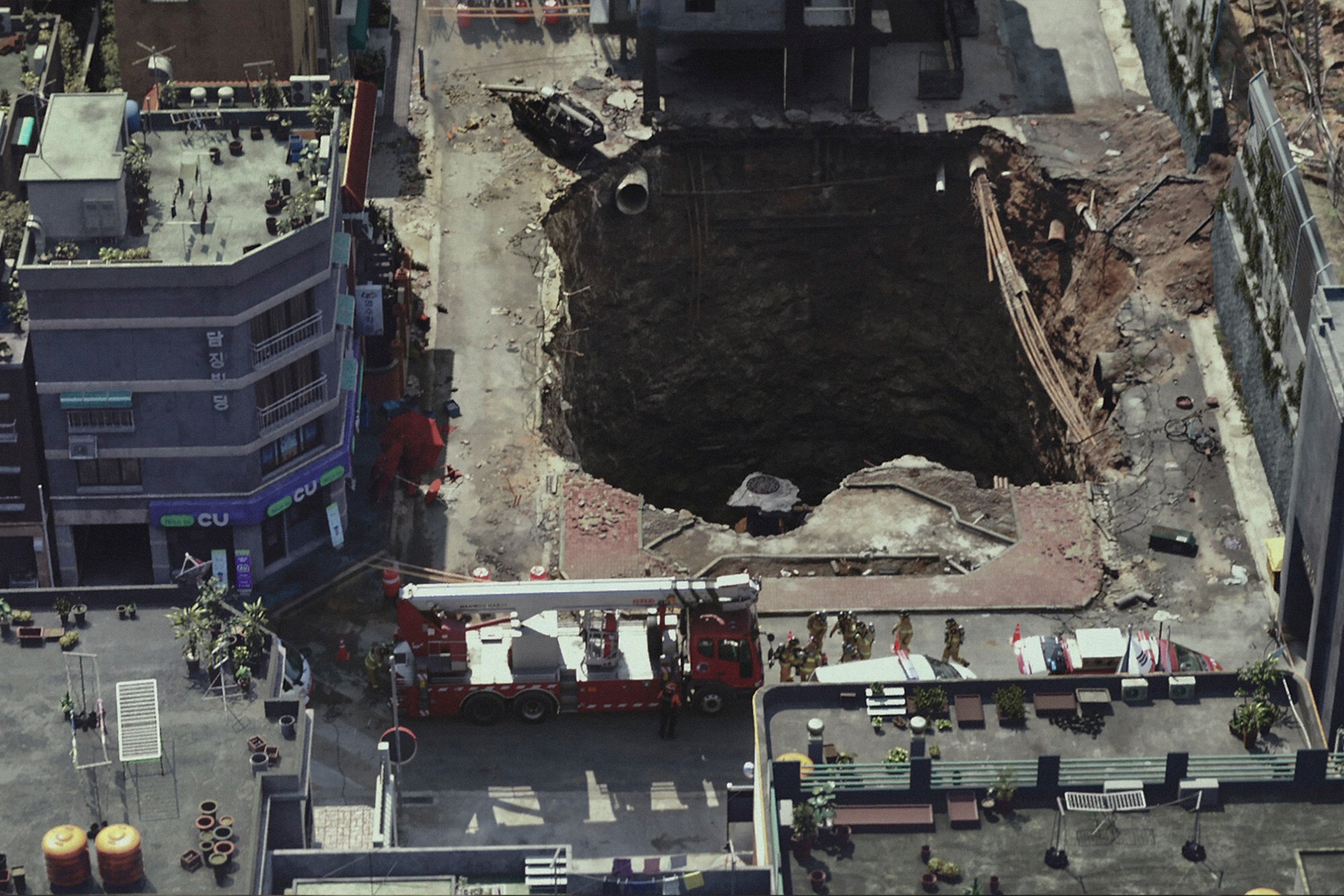 The emergency services and family members gather above ground, but their initial efforts to contact those trapped below fail, so it falls to Dong-won and Man-soo to set aside their differences and lead their party back to safety.
Kim Ji-hoon is no stranger to disaster movies, having previously directed big-budget ensemble
The Tower
and the monster mash
Sector 7
, starring Ha Ji-won.
Sinkhole begins as a barbed commentary on Korean society's obsession with status, but that, together with any investigation into the city's shoddy building practices, is largely abandoned in favour of a series of generic challenges and conflicts once the principals are plunged into Seoul's murky netherworld.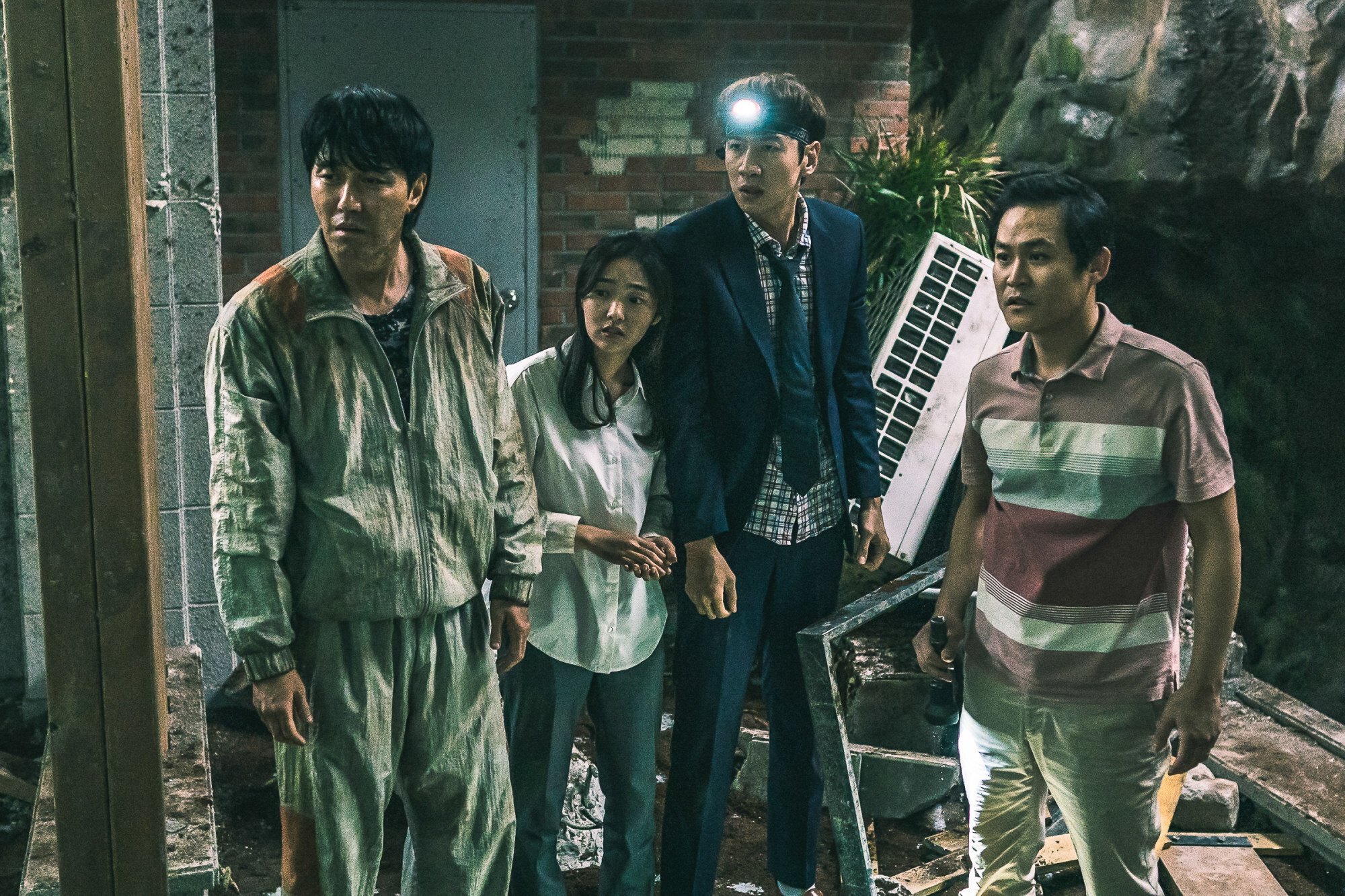 Predictably, Dong-won finds his courage, while Man-soo becomes more compassionate, and the film builds to an "uplifting" yet truly absurd finale, cheapened further by a needless moment of crass and wholly unwarranted tragedy.
While far from a total failure, Sinkhole nevertheless shifts its focus early on and never manages to recover, content to be a simple against-the-odds survival story rather than build upon its altogether more intriguing initial premise.
Want more articles like this? Follow
SCMP Film
on Facebook