Review
Escape from Mogadishu movie review: Korean diplomats in peril in Somalia-set action thriller by The Battleship Island director Ryoo Seung-wan
Set in late 1990, the film follows ambassadors from both North and South Korea in Somalia who are forced into an uneasy alliance during outbreaks of violence
Despite thrills and a heart-stopping climax, the film lacks significant commentary on anything unfolding on screen and only broadly addresses the Korea conflict
3/5 stars
Most movie-goers may be unfamiliar with the plight of Somalia and its people, beyond the North African nation providing the hostile setting for such "Americans in peril" narratives as
Black Hawk Down
and
Captain Phillips
.
Ryoo Seung-wan's new white-knuckle thriller Escape from Mogadishu does little to expand on this image of a violently destabilised nation, opting instead, much like its predecessors, to use the country merely as an exotic backdrop for a story about Koreans addressing their own domestic troubles.
Filmed entirely on location in Morocco, where Ridley Scott also shot his 2001 military thriller, this is nevertheless an ambitious undertaking in its own right.
Set in late 1990, the film follows the ambassadors from both North and South Korea in their efforts to lobby Somali President Siad Barre for their countries' admission to the United Nations.
When their talks are interrupted by outbreaks of guerilla violence, both diplomatic factions find themselves cut off from support and forced into an uneasy alliance as they attempt to evacuate their respective embassies.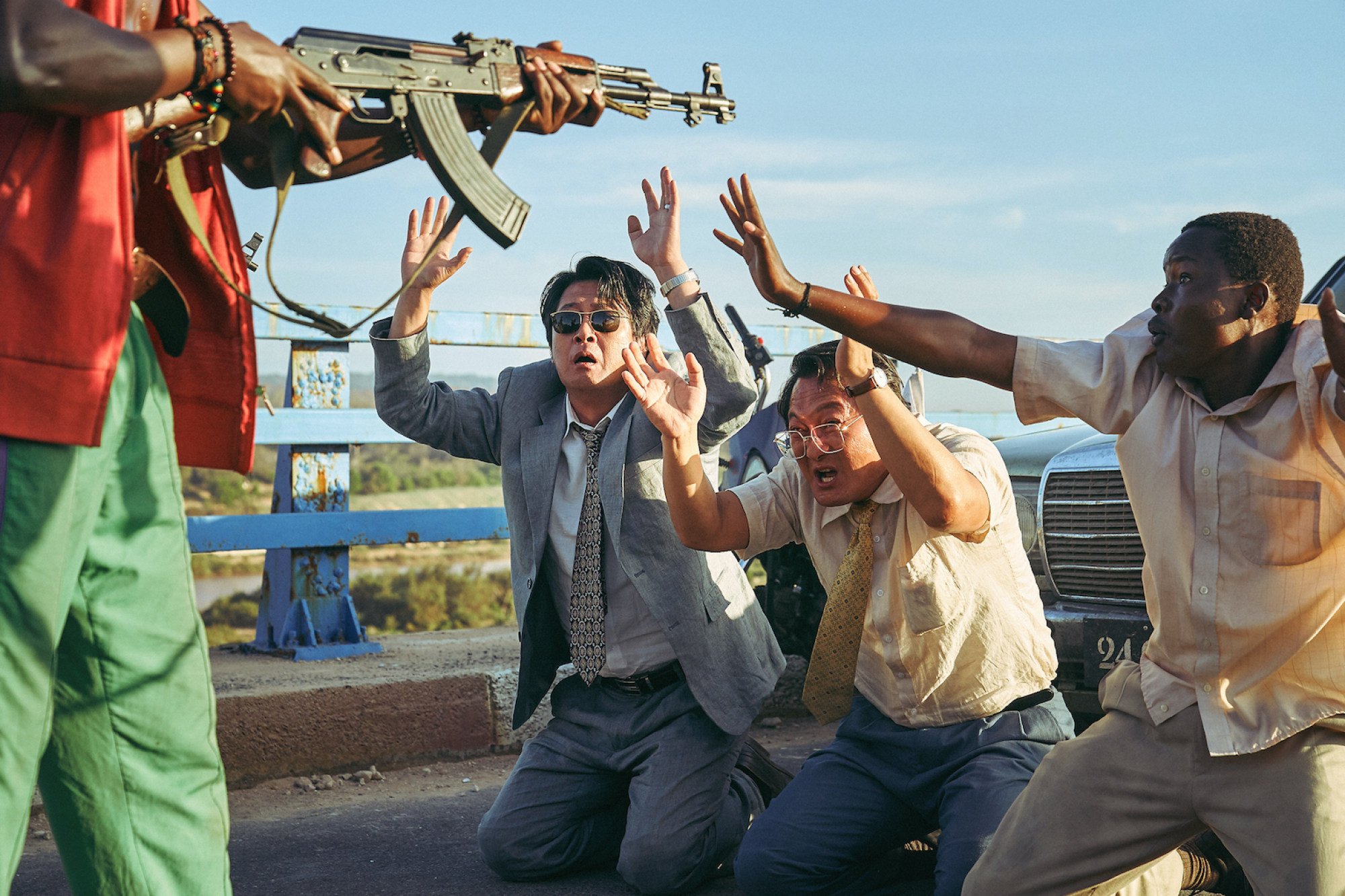 Jo In-sung's character emerges as the film's de facto hero – a handsome, righteous South Korean intelligence officer willing to step up and guide them confidently to safety.
Koo Kyo-hwan, conversely, is almost cartoonishly evil as Jo's North Korean opposite number – weaselly and sadistic, spitting venomous insults and jingoistic propaganda.
Playing the opposing ambassadors, Kim Yoon-seok and Heo Joon-ho are both loyal to their respective conflicting causes, yet remain level-headed and pragmatic. Everyone else is merely on hand to cower in the shadows and struggle to stay alive.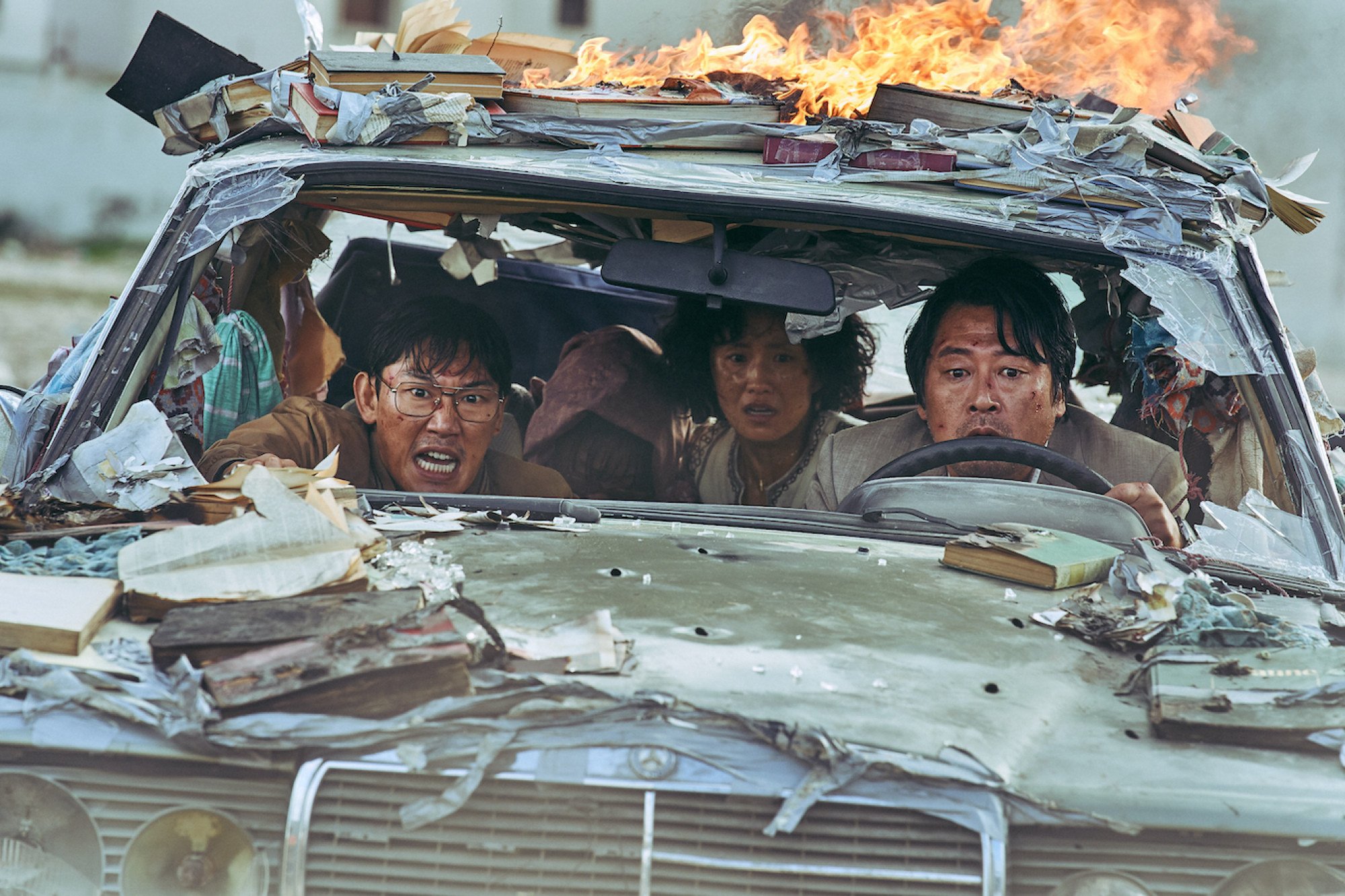 Ryoo (
The Battleship Island
), who specialises in testosterone-fuelled action cinema, makes good use of his dusty, arid locations to accentuate the characters' overwhelming sense of peril and vulnerability. This is underscored in a number of thrilling set pieces, not least the film's heart-stopping climax as a fleet of civilian vehicles snakes its way through the war-torn, bullet-riddled streets in a do-or-die dash to the airport.
What is absent – and these splashy sequences cannot fully compensate for this – is any significant commentary or rumination on anything that is unfolding on screen. The film only addresses Korea's North/South conflict in the broadest of terms, while acknowledging that to the rest of the world, there is no discernible difference between them.
Most disappointingly, Escape from Mogadishu also makes no effort whatsoever to address the unfolding crisis in Somalia or why it was happening, content simply to portray the country as just another dangerous foreign hotspot best left alone.
Want more articles like this? Follow
SCMP Film
on Facebook