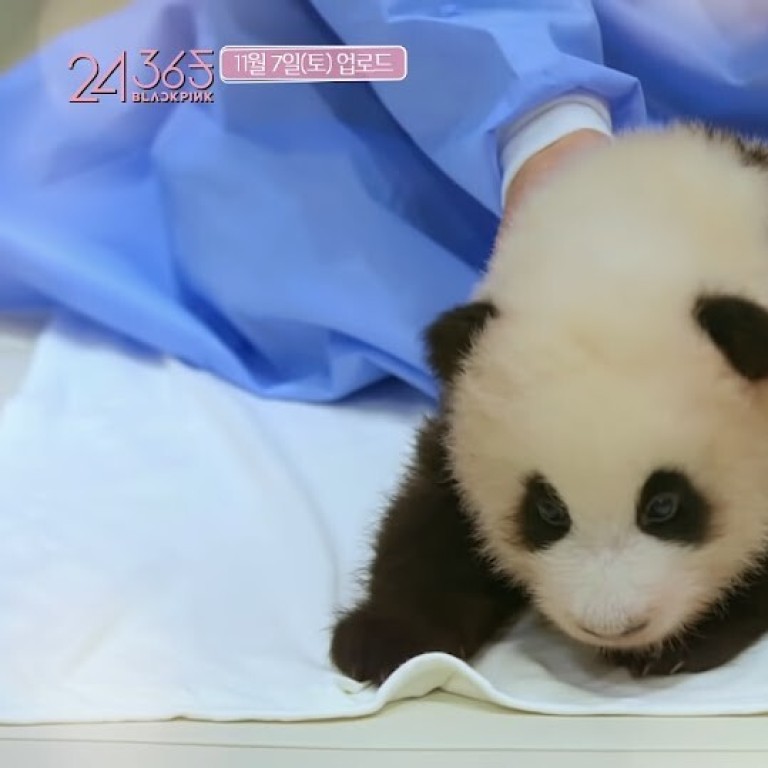 Blackpink pester pandas and new song from Han Jisung: this week's K-pop news round-up
Blackpink played panda keepers for a day, to the consternation of some Chinese internet users unhappy they wore make-up and touched a cub with their bare hands
Han Jisung of Stray Kids debuted a solo track he wrote with Bang Chan, Mamamoo and Monsta X released albums, and there was talk of GDragon's return
US elections or no US elections, the wheels kept spinning this past week on the K-pop machine. With many releases and celebrations, plus a hint of controversy, here are some of this week's biggest K-pop news stories.
Blackpink's panda problem
Girl group Blackpink got to work as panda keepers for the day at Panda World in South Korean amusement park Everland, which they filmed for their web series 24/365 with Blackpink.
A backlash erupted on Chinese social media when the singers were seen in seemingly unhygienic practices such as wearing make-up while playing with a baby panda and touching it with their bare hands. Additionally, members of the group own pets, and due to concerns over spreading viruses between animals, pet owners are not supposed to interact with pandas.
Because China technically owns all pandas, even ones born overseas, many Chinese internet users felt the stars were endangering the rare cub.
Han Jisung solo song
Stray Kids are known for writing their own songs for the group, and this week saw one member release his own song. On Friday, rapper Han Jisung, known as Han, shared his hard-hitting solo track I Got It, which he co-wrote with fellow member Bang Chan.
Big new releases
November kicked off strong on the release front, with many idol groups sharing new albums. Two of the highest-profile ones were Mamamoo's Travel and Monsta X's Fatal Love, while two from newer boy bands, AB6IX's Salute and Treasure's The First Step: Chapter Three, also landed.
Though a soloist and not in a group, former Wanna One member Park Ji-hoon also returned this week with his album Message.
Super Junior turn 15
The famed boy band, the first K-pop group to incorporate a China-oriented subgroup, celebrated their 15th anniversary on November 5. With a series of releases and a special anniversary concert event, they kept their loyal fandom, E.L.F, engaged even though they're unable to hold any live events due to the ongoing pandemic.
G-Dragon is coming (maybe)
The BigBang member is rumoured to be making his return as an artist in the coming months. He last release, the self-titled Kwon Ji Yong EP in June 2017, came ahead of a hiatus while he fulfilled South Korea's mandatory military service enlistment.
GFriend teases new song
Each week brings more and more online K-pop concerts (this weekend will see shows from acts including Super Junior and Dreamcatcher), but last Saturday saw GFriend hold their own. While many online K-pop concerts come after new releases and are oriented around performing that content, GFriend did something a bit different and teased their upcoming song Mago so viewers would be the first to experience it. The album, 回:Walpurgis Night, drops on November 9.