LIFE
Get more with myNEWS
A personalised news feed of stories that matter to you
Learn more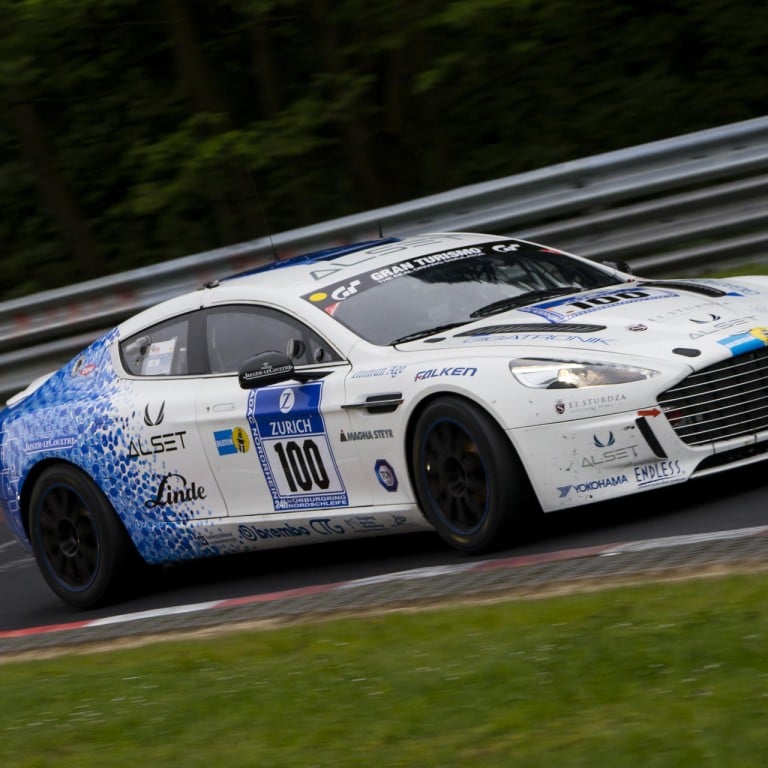 A racing car that runs on hydrogen - the most abundant gas in the universe - and leaves no carbon footprint proves there's a future for the technology, writes co-driver Matthew Marsh
In more than two decades as a racing car driver, I've been behind the wheel of a wide variety of amazing vehicles. Ferraris, Porsches, BMWs, prototypes, go-karts - you name it, I've driven it. And they all had one thing in common: they were powered by a petrol-fuelled internal combustion engine.
However, my latest race, the Nürburgring 24 Hours in Germany, was different. I was driving the rarest Aston Martin in the world - so rare, in fact, that there is only one. It propelled three co-drivers - including Aston Martin chief executive Ulrich Bez, who at 69 is still an enthusiastic racer - and me into the record books.
The Hybrid Hydrogen Rapide S lacks a sexy name, but it does what it says on the tin. It can run on pure petrol, pure gaseous hydrogen, or a blend of both. Plus, in the course of finishing the gruelling Nürburgring 24 Hours endurance race around the famous Nordschleife circuit last month, it became the first hydrogen-powered racing car to complete laps in an international event with zero carbon dioxide emissions.
It was also an engineering achievement of global significance. Given that the earth has a finite amount of crude oil, the search for future energy sources for vehicles has been going on for years. Electric vehicles are popular but, for all their green qualities, have some significant drawbacks, including battery weight, charging time and "range anxiety" - running out of power before you reach your destination.
But bear in mind that the car industry is equivalent to the fourth-largest economy in the world. It has benefited from a mind-boggling level of investment, and the result is the highly advanced state of the internal combustion engine. Fighting this global behemoth would appear illogical.
From there emerged the idea of using hydrogen within the existing format of the internal combustion engine. Such a hybrid sidesteps the battery weight problem, overcomes range anxiety and reduces carbon emissions.
Ahead of the race, Aston Martin celebrated its centenary with a racetrack parade of more than 100 cars. This included Bez at the wheel of the stunning new CC100 Speedster Concept, which was making its global debut, James Bond star Daniel Craig arriving by helicopter to drive the vintage DB5 from the film , and Stirling Moss in his 1959 race-winning DBR1.
Aston Martin engineers developed the Hybrid Hydrogen Rapide S in partnership with Austria-based Alset Global, a technology and engineering company. During race week, I got to know both the car and the man who had done the most to make it possible - Jose Ignacio Galindo, the Chilean engineer who is Alset Global's CEO.
He was convinced the racing project would be a success. "Our system offers the highest power density of all built and existing hydrogen cars," he says. "Also, because it is compatible with nearly all current internal combustion engines, it is the most affordable and simplest to implement."
The challenge with hydrogen, he says, is volume. It has to be stored under pressure (in a racing car) or liquefied (in a Saturn rocket).
So the hybrid car's system comprises a hydrogen fuel rail, storage tanks and a so-called proprietary engine management system that enables flexibility in the control of the combustion process, whether you are driving on pure hydrogen, petrol or an arbitrary blend of both. Result: sports car performance with the carbon footprint of a Mini.
For the Nürburgring, the car had four ultra-high-strength carbon fibre tanks (two next to the driver and two in the boot) containing the hydrogen at a pressure of 350 bar. By comparison, the air in a tyre is at about two bar.
So, what was it like to drive? Well, it was fast - a racing car with a turbocharged V12 engine delivering about 550 brake horsepower and massive torque from about 2,000 revolutions per minute. The hybrid hydrogen system worked like a dream; the switch between fuels was literally at the touch of a button.
Despite the extra 100kg from the hydrogen equipment, the Rapide retained its natural balance. This was fortunate because the event was plagued by heavy rain. All four drivers - Bez, Wolfgang Schuhbauer, Shinichi Katsura and I - kept our competitive instincts under control and focused on reaching the end. This was all about proving that the hydrogen technology was reliable.
We finished 112th of 173 starters, but we did finish, and we completed about 300 kilometres on hydrogen power alone. Job done.
And for Aston Martin, there was more excitement, as another of its entries, a V12 Vantage GT3, led for some time before flagging in the wet conditions and finishing 10th.
Ignacio Galindo was delighted: "This was a historic day for two reasons. Besides being the first hydrogen-powered race car to compete and undertake zero CO 2 emissions laps in an international event, it has showcased the most practical technology available to fundamentally address the challenge of global emissions without disrupting the automotive industry."
Aston Martin's head of motorsport, David King, was similarly satisfied. "This achievement should leave no one in any doubt that the system we have developed with Alset Global is a viable and exciting option for the future," he says. "The creation of the Hybrid Hydrogen Rapide S was, for Aston Martin, another high-profile way for us to mark our centenary in 2013 and to demonstrate our engineering capabilities in the most demanding environment of a major endurance race."
At the post-race dinner, my three co-drivers and I stepped up to receive a trophy for our class "win". Although we were the only car in our category, the trophies were as much for the engineers as the drivers, and I didn't mind handing mine over to Ignacio Galindo. He had earned it more than I had.
It's not the fastest or most exotic car I've ever driven, but it's certainly the most innovative - literally in a class of its own.
This article appeared in the South China Morning Post print edition as: Emission statement