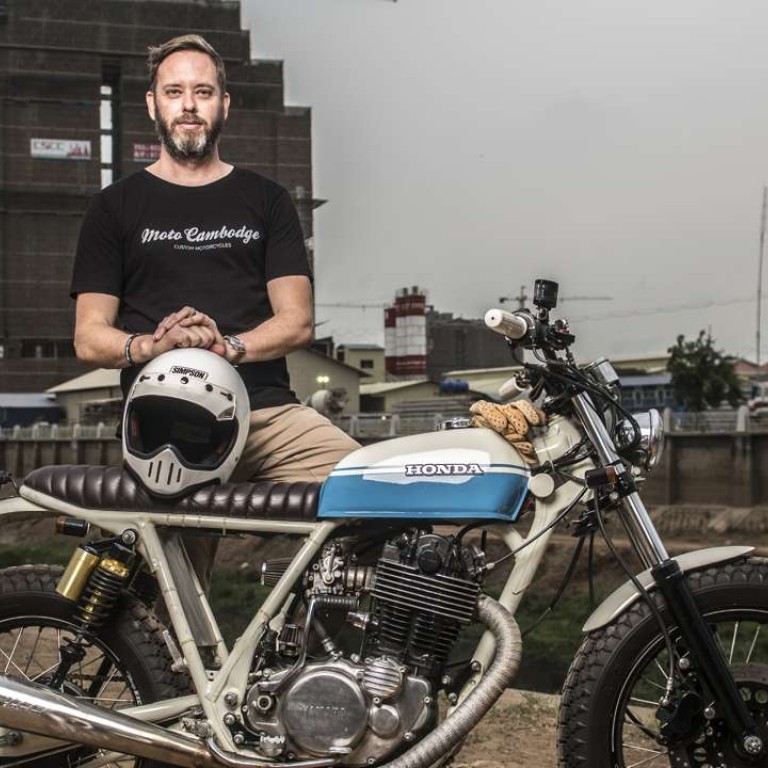 Custom motorcycle culture arrives in Cambodia, little by little
Quality bespoke bikes are beginning to appear on the streets of Phnom Penh, a movement spearheaded by bike builder and lifestyle brand Moto Cambodge
A row of parked motorbikes is hardly a rarity in the Cambodian capital, Phnom Penh – roads there are choked with the spluttering machines. But on one sleepy Sunday morning, it was a sight to stop the traffic.
On a leafy street, almost 100 gleaming custom and classic motorcycles, including Harley-Davidsons, Hondas and vintage Vespas, lined the road, each accompanied by a dapper rider. Having had their first Cambodian get-together last September, the owners were gearing up for the worldwide Distinguished Gentleman's Ride – an annual charity event started in 2012 with the aim of raising awareness of and funds for prostate cancer.
The variety of bikes on display is indicative of a movement that is slowly witnessing quality, custom-made bikes join the army of battered Honda Dreams and Scoopys on Cambodia's roads.
"One of most interesting things has been how large the custom bike scene is now," says Justin Stewart, co-founder of Moto Cambodge, a custom bike builder and lifestyle brand which organised the ride. When he first landed in Cambodia from Australia six years ago, there were just two or three to be spotted in the city, he says.
Moto Cambodge is spearheading the trend. It was launched three years ago to satisfy the craving of three motorheads: Stewart, Paul Freer and Patrick Uong. Fuelled by their passion for breathing new life into their two-wheeled toys, they also wanted to share it with the country.
"We have a different aesthetic that doesn't really exist here yet; there's no industry or culture of it. We felt we could build a brand of cool bikes," says Uong, a Cambodian-American who has spent 12 of the last 15 years living in Cambodia. "We wanted to build a homage to Cambodia and the way it was; something romantic and idyllic."
Drawing on their knowledge – Briton Freer previously owned a bike shop, and Stewart and Uong were passionate about tinkering with their bikes – the trio set to work, although it was far from simple. "Part of the problem with Cambodia is we don't have the resources you would have in, say, Indonesia, Thailand or Japan, where there's a huge custom bike scene," says Stewart.
As well as limited access to parts and equipment, capabilities in the developing country are basic. There are also the elements to battle against – the dust of dry season and heavy monsoon rains affect paint setting – and a dearth of stock bikes to customise, with the trio specialising in cafe racers, brats and bobbers from the 1970s and 1980s.
"Other countries have awesome bikes from these eras. Here, there was a war going on. It was Year Zero," says Uong, referring to Pol Pot's genocidal Khmer Rouge regime from 1975 to 1979.
So the trio called on their contacts and now import motorcycles from America, Australia and Asia, and are in the loop with importers to snap up any bargain buys. Local markets and garages are scoured for parts, and missing parts are shipped in from overseas.
"I also buy parts and store them in Australia. When I go over I come back with boxes full of stuff," Stewart says, adding that friends can be mules, visiting the country equipped with everything from tyres to handlebars.
Cambodia's curse is also part of its charm for Moto Cambodge, which ploughs through the frustrations regardless. "There is one good thing about necessity being the mother of all invention," says Freer. "In the post-Khmer Rouge days, people become very clever at being able to modify. So now, if we want something doing and they don't know how to do it, they'll go away and come back with a solution. In most developed countries, you can forget about it. It would be, 'you can buy this or that'."
Moto Cambodge carefully customises each bike with loving care, sitting down with clients to concoct every individual design aspect.
"We want to recreate that aesthetic but modernise it," says Uong, who owns a classic 1977 Kawasaki and a 1992 Japanese cafe racer. "What you have is two looks. One is the steampunky look: leather grips, full brim leather seat. The other is the more cheerful: sun-worshipping style beach bike."
In a recent project, a battered dirt bike was transformed into a tracker complete with a bright red frame. "That's homage to the 1970s dirt bikes; really modern styling meets the 1970s and 1980s," says Uong. "These bikes are really cool for us to tweak," adds Stewart. "They may have awful indicators and lights on the back, and ugly fenders, but you can take them off and it's a great base."
Wanting to do more than just customise motorcycles, Moto Cambodge set about building a lifestyle brand. The perfect platform to showcase their work came in the form of Hanger 44, a microbar that opened at the end of 2014 and couples as Moto Cambodge's showroom, on hip Bassac Lane in the capital.
Classic helmets and motorcycle memorabilia adorn the walls. Leather gloves sit next to leather satchels, canvas jackets beside weathered boots, and a gleaming Yamaha SR400 cafe racer stands proud in the window while another hangs from the ceiling. In line with the style they are creating, a Moto Cambodge beer is currently being brewed. "We wanted to build a bar with a look and feel that fits the lifestyle of Moto Cambodge," says Freer.
As the custom motorcycle trend develops in Cambodia, demand now far outweighs capability for Moto Cambodge, which has temporarily stopped taking new orders. A growing middle-class with more expendable income and a younger generation yearning for individuality have helped spur the movement.
"Finally there's a youth culture here, with skateboarders and BMXers – young Khmer guys customising their bikes and dressing a different way. It's changing," says Stewart. Throw into the mix the recent arrival in Cambodia of motorbike dealers such as Ducati and KTM and the custom bike scene is growing. "These brands help to build the bike culture, which is only going to get bigger," he adds.
But the essence that Moto Cambodge is trying to capture isn't all about tinkering with their toys or creating a lifestyle; it's also about the country.
"When I'm riding in Australia, I'm riding suburban earth," says Stewart. "Here, you're ripping down a dust road, someone might kill you in five minutes, but it's romantic and adventurous. It's Cambodia."
For more information, visit Moto Cambodge on Facebook.