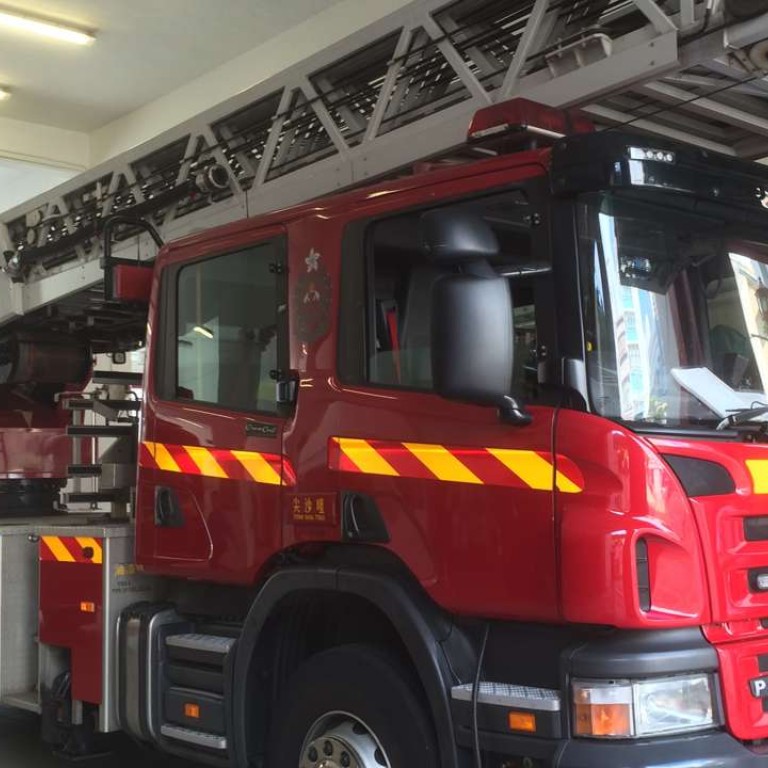 Hong Kong's 'Big Reds' are still a joy to behold
Though the old fire engines have long been replaced by swankier, powerful machines, there is still something nostalgic about the clanging of bells
The Tsim Sha Tsui Fire Station has big red doors, and they open smoothly to reveal some of the shiniest, reddest and probably the best-maintained fire engines in Asia. On a visit to the Hong Kong Fire Services Department (HKFSD) fire station on Canton Road, station commanders gave a guide to the vehicles at their disposal.
The HKFSD has a proud history. Founded in 1868 with 62 expatriate firemen and 100 local volunteers, the Hong Kong Fire Brigade expanded along with the city's needs. It was so well-equipped that the occupying Japanese shipped two of Hong Kong's American LaFrance fire engines to the Imperial Palace Fire Unit in Tokyo, although they were returned after the second world war.
Older Hongkongers might also recall the shine and clang of the beautiful British-made AEC Regent and Dennis fire engines. These days, Hong Kong fire officers keep tabs on the latest equipment, and review their purchasing needs for tendering every year.
"There is no restriction on countries bidding; all are welcome," says Ko Chi-chung, the department's senior electrical and mechanical engineer.
Hong Kong fire technical staff will test contract awarded vehicles hard, at the maker's factory, carry out local commissioning tests, and then trial run a one- to three-month operability test before the vehicles are accepted. The new vehicle is then stationed where it is most needed, and its predecessor is redeployed to remoter areas. Stations check the vehicles daily but with bigger checks and maintenance every four to six months.
The department has 9,515 uniformed and 725 civilian staff members in seven commands, including one for a fleet of 371 ambulances, all equipped with paramedic facilities, it says. Its 610 fire and rescue fleet basically comprises "Major Pump" fire engines, light rescue units, hydraulic platforms, turntable ladders and snorkels, backed by 21 fire boats and special equipment, say for fighting oil-refinery fires, or accessing village homes along narrow roads. The airport contingent has 14 fire trucks, two ambulances, two command boats and eight speedboats.
Hong Kong's fire stations are probably busier than they seem. Last year the stations responded to "34,320 fire calls and 33,683 special service calls", often caused by cooking fires, electrical faults and the careless handling of cigarettes, matches, candles and joss sticks. Then there's big, tragic emergencies such as this summer's fire in a Ngau Tau Kok industrial building.
The Major Pump is "the mainstay of the service", and its job is to deliver water to fires, either from its built-in water tank or from a hydrant. The vehicle is usually customised for the department by specialist companies such as S. K. Rosenbauer, which has produced more than 230 HKFSD trucks, according to its Singapore-based managing director, Bob Houchin.
"We design and manufacture the firefighting body and systems," he says. "However, we also build our own chassis for the Panther trucks operating at Chek Lap Kok."
Houchin couldn't say if Hong Kong's fire engines are the best in Asia, however. "That depends on who's point of view you have, but certainly HKFSD operate a very efficient fleet suited to their needs," he says.
The Scania 410 Major Pump, for instance, is built to last. "It worked for 108 hours at the Ngau Tau Kok fire," a department spokesman says, unrolling its side shutters to reveal "first responder" first aid supplies; the six-man crew's breathing apparatus; and 17 sections of hose, in a variety of widths for different fires.
Major Pumps can also be fitted with a high-pressure reel with 54m x 19mm hose, and another reel of 25m x 38 mm hose for a compressed air foam system, S. K. Rosenbauer says. Other add-ons include a mounted electric winch with 3,630 kg of line pull and two optional Lyte 2 section 10.7 metre ladders on a Rosenbauer Electric beam gantry with a 7.25 metre extension ladder, the manufacturer says.
Built on a Scania P Series 4x2 chassis, the 8.45m Major Pump weighs up to 16,000 kg with a steel safety cab, up to 2,800 litres of water and two 100-litre foam tanks, according to S. K. Rosenbauer. Its Scania 9-litre engine achieves 320 horsepower at 2,000 rpm and can reach 80 km/h in about 30 seconds via an Allison six-speed fully automatic transmission with a built-in hydraulic retarder to top at 110 km/h on 295/80R 22.5 Michelin XZE tyres. The driver operates the pumps, monitor and switches, and is often the most senior firefighter on board, says assistant divisional officer of transport Tse Ho-ying.
The Rosenbauer-customised Light Rescue Unit takes up to six crew to traffic accidents, floods, hangings and mountain rescues. Designed for speedy response times, the van stows all its equipment for external access. The HKFSD also has a first intervention vehicle for oil-storage fires with a 5,700-litre foam tank and 4,000-litre water tank that can expel 6,000 litres per minute.
The department has several units that can fight fires in and perform rescues from high-rises. The hydraulic platform unit has a six-man crew and stretches to 16.5 metres; snorkels have a low deck with four lockers. A computerised Turntable Ladder version has a lift and light rescue cage with a range of 55 metres, the department says. There is also an aerial ladder platform that extends to 53 metres, the HKFSD says.
The L39 has a 39-metre ladder height on a Scania P320 chassis. The 10-metre-long, 2.5-metre-wide and 3.7-metre-tall appliance also has a driver and five crew, a 270 kg rescue lift, a 450 kg rescue cage with zoom cameras, and a ladder height of 39 metres, S. K. Rosenbauer says.
The Canteen Van seems less glamorous but it is loaded with its own generators and equipment to feed firefighters during longer operations. The fire fleet also has staff cars; all-terrain vehicles for rescues and firefighting in the Outlying Islands district. Regular visitors to Hong Kong's annual November Motorcycle Show might also recall the department's fire bikes that can reach blazes faster through traffic and access narrow places.
The Mobile Command Unit is built as an on-the-spot base for fire chiefs at big emergencies. Packed with communications, surveillance and strategy meeting facilities, it is also the only emergency vehicle to be driven by female firefighters, who are stationed at the department's commanders' centre. It's as big as a bus and looks hard to park, but fire chiefs only pick the city's best drivers.
This article appeared in the South China Morning Post print edition as: Mighty Reds